Over two years have passed since the World Health Organization declared COVID-19 a pandemic — most of us are exhausted, in mourning and ready to move forward. The racial and social ramifications for Chinese people and the Asian American, Native Hawaiian, and Pacific Islander (AANHPI) community by extension being targeted as scapegoats for this virus has made recovery more difficult. Stop AAPI Hate, a nonprofit coalition formed at the beginning of the pandemic to end anti-Asian American and Pacific Islander hate, has recorded nearly 11,000 hate incidents to date.
"One out of three Asian American parents reported that their children faced racial bullying in the classroom," says Russell Jeung, co-founder of Stop AAPI Hate and a professor of Asian American studies at San Francisco State University. "I've seen a movement to include teaching of Asian American and Pacific Islander narratives to counter this bullying and to promote ethnic pride among AAPI students."
Why is Asian American and Native Hawaiian / Pacific Islander Heritage Month in May?
While we should teach our youth about our nation's rich diversity of heritages year-round, May is Asian American and Native Hawaiian / Pacific Islander Heritage Month. This commemorative period — originally signed into law in 1978 as Asian/Pacific American Heritage Week by President Jimmy Carter and then extended to a month in 1990 by President George H. W. Bush — is the perfect time to further teach AANHPI heritage to children. "By teaching [youth] about Asian Americans, other students will be less likely to see us as 'others' but as friends, neighbors and classmates who belong," explains Jeung.
The month of May was chosen to commemorate the first Japanese immigrant who arrived in the United States on May 7, 1843, and the May 10, 1869 completion of the First Transcontinental Railroad across the U.S., an effort largely fueled by Chinese immigrant laborers. In 2009, Asian/Pacific American Heritage Month was changed to Asian American and Pacific Islander Heritage Month, and in 2021, the White House updated the month to its current official name of Asian American and Native Hawaiian / Pacific Islander Heritage Month, which is slowly being adopted by more folks.
Why is celebrating AANHPI Heritage Month important?
"The contributions of Asians and Pacific Islanders to the U.S. is too often overlooked in our education system or treated as a footnote or a special elective," says Triana Patel, manager of youth and family public programs at the Asian Art Museum in San Francisco. "Hate is so often the result of isolation, disconnect and a lack of understanding."
Patel believes cultural competency and learning to appreciate those different from ourselves helps us be better humans. "That's something everyone wants for their kids," she adds. "Because learning about the people and cultures around us lets us move through the world with a sense of connection, this connection brings real joy and meaning — for those of us who are part of the Asian diaspora or have Asian heritage, as well as for those of us who live in diverse communities."
Max Chan, marketing manager from the Wing Luke Museum of the Asian Pacific American Experience in Seattle, reiterates the importance of teaching kids that everyone's history matters. "Regardless of your origins, you are valid here and have every right to have your place in the narrative of America honored and heard."
Patel summarizes the answer to why we need to celebrate AANHPI Heritage Month very powerfully, "Asians and Asian Americans are not 'the other' — it's who we are now as a country." It is time for all grown-ups and children to really get to know our whole selves — and here are nine fun ideas to get us started!
Creative AANHPI month activities for kids
1. Celebrate prominent AANHPI citizens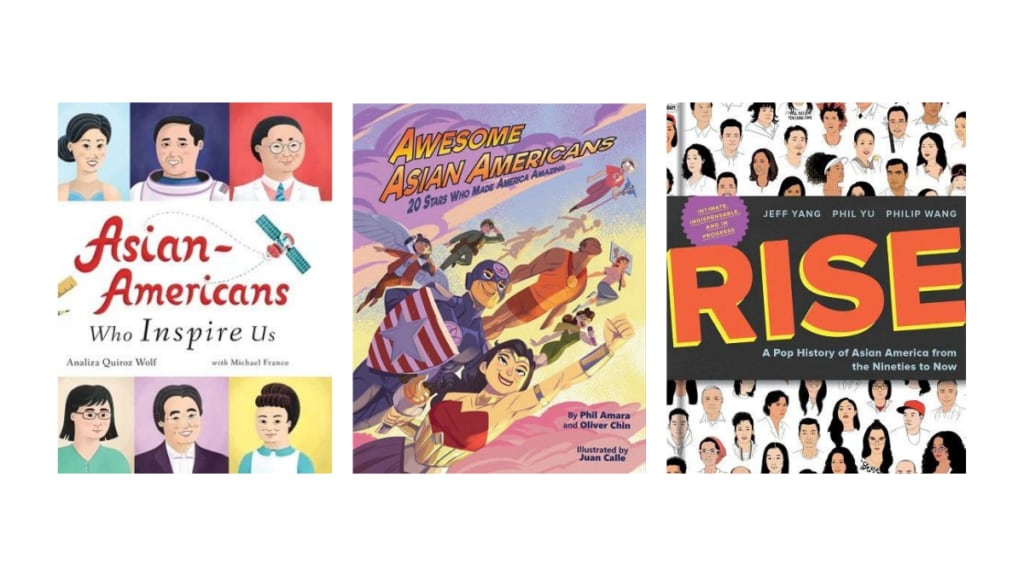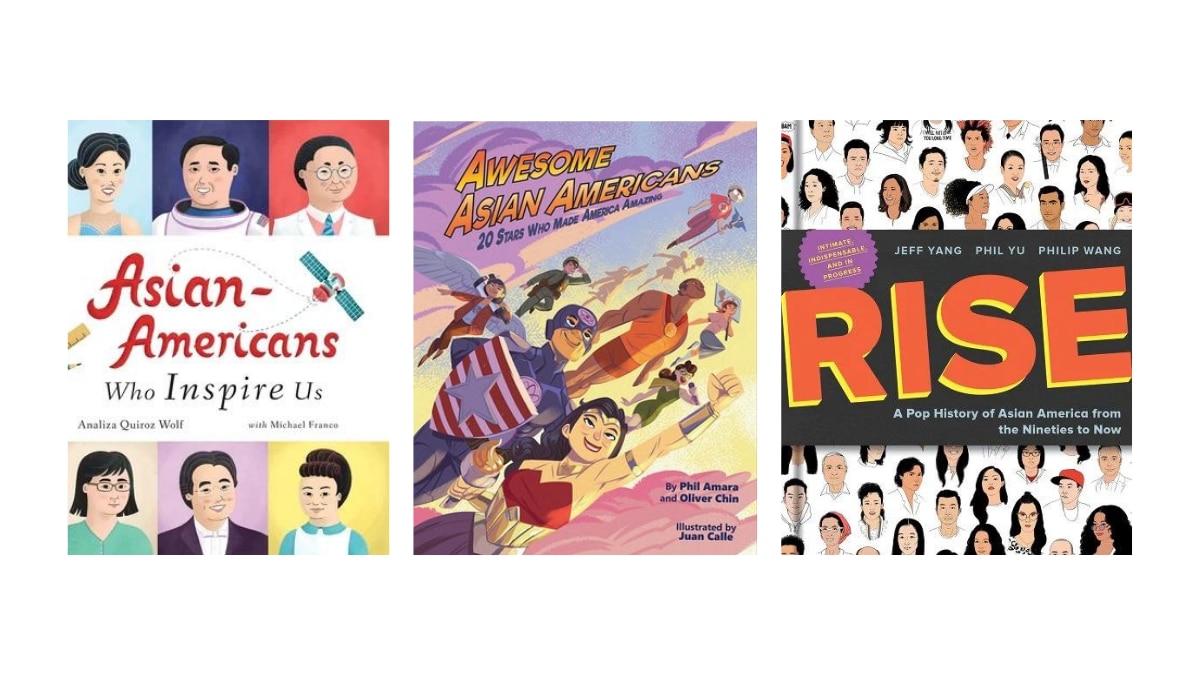 The following enriching compilation books make it easy to learn about history-making Asian American Pacific Islanders who have contributed to all aspects of American society, including policymaking, entertainment, medicine, science, architecture and more.
2. Check out Asian American Pacific Islander museums and cultural organizations
Here are some virtual and in-person event highlights, but be sure to search for programming in your region.
Asian Art Museum AAPI Heritage Month Celebration features both in-person and virtual programming, including music, talks, performances, art activities, lesson plans, cooking demonstrations and more.
Seattle Center Asian Pacific Islander Heritage Month Celebration takes place on May 1st and kicks off with an international lion dance, followed by a folk/traditional dance and flute performance, a martial arts demonstration, a Hawaiian cultural performance, a hum bow eating contest and more.
"United We Stand" 43rd Asian American Pacific Islander Heritage Festival, by the Coalition of Asian Pacific Americans (CAPA), is the longest running and largest annual Pan-Asian festival on the East Coast.
3. Host AANHPI-heritage-themed dinner and movie nights
The pandemic hit AANHPI-owned businesses, restaurants in particular, extra hard. Why not support local restaurants and have a fun themed movie night (or afternoon) during the month of May and beyond? Here are some tasty and entertaining ideas:
4. Illustrate a map of AANHPI neighborhoods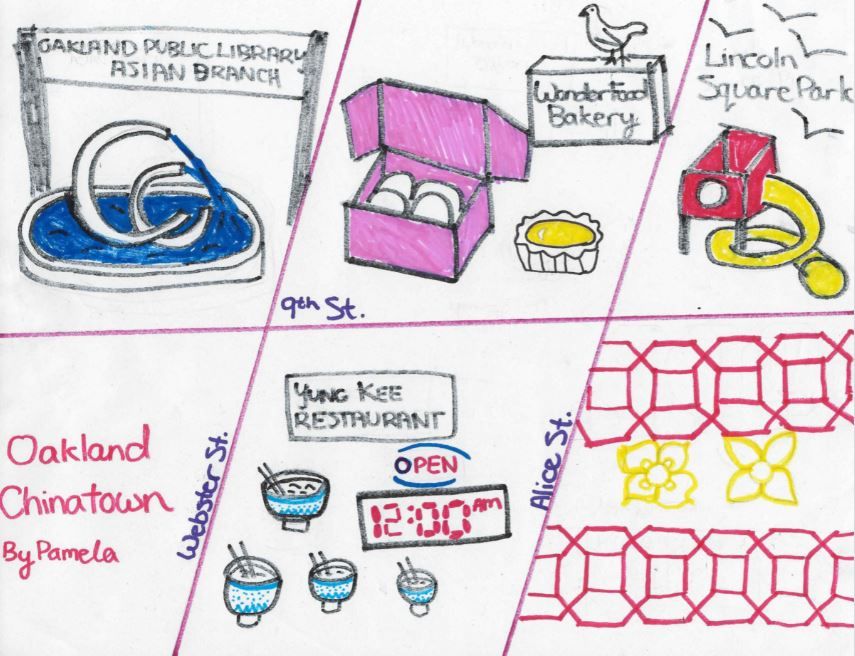 Follow the directions from Asian Art Museum to complete this illustrated neighborhood map activity and plot your favorite neighborhood AANHPI points of interest, like museums, parks, community center, boba tea shop, sushi restaurant or samosa joint. Include personal landmarks and share!
5. Read more empowering books!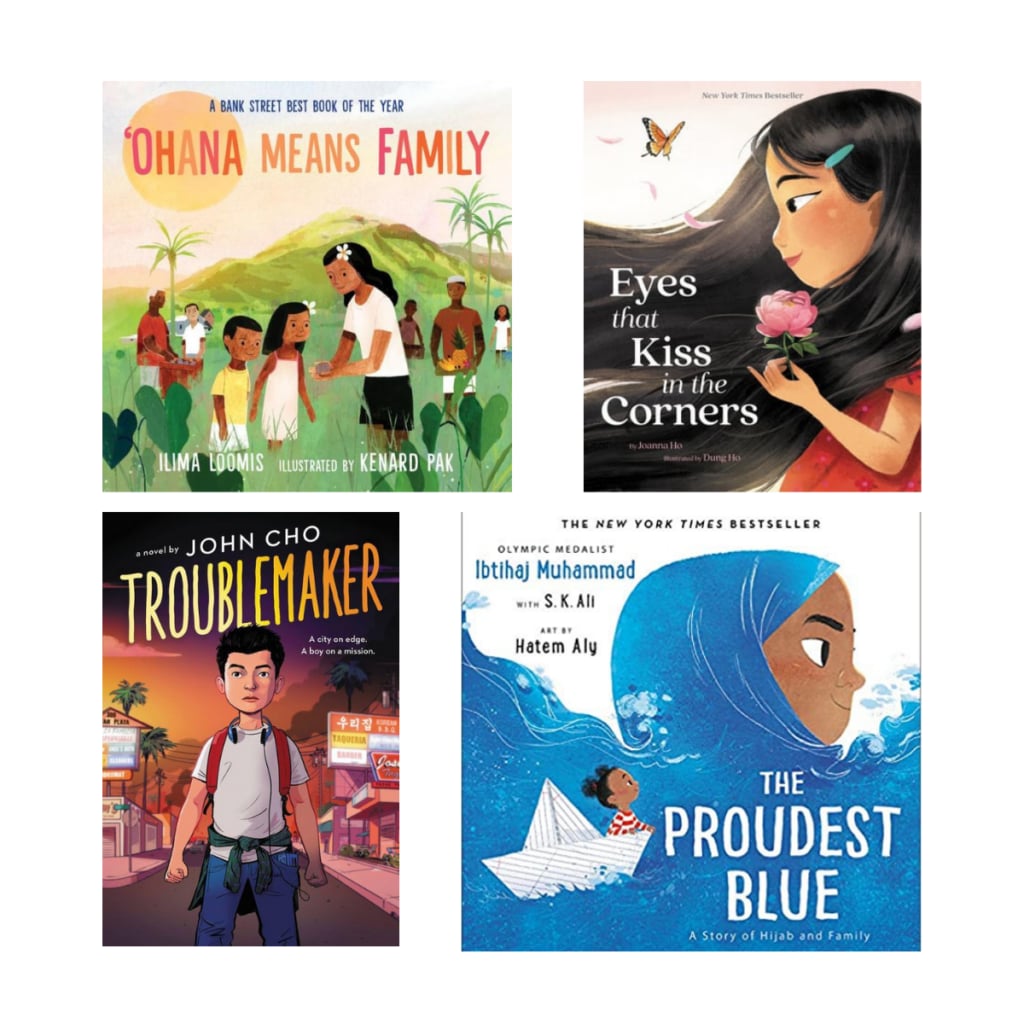 Asian American Pacific Islander is an umbrella term that bundles together so many diverse cultures. As a result, it is impossible to capture all the book recommendations we would like. From empowering picture books about AANHPI identity to historical fiction and nonfiction narrative, there are many great books both new and classic.
"My children and I often read books together that celebrate South Asian characters or culture," says Alia F. Ahmed, a mom of two from Seattle. "For me, a lot of my South Asian heritage as a Pakistani is tied to being raised as Muslim as well." Below are some of Ahmed's recommendations, along with my own favorites and some from Stephanie Vacca, a certified teacher librarian in Phoenix.
6. Take a field trip to an Asian grocery store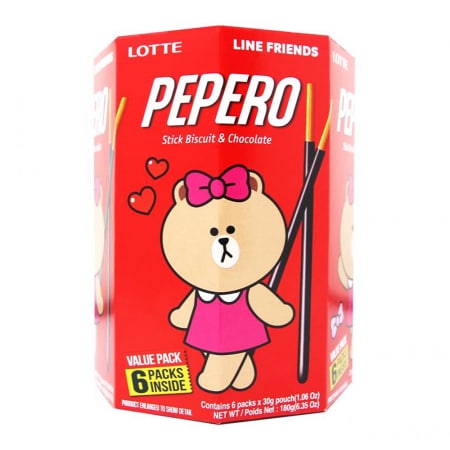 "One of the things I grew up making was paratha for breakfast," says Ahmed. "My kids love to eat it at home and now you can even find it easily in the freezer section at many local grocers."
From huge international Korean grocery stores, like H Mart, to small mom-and-pop stores, Asian grocery stores can be so fun for kids and adults alike. The snack options alone are worth a trip, but definitely don't forget to explore the freezer aisle.
Here are a few of my family's favorite grocery items, but I've definitely wandered into South Asian grocery stores and found the best garlic naan or giant, prized container of white pepper:
Shin Ramyun, spicy Korean instant ramen, popular all over the world.
Pepero or Pocky Sticks, these bring me back to my childhood in Korea.
Barley Tea, this toasty tea is made from barley, so it is naturally caffeine free.
Ginger Honey Crystals drink, so comforting hot or cold.
Choco pie, another childhood favorite.
Kimchi and all the banchan.
Hot pot ingredients, including shabu shabu sliced meat, cabbage, mushrooms, beef meatball and fish cakes (usually in the freezer section).
Noodles of all kinds (sweet potato, rice noodles, vermicelli – so many options).
7. Cook together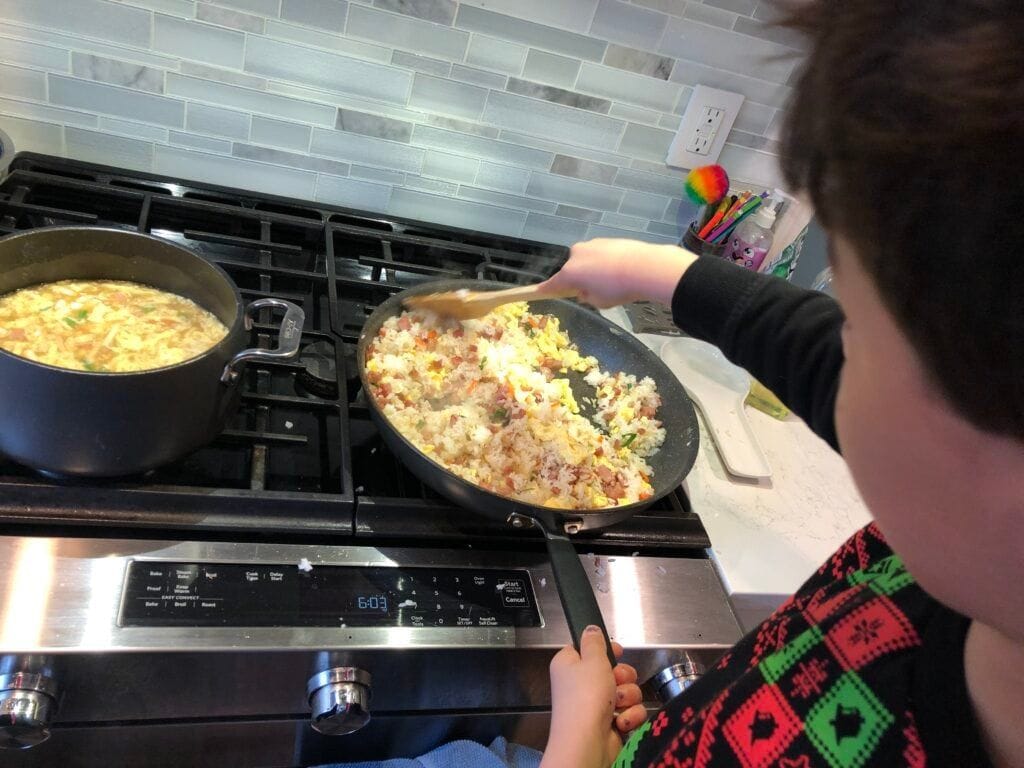 "Our favorite way to celebrate our heritage is via FOOD!" says Sonia Leung, mother of two in greater-Detroit. "We are blessed to live near my parents and have weekly dinners together, enjoying their homestyle Cantonese food."
Whatever cuisine you choose, there are plenty of recipes searchable online that include family and food histories, like these simple but yummy recipes for fried rice and soy sauce chicken. Get the kiddos involved with prep work to inspire them to try different foods! There are food bloggers galore whom you can turn to, including:
"Recently, I have added more AAPI cookbooks to our shelves, including cookbooks from third culture authors," notes Leung. "These books are accessible to my kids; they can leaf through the delicious photos and see what else is out there."
8. Enjoy a gourmet fortune and learn about this all-American treat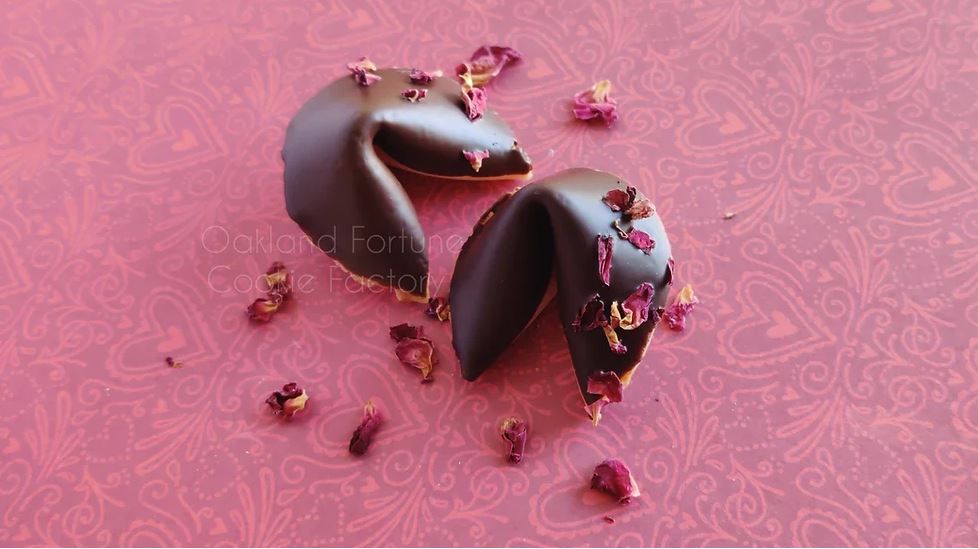 Did you know that the fortune cookie was invented in California in the early 1900s? Oakland Fortune Factory is the oldest fortune cookie maker in the Bay Area. This small, family-run business makes all their cookies by hand and ships their products all over the U.S. While you enjoy the cookies, read the book "Fortune Cookie Fortunes" by Grace Lin, which concludes with a page on the history and origin of this all-American cookie.
9. Experience the joys of AANHPI holidays
Take the opportunity of this AANHPI Heritage Month to learn about Asian American, Native Hawaiian and Pacific Islander holidays year-round.
Here are a few ideas from parents:
Nipa Thakkar Eason, mom of one from Tallahassee, Florida, has modified holidays to celebrate with her daughter's school. For example, Raksha Bandhan, a Hindu festival meaning "knot of protection" is traditionally a holiday for brothers and sisters to show how much they care about each other. Typically, the sister ties a Rakhi (sacred thread) on her brother's wrist. "My daughter doesn't have siblings and so we wanted to be able to show her that you can have that sort of close relationship with anyone," explains Eason. "Each year, we've gone to her school and tied Rakhi's on all her classmates to show them that they're cared for and loved."
Eason, who's also a creative director, designs a Diwali coloring sheet every year for her daughter and friends for the holiday, a celebration of light overcoming dark. "We also get little LED candles for all her classmates so they can always have a little light whenever they feel like they're in the dark."
Leung also makes a strong effort to plan holiday celebrations throughout the year. "We celebrate the Lunar New Year, Ching Ming (Tomb-Sweeping Day), Dragon Boat Festival and Mid-Autumn Festival."
"AAPI Heritage Month will start with Eid as it is scheduled to be around May 1 this year," says Ahmed. "A fun craft for families this year could be to make Eid cards celebrating the end of Ramadan for Muslim friends or relatives."