During spring in the U.S., stores fill with colorful Easter eggs and pastel pink and yellow packages of Easter candy. But Easter is not the only important celebration that takes place during the spring.
All over the world, millions of people participate in different festivals, feasts and religious ceremonies that mark the beginning of a new season and important holy days in their own faiths. In fact, many of these important celebrations also take place among various groups right here in North America.
If you're ready to talk about something besides the Easter Bunny or you're just looking for a way to give your kids a more thorough understanding of different people and cultures, here are seven diverse spring holidays that take place throughout the months of March, April and May.
1. Holi
What is Holi?
Also known as the Hindu Festival of Colors, Holi celebrates the arrival of spring, new beginnings, love and the triumph of good over evil.
Where is it celebrated?
Primarily in India and Nepal, though celebrations have also spread to other regions in Asia and parts of Europe and North America.
When is Holi?
Holi takes place in March. The celebration happens over two days: Chhoti Holi, which means small Holi, and the day of Holi. This year, Chhoti Holi took place on March 7 and Holi on March 8.
How is Holi celebrated?
People celebrate Holi through music, dance and prayer. They joyfully gather in the streets to engage in color play, which includes smearing brightly colored powder on their loved ones of all ages, squirting each other with water guns and even throwing water balloons filled with colors.
Because the holiday symbolizes new beginnings, bonfires are lit to symbolically burn away evil so that good can triumph. Popcorn, peanuts, twigs and leaves may be thrown into the fire to symbolize burning away negativity and ego.
After the colorful celebrations, families and friends gather for feasts that include traditional foods, like samosas and sweets.
Learn more:
What is Holi? Kids Explain (YouTube – Behind The News)
Holi 2023: India celebrates festival of colors (BBC News)
Holi Hai! by Chitra Soundar (YouTube Read Aloud)
2. Passover
What is Passover?
Passover, or Pesach, is a major Jewish holiday that commemorates the Biblical story of Exodus, in which the Israelites escaped from slavery in Egypt.
Where is it celebrated?
All around the world by more than 15 million Jewish people living in countries like the U.S., Canada, Israel, France and the UK.
When is Passover?
Passover is celebrated for eight days during March or April. The dates are based on the Hebrew calendar, which doesn't sync perfectly with the Gregorian calendar, so they change each year. This year, Passover will take place from April 5 to April 13.
How is it celebrated?
People usually celebrate Passover with family at home. The beginning is marked by a ceremonial feast called a Seder, featuring a special Seder plate full of symbolic foods, as well as traditional dishes like matzah ball soup and gefilte fish.
During the Seder, the Israelites' liberation story is retold through song and by reading from the Haggadah, a traditional text. Another common Seder tradition is for the youngest child present to get the chance to ask their elders four questions about the holiday, including why the Seder night is different from other nights.
During the final days of Passover, people light candles, recite prayers and songs and prepare traditional foods. They also spend time connecting with their faith and reflecting on the themes of the holiday.
Learn more:
Information on Passover from Encyclopedia Britannica Kids
PBS Learning Media: Passover (YouTube – PBS Kids)
Passover, Here I Come! by DJ Steinberg (YouTube Read Aloud)
How To Celebrate Passover (YouTube – PJ Library)
3. Ramadan
What is Ramadan?
Ramadan is the Arabic name for the ninth and holiest month in the Islamic calendar. It's marked by a period of fasting, prayer and spiritual reflection.
Where is it celebrated?
All over the world by more than 1.8 billion people who practice Islam.
When is Ramadan?
Islam follows the Lunar calendar, which differs from the Gregorian calendar, so the exact dates of Ramadan change from year to year. ​​In 2023, Ramadan began the evening of Wednesday, March 22 and is projected to end the evening of Friday, April 21.
How is it celebrated?
During Ramadan, Muslims fast from sunrise to sunset, enjoying a pre-dawn meal called suhoor and an evening meal called iftar. Practitioners not only abstain from food during the fast, but also from water, vices and bad habits. Those who are too young or not healthy enough to fast aren't required to do so.
Community is a central aspect of Ramadan. Those participating are encouraged to break their fast each evening surrounded by friends and loved ones. They're also encouraged to participate in acts of charity throughout the month.
The end of Ramadan is called Eid al-Fitr, which translates to "the festival of the breaking of the fast." During this three-day celebration, people attend mosques for prayer and gather with loved ones for special feasts featuring their favorite foods, gift exchanges and togetherness.
Learn more:
Celebrating Ramadan (National Geographic Kids)
The Gift Of Ramadan by Rabiah York Lumbard (YouTube Read Aloud)
The Month of Ramadan is Here song (YouTube – Itsy Bitsy Muslims)
4. Vaisakhi
What is Vaisakhi?
It's a sacred harvest festival that marks the most important month of the Sikh calendar. It commemorates the date in 1699 when the prominent Sikh Guru Gobind Singh created the Khalsa, a devout sect of the Sikh community. Sometimes the holiday is also spelled "Baisakhi."
Where is Vaisakhi celebrated?
Primarily in Northern India, as well as in Sikh communities around the world. There are nearly 26 million practicing Sikhs.
When is it?
April 13 or 14, depending on how the solar calendar used in Sikhism aligns with the Gregorian calendar. In 2023, Vaisakhi falls on April 14.
How is it celebrated?
Sikhs begin Vaisakhi by attending prayer services at the gurdwara, their place of worship. Following this ritual, a day of celebration begins. People wear brightly colored clothing, hold parades, sing and dance. Many perform a traditional dance called the Bhangra.
There's also a big focus on food during Vaisakhi. People from the Sikh community come together to share langar, or a communal meal in which all people, regardless of income or status, cook and eat together. This is a deeply important value and tradition in Sikhism.
Learn more:
Let's Celebrate Vaisakhi – CBC Kids
Vaisakhi: My First Festival (YouTube – CBeebies)
Kids Bhangra Dance: Vaisakhi Special (YouTube – Shradda's Dance Skool)
Let's Learn About The Sikh Spring Holiday (Kids World Citizen)
5. Songkran
What is Songkran?
A Buddhist festival that marks the beginning of the traditional Thai New Year. Songkran comes from the Sanskrit word for "movement."
Where is it celebrated?
Throughout Thailand.
When is Songkran?
April 13-15. April 13 is known as Songkran Day, the beginning of the astrological period that marks the new year. On April 14, a day called Wan Nao, people focus on cleaning up their homes and purifying their minds for the upcoming holiday. April 15 is known as New Year's Day.
How is it celebrated?
Songkran is also called the Thai Water Festival or the Water Splashing Festival. Buddha images and statues are sprinkled with scented water and young Thai people sprinkle water on Monks' hands. This is an act of respect said to bring prosperity.
In many places, festivals take place that include major water wars, complete with squirt guns, parades and folk dancing. In other areas, people build sand pagodas with paper flags to symbolize the longevity of the Buddhist faith. There is also plenty of feasting on traditional foods, like the rice dish Khao Chae and Pad Thai.
Learn more:
Songkran: Thailand's New Year Festival (Globe Trottin' Kids)
Learn about the New Year festival celebrated in Thailand (Encyclopedia Britannica)
An Early Years Songkran Water Festival (YouTube – Bromsgrove International School)
6. Nowruz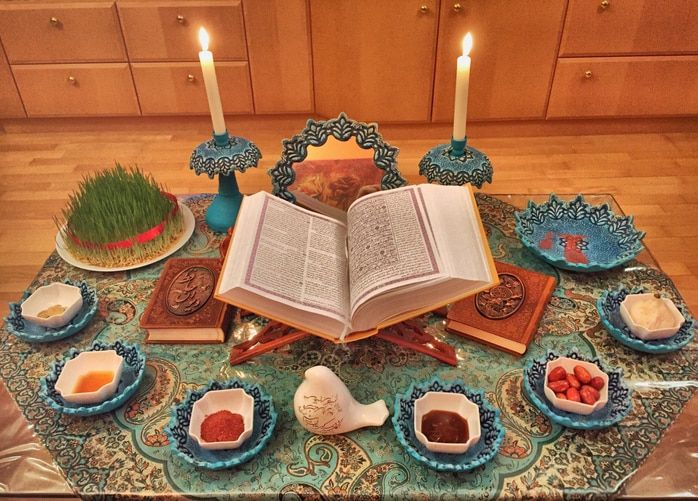 What is Nowruz?
The Persian New Year festival, celebrated on the Spring Equinox. Nowruz translates to "new day."
Where is it celebrated?
All over the world, including in parts of Iran, Iraq, Turkey, Pakistan, Canada and the U.S. The holiday is special to a wide array of different ethnicities and religious groups and is estimated to be celebrated by more than 300 million people. The United Nations designated Nowrus as an international holiday in 2010.
When is Nowruz?
March 21, though celebrations can last for two weeks.
How is it celebrated?
The holiday begins with a preparation period called khooneh takouni, which means "shaking the house." It's like a special spring cleaning that also includes ridding homes of unwanted items and clutter for a fresh start.
Next, the main dining table is set with seven sacred traditional items to celebrate the new year (for example, wheat or barley sprouts to symbolize rebirth), as well as sentimental items and decorations. The Tuesday before Nowruz, people gather for symbolic cleansing bonfires.
The 13-day Nowruz festival includes visits with family and friends, gifts for kids from their elders, feasts and reflection. On the final day, picnics outdoors or in the park are held to reconnect with nature. The traditional foods eaten during Nowruz vary by culture, but some include a vegetable soup called ash reshteh and an herbed rice called sabzi polo.
Learn more:
All About Nowruz For Kids – Little Persian
Seven Special Somethings: A Nowruz Story by Adib Khorram (YouTube Read Aloud)
Nowruz Educational Materials – Pardis for Children
Nowruz Celebration With Mickey! (YouTube – Disney Junior)
7. The spring equinox
What is the spring equinox?
The Spring Equinox is the official start of spring when the sun's rays fall directly over the equator. It was a sacred date to many ancient cultures and is still celebrated annually at many historical sites.
Where is it celebrated?
In Chichén Itzá, Mexico, as well as at other ancient sites, like Teotihuacán, Stonehenge and throughout the world.
When is the spring equinox?
March 21.
How is it celebrated?
Chichén Itzá is a special place to celebrate the Spring Equinox because of the world-famous Temple of Kukulkan. Kukulkan was a Mayan deity known as the snake god. During the equinox, shadows cast by the design of the temple give the illusion a giant shadow snake slithering down the stairs.
Every year, thousands gather at Chichén Itzá to see the illusion and participate in a celebration with music, food and dancing. Elsewhere in the world, people gather during the spring equinox to watch the sun rise and set at Stonehenge in England, Machu Picchu in Peru and at the Great Pyramid in Egypt.
Learn more:
Happy Equinox: Science for Kids (YouTube – SciShow Kids)
A New Beginning by Wendy Pfeffer (YouTube Read Aloud)
The Amazing Serpent Shadow – Kids Discover
How to Celebrate the Spring Equinox – All Natural Adventures