Popular consumer brands and big retailers are finally paying attention to the Muslim community and our Ramadan and other celebrations because "my oh my" so much has changed and — dare I say it — we American Muslims might officially be considered mainstream!
Since my childhood, cultural diversity and inclusion has taken a celebratory front seat, and I am here for it. I've long admired how holidays were incorporated into school curriculums. And now, as a Muslim mom of two boys, one of whom is attending preschool, I've been excited to discover the many ways of incorporating our traditions into my child's school life. It's exciting to see Ramadan gain visibility in American culture — especially because it means the mental load of teaching our kids about our holidays no longer solely lies on the shoulders of Muslim parents.
I make an effort to teach my children about more mainstream celebrations like Christmas, Hanukkah, Easter and Holi because there is beauty in being able to celebrate cultural and religious traditions with your neighbors — even if you don't subscribe to their belief systems. And I take pride in performing my duty as a Muslim in teaching others how to respect, honor and take part in our celebrations in return. More than ever, efforts toward inclusion must be made by all of us.
That's why I've rounded up — from my own lived experience, as well as from other Muslim parents and childhood psychology experts — several fun ways all of us can teach kids about Ramadan. Whether you're a Muslim parent or caregiver, caring for or teaching a Muslim child, or if you're a non-Muslim who's simply curious about how to educate your child and learn yourself what Ramadan is all about, the knowledge and activities below can make Ramadan for kids a joyful and respected celebration.
When is Ramadan 2023?
In 2023, Ramadan is scheduled to begin the evening of Wednesday, March 22 with the first day of the monthlong fast being March 23, and is projected to end the evening of Friday, April 21 — roughly, depending on the moon — and Eid al-Fitr celebrations (often, just referred to as Eid) begin at sundown Friday, April 21.
Learn the Ramadan basics
Unlike faiths like Christianity that have embraced the Gregorian calendar, Islam follows the Lunar calendar (meaning; we follow the moon). That means, based on the Lunar calendar, Ramadan falls around 10-11 days earlier every year, making it difficult for western society to adjust to the changing dates of our religious months and days. If you're not Muslim but are familiar with Ramadan, then you may have noticed that your friends and peers have taken part in the annual fast in different seasons. And if you're Muslim, I bet you're counting down the years until the next winter Ramadan just like I am (looking at you, Ramadan 2031…).
With this in mind, the following is a list of basic teachings that kids and their grown-ups should take the time to learn together.
Ramadan is the month, not just the holiday
Ramadan is the ninth and holiest month (29-30 days depending on the moon) of the Muslim calendar, in which those who subscribe to Islam believe that the Muslim Holy Book, The Quran, was revealed to Prophet Muhammad, Peace Be Upon Him (PBUH), through the Angel Jibril (aka Gabriel).
It is meant to be a month of spiritual reflection, cleansing oneself of the material world and complete submission to a Higher Power. The experience of fasting from earthly desires is meant to be a practice of self-discipline and humbling oneself.
Muslims enjoy one or two meals but fast from sunup to sundown
There are two important meals during Ramadan and, depending on the person fasting, they will partake in both or only one of them (I'll explain in a moment).
SUHOOR (suḥūr) – Suhoor is the pre-dawn meal. Think of this as a very early breakfast. So early that you're eating it in complete darkness (you can, of course, turn on the lights if you enjoy that type of torture at 3 a.m.!). This is meant to be a light meal that will help sustain your energy and curb your appetite throughout the day, and it must be eaten before sunrise, which is when the fast officially starts.
Personally, I prioritize sleep over hunger because the mix of the two is bad news for anyone in my path, so roughly 24 of the ~30 days, I choose to sleep in during mealtime and opt for a bedside glass of water and three Advil to help with the inevitable caffeine withdrawals I will experience mid-afternoon as an avid coffee drinker. I do, however, envy those who make a party out of the early morning meal and have the energy to enjoy a full spread at such an ungodly hour of the day! In high school, my parents made a tradition out of taking us all to IHOP at least one day of the month for Suhoor, which made the experience more exciting and enjoyable. I have fond memories of chatting with truckers, who were also up at that time enjoying a meal in the restaurant.
IFTAR(ʾifṭār) – Iftar is the name for the meal that Muslims break their fast with. This happens at sundown, and every fast is traditionally opened with at least one date and a glass of water before getting to the main course(s). During Ramadan, it is encouraged to break fast with friends and family and to invite others to the Iftar table (Muslim or not). Feeding others, especially during Ramadan, is an act of sunnah (good deeds modeled by Prophet Muhammad PBUH), so for the non-Muslims in the audience, join your Muslim friends at the dinner table this Ramadan. You are quite literally helping them fulfill their religious duties!
Fasting means more than just not eating
While the most commonly known aspect of fasting during Ramadan is refraining from food consumption, that's not all that Muslims are expected to fast from. Any earthly desires, vices or bad habits should also be abstained from. Everything from gambling and alcohol consumption (already a general "no-no" in Islam) to smoking, and things like cursing, lying and backbiting or gossiping are all things that can be considered ways in which a fasting Muslim would break their fast. It seems easy, but have you ever had to refrain from using colorful language while hungry at 5 p.m. with no coffee since the night before and three more hours of the fast to go?
As Muslims are a minority here in the U.S., it's only natural that we are likely to be surrounded by non-Muslims during our active days at work, school, etc. during Ramadan. It's not only important but also so appreciated when we have friends and colleagues who support us emotionally and encourage us to be our best selves during these long days of fasting.
No, not even water
Yes, you read that right. While it's become somewhat of an Internet sensation and "non-Muslim proverb" these days, it's always surprising to me that it is still surprising to others to find out that even water is prohibited during the fasting hours of Ramadan.
Get kids involved in charitable work
Ramadan is about community, as much as it is about humbling and grounding oneself. Charity is not only one of the five main pillars of Islam but is absolutely mandatory during Ramadan. This is a perfect activity or project for kids to take on, in honor of the holiday. Find volunteer opportunities in your community. Head to a shelter or soup kitchen after school/work or on the weekend. Pass out food to those who need it in your area. There is so much charity to give and so much that is needed.
To my Muslim brothers and sisters, encouraging your non-Muslim peers and friends to get involved with your charitable efforts during the holiday is a great way to show them what Islam is all about. If you are non-Muslim, support Muslim friends by getting involved in charitable work together. Make a donation to your favorite charity in your friend's name in honor of Ramadan.
Decorate for Ramadan
I am amateur at best when it comes to holiday and festivity decor, BUT I know that it makes all the difference, especially with children! One of my favorite things about Christmas time is the lights and decor throughout the neighborhoods around the country. No matter how old you are, glowing lights strung up around a home and a beautifully decorated tree will never not make someone happy.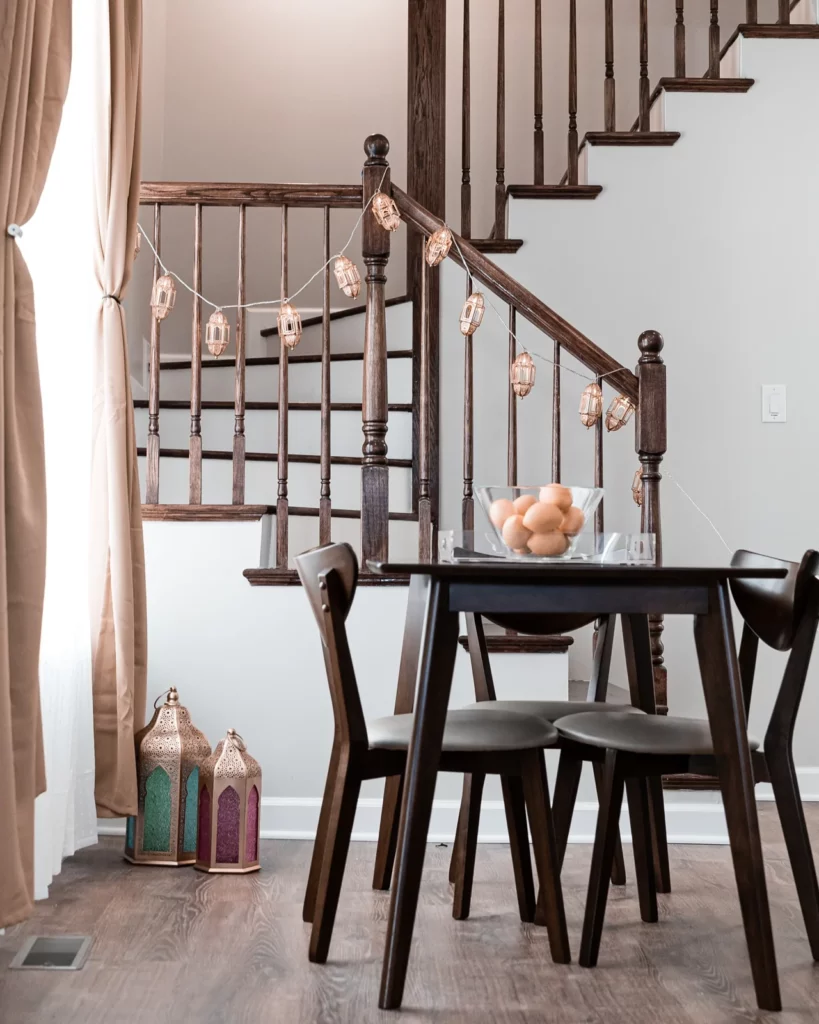 We didn't have Ramadan decor when I was a kid, so it's incredible to see how available these items have become because it gives the opportunity to bring some visual excitement around our family's holiday that was missing from my childhood. Everything from intricate lanterns and Ramadan banners (shown below) to a string of lanterns (shown above) and Ka'aba garlands — and even something called an Eid Tree (it's super cute!) are becoming common home decor lately!
Where to buy: Lantern String Lights ($54, Days of Eid)
Where to buy: Ramadan & Eid Mubarak DIY felt banner craft ($25, Designed by Sanna)
Count down to Ramadan
Counting down the days to the big holiday is always a good time for children, and the excitement grows with each passing day. Here are a few fun options for making the countdown to Ramadan fun and creative.
Make a DIY Ramadan Advent calendar
This idea comes from one of my favorite Instagram mamas, Helda of @thesalemsquad, who shares many DIY craft activities that you can get kiddies involved in creating. Helda's Ramadan version of the Christmas Advent calendar is one of my absolute favorite activities/decoration crafts of hers.
"I love getting my girls involved in every celebration because, in my opinion, everything deserves to be celebrated, especially Ramadan," says Helda, a mom of twin girls and a new baby boy. "To be able to share these activities with them opens the floor for conversation and questions to already curious little minds."
The calendar is 30 days long and filled with not only candy and treats for your little ones but tiny notes encouraging them to do good deeds each of the 30 days. She uses simple materials like paper envelopes, crafting wire and string and gold stars and lanterns for that added Ramadan feel.
"Involving [my kids] at such a young age is important to me," adds Helda, "because I didn't always have that growing up in a first-generation immigrant home. I create in hopes that this becomes a growing tradition. I want my kids to look back and remember all the fun activities we did to learn about Ramadan and hope that they'll want to do the same with their kids."
Check out Helda's Insta video on the making the DIY Ramadan Advent calendar.
Buy a pre-made Ramadan Countdown Calendar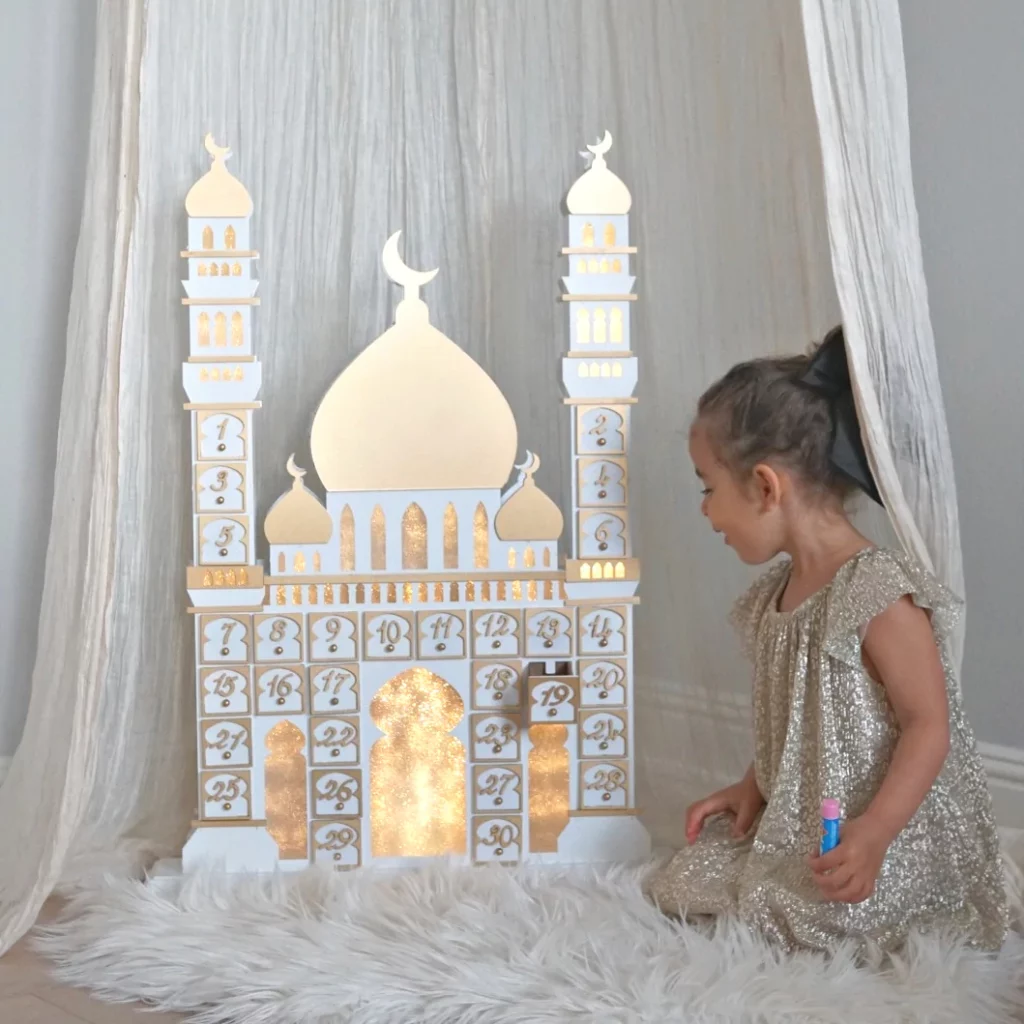 While DIY Ramadan decor used to be the only way to go, this year we've got readymade *options*! If you're hoping to support small Muslim businesses, one of my favorite Ramadan calendars on the market right now is this one by Days of Eid. I absolutely love the minimalist designs and neutral colors Days of Eid offers sitewide and many of their pieces can be considered "heirloom purchases," as they can be quite a hefty investment.
Where to buy: Ramadan Countdown Calendar ($249, Days of Eid)
Try a Ramadan calendar kit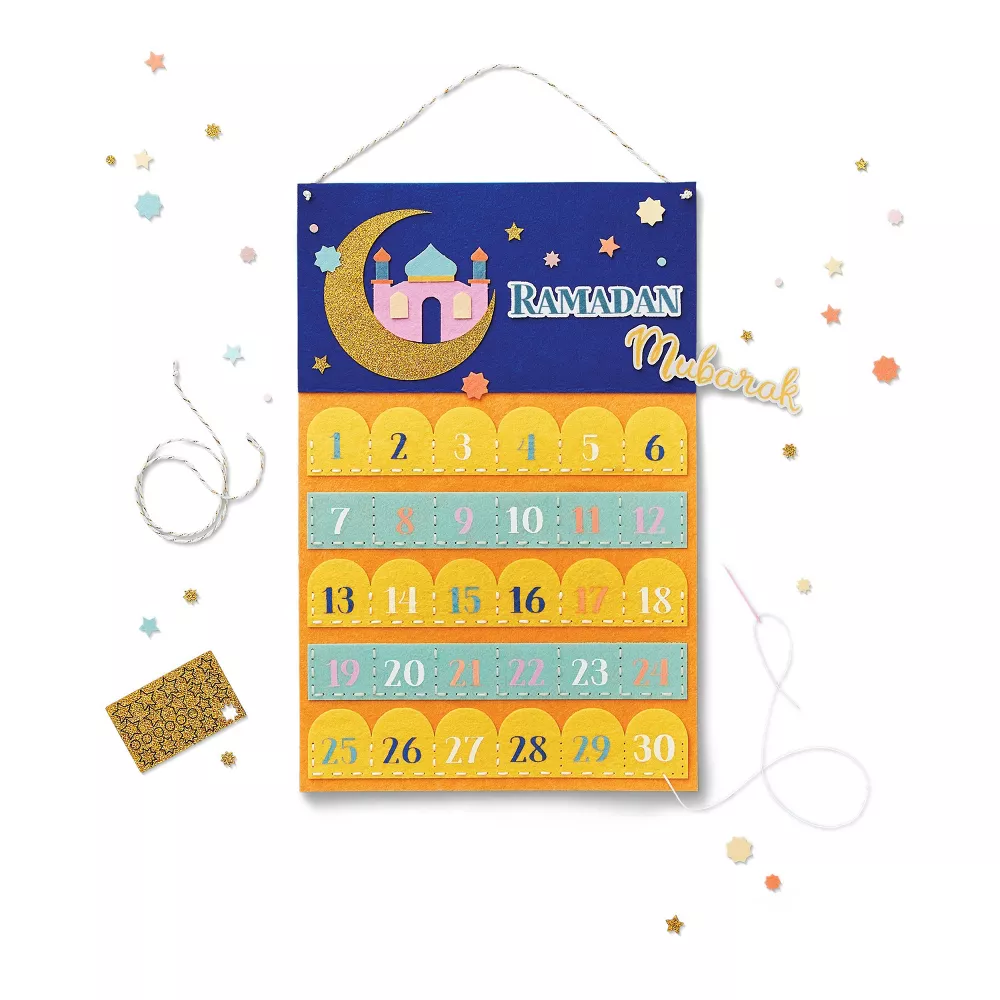 Not ready or unable to drop hundreds on your decorative Ramadan items? No worries. Target (yes, Target!) has a more affordable and crafty version of a Ramadan calendar to get your kids involved via their line of Ramadan crafts by Mondo Llama. Their create-your-own Ramadan calendar kit is super affordable and a great craft and gift for Ramadan baskets.
Where to buy: Create-Your-Own Felt Ramadan Countdown Calendar Kit – Mondo Llama ($5, Target)
Celebrate with loved ones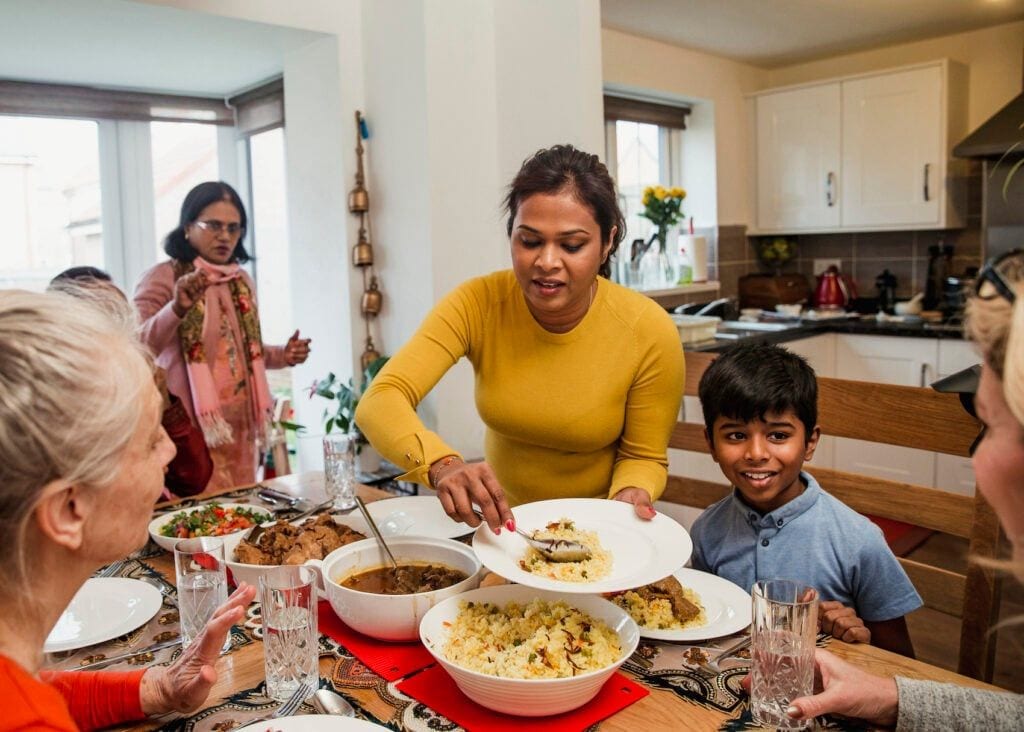 The Ramadan holiday is about reminding yourself of all that you have to be grateful for, and there is no better way to celebrate and honor that gratitude than to do it surrounded by loved ones. One of my favorite things to do during Ramadan is to invite my non-Muslim friends to Iftar dinners. It's an opportunity to spend quality time with everyone and to show love and appreciation the best way I know how — through food!
If you're a non-Muslim who's been invited to a Ramadan Iftar and you're wondering what to bring, food is never the wrong answer! Ask your host what they may need to add to the table. It could be as simple as picking up bread or they could possibly use your help with an appetizer or dessert course! Just be sure to respect the no alcohol and pork products rule of thumb.
When in doubt, you can never go wrong with gifts like chocolates, nuts and, of course, dates (they are always in short supply in a Muslim home during this time of year!). A favorite for gifting this year is the innovative and MENA woman-owned Date Flight from Shark Tank's Magic Dates. Meant to take you on a culinary adventure, the Date Flight offers four different types of dates from four different orchards of the SWANA region. It's the perfect conversation starter but the best part? The box is so cute it doesn't even need to be wrapped!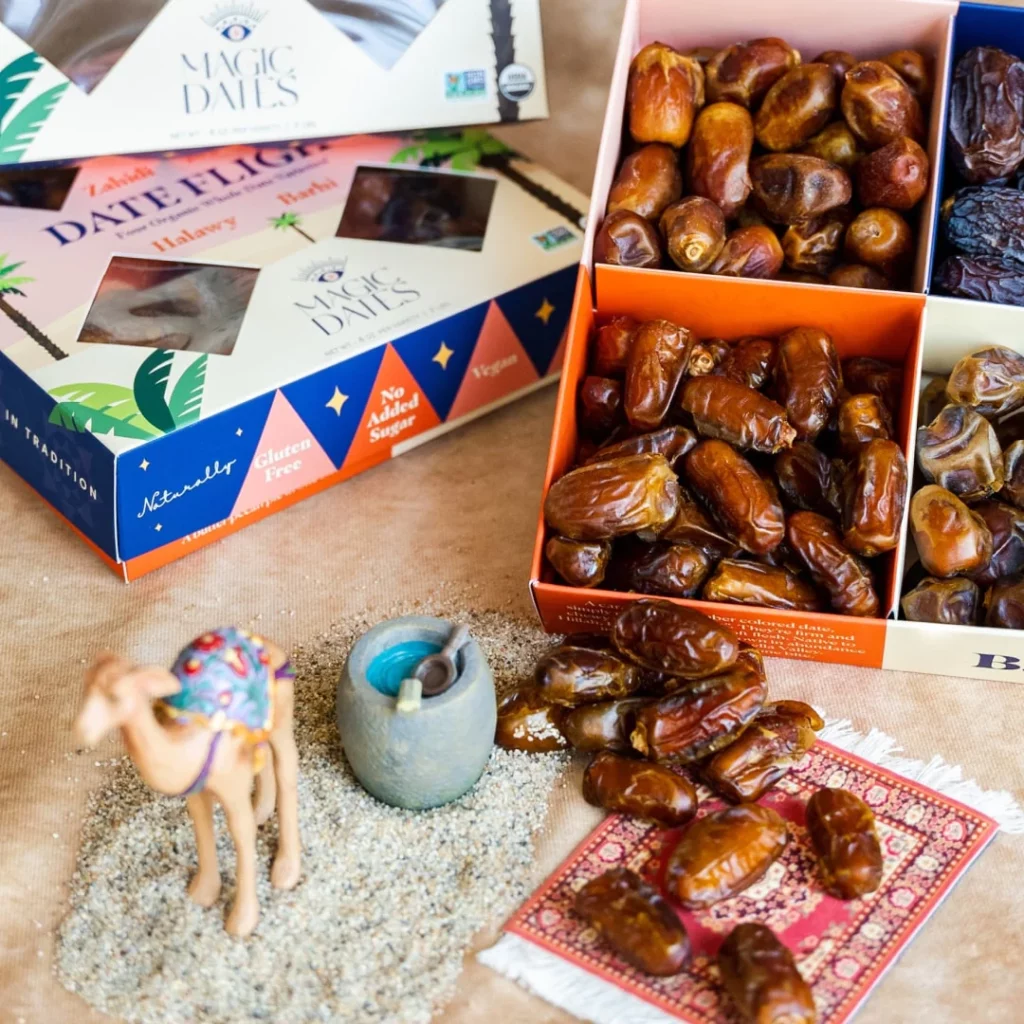 Where to buy: Date Flight – A Curated Date Tasting Experience ($40, Magic Dates)
A call to action (for everyone)
As Muslims, we should be as excited to invite our non-Muslim friends along for the spiritual journey that is Ramadan, as much as we expect them to jump at the opportunity to want to learn more about it. However you choose to celebrate this year, making an effort to recognize Ramadan as a widely celebrated holiday and taking the time to learn about it and teach kids how to embrace inclusion and diversity goes a long way. And it's important to remember that this effort is a two-way street.
"Representation matters: You cannot be what you cannot see," says Shirin Zarqa-Lederman, founder of The Diaspora Experience and international child and adolescent psychologist International psychologist, specializing in trauma services and community psychology. "A prayer room would go a long way in making a child feel welcomed in a public school," she says, explaining the importance of schools (and workplaces) taking action to recognize and provide support for Muslim students (and staff).
"Schools should accommodate for Ramadan." For example, she explains, they can provide an alternative so kids don't have to sit in the lunchroom (or out in the hallway) while they are fasting.
In fact, this year a growing number of New Jersey schools have voted to make Eid a school holiday for their students. And while we still have a long ways to go in getting statewide days off for Muslim holidays, at the very least school districts should be providing safe space for kids to practice their faith and religious obligations during these times within a school setting.
"We tell children to be mindful, but it's our job as adults to teach them that. Acknowledging Muslim students and including them by giving them a space of their own in their school gives them a sense of belonging." Case in point, she continues, "For years, studies have shown us that children perform better in schools when they feel a sense of attachment to their schools."
"Making accommodations for Muslim students would go a long way in healing trauma caused by the discrimination Muslims have faced post 9/11," Zarqa-Lederman says. "Muslims have been part of every facet of this country since its establishment. It only makes sense to ensure that their contributions are valued and honored."
As an American Muslim, it is inspiring and wonderful to see how far we have come as a collective American community toward embracing Islam as a "mainstream religion" with its own traditions and holidays worthy of widespread recognition and celebration, no matter how much more progress may need to be made. It's a journey we must all agree and be eager to go on, together.
Wishing all who are partaking in this year's fast a peaceful and blessed Ramadan. May your spirits be cleansed, may your fasts be easy and may your nighttime coffee be so strong that it carries you through the following day.
Ameen.