Find a job as a housekeeper.
Search job listings by hourly rate, ZIP code and more.
Apply for jobs that match your experience and schedule.
Clean Team Pro is a cleaning company that values its employees and clients. We are an upscale cleaning company that is detailed and pays a little more for that consistency. I need someone specifically for the hours listed and there is more opportunity if more hours...
More>
Posted Date:
Apr 22, 2014
Transportation: Doesn't matter

Hello, We are a family that is looking for help getting organized, and then help keeping it that way. With active children, traveling for work, and a dog, things get put on the back burner a lot (especially laundry), and we just can't do it all. Having an extra...
More>
We live in Brookhaven with our 22 lb dog. I have about a 1200 sq ft home and need help about twice a month cleaning my house. I need basic things done such as vacuuming, dusting, sweeping, change sheets, wipe down counter tops, clean the bathrooms, and occasionally...
More>
Browse Housekeeping Jobs by Top U.S. City
Browse Housekeeping Jobs by Top U.S. State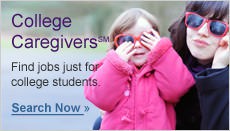 Sponsored Listings

Nanny Tax Service
Care.com HomePay
SM
handles your household payroll and taxes without work, worry or risk.