Find a job as a housekeeper.
Search job listings by hourly rate, ZIP code and more.
Apply for jobs that match your experience and schedule.
Searching for a great house cleaner. This may turn into a regular monthly or bi-monthly job.
Posted Date:
Apr 20, 2014
Job Dates:
Occasional (as needed)
Transportation: Required
Comfortable with Pets: Required
Location:
San Francisco, CA
I am looking for a trustworthy and hardworking housekeeper to clean our 1 bedroom 1.5 bathroom condo.
Location:
Redwood City, CA
I am a full-time working mom of three and I am looking for a housekeeper who can come twice a week to help straighten our house, do light cleaning in the bathrooms and kitchen, vacuum and mop and do laundry. I am looking for someone who doesn't need a lot of direction,...
More>
Browse Housekeeping Jobs by Top U.S. City
Browse Housekeeping Jobs by Top U.S. State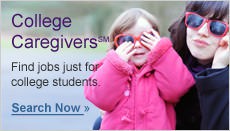 Sponsored Listings

Nanny Tax Service
Care.com HomePay
SM
handles your household payroll and taxes without work, worry or risk.