Cooking and baking with kids can be a wonderful (and delicious) bonding experience. In recent years, the popularity of cooking and baking shows like MasterChef Junior and Kids Baking Championship has taken interest in culinary arts for kids to the next level. To support your aspiring chefs and bakers to maximize fun, creativity and learning in the kitchen, kids cooking and baking kits might be just what you're looking for. However, with so many products in the market, the choices can be overwhelming and the differences difficult to decipher.
Most kids cooking kits advertise similar offerings such as kid-targeted recipes, a kids' cooking or baking tool, related educational activities or badges and ingredients lists. (Baking kits for kids tend to come with pre-measured dry ingredients while the cooking-focused ones provide a shopping list.) Most are available as single kits or as monthly subscription kits with a discount. 
Here's a breakdown of 10 cooking kits for kids and their differences to help you decide.
1. I'm the Chef Too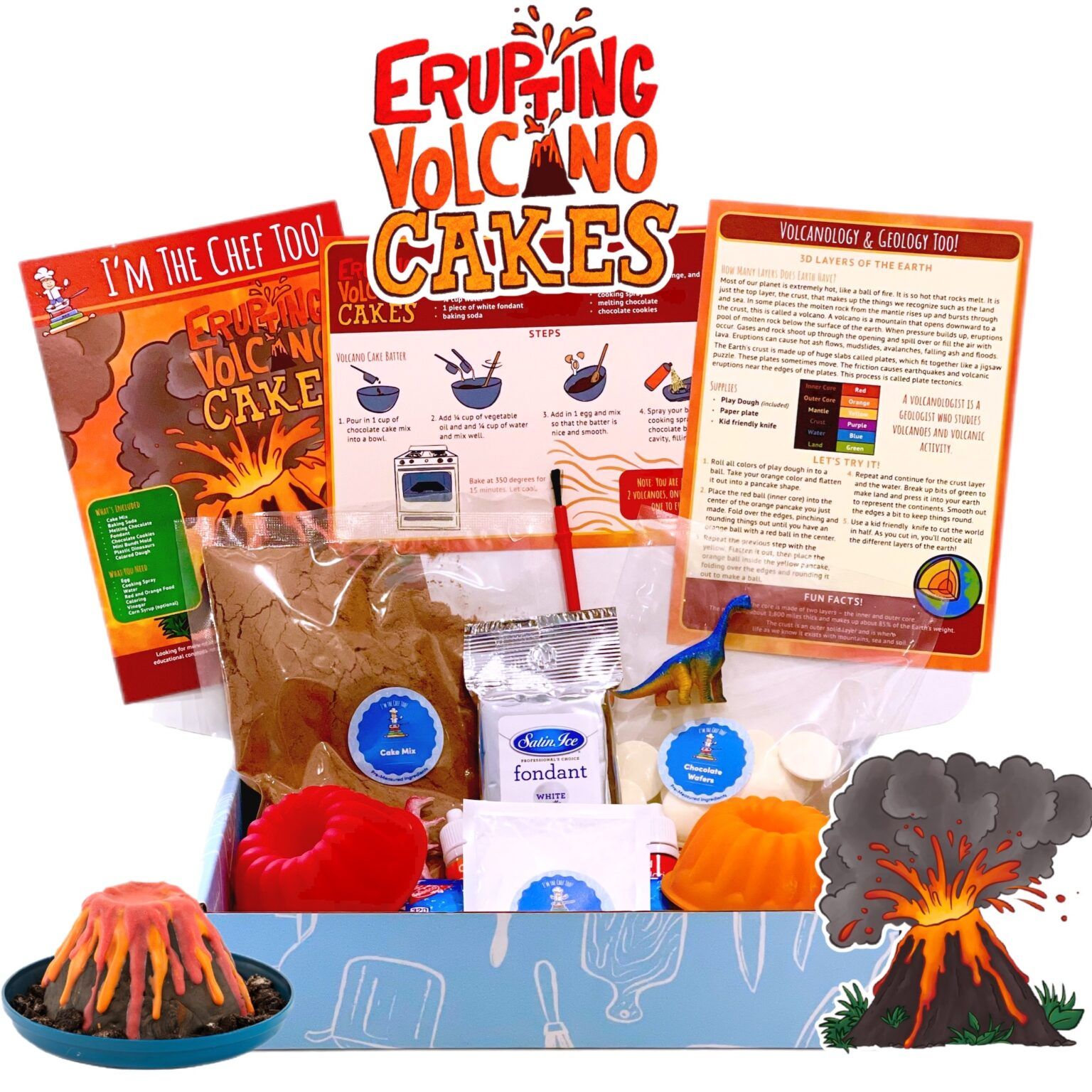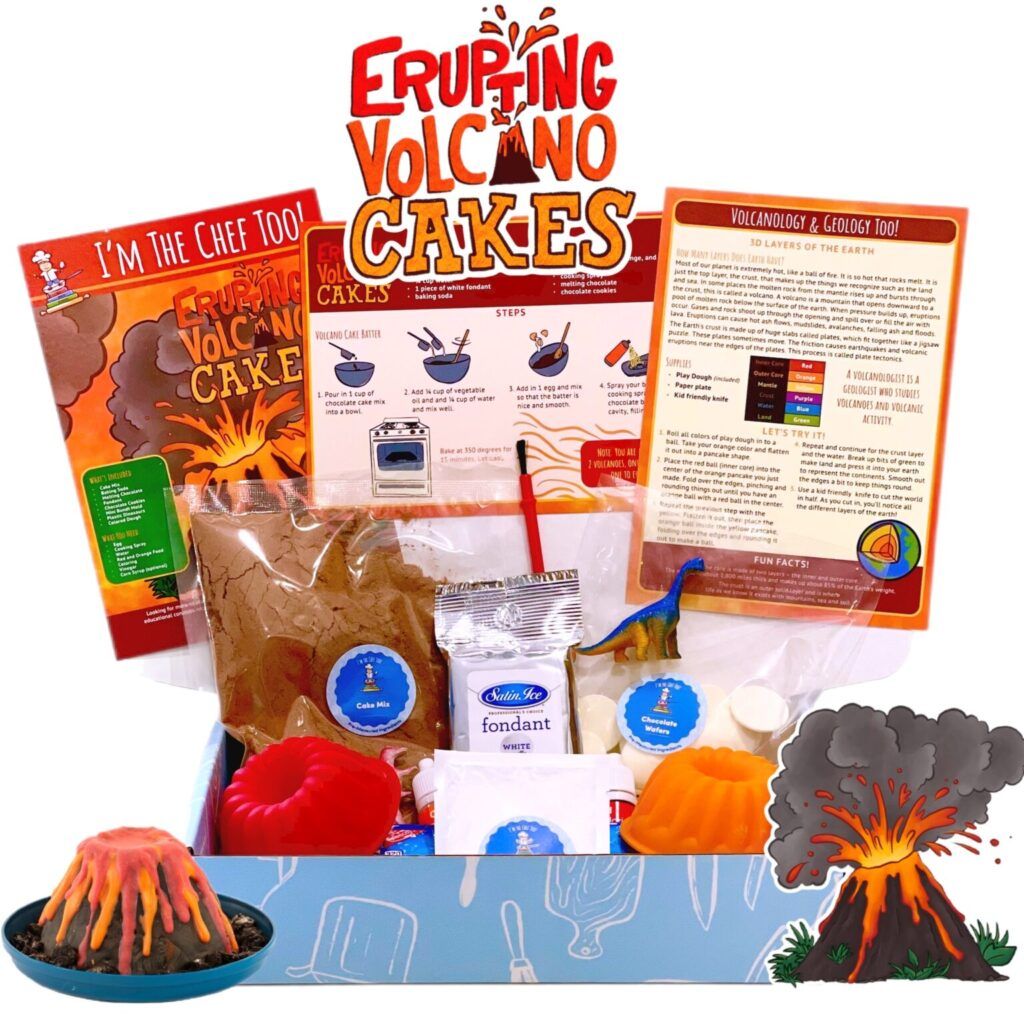 Founded by a team of educators, mothers and designers, I'm the Chef Too clearly incorporates STEAM concepts into its creative food and adventure kits for kids, which feature Erupting Volcano Cakes, Galaxy Donuts and more.
What's different? Each kit is designed to make learning fun and comes with a related educational activity. For example, the Galaxy Donuts kit includes a constellations map with pins and a small cork board provided, along with an astronomy and math concepts card.
What ages is it for? Ages 4-14
Where to buy: I'm The Chef Too subscription (starting at $35/month)
2. Kidstir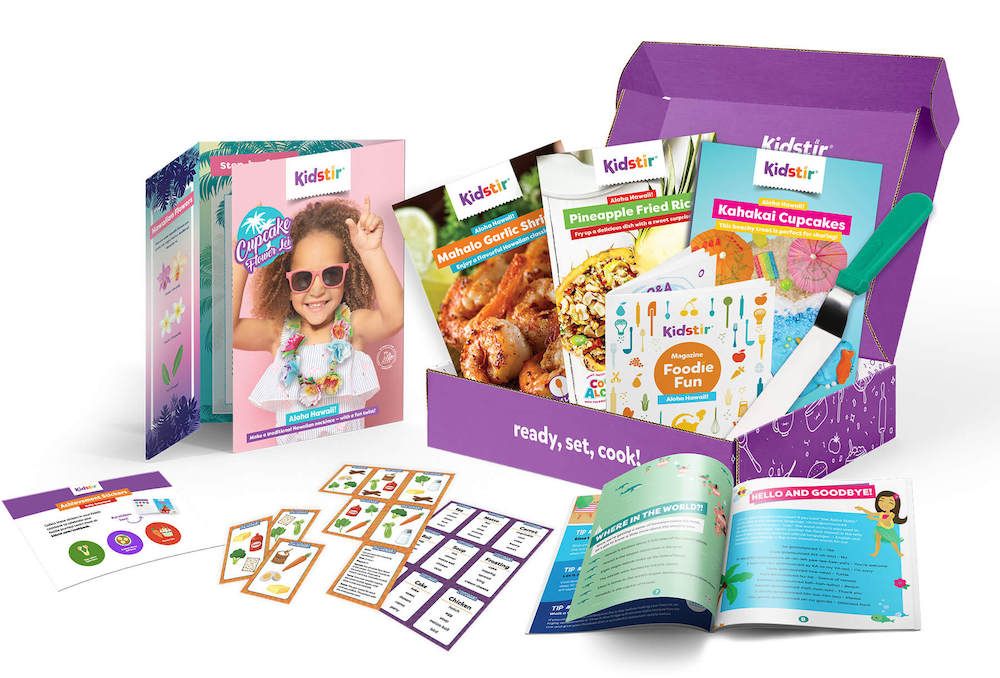 A "made-for-families" cooking kit company, Kidstir was started by a BIPOC mom and features recipes that look seriously delicious for kids and their grown-ups alike. For example, the Aloha Hawaii! Cooking Kit includes pineapple fried rice, mahalo garlic shrimp and kahakai cupcakes.
What's different? Kidstir cooking kits for kids are packed by Elwyn, a foundation that provides education and job opportunities to adults and children with developmental disabilities — so each order also supports this longstanding nonprofit. The kit also includes a hands-on bonus project like a craft or a recipe that incorporates a STEM lesson.
What ages is it for? Ages 4-14
Where to buy: Kidstir subscription (starting at $24/month)
3. eat2explore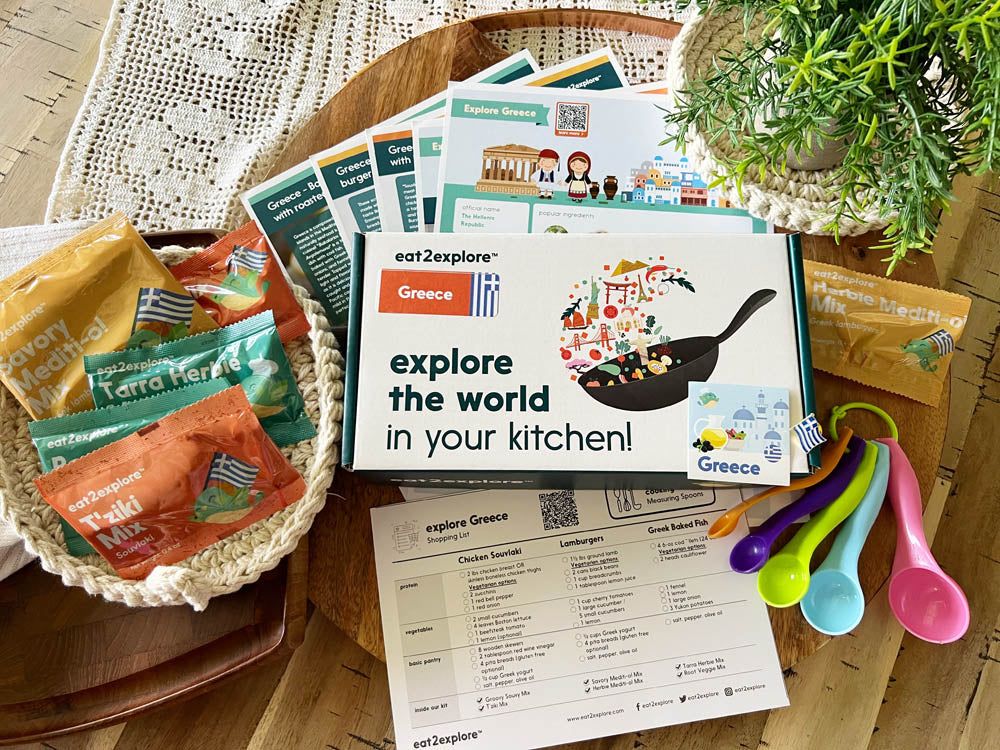 If your little chefs are interested in trying flavors from across the globe, eat2explore — founded by a Malaysian American chef and entrepreneur mom — may be the kit for you. Featuring continental bundles and an interactive world map on the website, families can choose cuisine boxes by global region.
What's different? In addition to the emphasis on cuisines from around the world and learning guides about different countries, eat2explore provides more sourced, non-perishable ingredients, such as sauces and spice mixes than other services.
What ages is it for? Ages 5 and up
Where to buy: eat2explore subscription (starting at $30/month)
4. Little Passports Kitchen Adventures
In collaboration with America's Test Kitchen, Little Passports created Kitchen Adventures, a cooking kit for kids that takes the whole family on an educational and delicious journey around the world.
What's different? From Rome, Italy, to El Paso, Texas, these kits come themed to celebrate different cultures, people and recipes from all over the globe. They also pack a lot of value into a small package. Each box includes four to six kid-tested recipes, a new kitchen tool, and games and activities to explore the history of a new place.
What ages is it for? Ages 7 and up
Where to buy? Kitchen Adventures subscription (starting at $31/month, Little Passports)
5. Raddish Kids
"We liked Raddish Kids because it was easy enough for the kids to be involved and the instructions were tailored to keep their interest (everything was short and direct)," says Lauren Wellbank, a mother of three in Lehigh Valley, Pennsylvania. "I remember doing a 'Fraggle Rock'-themed box that was super cool, and it included a black bean burger that we all couldn't get enough of for a while."
What's different? This is the kids cooking kit company that probably started it all, and it shows. Its product offerings include not only the Cooking Club, but also a separate Baking Club and Global Eats Club — so you can choose depending on your kiddos' interests. Also, their recipe cards stand out in their clarity, illustrated steps and quality laminated printing, which makes them easy to reuse.
What ages is it for? Ages 4-14
Where to buy? Raddish Kids subscription (starting at $24/month) 
6. Bake Eat Love (BEL)
Check out the products at Bake Eat Love – raspberry and chocolate eclairs, bananas foster sticky buns — everything looks irresistible. Clearly, BEL takes baking and gourmet desserts very seriously.  
What's different? The beautiful end-products will appeal to foodie kids and adults alike. Bake Eat Love's offerings are professional bakery quality in terms of appearance and flavor profile.
What ages is it for? Kids boxes: Ages 5-11 | Flagship subscription boxes: Ages preteen/teen
Where to buy? Bake Eat Love (starting at $40/kit)
7. Baketivity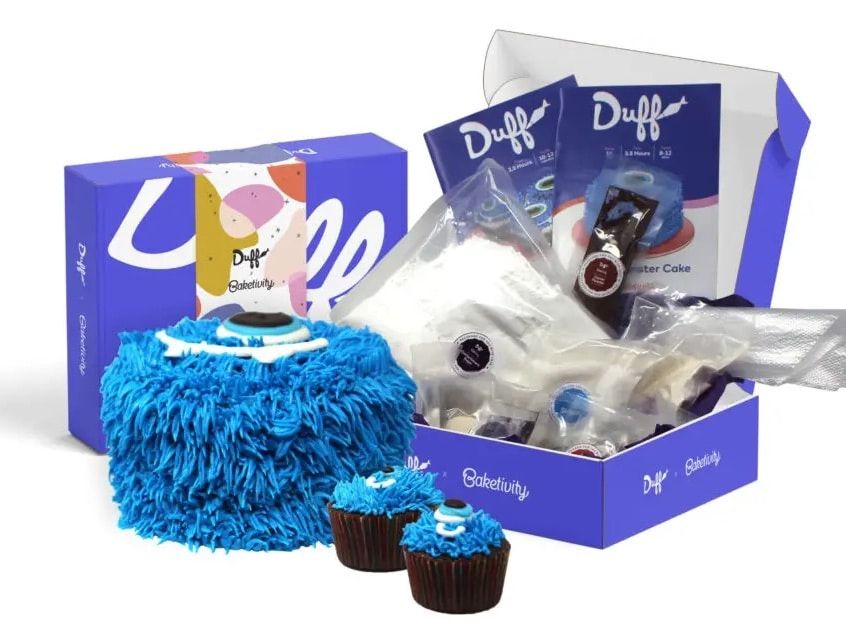 Likely the largest, most established kids baking kit company, Baketivity has the biggest selection of baking kits (including three gluten-free kits and a selection of dog treat baking kits called Barktivity).  
What's different? Baketivity has a collaboration with celebrity baker Duff Goldman, as well as L.O.L. Surprise! characters, so if your little bakers are fans, these colorful, sweet kits might be for them.  
What ages is it for? Ages 4-10
Where to buy? Baketivity subscription (starting at $35/month)
8. Little GF Chefs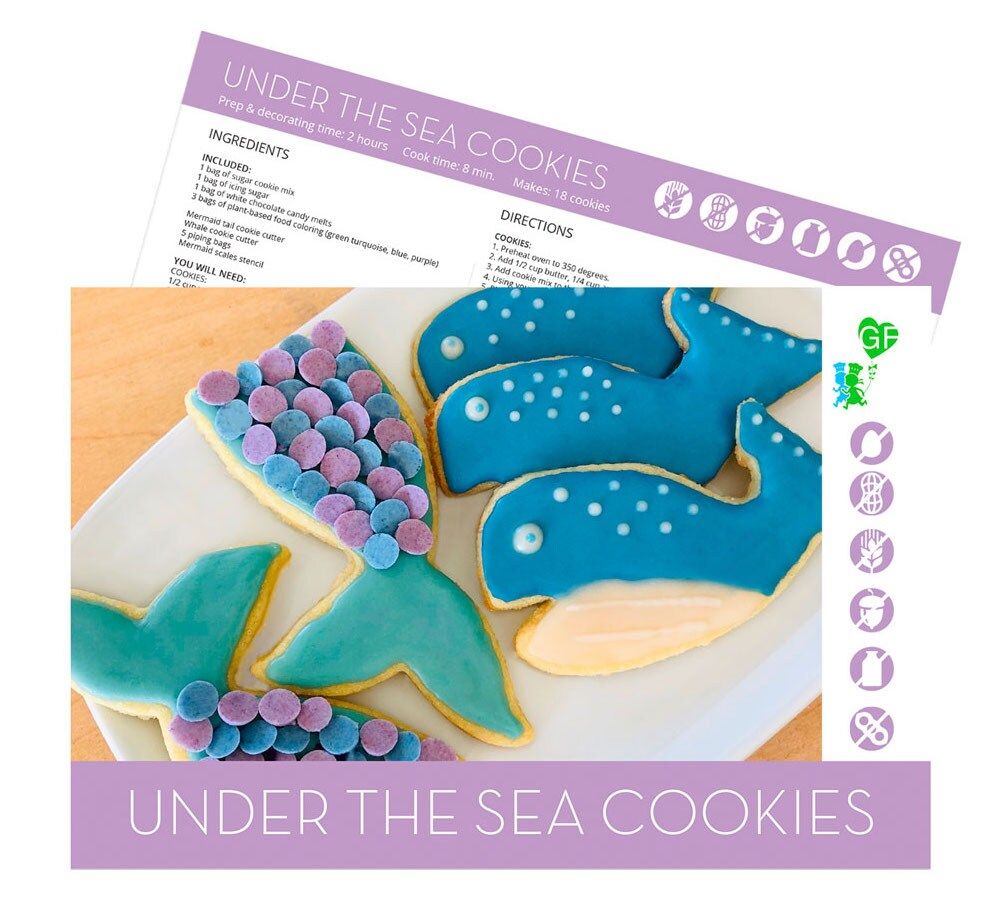 If your little bakers are gluten-sensitive or have food allergies, Little GF Chefs – which was founded by a mom of a child with celiac disease and a dairy allergy — will offer extra peace of mind.
What's different? According to their website, all Little GF Chefs baking kits are "gluten-free, contain no artificial dyes and free of the most common food allergens like nuts, soy, eggs and dairy."
What ages is it for? Ages 4 and up
Where to buy? Little GF Chefs (starting at $40/kit)
9. The Cookie Cups
What do you get when you combine a cookie and a cupcake? Apparently, a Cookie Cup! The Cookie Cups concept from a baker in Twin Cities caught on and her product line has grown to include many different baking kits, including pizza, pretzel, caramel rolls and more.
What's different? The Cookie Cup concept is certainly unusual, but what makes this kit stand out more is its thoughtful curation and presentation of the 12-18 kid-safe baking supplies and ingredients in each box, which really make these kits giftworthy.
What ages is it for? Ages 3 and up
Where to buy? Cookie Cup Baking Kits (starting at $40/kit)
10. Raw Chocolate Making Kit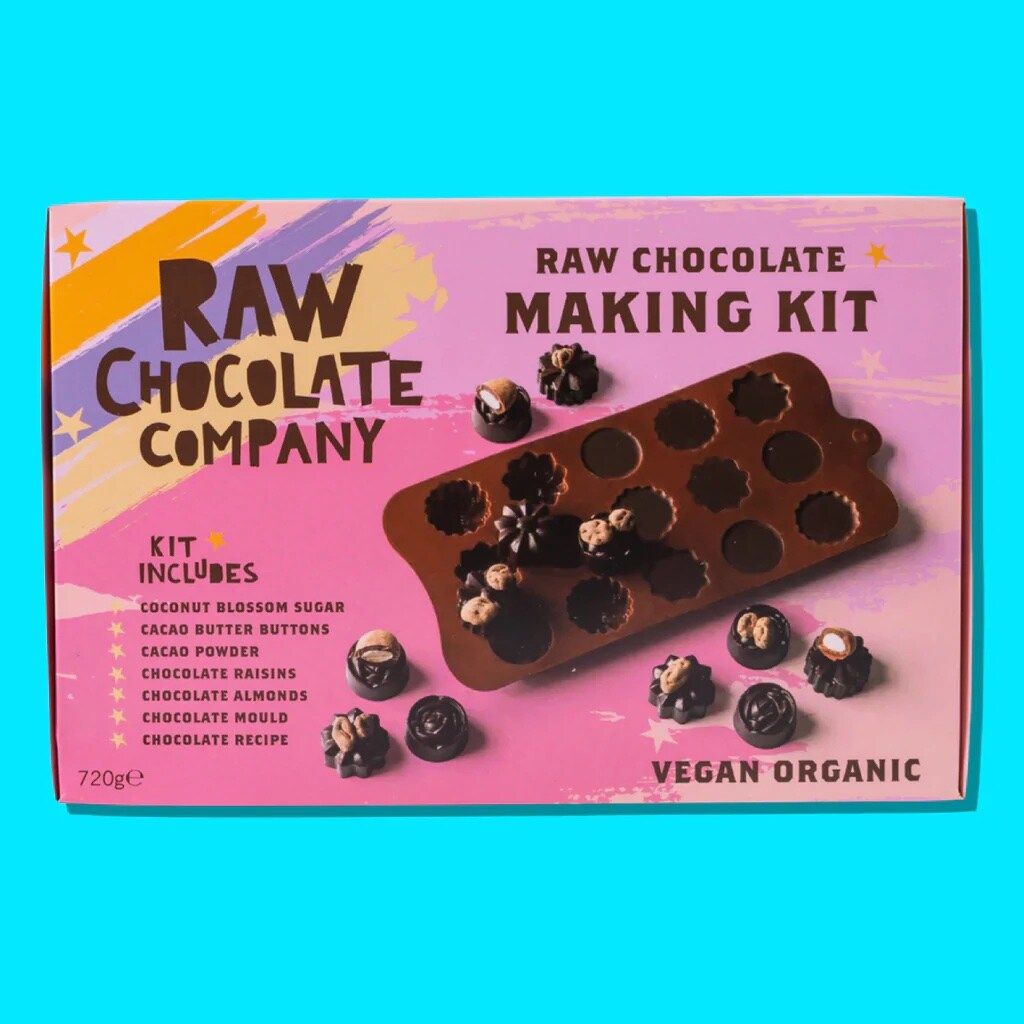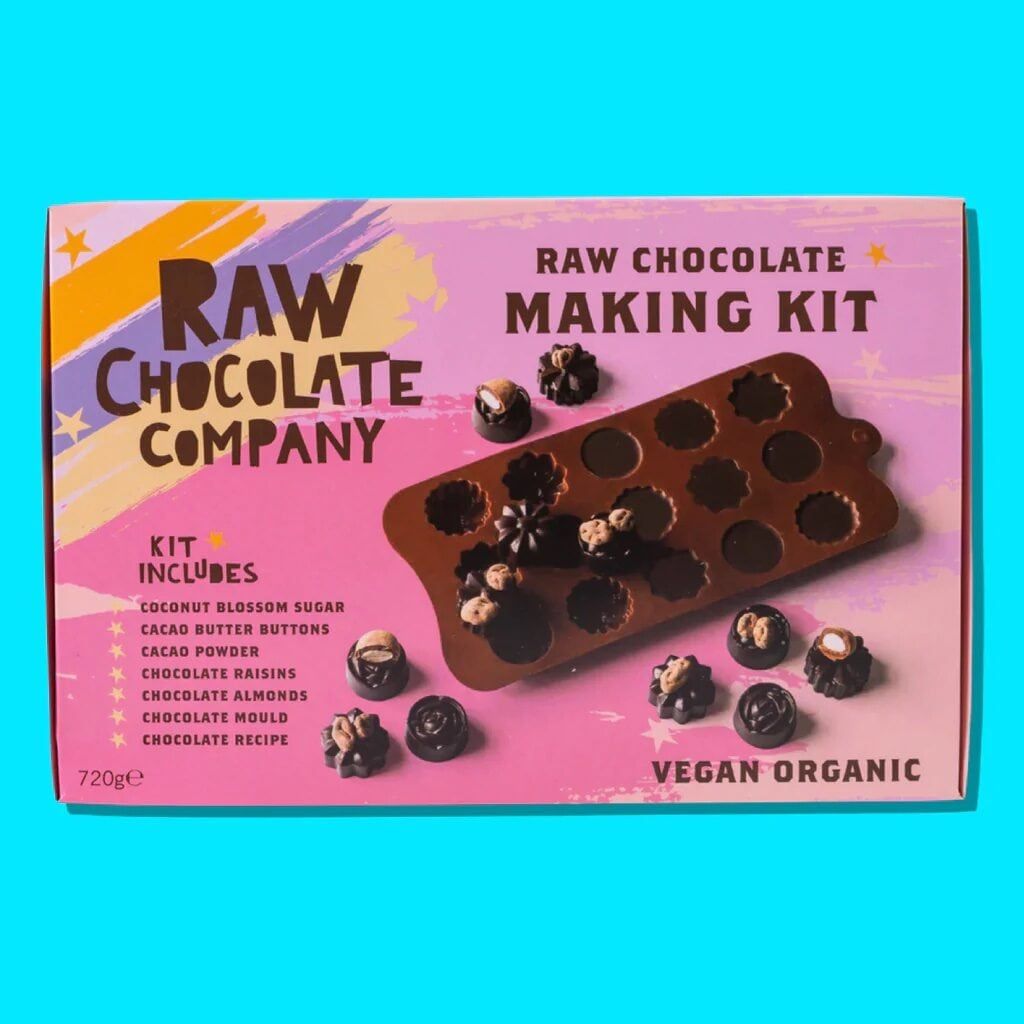 Is your little one an aspiring chocolatier with a sophisticated palette? Or maybe they were inspired by School of Chocolate on Netflix and are ready to make something intricate and dazzling. This chocolate making kit from Raw Chocolate Company includes all the ingredients, a chocolate mold and a recipe card.
What's different? All-in-one, kid-friendly chocolate-making kits like this one are a rare find. This kit is also vegan, organic and gluten-free. (Tip: The conversion chart provided on the retailer website might be helpful when using this product.)
What ages is it for? Ages 8 and up
Where to buy? Raw Chocolate Making Kit ($30, Elisa's Love Bites)