Teaching kids to cook provides not only a tasty creative outlet, but it also promotes independence so children can grow into adults with this essential life skill. Giving little ones the opportunity to feed family members and friends with their own hard work can also build confidence and nurturing. Helping kids connect the dots on STEAM lessons taught through the science of the culinary arts is another one of the many benefits of cooking with kids.
"Some kids have never laid foot in the kitchen, while others are so excited to cook," says Tamela Neyer, an educator and mother of two in Bayside, Wisconsin, who teaches cooking classes for kids at her community recreational learning program. "When cooking with kids, you have to meet them where they are."
Here are some ideas, activities, tools and resources to inspire cooking with kids.
1. Take a cooking class together
Cooking and baking classes for kids are available in person and online. Community centers and local recreation and education programs often offer these around the country, as do retail stores like Sur la Table. A variety of online classes are offered through Outschool for different age ranges. There are also free cooking how-to videos on Raddish Kids, which provides printable illustrated recipe guides that go along with their Facebook Live events.   
2. Let the kids choose what to make
For choosing what to bake or cook, letting the kids take the lead can help the process go much smoother — whether that ends up being baking a cute bunny cake or cooking ramen.
Joey Lo, a mom from Toronto started giving her young daughter Ellis fondant and cake tools while she was working on cake orders for customers. Lo discovered her daughter, now age 4, has quite the talent for cake decorating and their Instagram videos of adorable cakes have amassed quite a following. "Ellis' fine motor skills have improved a lot since we started making cakes together," says Lo. "The best part is seeing her confidence grow and feeling proud of her creations."
3. Watch a cooking show together
There are so many cooking shows for kids available to inspire children of all ages to get creative in the kitchen. From cooking competitions to more educational programs, there is something that will appeal to every kid. "Waffles + Mochi" (on Netflix) is our family favorite because the show explores global issues and works with Partnership for a Healthier America to provide meal kits to families across the country. Be sure to check out the "Waffles + Mochi" website, which includes free recipes, games, ingredient badges and more.
4. Get the right kids' cooking tools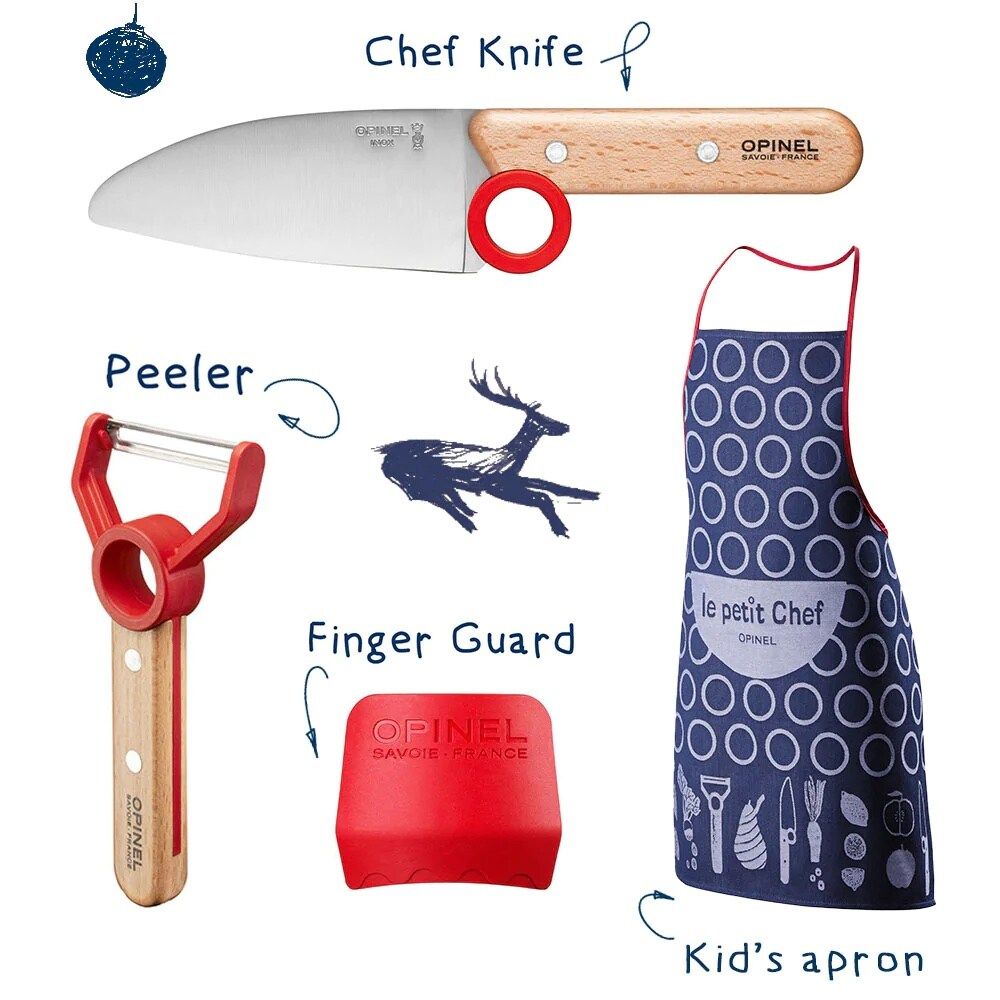 No need to go overboard if you already have a stocked kitchen, but a few essentials for kids will help avoid potential frustrations and additional messes. A step stool is a must — investing in a kid-sized apron and some kitchen utensils is also a good idea. Neyer recommends a crinkle vegetable chopper, plastic kitchen knives for kids, or metal knives for kids, depending on everyone's comfort level.
Where to buy: "Kids in the Kitchen" Kit ($67, Opinel USA)
5. Acquire some just-for-kids baking tools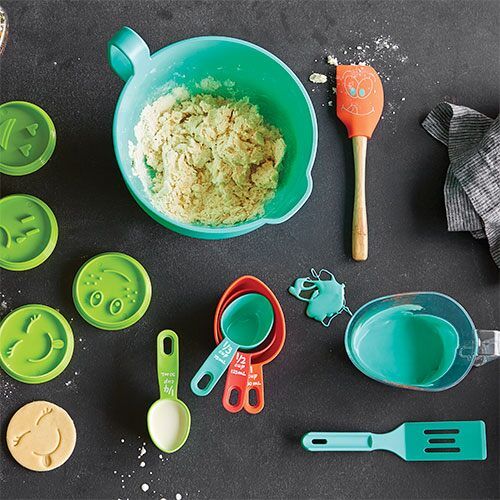 The same less-is-more philosophy for cooking supplies goes for kid-specific baking supplies — a miniature whisk and spatula that fits little hands should be enough, but if you want to pamper your little chef, this complete kids' cookie baking set including emoji cookie cutters "designed by kids, for kids" will make even star bakers envious. And if kids want to get extra creative with decorating like Ellis, Lo recommends Wilton cake tools from Michael's. "They are mostly for beginners, so they are perfect for [kids]."
Where to buy: Kids' Cooking Baking Set ($67, Pampered Chef)
6. Check out kids cookbooks and picture books about food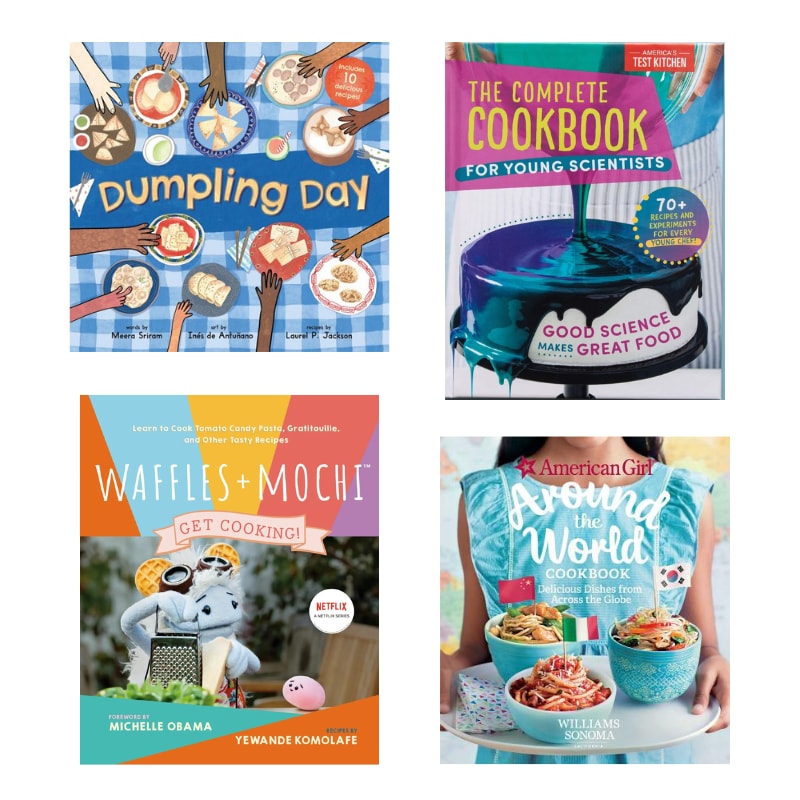 The written word can be a great source for new cooking inspiration on what interests kids (and you). Here are some examples to get you started:
7. Listen to cooking podcasts for kids
Because learning about food, ingredients, how people taste and the chemical reactions that occur in cooking can bring the culinary experience to another level, why not listen to some of these kids podcasts before you noodle around in the kitchen?
Brains On! An award-winning science podcast for kids by American Public Media has curated an awesome playlist of 8 fun (and funny) food episodes.
Mystery Recipe, the podcast from America's Test Kitchen Kids with segments like Tricky Trivia and Pressing Questions, which includes going to the Recipe Lab to guess weekly theme ingredients, as well as season finale cook-alongs.
8. Find the right kids' recipes
Finding approachable recipes for kids is key to success in the kitchen:
9. Need some help? Order a kids cooking kit
Cooking and baking subscription kits for kids have become quite popular and for good reason. Services like Raddish Kids ship curated recipes and educational activities, along with cooking tools for kids, right to your door. Eat2explore is a kids' cooking subscription kit with an emphasis on cuisine from around the world — and it comes with a food passport, a cooking tool and some key ingredients and spices. Many of these services also allow you to order one-off boxes instead of signing up for a subscription.
Where to buy: explore South Korea! Kit ($35, eat2explore)
10. Or try a kids baking kit
With the popularity of kids baking shows and videos, there has been an explosion of baking kits in the market. The Cookie Cups (sells pizza, caramel roll and bread-making kits) and Bake Eat Love (features sandcastle cake, peach cobbler cupcakes) — both stand out with recipes that appear more wholesome. Raddish Kids Baking Club allows families to buy their own ingredients, which reduces cost and environmental footprint, but requires a bit more planning from the grown-ups. If your little bakers are dedicated "Kids Baking Championship" fans, they may gravitate toward the offerings from Baketivity, which feature celebrity collaboration kits and colorful, candy-forward creations.
Where to buy: Kids Sandcastle Cake & Shark Activity ($50, Bake Eat Love)
11. Don't worry about the mess
As grown-ups, it can be hard not to mind the spills and splashes in the kitchen, but for everyone to enjoy cooking or baking, it is best if we can mentally and emotionally prepare for the inevitable mess. Find a time that's both good for you and the kids — when everyone is rested and calm — and have a great time with one another. And of course, enjoy what you make!