End of Life Care/Hospice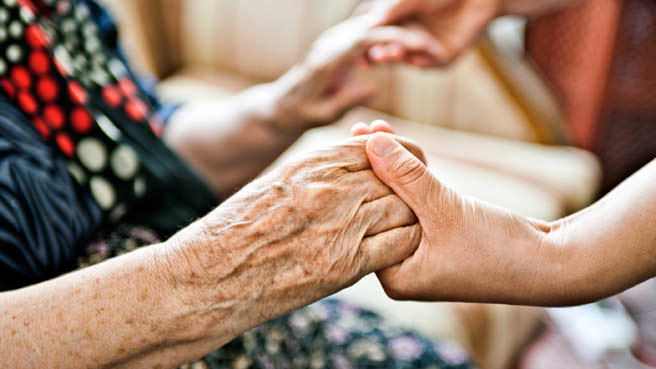 How to decide if hospice care is right for your parent, your family, and your bank accounts.
There are various options for assistance with caring for a loved one nearing the end of life. At this time treatments for a person's disease may stop, but their care needs will continue. Typically it is of primary concern to ensure the person is as comfortable as possible and that any emotional and psychological needs are being addressed. Also of great importance are the needs of the family members for support during this time. Many individuals at this stage in life opt for the assistance of hospice. Hospice is a comprehensive holistic service for individuals with a life-limiting illness. The goal of hospice care is to offer palliative medical care, or pain management, and address the emotional and spiritual aspects of end-of-life with compassion and dignity. Additionally, hospice provides support to the entire family. Individuals can enroll in hospice if they have a life expectancy of six months or less and are not participating in any curative treatments. Below are additional facts about hospice care.
Your loved one will have a hospice team made up of the doctor, nurse, social worker, chaplain, certified nursing assistant and home health aides. There is 24-hour access to support.
An individual can receive hospice services at home, in a hospice care center, or in a nursing home.
Anyone can make a referral to hospice. If you think it may be appropriate for your loved one you can discuss this with him or her and offer to call a hospice. This can be a difficult step because it acknowledges end of life, however many families find the benefits and supports are extremely helpful during this time.
Hospice covers medical supplies such as a hospital bed, walker, wheelchair, incontinence supplies and other supplies that may be needed.
Family members will receive information and assistance, as well as grief and bereavement counseling and support groups. These services are available in the year following your loved one's passing.
Hospice offers a variety of supplemental services such as music or pet therapy, last wishes fulfilled, support groups and other end-of-life quality opportunities to ease and comfort your loved one and you.
Hospice cost is covered under Medicare Part A; however, the cost of room and board at a nursing home or hospice care center is not covered by Medicare. Medicaid, long-term care insurance and other types of private insurance may also cover hospice care.
There are many types of hospices and they can be for-profit and non-profit organizations. Your senior care advisor can help you find one that will fit your family's needs.
When the doctor mentioned hospice as an option for Elaine Bleiden's mother, Bleiden was surprised. "I was totally blown away, as I realized this is what end of life is like," remembers Bleiden, who...
No one enjoys talking with their parents about frightening future possibilities -- that they may at some point no longer be able to live independently...

9 Comments
|
Hospice care is generally for those who have six months or less to live. Care at this stage focuses on relieving symptoms rather than curing...
General Information
End of Life Care and Hospice Resources By State
Visit Sheila's Blog
Get advice and tips for your family from our founder (and chief mom officer), Sheila Lirio Marcelo.