Embracing histories that humanize marginalized voices and face the unflattering aspects of our country's past is vital to create a more equitable society. Yet often, the history we accept affirms dominant perspectives and limits the perspectives of people of color. As parents and caregivers, we're ideally situated to disrupt this by teaching kids about Juneteenth.
Talking to children about cultural holidays — for example, Juneteenth for kids — sounds hard. But it doesn't have to be. Read below for the history of Juneteenth and activities to make this learning process fun.
What is Juneteenth anyway?
"Juneteenth" commemorates the day — June 19th, 1865 — that 2,000 Union troops arrived in Galveston Bay, Texas, and informed the remaining 250,000 enslaved Americans that the Emancipation Proclamation signed by Abraham Lincoln granted them freedom. (The news took a full two and a half extra years to get to Texas after the executive order was signed in 1863!) Even then, the formerly enslaved would have to wait for the news from their former enslavers and were often forced to transition into sharecropping to make a living.
The year 2021 marks 156 years since Emancipation reached Texas. The first Juneteenth was observed in 1866, and through the years, Juneteenth has symbolized different things to different members of the Black community.
Juneteenth is a uniquely American holiday but has yet to gain federal acknowledgment. In 1980, Texas became the first to acknowledge June 19th as a state holiday. Because of this, it's also often considered a regional/southern celebration. However, many states have followed suit in recent years.
Although Juneteenth doesn't hold significance to all Black/African descended peoples (there are many cultural subgroups), the holiday is still important as a stepping stone to freedom for all African descendants and even non-Black people of color in the United States. People of all ethnic and racial backgrounds can observe this day.
While there are many names to describe this event, it's clear that each of them celebrates the joy that accompanies finally being free from legal enslavement. Other names for Juneteenth include:
What does Juneteenth mean today?
The true Independence Day for Black Americans
Even as Black people continue to experience discrimination and limited opportunities to exercise their freedom, some Black Americans like Trina Greene Brown, founder of Parenting for Liberation, view Juneteenth as their true Independence Day. After all, Black Americans were still enslaved while the rest of the country celebrated the freedom associated with the Fourth of July. "I think it's a great time for families to come together and talk about our resistance," says Greene Brown. "Juneteenth is a day to celebrate that our ancestors fought to be liberated. It's a time to celebrate their power, brilliance and tenacity."
A day of shared struggle and pride
But Greene Brown also sees Juneteenth as an opportunity to embrace the spirit of pan-Africanism and the shared struggle of Black people globally. She notes that Juneteenth should be seen as a source of pride as with any other national or ethnic celebration of independence.
A time for healing and growth
For some, Juneteenth is a reminder that liberation is always coming — even if there's a delay in its arrival. For others, like Emanuel H. Brown, executive director of Acorn Center for Restoration and Freedom, a Black, queer and trans-led organization that seeks to provide growth and healing opportunities that are "rooted in Black Diasporic wisdom," it's a reminder of the importance of challenging the narrative that overlooks the rich cultural histories and strength of the Black community.
A day of Black love
"Juneteenth symbolizes the promise of freedom by any means necessary," Brown says. "The constant reminder that Black people freed ourselves well before slavery ended through the ways we found healing, joy and love in the harshest conditions."
He notes that the Black Diaspora continues to establish those ways of living and thriving centuries later. The Acorn Center's Juneteenth celebration — A Day of Black Love — takes place during its weeklong Black Love Convergence.
Where to find kid-friendly Juneteenth learning resources
Tonya Abari, a freelance writer and forthcoming author, says for her family, Juneteenth is more than a day to celebrate past successes. It is also a day of reclamation, reflection and education. She didn't learn about Juneteenth until she was an adult, so she's taking responsibility by teaching her children its significance while they are young.
"I was embarrassed to admit this at first, but as I grew older — and spent time as an educator — I understood that many students and adults alike never learned about Juneteenth due to a national lack of culturally responsive curriculum and reading resources."
She says there are many pieces of literature, audiovisual aids and art exhibits to aid you in teaching your children about the importance of Juneteenth.
Easy-to-understand videos about Juneteenth:
Juneteenth also offers youth a chance to go beyond lessons on slavery toward the continued struggles Black Americans faced after the formal abolition of slavery. Older children can benefit from reading Fredrick Douglass' famous speech 'What to the Slave Is the Fourth of July?' (In this video, descendants of Frederick Douglass read and respond to excerpts of his speech).
And learning about history isn't just for children. There's so much for all of us to learn through guides like the New York Public Library's handy list of Juneteenth books for kids that can benefit folks of all ages.
How Juneteenth activities for kids can add to the celebration
It's simple but impactful to commemorate Juneteenth through family activities. The earlier Juneteenth celebrations involved communities of Black Americans coming together to share food, dance, song and often prayer in acknowledgment of freedom. We can recreate much of this today. Doing family crafts after listening to stories can help bring the lessons home.
The Smithsonian National Museum of African American History & Culture has a great list of Juneteenth lessons for kids to inform and engage individuals about the significance of this celebration, including:
Abari's household incorporates the aesthetic and flavors of freedom through treats like symbolic red foods and drinks like hibiscus tea, watermelon and strawberry crisp and adds the sentiment through reading activities.
Children's books to read around Juneteenth
You can celebrate by reading books around Juneteenth — or Black history generally — for kids:
Greene Brown's book "Parenting for Liberation: A Guide for Raising Black Children" is a helpful resource to support parents of color with culturally relevant parenting all year long.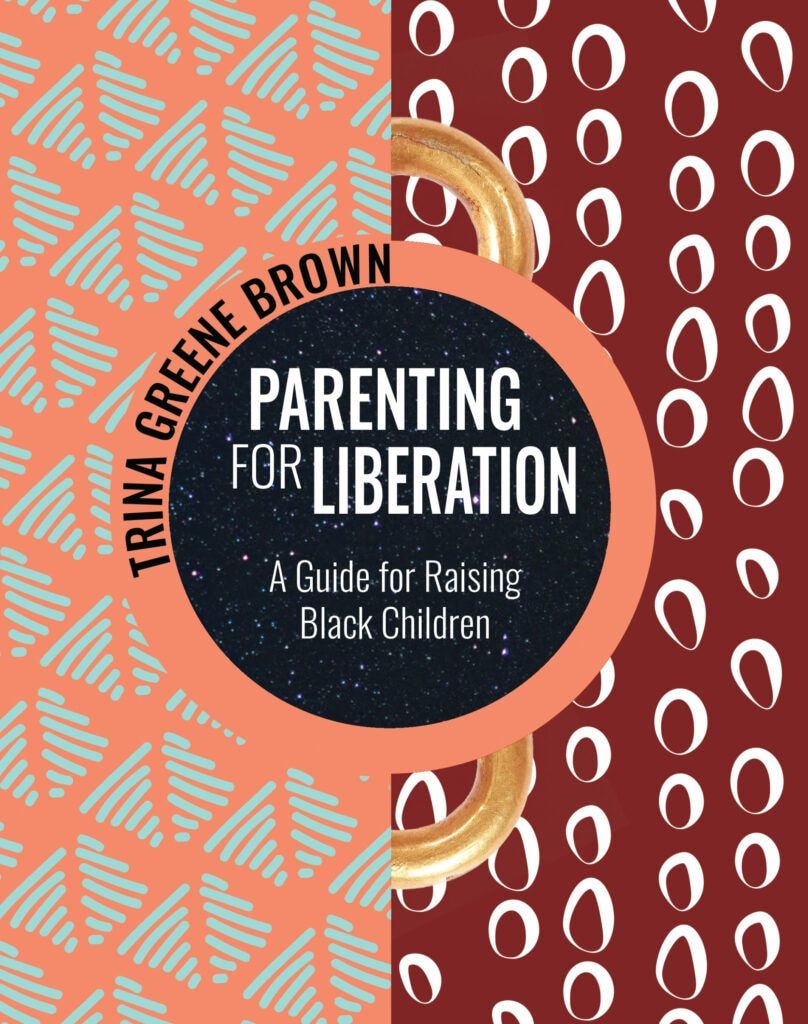 Have an environmentally friendly Juneteenth
Greene Brown suggests excellent alternatives like Graham's upcoming Freedom in Full Bloom: A Juneteenth Celebration, which offers eco-centered efforts of liberation. Celebrate Black creativity and use gardening and seeds to symbolize "seeding liberation." Greene Brown will do the closing and speak affirmations that articulate Black children as seeds of the community's future.
These efforts remind us that storytelling, especially when told by elders like grandparents and great grandparents, is a powerful method for transgenerational Juneteenth learning and engagement. Encourage children to visit with and ask questions of older loved ones.
Make freedom real
This holiday brings opportunities for parents and caregivers to use Juneteenth lessons for kids to disrupt patterns of oppression today. Holidays like Juneteenth that celebrate the end of historic grievances allow us to seek opportunities to achieve freedom as a nation truly. Educating our children is step one of creating that better world. As we learn each other's origin stories, we're able to see the vulnerabilities in our nation and even reflect on the legacies that created the treatment we see today.
Parents and caregivers are at the frontlines of social change. Through our education and efforts, we make a world where people of all identities can truly be free.