Celebrating a greener holiday season doesn't have to mean channeling the Grinch. With a little planning and research, a more environmentally sustainable — but just as joyous — holiday is very doable. "The holidays are a time of year full of family and celebration, but they are also a time when people indulge in a lot of excess 'stuff'," says Lea D'Auriol, founder of Oceanic Global. "We can instill the 'less is more' mindset of fewer, more thoughtful gifts and embrace environmentally friendly habits that will ultimately help protect our planet and put our children in a position to educate and inspire others to do the same."
The potential impact of families adopting a "reduce and reuse" philosophy during the holidays is quite significant. "According to the Environmental Protection Agency, U.S. household waste increases by 25% between Thanksgiving and New Year's, adding an extra 4 to 5 million tons of material into our landfills each year," says Terry Macko, senior vice president of Communications & Marketing at the World Wildlife Fund (WWF), based in Washington, D.C. To scale this staggering statistic down to an individual level, the Center for Biological Diversity reports, "Each person generates 36 more pounds of waste in December than in any other month of the year."
What this also means is that two garbage trucks' worth of plastic enters the world's oceans every minute, according to Oceana. "What we do today to protect our oceans will have impacts for centuries to come," adds D'Auriol. "There's no greater gift to give the next generation than a habitable and healthy planet."
Here, environmentalists and parents share 12 ways to enjoy an eco-friendlier holiday season.
1. Source a greener Christmas tree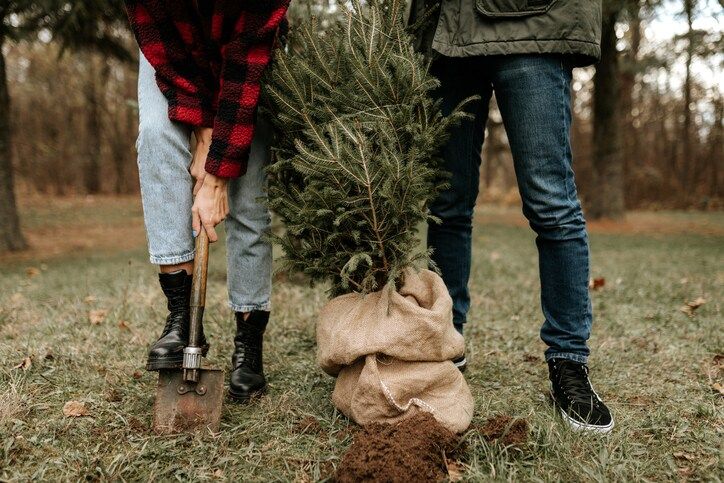 Experts agree real Christmas trees (especially those sourced from a local farm and composted or mulched afterward) are better for the environment than artificial trees when it comes to their carbon footprint. Even better? Buy a live tree with the root ball still attached so that it can be planted outside or kept as a houseplant to continue absorbing carbon dioxide after the holidays. If you do opt for an artificial tree, keep this in mind. In order to match the carbon impact of using a real tree each year, you need to use an artificial tree for at least 10 years, so D'Auriol advises making sure to keep artificial trees in good condition to reuse year after year.
2. Make a popcorn garland
Skip buying tinsel (plastic) or a new trendy garland this year. Instead, "Get the whole family involved in crafting [a popcorn garland]," says D'Auriol. "If you use cotton string, you can pop the garland into your compost bin after the holidays are over." To make it fancier, add cranberries or red licorice, but the key is to keep it fully compostable to reduce waste of buying new decorations.
3. Create a library book advent calendar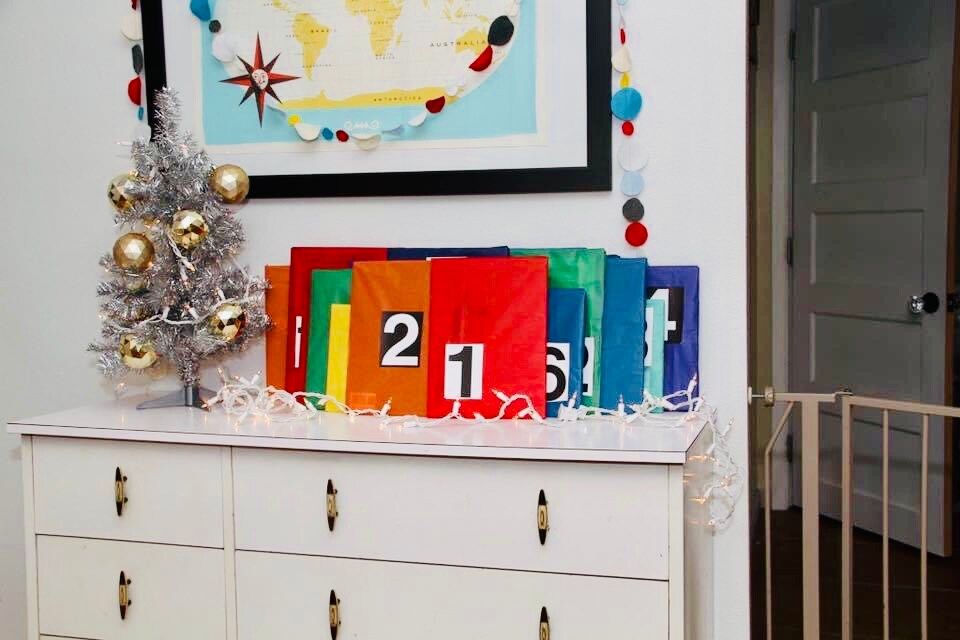 Jess and Krista Thrift, parents of three in Olympia, Washington, place holds on 24 picture books about winter, Christmas, snow, other countries' holiday traditions and more, from their public library in November and wrap them all individually in compostable tissue or kraft paper, labeled one through 24, for a fun, literary and zero-cost countdown to Christmas.
4. Create upcycled seasonal decorations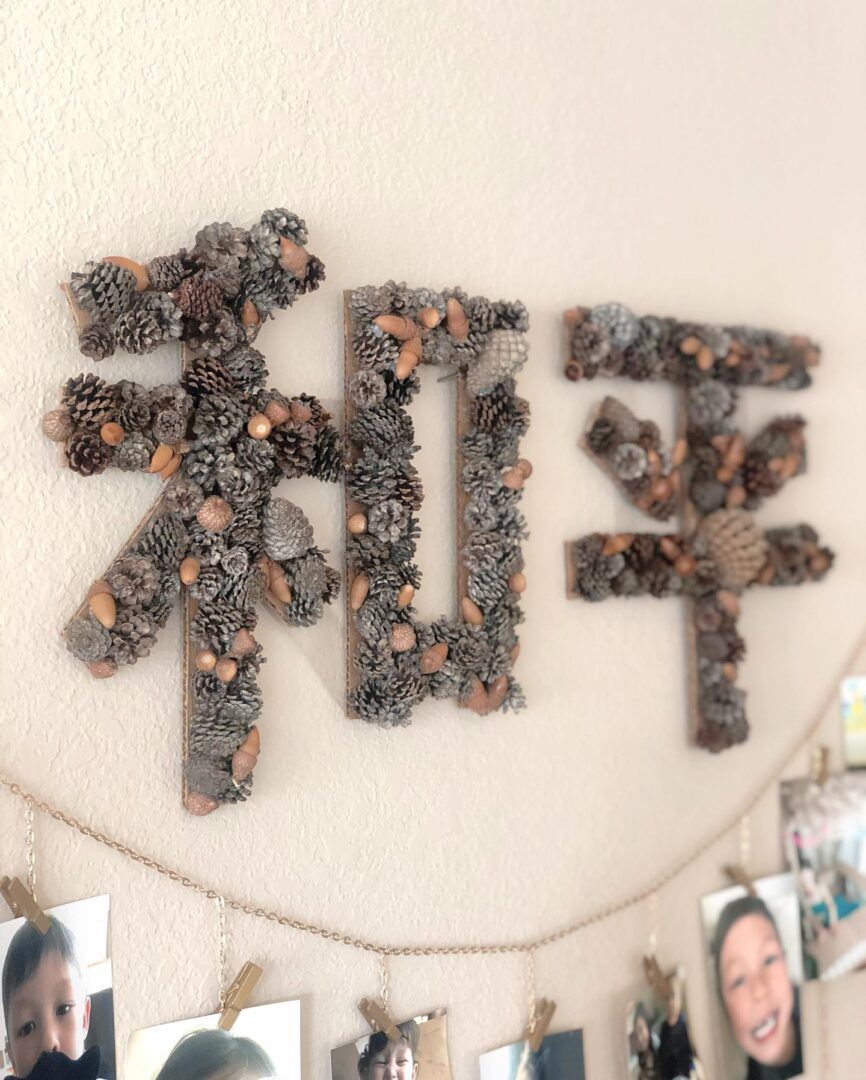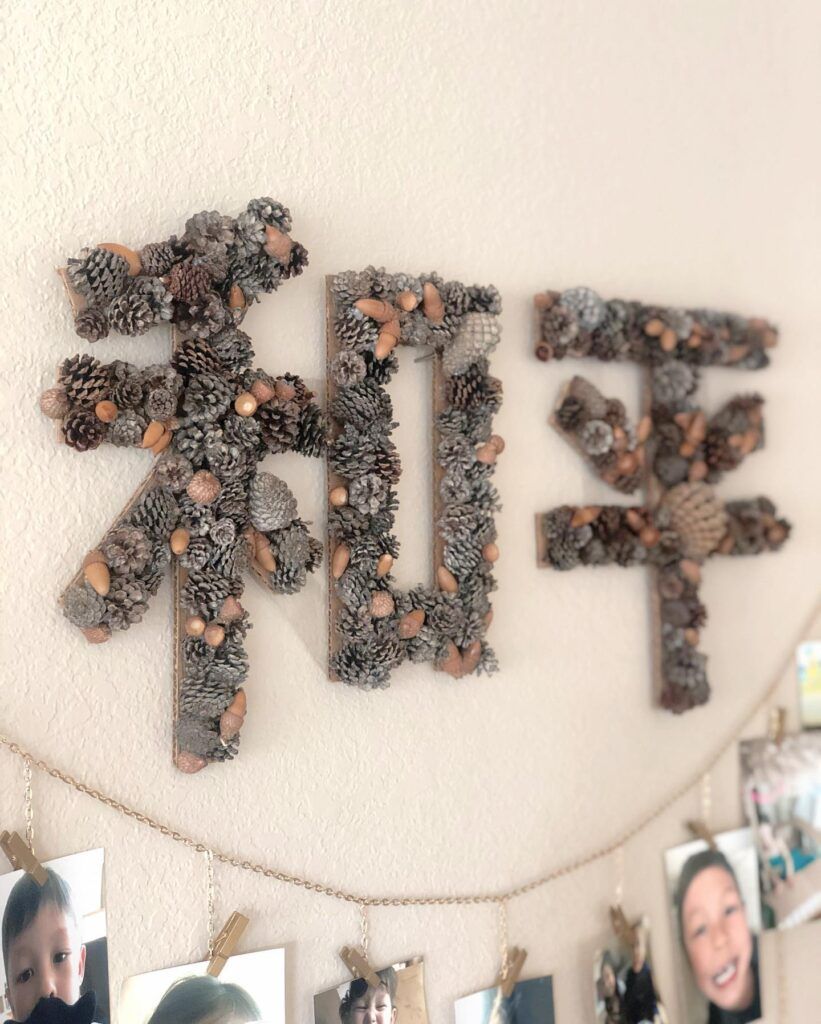 "Plastic holiday decorations and packaging have a large carbon footprint and can make their way into nature after they are discarded," says Macko. Instead of purchasing decorations, Jeanne Chang, the Bay Area mom of two and force behind the bilingual parenting blog Mama Baby Mandarin, collected pine cones and acorns around her home to create this stunning decoration that spells out "peace" in Chinese characters. Leveraging what you already have available to create DIY decorations of natural materials and found objects or other fall crafts and winter crafts are eco-friendlier options that double as wholesome holiday activities.
5. Rethink holiday greeting cards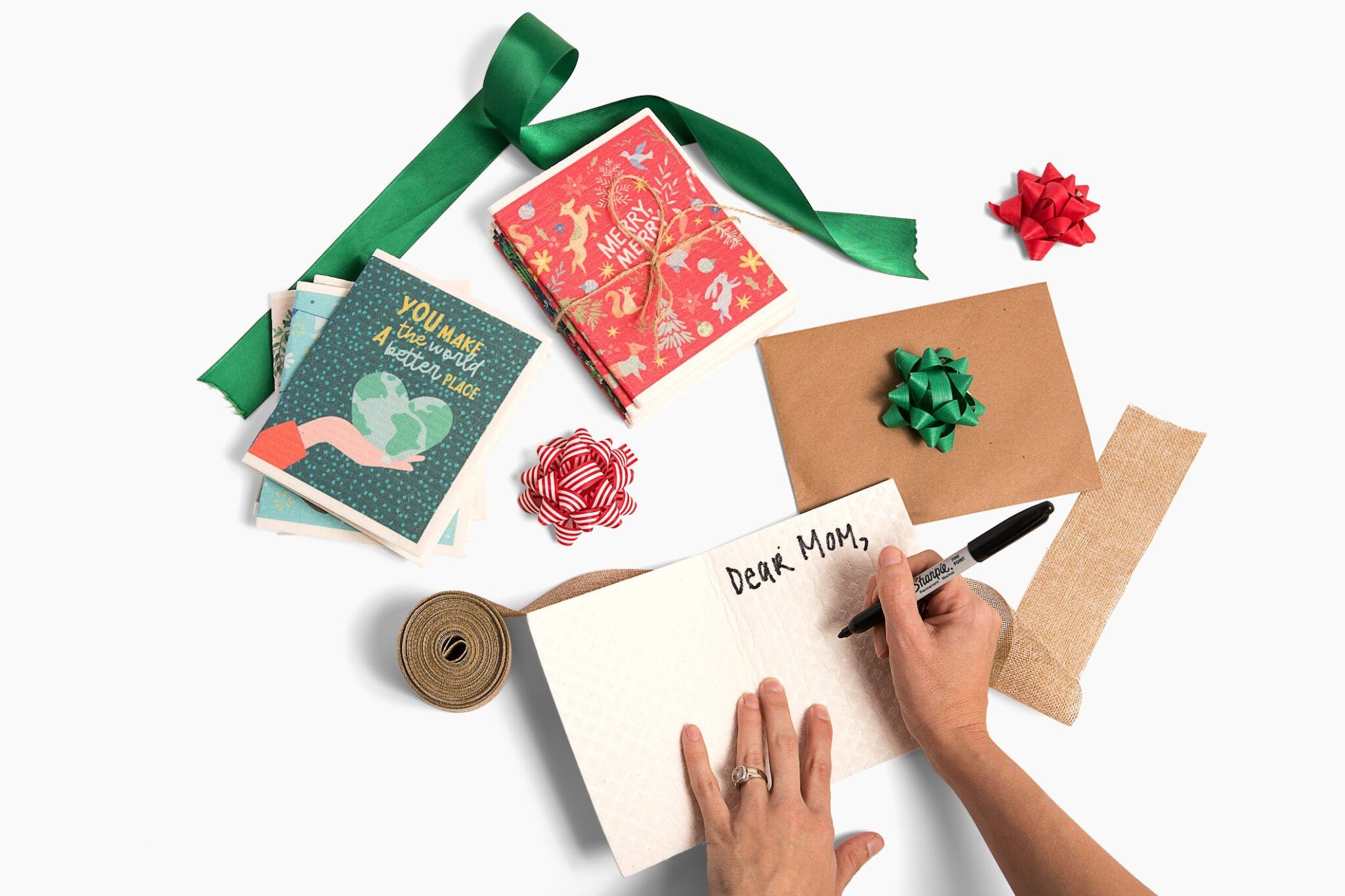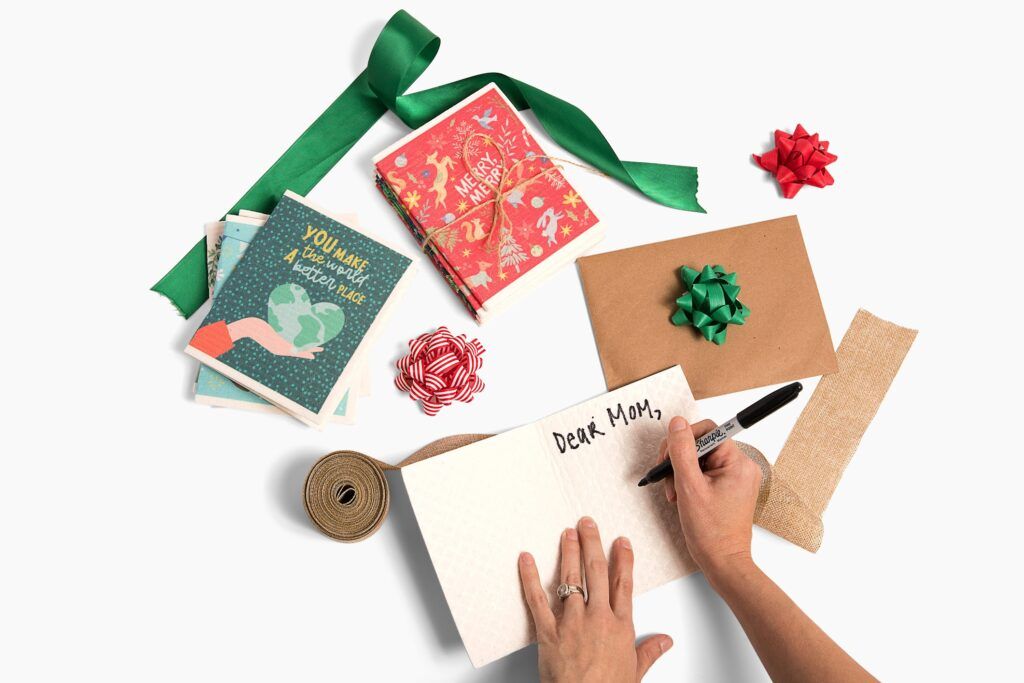 This year may be the one to go digital with your holiday greetings. Not quite ready to forgo the stamped holiday tradition? "Look for greeting cards that are Forest Stewardship Council (FSC) certified," says Macko. The EPA recommends buying cards made from recycled paper and printed in nontoxic inks, without metallic or plastic coatings, and switching to postcards, which do not require envelopes. Another creative option is this Swedish Dishcloth Greeting Card, which transforms into a reusable dishcloth "comparable to 17 rolls of paper towels," according to the Brightly website.
Where to buy: Swedish Dishcloth Greeting Card (Wishcloth) ($8, Brightly)
6. Gift sustainably
Check out your local thrift stores or shop Goodwill online for everything from Pokémon cards, books, art supplies and more, and don't forget your local Facebook 'Buy Nothing' groups. For other feel-good shopping options, consider Ten Thousand Villages and UNICEF Market.
"Being aware of what we buy is something that preferably happens throughout the year, so [our] kids aren't surprised when the holidays arrive," says Shannon Brescher Shea, a parent of two kids in Rockville, Maryland, who wrote "Growing Sustainable Together: Practical Resources to Raise Kind, Engaged, Resilient Children." Shea talks to her kids regularly about the importance of buying things secondhand to reduce waste, as well as fair trade and locally, so that workers get paid an ethical price for their work. "These conversations about values and how they play out in behavior can then set the stage for being less materialistic around the holidays," she adds. "Even if it's coming up on the holidays, it's best to start these conversations about your own spending so [kids] don't feel like it's unfair to them specifically."
D'Auriol advises choosing plastic-free gifts and toys. Some products — such as play foam and glitter — are made from plastic even though you wouldn't necessarily think so at first. Most slime, both store-bought and homemade, is also not biodegradable, so choose a sustainable slime recipe instead, like this one made of flaxseed and corn starch. "Skip the big-box stores and opt for locally handcrafted gifts, such as wooden toys or winter accessories made of natural fibers," she adds.
7. Focus on experiences (and consumables) over objects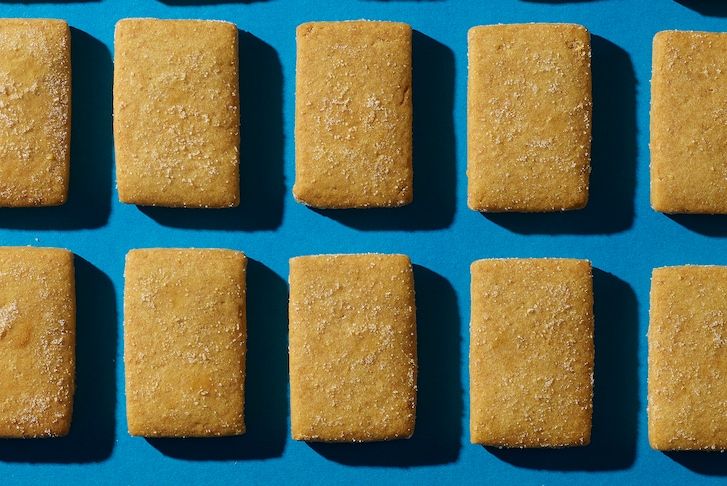 "I like to gift experiences or events like tickets to a show or a soccer game," says Aileen Weintraub, an author and mother of one, based in New York City. "Sometimes we make each other little booklets of redeemable coupons. My son [who is a teenager now] makes these for me: one load of laundry, a fully cooked dinner and dishes, etc…"
Delicious consumables (or gift cards to local bakeries and restaurants) can also be a greener way to celebrate a loved one. Want to give something new, tasty and better for the environment? Supplant offers premium, chef-developed chocolate bars and shortbread cookies made with plant-based sugars derived from upcycled crop fibers (e.g. straw, stems and cobs), which are made in Napa, California.
Where to buy: Hand-Baked Shortbread ($5+, Supplant)
8. Skip the wrapping paper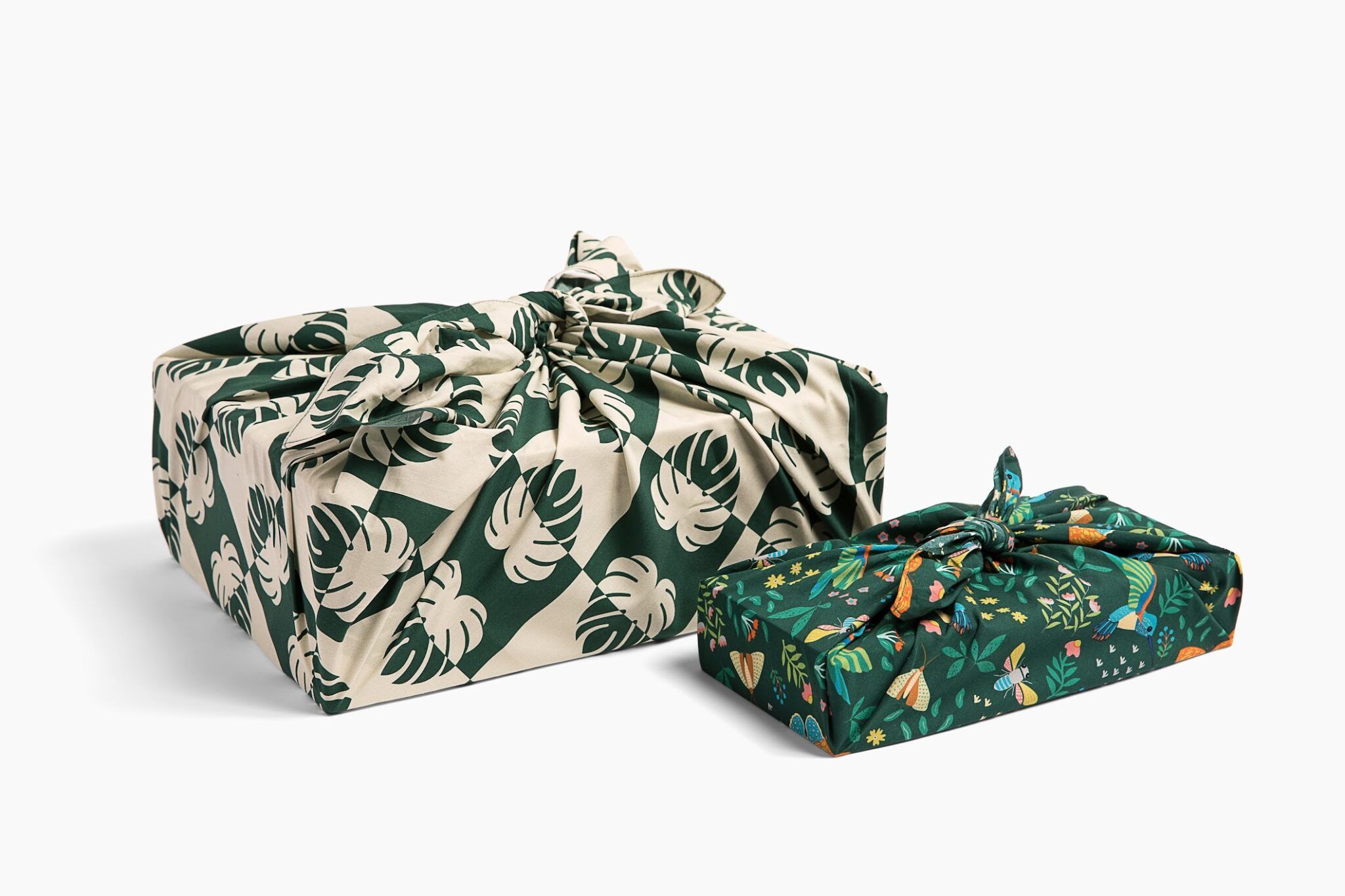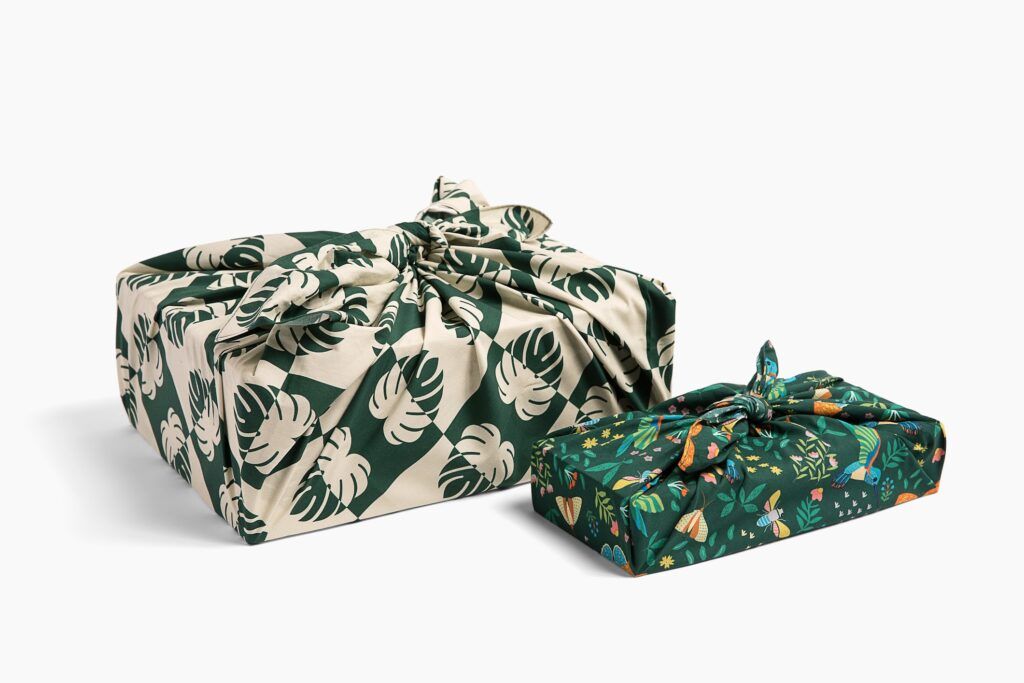 Most wrapping paper, especially those with foil or glitter, cannot be recycled and will end up at a landfill and the microplastics in our oceans. "Use neck scarves and bandanas to wrap gifts," recommends D'Auriol. "Reuse paper bags and recycle them afterward. Instead of tape, opt for a reusable string to bind together gifts."
Here are a few alternatives to wrapping paper and other plastic-based gift wrapping:
Try furoshiki Japanese fabric wraps. Reusable fabric gift wraps like the ones shown above by Brightly in partnership with Wrappr offer attractive options, or look around your home or thrift stores for scrap fabric, old t-shirts or sheets and more.
Use natural materials. Wrap gifts with the plain side of paper grocery bags and decorate with dried flowers or twigs or try these compostable gift ribbons and bows.
Opt for other waste-free options. Check out this Greenpeace guide to zero-waste wrapping for great ideas like using old maps, upcycled magazines and more.
Where to buy: Reusable Fabric Gift Wrap ($15+, Brightly)
9. Eat greener holiday meals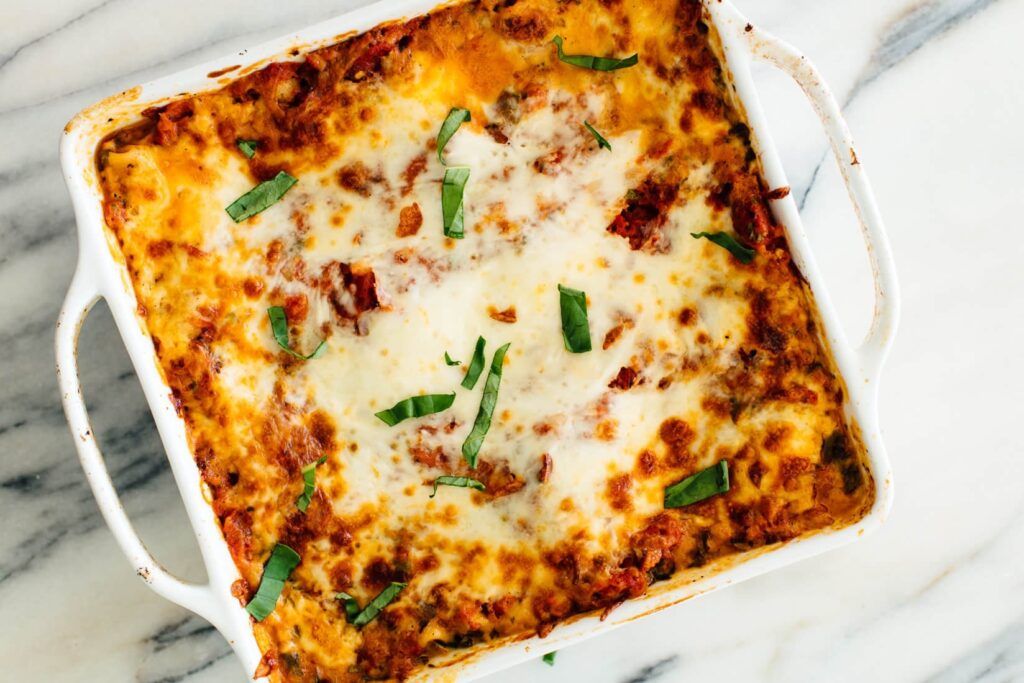 WWF reports that 40% of the food produced worldwide is wasted. "When [food] ends up in the landfill," Macko says, "wasted food releases methane, a potent greenhouse gas that contributes to climate change." ReFed projects 305 million pounds of food from Thanksgiving dinner will be discarded this year alone. During gatherings, he explains, people often "overestimate the size and appetite of the group," which contributes to the extra tons of waste discarded each holiday season.
In addition to reducing waste, considering the greenhouse gas emissions of different foods when planning the menu makes a big impact. "The environmental footprint of meat and fish is astronomically higher than plant-based foods," says D'Auriol. "Some [plant-based] holiday favorites from the Oceanic Global team include tofu pot pie with a sweet potato crust, vegetable lasagna and a meat-free holiday roast." And if your family is not ready to go meat-free, chicken and turkey are your best bets as far as carbon footprint. (Here's a handy ranked guide to making greener meat choices.)
10. Set a more eco-friendly table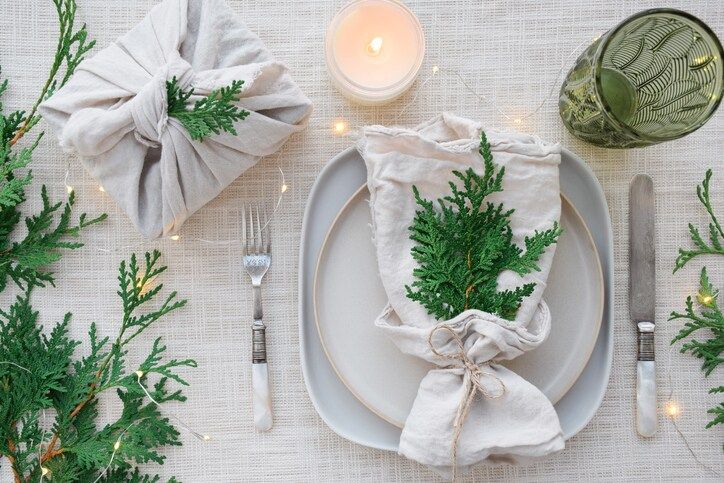 Use silverware or compostable cutlery and reusable plates. Switching to cloth napkins year-round can make a big impact in reducing waste. If you can make cloth napkins from scrap fabric or source them from thrift stores, you can further reduce your environmental impact. Want to invest in quality napkins and table linens that are easy to care for? Look for 100% cotton products from Loom & Table, or search "upcycled napkins" on Etsy for an array of attractive options.
11. Dress more sustainably
The United Nations Environment Programme reports that fashion accounts for up to 10% of global carbon dioxide emissions and 1/5 of the 300 million tons of plastic produced globally each year. Shopping local vintage and secondhand stores while being mindful of how clothing is made (whether it contains polyester and other plastics) is best. Renting clothes through services like Nuuly Rent, which ships clothes using zipped, reusable bags and upcycles/recycles its products, is another viable alternative to fast fashion.
When it comes to washing your clothes, consider greener laundry detergents with packaging that uses less plastic, like Tru Earth or ECOS laundry detergent sheets.
12. Support an environmental nonprofit
"Donating through our holiday gift catalog helps us continue to protect nature and build a better future for people and wildlife," explains Macko. "World Wildlife Fund's symbolic adoptions are a much-loved gift year after year. There are more than 100 animals to choose from, like the sloth, African elephant, polar bear, panda and more."
Here are some environmental nonprofits with holiday gift options: