Kids love dirt. They also love water, grass, animals and all the natural resources the planet provides. So, what better time to help them appreciate Mother Earth in all her glory than on Earth Day?
Whether you're a parent, grandparent, babysitter or nanny, you can teach the importance of nurturing nature by doing some of these Earth Day activities for kids. Even better? You can even have fun and get a little dirty at the same time.
1. Beautify something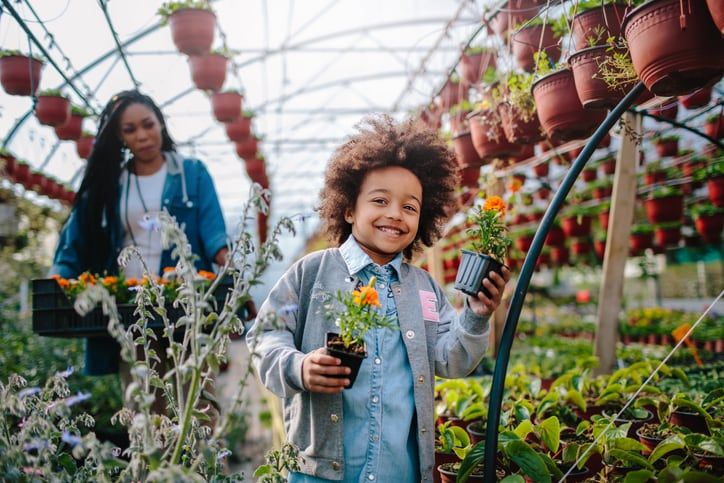 Whether it's your front yard or a neighborhood eyesore that needs a little sprucing, nothing helps decorate more than flowers. Head down to your local garden center (preferably by bike, it's Earth Day, after all!) and buy some blooms. Then get planting. Tip: A perennial flower will allow your kids to see their hard work year after year.
2. Clean where you play
Who wants to play a game? Head to the local park, take some trash bags and rubber gloves and let's see who fills their bag with garbage the fastest! Sound like fun? Picking up is never the best part of a playtime, but putting kids to work cleaning up an area they use often teaches a fantastic lesson on giving back and helping the planet. Plus, they get to play when they're done.
3. Give your plants a treat
Nothing makes plants grow like some fresh compost. Get dirty by collecting weeds, leaves, dying plants and some kitchen waste like veggies, fruits and coffee grinds. Mix them all up. Place them in an area of your yard to let them decompose. This will be the perfect treat to spread over your plants and grass during the spring and summer.
4. Recreate the world
No one ever needs an excuse to make Rice Krispies treats. This time, turn the original recipe, plus a little blue and green food coloring, into a planet-sculpting project. Your kids will love shaping the yummy mix into a globe and covering it with green and blue sugar. Follow these easy instructions to make your own yummy earth treats.
5. Feed the birds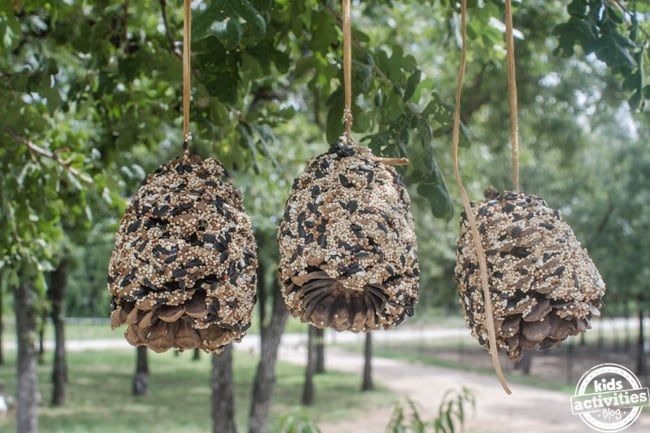 Here's one of the most rewarding Earth Day activities for kids. Grab a pine cone from the yard or a nearby park; then, add yarn or ribbon. Spread peanut butter all over the pine cone. Then pour birdseed onto a plate and roll the sticky pine cone over it. Hang the pine cone on a tree, gather around and wait for the birds to come. Follow the DIY bird feeder instructions on Kids Activities Blog.
6. Reduce your footprint
Today is the day to dust off those bikes, fill up the tires and pedal around town — instead of drive. Head to a park, stream or nature center for a picnic. Also try doing your errands by foot or two (or three) wheels. And make sure to explain why this helps the planet. All the (healthy) sweat is for a reason, after all.
7. Take a look in your own backyard
Who doesn't love playing a detective? Go to the same spot of your yard or front steps three different times (say, around breakfast, lunch and dinner), and take notice of nature around you. What do you hear? See? Smell? How are the leaves? Where is the sun? What animals do you see — find any tracks? Have kids discuss or draw a picture at each time. Then compare the differences.
8. Make crafts from nature
While the kids are looking around outside and observing nature, have them collect some of Mother Nature's loveliest little masterpieces (aka, leaves, flowers, seedpods, etc.) and then make one of these nature crafts for kids.
9. Go organic
Nothing beats freshly grown local veggies and fruit. Try creating an organic meal from your local farm stand. Need a smaller goal? Try making an easy zucchini bread recipe. Have the kids find the eggs, butter and green squashes for your recipe. Then go home and bake. Also, try saving leftover vegetables from one week of dinners, and cook up a stir fry. This reduces waste and tastes great.
Read more: How to take action on climate change as a family
10. Set a family challenge
Everyone loves some competitive family fun. See who can make the least amount of trash in a week or collect the most aluminum cans. Tip: Create a grand prize to increase competition. Want a harder challenge? Try to get everyone to reduce your electricity bill for the month. Kids can go around turning off lights and you know, doing less laundry! If the family is successful, suggest spending the money on something fun — or saving it for a big trip (Disney anyone?).