How do we love kid-made Valentine's Day cards? Let us count the ways. Few people will argue with the fact that everything about kids' DIY valentines — the cutting, the glueing, the glitter-ing, the giving! — is just about as sweet as it gets (even during chocolate heart season!)
From clever classroom valentine ideas for older kids to super simple homemade cards for little ones, here are 17 homemade Valentine's Day card ideas for kids. Don't you just love love?
1. Gum ball valentine card
Got a few pom poms handy? Of course you do, if you're a parent or caregiver. Then why not whip up this cute gum ball card from Stephanie Connelly. Guaranteed to blow people's minds
2. Yarn heart card
Love this minimalist yard heart card from PrintWorks Specialty Papers. So cute and so easy to do!
3. Rainbow loom bracelet valentines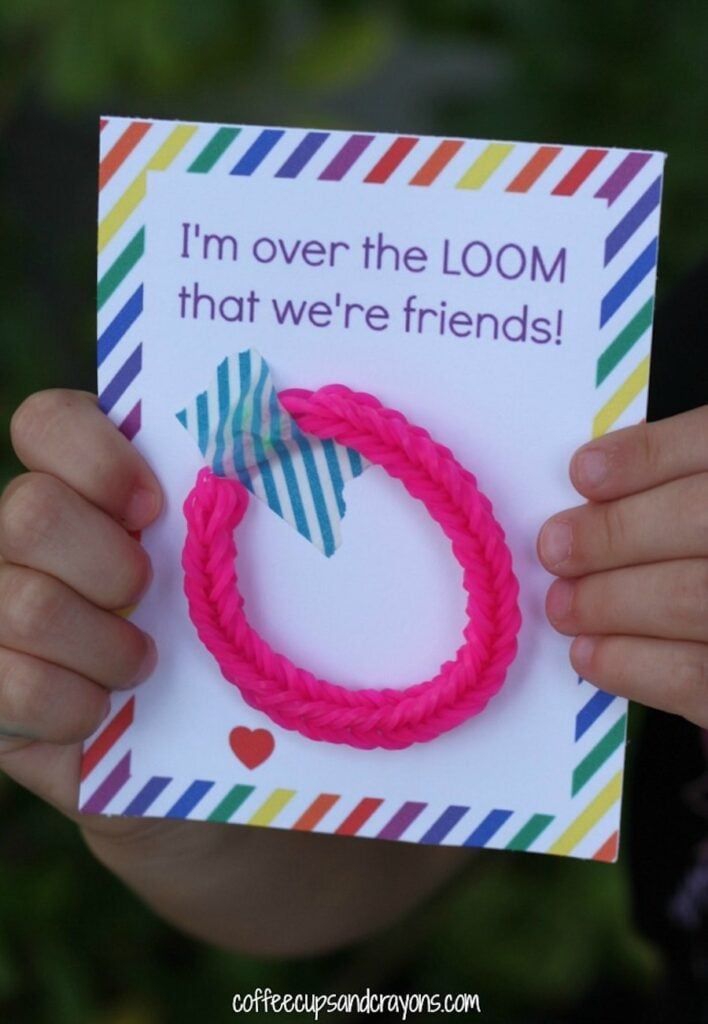 It's pink. It's cute. And with it's stretchy material, it's a sensory delight. These rainbow loom valentine cards from Coffee Cups and Crayons are such a good idea!
4. Love is in the air
Few people can resist a good pun on Valentine's Day, which is one of the reasons these super simple balloon valentines from Kitchen Door are a guaranteed hit. Whether you use heart-shaped balloons or the regular kind, kids will get a kick out of this clever idea.
5. The ultimate school valentine
Boy, girl, student, teacher — everyone likes lollipops. And everyone likes unicorns. These clever unicorn valentines from Lilacs and Charcoal — with a lollipop as the horn! — are sure to be a hit in any classroom.
6. Crafty valentines
Looking for a cute, candy-free idea for your child's school valentines? How about these colorful crayon valentines from Wood U or Knot?
7. Bath bomb love
One of the most original Valentine card ideas! For older kids, these sweet bath bomb valentines from Snazzie Bombs are a surefire slam dunk — and a great way to side-step bath- and shower-time battles.
8. Teddy time
This cute teddy bear card from DIY Crafts is one of the sweetest and simplest Valentine's Day card ideas for kids. Who wouldn't be this teddy's valentine?!
9. 'Loads of fun' treats
Lego-looking candies and a toy digger? Anyone who's on the receiving end of these adorable construction cards from She's Somewhat Crafty hit the classroom jackpot.
10. Simple and sweet
More partial to easy valentine cards? It doesn't get much sweeter or simpler than this gorgeous DIY Valentine's Day card from Sandbox Girls. And the best part? It's a mess-free craft for kids!
11. Owl always love you
What a smart idea! This super easy-to-make owl Valentine's Day card from Keara Giannotti is both clever and heartfelt. We're owl about it.
12. Artistic valentines
Another brilliant, candy-free idea! We love these easy DIY colorful valentines from the Paper Trail. They're simple to put together and everyone in class will be a fan.
13. Fabric heart cards
How pretty are these classic Valentine's Day cards from Felix and Clementine? The hearts are made from fabric, but parents can just as easily have little ones glue paper hearts onto the fronts of cards. Love!
14. ValenTIME cards
These cheeky ValenTIME's Day cards from Sara Koff Studio have the best of both worlds: pretty designs and a pun.
15. Perfectly pared-down
Want to skip the sugary treats, plastic toys and use of too much paper? These perfectly pared-down pencil valentines from Dr. Ashley Turner certainly check all the boxes.
16. Turtle-y awesome
A fun spin on the class handprint valentine. These cute "we turtle-y love you" valentines from Meghan Ashley will be fun to make and fun to give. So cute!
17. Heart people
These heart people valentines from Mad Mums Makery are proof that anything can be incredibly cute with a little face and some pipe cleaners.