Kids' toys are a bit like fruit flies. You're not exactly sure where they come from, how they're multiplying or how to get rid of them — and eventually they seem to be everywhere you look. Maddening? Yes. But here's a secret: There are a ton of creative toy storage ideas out there that make getting things under control far less daunting than you probably think.
Itching to declutter? We've rounded up 25 of the sneakiest and smartest kids toy storage ideas and organization hacks around. Before you know it, guests will be asking if you even have kids.
1. Zippered pouches for board games
No doubt about it: Board games are a great way for the family to spend a rainy afternoon together. But storing them — and their bulky boxes and millions of pieces — can be a huge pain. Instead of jamming them into the toy cabinet — and eliminating valuable real estate — incorporate this board game storage tip from Flourish Organizing Co. and place all game pieces into individual, labeled pouches.
2. The ultimate toy closet
How do we love this super organized toy closet from Sort and Sweet? Let us count the ways. Not only do we heart the labeled bins for games, cards and puzzles, the over-the-door shoe organizers for Barbies and little trinkets is genius!
Before attempting a closet overhaul, a good idea is to go through everything and toss or donate toys that are broken or underused — and, no, this shouldn't be a once-every-five-years type of project. "One of the best ways to prevent toy overtake in your home is to cull through them once or twice a year at a minimum," says Amelia Meena, of Appleshine Organization and Design in New York City. "The best times to edit are before the holidays (and the influx of new presents) and at the end of summer before school starts."
3. Cute shelves
When you have kids, shelves are inevitable. Try turning functional shelves into something you actually want to have on display a la Sweet HOME from Wood on Etsy. How adorable is this shelving that looks like a little house? Perfect decor for a kids' room!
Where to buy: House-Shaped Shelves ($158+, Sweet HOME from Wood/Etsy)
4. Never-ending drawing paper
No matter how many times you try to arrange your kids' drawing paper and pads into a neat pile, one thing is sure to happen: Said paper winds up crushed and all over the floor (which, in turn, makes it less desirable to kids). A smart solution? Attaching a large roll of butcher paper to the wall, along with an empty frame in which to do the drawing and creating.
5. Organization within organization
Every parent knows that ottomans and benches with storage are a god-send for hiding toys and crafts. But let's be real here: When you open the lid, it's often a mess inside. A great tip from Operation Organization is to organize within your sneaky storage by using canvas bins inside. So much easier to find what you're looking for!
6. Stuffed animal hammock
It's funny how all those stuffed animals kids need wind up doing little more than taking up space — a lot of space — after a few weeks. A better solution than trying to jam them in an already-overflowing toy box? A stuffed animal hammock. Not only will it keep all the stuffies together, it will keep them off the floor, which makes room for — you guessed it — more toys!
Where to buy: Baby Buddy Up and Away Hammock ($11, Amazon)
7. Organize by rainbow
Not only is this rainbow-organized shelving system from Spiff Organizing aesthetically pleasing (no small feat for kids' stuff), it's a great way for kids to easily find their toys (the red ball goes in the red bin), and perhaps more importantly, clean up!
8. A neater art closet
Ah, the art closet. So full of possibilities … if it weren't so messy. We love this streamlined art closet from Simplify in Style not only because everything is clearly marked in see-through bins, but those tall, skinny containers (from the Container Store, naturally) are perfect for notebooks and activity pads.
Also, note the lack of packing on all the art supplies — a must for Meena. "Keep all markers, crayons and pencils in buckets or open bins instead of trying to store everything in individual packets," Meena says. "Packaging takes up space and makes things look more messy."
Where to buy: Clear Open-Top File Storage ($9+, Container Store)
9. Hanging storage
While closets may prevent you from seeing the mess that's in your kiddo's room, that doesn't mean there isn't a mess. Open any pre- or elementary-schooler's closet and there's almost sure to be a pile of toys, making it impossible to find anything. A solution? Hanging storage bins that can hold anything from games to stuffed animals to clothes. And the best part? They'll still leave you with a lot of extra space.
Where to buy: 5-Tier Storage Organizer ($10, Amazon)
10. The double-duty table
A compact kids' table that's just as stylish as it is functional? Sign us up. As far as multi-functional kids' storage goes, it's hard to top the nesting play table and chairs from Crate & Barrel.
Where to buy: Nesting White and Natural Play Table and Chairs Set ($399, Crate & Barrel)
11. Smart Lego storage
Once kids get into Legos, it's basically impossible to keep all the sets together. That's why we love the genius idea from Clutter Nanny OC of grouping Legos together by color. It may be a task initially, but in the end, it will be a serious headache-reducer!
Read more: Lego storage ideas for kids' spaces
12. Pretty baskets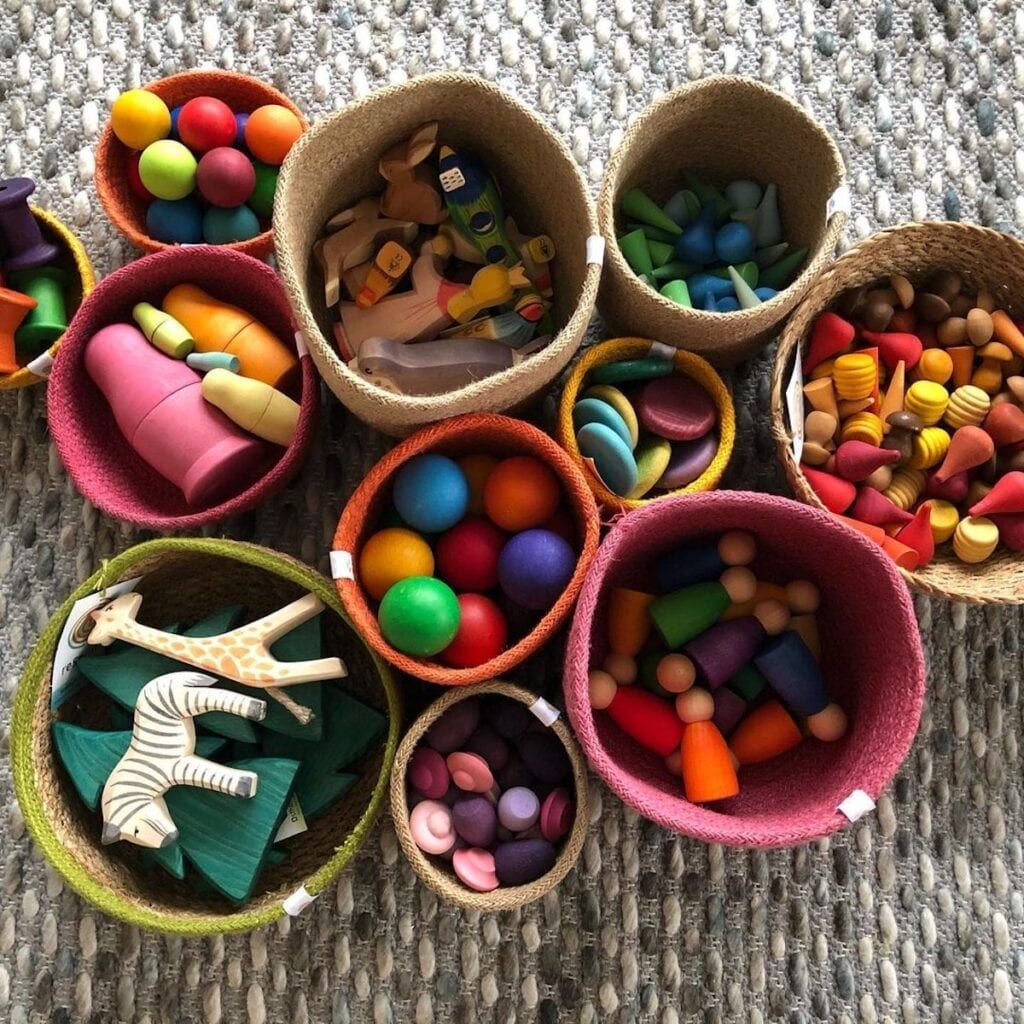 All parents have the toys they like to display. (Looking at you, pretty, wooden blocks.) So, why not display them in style a la Hout & Plezier Duurzaam Spelen with sweet round baskets that subtly color-coordinate with the toys inside?
13. Toy storage bag and play mat
Looking for serious Lego storage (and don't have the patience for color-coordinating)? This toy storage bag/play mat combo from Smallable makes both storing and cleaning up a cinch. Simply pull all the Legos up into the bag! And it holds a lot.
Where to buy: Play and Go Toy Storage Bag/Play Mat($46, Smallable)
14. The all-in-one
Talk about an all-in-one. This loft bed setup from Donco Kids offers a space to sleep, a space for homework and lots of space for storage.
Where to buy: Donco Kids Low Study Loft Bed ($667+, Amazon)
15. Under-bed train table
Got a kiddo who loves trains? The wooden train set and table is perfect for budding conductors, as it comes with a 62-piece wooden train set and space to play. And the best part? The compact set is on wheels, which makes it ideal for rolling in and out from under beds and dressers, if they're high enough.
Where to buy: Maxim Wooden Train Set With Train Table ($130, WoodenTracks.com)
16. Rainbow shelves
We can't deny it. We love rainbows. And this cute rainbow shelf situation from Pottery Barn Kids just gets us. Also, it's a stylish and clever way to store and display toys and trinkets when you don't have much room for storage units.
Where to buy: Pop Color Photo Ledge ($79 each, Pottery Barn Kids)
17. The stylish craft table
What's better than a stylish craft table for kids? A stylish craft table for kids that has sneaky storage for pencils, markers and glue sticks. We love the kids' forest table and chairs set from the MoMA Design Store because it's cute and has hidden compartments but doesn't contain too much space for the kids' art supplies to get out of control. Winning all around.
Where to buy: Kids' Forest Table and Chairs Set ($220, MoMA Design Store)
18. The perfect toy closet
There are so many things to love about this super organized playroom storage from Sunny Side Up, but we're extra smitten with the chalk labels on the containers and the canvas toy bins. Cute and functional!
19. Kids' creative center
If you've got kids, you know that teeny bits and bobs can make for hours of creative play. And you also know that keeping things like this organized and under control is no small feat. Enter the kids' creative center from Love Grows Wild. Not only are the mini drawers a great way to sort everything from pompoms to Legos, the fact that they're mounted allows for more space (and less of a chance of spilling!).
20. Be purposeful
There are so many things to love about this sweet playroom scene from Cocohut Kids, but the all-wood scheme and the fact that every piece of furniture — even the rug! — serves a toy-related purpose is the most impressive part.
21. Make a scene
Sometimes toys can actually be part of the decor. We love how this cute set-up from Coral Stone Cottage takes all the cutest (and littlest!) treasures and places them front and center on the dresser. 
22. Color code books
One can never have too many books — but with that being a life motto, there definitely needs to be an organization system in place. We're super into this color coding book system (in a rainbow!) that Liz Handmade Home created — so smart!
23. Puzzle storage
Now this is an organized children's toy closet from A Toddler and a Top Knot. Our very favorite part? The way the wooden puzzles are stored stacked up on a rack. So smart!
24. Hang dress-up clothes
You know how dress-up clothes often get shoved into a chest and then when kids are looking for a specific item, they throw everything on the floor in one giant pile? Simply Organized has a solution for that. Hang the dress-up clothes!
25. Repurpose a closet
If you have Lego (or Barbie or Magnatile) overflow in your home — and an extra closet to spare — designate it as the spot for said toys. Leah from House in the Heights turned her boys' closet into a Lego closet specifically, and the result is pretty great.