It often feels like no matter what we do, the kitchen is in constant need of TLC. Among busy families especially, the kitchen is in constant use — it seems like groceries turn into meals and meals turn into piles of dishes on a loop. While some parents do alright with recruiting their families into cleaning duties, others struggle constantly. And with that struggle comes arguments, finger-pointing and sometimes an inability to simply cook some eggs in the morning.
"The kitchen is the one room that is full with lots of love and joy," says Shantae Duckworth, professional home organizer and founder of Shantaeize Your Space. "It's where you gather as a family to create a meal — and that's usually the one time of the day the whole family can be together. So there's a lot of feelings in this place." And why is the kitchen also so hard to keep clean? Duckworth points to busy-ness, saying, "families tend to be on the go, and cooking does require a lot of dishes and ingredients, which can create a lot of mess." 
With all the hustle and bustle of modern life — in which parents not only have to cook and clean but also must drop kids off, go to work, take kids to extracurriculars and also try and not burn out in the process — how does one manage to keep a clean kitchen? We asked cleaning and organization experts, as well as a few parents, for tips that can help families, busy as we may be, keep a kitchen clean (as humanly possible).
1. Start by reducing the dishes and cookware in your kitchen
Here's a decluttering tip you may not have tried. Consider how large your family is and then take a look at just how many dishes you have. If you're a family of 4, do you really need 10 cups per person?
"My kids and I have two dishes, two cups, two sets of utensils each and we have significantly reduced the number of pots and pans we have," says Arlene Sullivan, a teacher and mother of two, based in Washington, D.C. She explains that her family can go a maximum of two meals without doing dishes, which ensures their dish pile is never too daunting.
While this doesn't mean you have to go and toss out all your excess dishes, you can try storing the extras out of reach (pulling out more when a glass breaks or a bowl is chipped) to help reduce the mess.
2. Create visual reminders to clean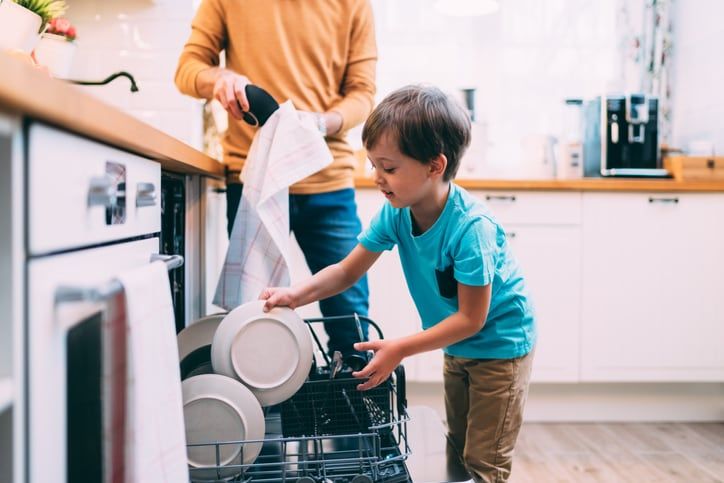 For many of us, out of sight is out of mind, which isn't always a good thing. And while it's unpleasant having to constantly remind family members to be aware that certain kitchen cleaning tasks still need to be done, sometimes all it takes is a visual reminder.
Rhiannon Kammeyer, a teacher and mother of three in Aurora, Colorado, says she has a simple trick for this. "I've just started leaving the dishwasher open with the top rack pulled out," she says.
This way, her household all knows that rather than just putting dirty dishes in the sink, they can easily rinse them and put them right in the machine.
3. Try and clean as you go
It seems like a simple enough concept, but how many of us forget to wash up our prep dishes while dinner is cooking? The answer is probably several of us, but this small change can really help.
"Doing a little here and there makes cleaning easier and helps with keeping dirt and grime from building up," advises Rochelle Wilkinson, owner of Dirt Detective Cleaning in Phoenix, Maryland.
Once every day, she advises, do these two simple daily cleaning steps:
Wipe down your stovetop every time you cook.
Wipe down the kitchen counters — after all meals have been cooked and dishes have been cleaned up.
4. Get on a cleaning schedule for overlooked areas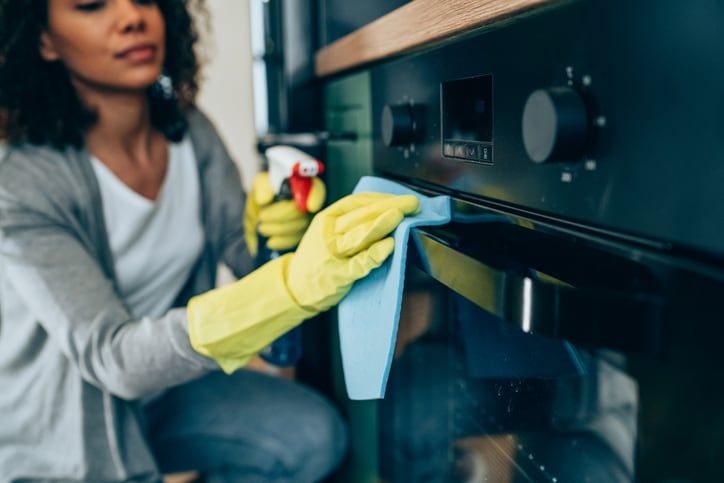 One place mess and grime can really build up is in the areas we just don't think to clean and wipe down regularly. Even if you wipe down your sink nightly, when was the last time you wiped the gunk out of your appliances?
Every week:
"Wipe down the inside of your microwave and coffee pot and other small appliances that might live on the counters," says Wilkinson. "These quickly end up with grease and food splatters due to the proximity of where they are kept."
Every 4-5 months:
Clean larger appliances like the oven, Wilkinson suggests.
Other areas that are easily forgotten are underneath the fridge (including the bottom vent), as well as the back of the fridge and the walls and floor behind larger appliances. While these don't have to be done as constantly, if you stick to deep cleaning them at least once or twice a year, it'll keep you motivated to keep other areas clean.
5. Assign little ones small cleaning tasks to establish good habits
If you've got very young children who can't yet do larger cleaning tasks, find smaller, simpler ways for kids to help.
"Start young and use routine," says Bohne Leah, professional home and business organizer at Be Organized Method. "If kids see that Sunday morning is organization time, and always has been, it becomes an assumed part of their life … Treat organization time as a fun, normal part of your lifestyle."
Sullivan, too, has found ways to get her kids involved in cleaning. "We have a kids' spray bottle with just water," she says, "so while I'm cleaning the counters after meals, the kids are cleaning the cabinets, the bottom of the fridge, the front of the dishwasher and whatever random things need a nice 'cleaning' at kids height." Sullivan adds, "One time my kids 'cleaned' all of the cans in the pantry. Whatever works kids! I'm just trying to build the habit that we clean after meals."
6. Give every item in your kitchen a designated place
When you have a lot of 'stuff' in your kitchen that has no specific 'home,' it often ends up on counters or other random surfaces, causing visual clutter and eventually, anxiety.
"Determine designated homes for all items together as a family. That way the family knows where to access them and where to put them back once clean and/or used," says Duckworth. "Label drawers, cabinets, bins and containers so the whole family knows where items are stored." This also prevents the endless cycle of family asking you where everything goes.
"I watched a couple YouTube videos on cabinet organization, and I took out everything and then planned out where it would go when we redid our kitchen — measured by cabinet," says Leslie Fiedler James, a mother of two and owner of Denver Squared, an architectural salvage and design firm. "If it didn't have a home, it didn't stay. Most used things went in easy-to-reach places like upper cabinets and drawers. We are now two years in, and it's really easy to spot when something is out of place."
7. Store infrequently used items in out-of-reach areas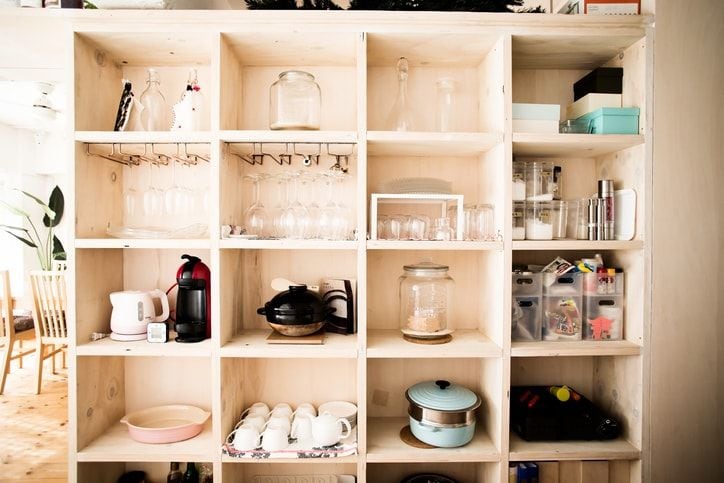 As you go about reorganizing your space to better serve you, remember that you probably won't always need to reach that Mickey Mouse waffle maker unless you truly are making mouse-eared breakfasts daily.
"I match frequency of use with accessibility," says Leah. "Top shelves are great for serving dishes or items used only once or twice per year," explains Leah. "If you barely bake, for example, all baking items should be categorized and placed in a space farther away from your main area.
Leah also recommends storing any appliances that aren't used daily in cabinets or other areas. "Sometimes we find space in the pantry or a nearby closet. There is never a need for small appliances to take over your kitchen countertops."
8. Try meal prep as a useful trick for tidiness
While plenty of folks use meal prep to stay on top of dietary needs, it can also be helpful for keeping the kitchen just a bit tidier because you're cooking fewer times a week.
"We are both self-employed and have kids in sports, so we don't get home at the same time every night … I can't tell you how many times a basketball game has run late and we get home at 7:45 and still have to cook dinner. We would end up eating at 9:00 and then going to bed, probably leaving the dishes for the next morning," says Wilkinson. "By cooking two dinners on Sunday, I am always one day ahead."
9. Consider the "Half Hour Hustle"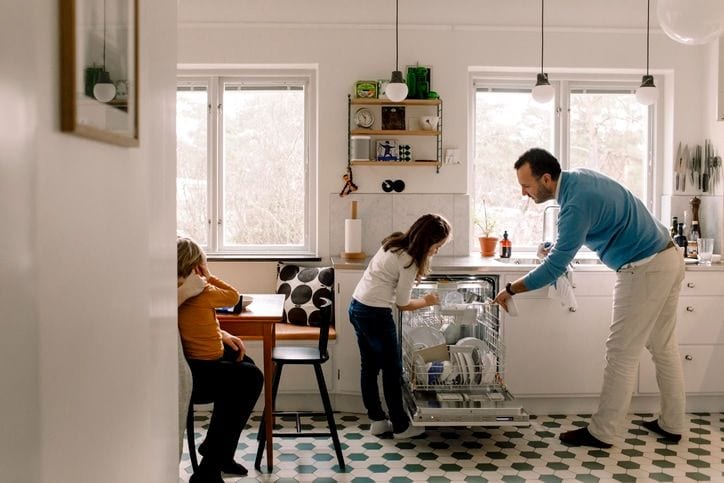 Many parents swear by small spurts of cleaning throughout the day to maintain some semblance of order in their kitchens and households. Using an egg timer or similar, you can challenge yourself and/or your family to tidy up in small chunks of time so as not to get overwhelmed.
Wilkinson herself sticks by a routine she calls the Half Hour Hustle. For years, Wilkinson says she would end up doing most tasks herself or having to constantly ask and remind her four boys and spouse for assistance with dishes, trash, etc. Eventually, she came up with a daily half hour routine during which upbeat music was played and everyone had tasks to do.
"They didn't mind pitching in and working when they knew these three things: 1. Exactly how long they would be working, 2. That it was a team effort, and 3. What was expected from them."
10. Experiment with a "closing duties" routine
The term "closing duties" has been popularized by mother and licensed therapist KC Davis, who runs the wildly popular @domesticblisters TikTok account and who wrote the book "How to Keep House While Drowning." It's essentially a list of tasks to handle before bed, akin to what restaurant workers do just before closing up for the night.
Here's how Davis explains "closing duties":

Decide for yourself what your household's closing duties look like. They can include anything from clearing the kitchen table and emptying and cleaning the sink to running the dishwasher. Go ahead and add in wiping down the stove and counters, taking out the trash, sweeping the floors and more, if you wish.
11. Adopt a "starting with success" mindset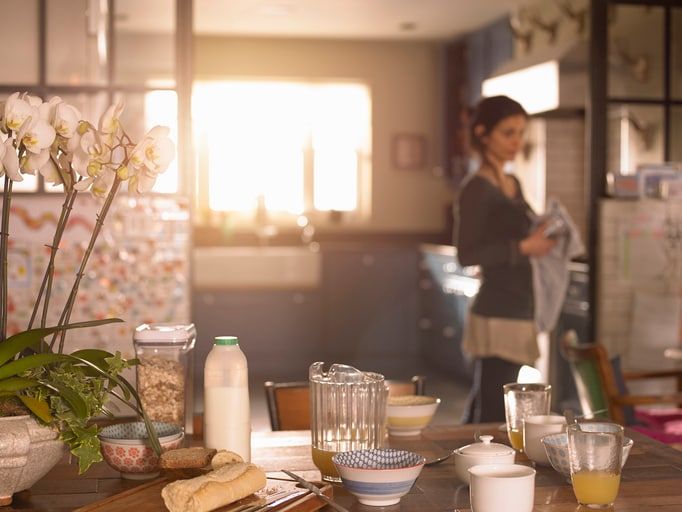 Of course, many parents are flat out exhausted by evening and can barely manage to not pass out on the couch, let alone clean up before bed.
"For years, I had the goal of having an empty sink before bed, so I could wake up to a clean sink. Inevitably, I'd be bombarded with my failure first thing in the morning and then avoid it," says Sullivan. "Recently, I've switched it to 'starting with success.' I get up 30 minutes earlier to do the dishes while listening to a cool podcast and start my day by checking something off my to-do, which starts the positive momentum for the day. It's been a great shift."
Ultimately, families need to figure out what works best for them. If your current approach doesn't work, rethink and start over!
12. Call in professionals when you need help
There's absolutely no shame in recognizing that in order to clean your kitchen, you're going to have to enlist some help. Many families get to a point where their entire household becomes unmanageable, and going it alone just isn't cutting it. Some families deal with chronic pain issues that make it hard to stand at a sink or lean down to put away dishes in the washer. Others struggle with mental health issues, from problems with executive function to depression, which make small tasks feel like giant mountains. They might very much want to keep a tidy kitchen, but it's just not happening.
Hiring someone to help clean your kitchen once a week or every other week can do wonders for maintaining some order in your household. Duckworth says, "Having a cleaning service or professional home organizer come in and help you understand the functions of your home and help you set up a routine for you and your family to follow can be the kickstart that you may need."
And here's the fact of the matter. You might be surprised to find out a house cleaner can be more affordable than having to order out for dinner nightly because you just can't bring yourself to clean that pile of dishes.
Bottom line, try to do what you can and accept the fact that some days you're going to have a messy kitchen. "When it comes to chores, there has to be a combination of structure in looseness," says Duckworth. "We have to know that things are not always gonna go according to plan and that everything is not going to get done in one day."