Let's be honest here. Toddlers really don't need anything extra to be positively adorable — it's just their natural state. But even with their built-in delightfulness and charm, there's no denying the fact that cute toddler haircuts take things to the next level. From toddler fades to mini faux hawks, here are 24 toddler haircut styles that will make your little one even more irresistible — if that's possible, of course. 
1. The spiky mohawk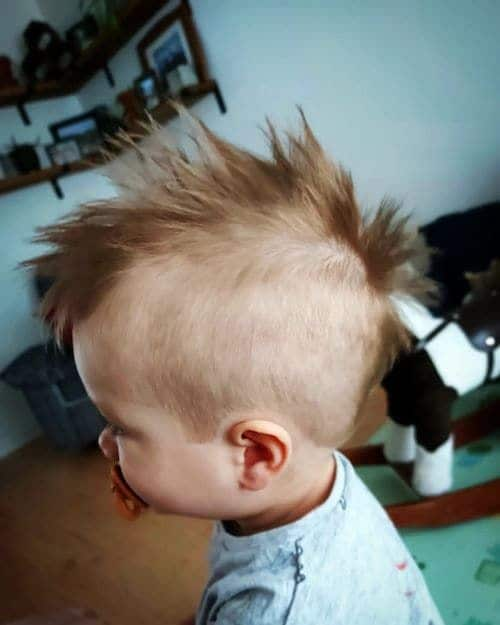 Fact: Little kids with mini mohawk haircuts are so stinkin' cute it's unreal — not to mention the fact that they look so dang cool. Love this spiky rendition from Gabriella Perrier.
2. The indie
Is it just us or does this small and adorable human look like he could be a member of The Strokes? So indie!
3. Shaved underneath
Talk about cool! Ever considered shaving just the underneath of your toddler's hair like delspell on TikTok? Not only is it super hip, it makes for less knots!
4. Wavy side bangs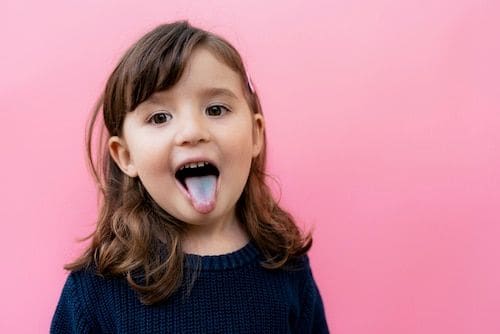 Pizzazz can be easily added to your little one's hair with side-swept bangs. This style works best for kids with wavy-ish hair, as their bangs won't totally lie flat.
5. Blunt bangs
For kiddos with straight hair, blunt bangs are a cute option — and they're especially great for toddlers who refuse to keep clips or rubber bands in their hair so they can, you know, see.
6. The messy shag
Whether your kid's got straight, wavy or curly hair, a shag-type 'do is always a cute choice. And it fits every toddler's personality — wild!
7. The shaved side sweep
Looking for seriously cool toddler haircuts? Look no further than this sweet 'do, courtesy of Kristina from Life as KMG.
8. The long side sweep
Baby Brad Pitt, is that you? This toddler haircut, courtesy of Teri Rose, is great for when you want your little one to look a little more put together, but can't bear to part completely with their tresses.
9. The toddler fade
That awkward moment when your toddler has a cooler haircut that you. We can't get over the adorableness of this toddler fade (compliments of Faded by Hugg) that was shared by G Law on Instagram. Looking good!
10. The mermaid
You can never go wrong with a long and wavy haircut for your little one. Not only is it super cute, it lends itself to so many fun toddler hairstyles!
11. The lightning bolt
When your toddler is too cool for school they need a haircut to match. May we suggest shaving a lightning bolt into your little one's hair for a super fresh look? Look out, Mom and Dad!
12. The classic mohawk
It stands the test of time for a reason — the toddler mohawk, like this sweet one from Brayden Cruz, is one of the coolest haircuts out there. Also, for parents who like their little one to look a little polished, this mohawk is a bit more controlled than the spiky mohawk.
13. The bob
Another look that never goes out of style. The toddler bob haircut — iconic!
14. The pixie
When your toddler is on the younger side, but you want to give them a little bit of a style with their hair, the toddler pixie cut is always a good — adorable! — idea.
15. The side hawk
While slightly different from the classic toddler mohawk, the side mohawk, like this one from Ali Moore, is neck-and-neck for cuteness.
16. Controlled chaos
There aren't too many people that can get away with having hair that's this perfectly messy when they're grown, but toddlers seriously nail it.
17. The burst mohawk
So many mohawks! If you can handle having your kid looking cooler (and sweeter) than anyone you know, the Burst Mohawk is a good choice.
18. The mod fade
The Mod Fade is great for toddlers with thicker hair — and it's perfect because it looks even better when it's messy (a style toddlers do best!).
19. The curly mop
As far as curly hair toddler haircuts go, it's hard to top the curly mop — a total classic!
20. The all natural
One of the best toddler haircuts out there? No haircut! Going all natural will show off your little one's beautiful hair and sweet face.
21. The skater shag
Just because your toddler isn't old enough to skateboard yet, doesn't mean they can't rock the skater shag haircut!
22. The edgy bob
A little funkier than the classic toddler bob haircut, the edgy bob is great for kids who don't want to go too short with their cut.
23. The old fashioned
Toddlers with anything grown up-looking — especially haircuts — are always guaranteed adorableness.
24. The bowl
A little bit hipster, a little bit 70s chic, the bowl is one seriously stylish toddler haircut.