With all that your child's teacher does for them, it's only right to show them some love (in 2023, Teacher Appreciation Week is May 8-12 — but, of course, you can appreciate teachers anytime!). So what's the best way to convey how much you value all of their dedication, patience and hard work? For starters, it doesn't have to be a "just a gift card" this year. Conversely, you can also skip the big ticket teacher appreciation gifts.
"Over the years, I've gotten gift cards to every store and restaurant under the sun, and while they're always appreciated and useful, it's the little trinkets that come with a handwritten note that I never forget," says Shannon Jensen, a teacher in Canandaigua, New York.
Alyson Schultz, a first-grade teacher in Cranford, New Jersey, agrees, saying that the small, thoughtful gifts always leave the longest-lasting impressions.
Want to show your teacher appreciation without breaking the bank? Check out these 12 affordable and unique teacher appreciation gifts any educator would love.
1. Rainbow mug
You make the world a better place — an inspiring sentiment — plus a mug's a vessel for caffeine. A win-win for teachers.
Where to buy: Rainbow Coffee Mug ($15, Natural Life)
2. 'Off-duty' socks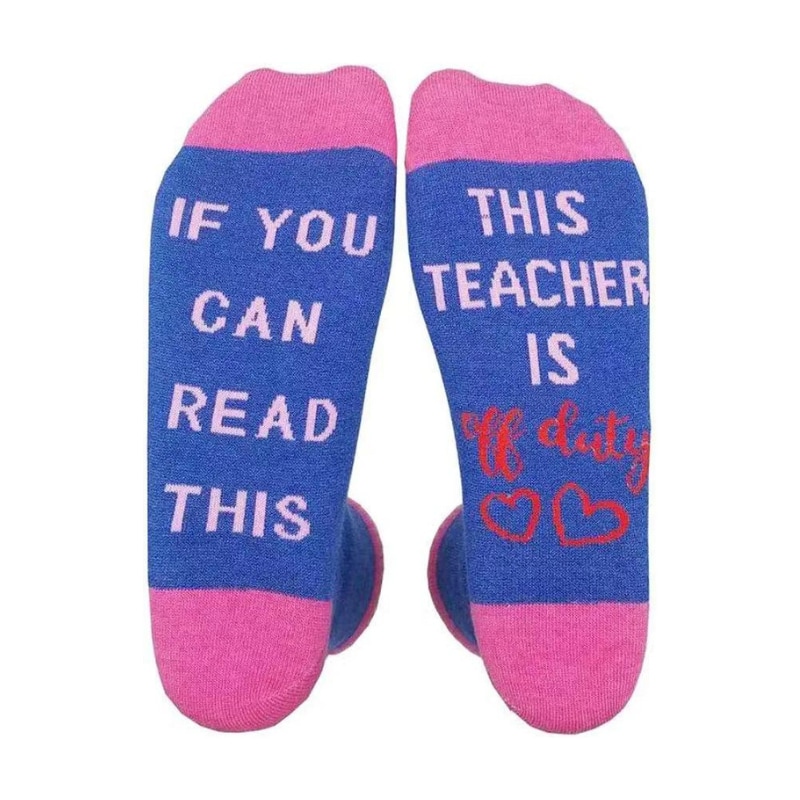 Teachers will get a kick out of these silly "If you can read this…" socks, which are a good reminder that the next school break is around the corner. It's only a matter of time until they're kicking up their feet!
Where to buy: XYSOCKS If You Can Read This Teacher is Off Duty Funky Socks ($7, Amazon)
3. Macrame lanyards
These colorful braided macrame lanyards are perfect for teachers who have stuff to carry, whether it's to and from class or during yard duty. They're also perfect for aides, librarians, art teacher, and front office staff.
Where to buy: Macrame Braided Lanyards ($14, Oh So Darling Macrame/Etsy)
4. 'How Teachers Swear Coloring Book'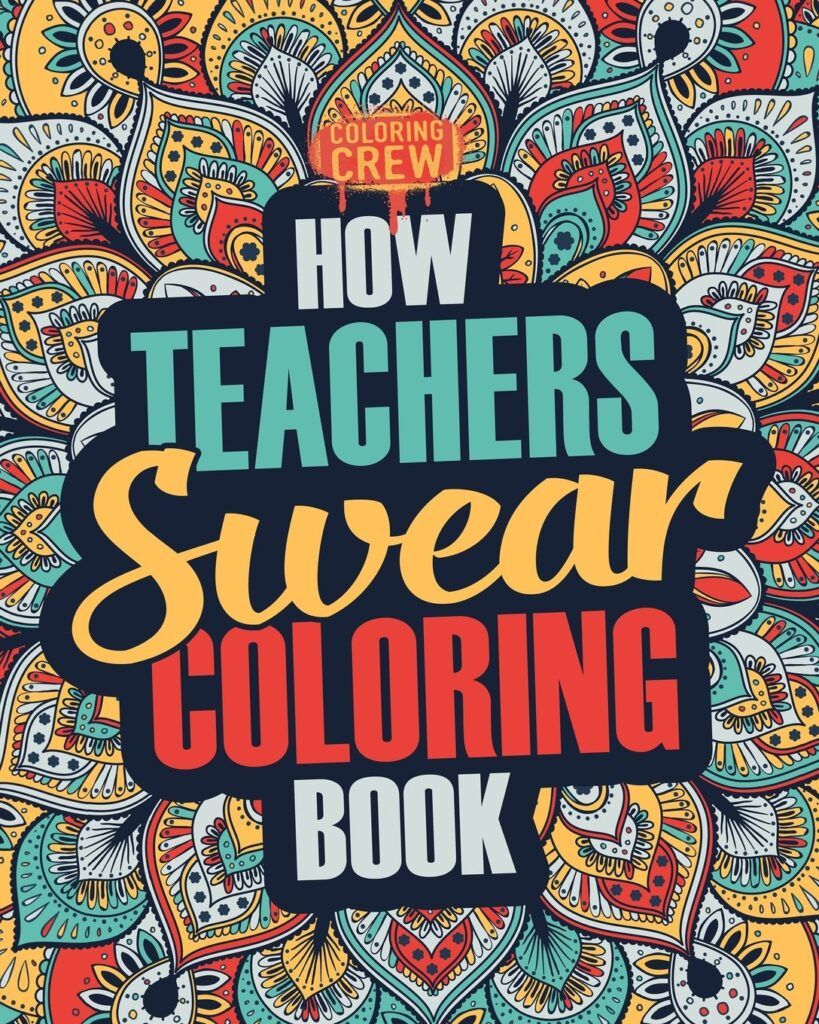 Teachers with a sense of humor — and a love of all the best and brightest non-swear, swear words — will love the shiitake mushroom out of this super-funny gift. Each page has a relaxing, ready-to-color mandala design containing a clean swear word.
Where to buy: "How Teachers Swear Coloring Book" ($7, Cultured Books)
5. 'Why You're the Best Teacher Ever' book
Your kiddo's teacher preps and plans and grades and fills in report cards and then teaches all day, too. In return, let them know how much you appreciate all that they do with words from one of the kids they do it all for!
Where to buy: "Why You're the Best Teacher Ever" Fill in the Love Book ($10, Knock Knock)
6. Best Teacher candle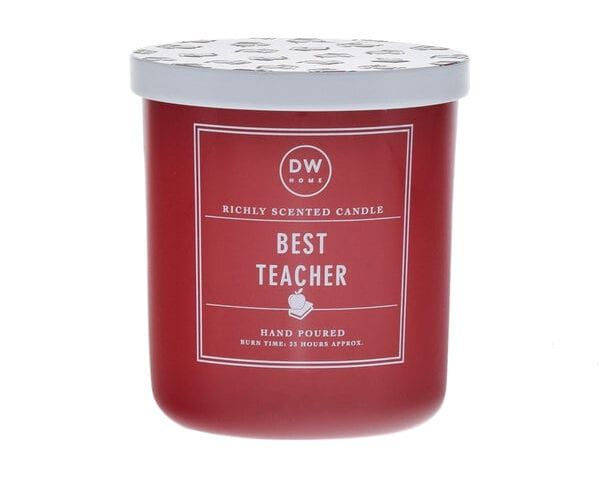 Give your teacher's olfactory system a break from smelling chalk and markers with this fabulous candle that boasts "sweet apples highlighted by a splash of red berries, creamy caramel and sweet butterscotch." Wow! What a great way to wind down after a long day.
Where to buy: Best Teacher Candle ($14, DW Home)
7. Classroom door sign
Give your child's favorite teacher a lovely wood door sign to personalize their classroom. This extra-special, thank-you gift can be used year after year and moved to whichever classroom your teacher ends up teaching in next.
Where to buy: Wood Engraved Classroom Door Sign ($13, The Lux Co/Etsy)
8. Teach, Love, Inspire bracelet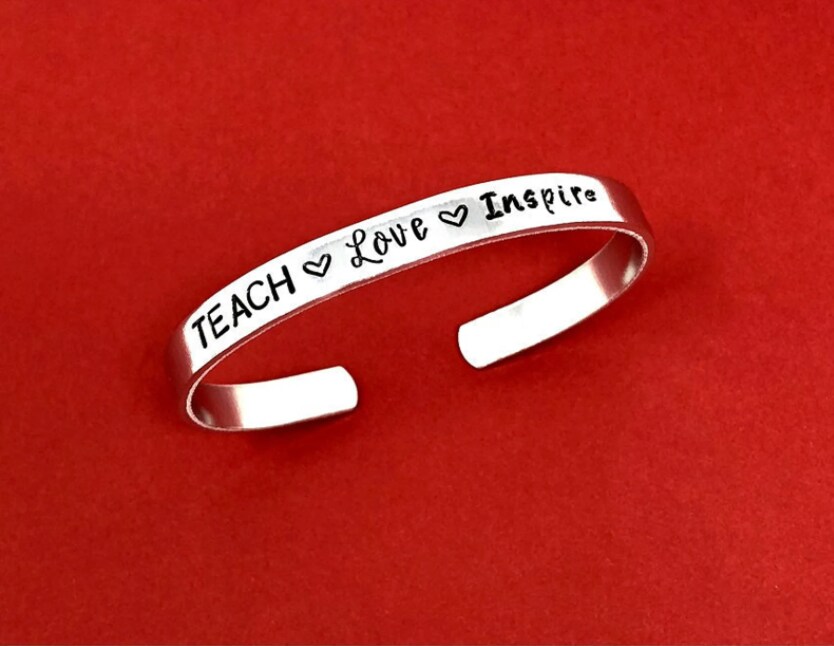 This sweet, understated bracelet is a cute addition to any teacher's jewelry collection. It's dainty enough to go with a watch or other bracelets, but it carries a big message. For a few extra bucks, you can have it personalized, too!
Where to buy: Teach Love Inspire Bracelet Hand Stamped Bracelet ($10+, StampedExpressionsCo/Etsy)
9. 'Thank You for Helping Me Grow' plant sticks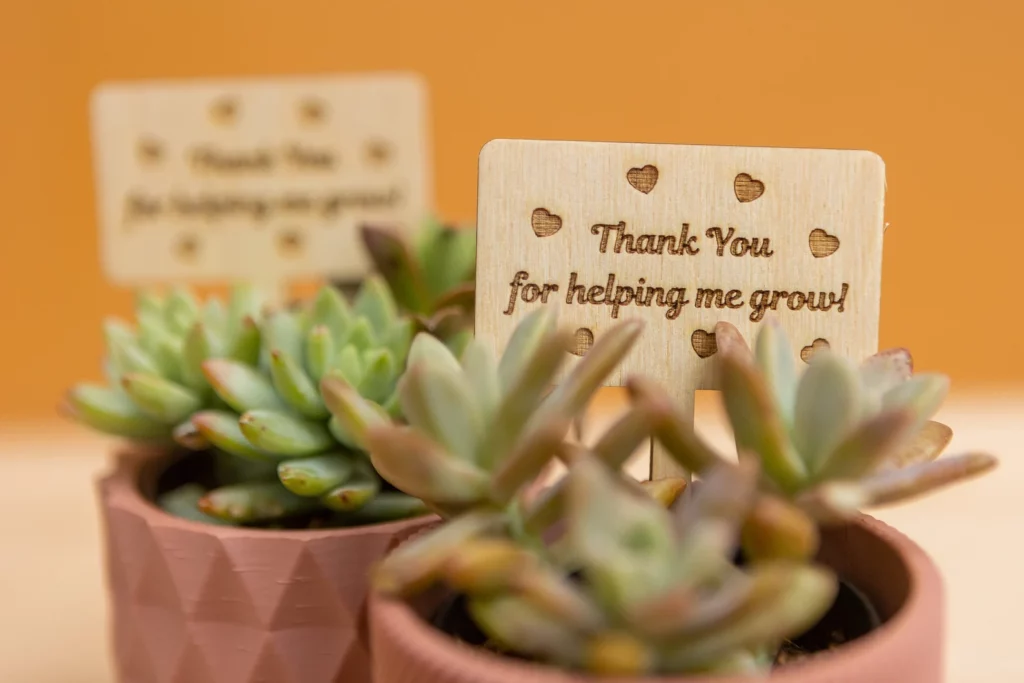 This simple thank-you gift says it all — just add one of these wooden plant sticks to a potted plant or simple floral bouquet. You can even customize your message if you like.
Where to buy: "Thank You for Helping me Grow" Plant Sticks ($2, Helix & Birch/Etsy/Etsy)
10. 'After School Snack' stemless wine glass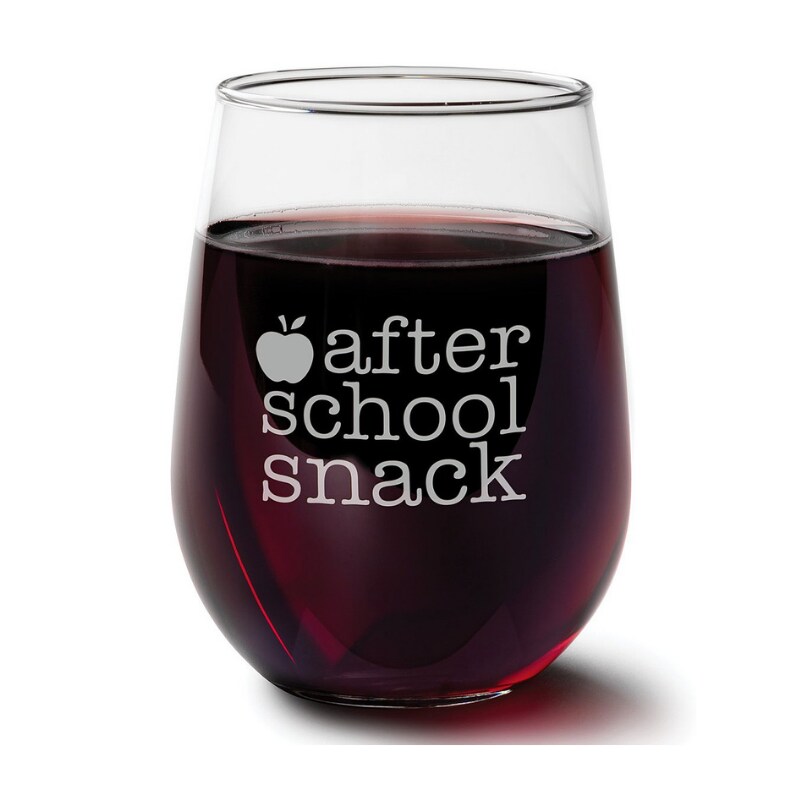 Yes, teaching is rewarding, fulfilling and inspiring. But let's be honest, it's also emotionally, physically and mentally exhausting. Give a nod to teacher's much-deserved downtime with this cheeky wine glass.
Where to buy: After School Snack Stemless Wine Glass ($15, Zulily)
11. 'People Call Me Teacher' T-shirt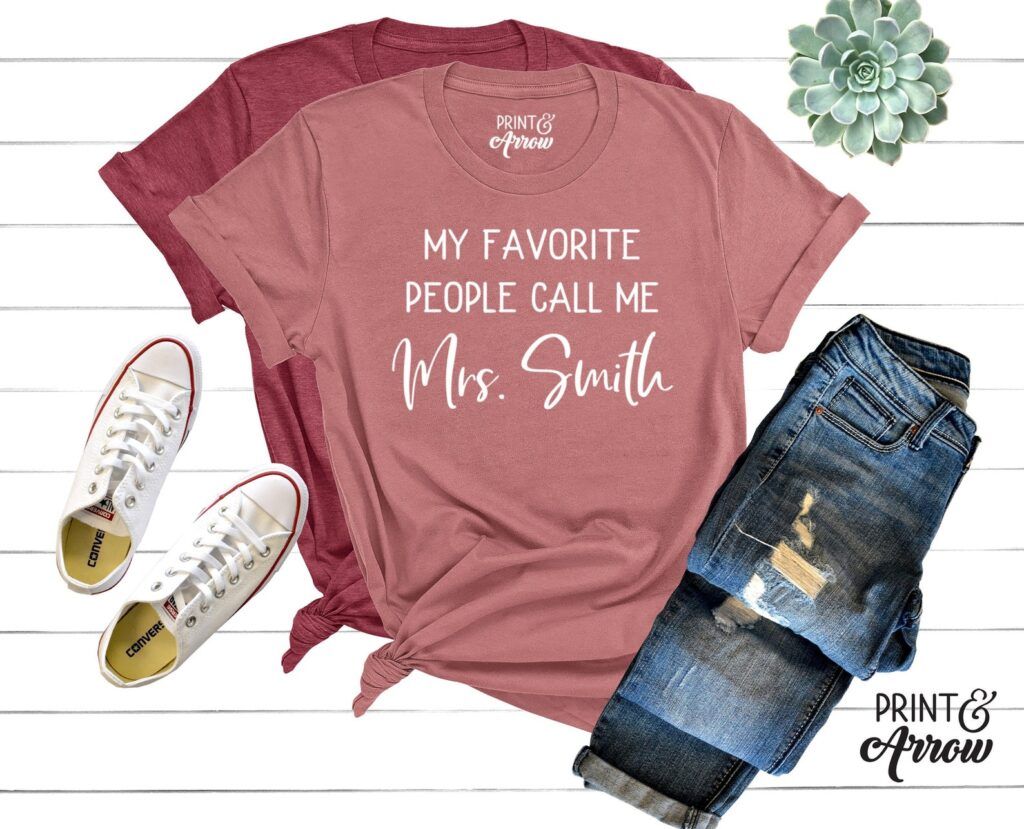 Whether they're working out, running errands or hanging out at the beach, this cute teacher T-shirt — which will remind them of their students — will definitely be put to good use. And for under $15, you really can't go wrong.
Where to buy: "My Favorite People Call Me Teacher" T-Shirt ($15, PrintAndArrow/Etsy)
12. 'You Rule' Tote Bag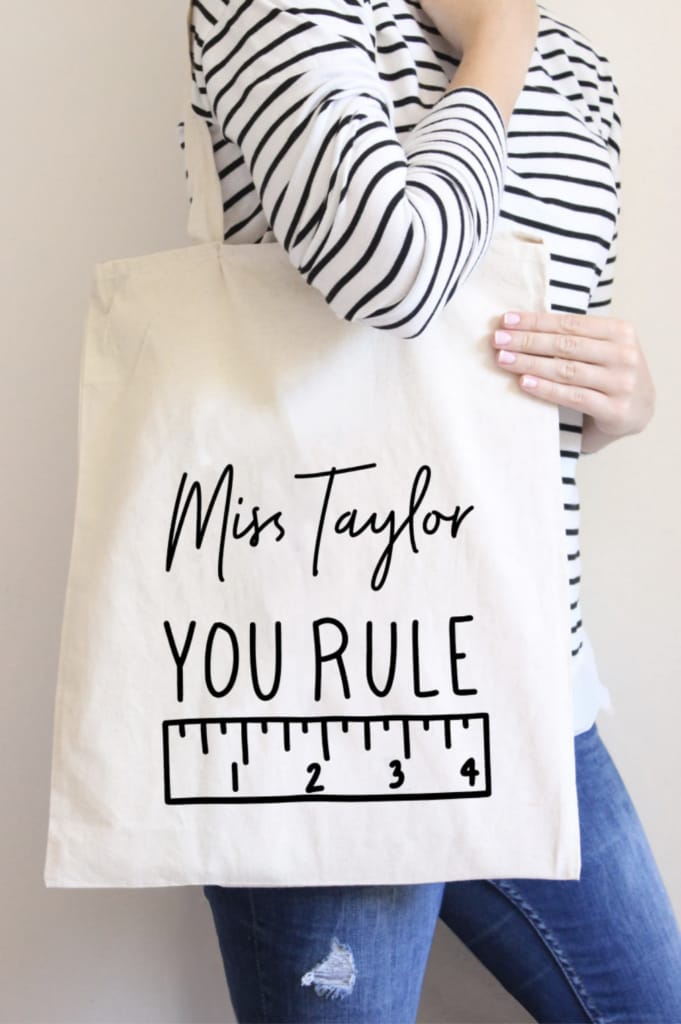 This tote says it all in two simple words: You rule. Personalize one for your favorite teacher as a thank-you gift.
Where to buy: Personalized "You Rule" Teacher Tote Bag ($9, Lizzielane Boutique/Etsy)