Summertime may get all the glory when it comes to date night options, but there's an entire untapped world of winter date night ideas — and, if you ask us, they yield more fulfilling results than their warm weather counterparts. (Seriously, how many al fresco drinks can you get?)
Don't want to put the romance on hold just because it's too cold to slip into a sleeveless dress or shorts? Don't! Whether you're parents looking to get away from the kids and reconnect for the night or a single mom or dad in desperate need of a date night out, check out our list of 35 super creative, super romantic winter date night ideas. Some call for slippers, some shoes — the choice is yours.
Outdoor ideas
1. Go on a snow (or cold weather) hike
Just because it's cold, doesn't mean you need to hunker down under a blanket (though, that is nice, too). In fact, in addition to the traditional benefits of spending time outdoors, spending time outside when it's cold out boasts its own unique set of positives, such as a boost in brain activity, a better immune system and an increase in serotonin levels (especially if it's sunny out).
Also, unlike heading to a crowded sports venue or movie theater, going out for a winter walk with your significant other brings the opportunity slow down, be mindful and focus on each other.
2. Soak in a pool or hot tub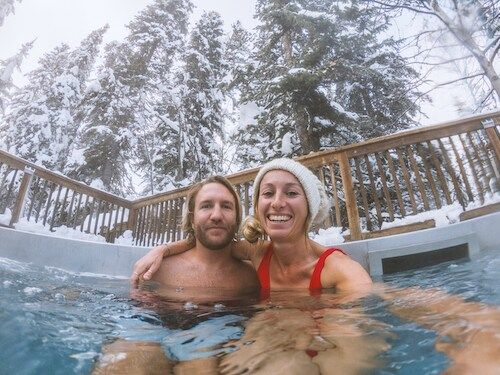 Outdoor pools aren't just for the warmer months when you want to cool off. They can be a great idea in the colder months when you want to heat up. The key here is finding a heated pool or hot tub near you — or renting one for your own yard (yes, really!).
In terms of the former, look into local hotels and spas, such as the Viceroy in Aspen and Mohonk Mountain House in New Paltz, New York, which have all-season heated pools that can be used in addition to a treatment or for a fee. Or if you prefer to stay home, companies such as Chillntub and PNW Mobile Spa will deliver and set up a hot tub in your yard and then take it away when you're done.
3. Go ice skating
Are you even having a winter date night if you're not ice skating? Whether you're both (or one of you) solid on skates or you're both total newbies, doesn't matter when it comes to ice skating — because, truth is, being wobbly (and even falling) is part of the fun when it comes to this wintertime activity. Cute pom pom hats and hand-holding while skating is mandatory.
4. Try snow tubing or sledding
Whether you have snow right outside your doorstep or need to drive a little ways to get to it, zipping down a snowy hill in a tube or a sled is guaranteed to be a belly-laughing, adrenaline-pumping good time. Just don't tell the kids you went without them!
5. Go to the beach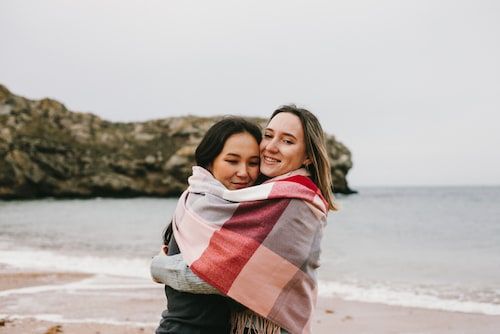 No sun? No problem. Just because it isn't swimming weather, doesn't mean the beach shouldn't be an option. Actually, it's one of the best winter date night ideas because there's a good chance you'll practically have the whole place to yourselves.
And if you're the adventurous type who likes to take things up a notch, consider taking a polar bear plunge — jumping into the ice cold water in the dead of winter — and immediately warming each other up afterwards.
6. Visit a botanical garden or arboretum
To the beach point, it doesn't need to be hot and sunny to visit a local garden or arboretum. And even better, many of these spaces dress up the grounds with lights and festive decor during the winter.
7. Grab a cuppa and window shop
It's hard for the cold to be bothersome when you've got a cup of something steamy and delicious in your hands. Grab your favorite cold weather drink and walk around town, looking at lights and/or pretty window displays.
Indoor ideas (that aren't the movies or dinner)
8. Visit a brewery
Make no mistake about it, beer is having a moment. Consider hitting up a local — or not so local — brewery for a tour of where the magic happens, as well as a sampling of all of their frosty options.
9. Visit a winery
If you're more of a wine couple, take a trip to a winery — many of which are open during the winter. Some of the available activities will likely be different from spring and summer, but the day will still end with a tasting of in-season season wines.
10. Go olive oil tasting
If imbibing isn't your thing — or even if it is — olive oil tasting is a fun food/beverage option that won't leave you tipsy. There are a number of places to partake in this up-and-coming (heart healthy) activity, such as olive farms, olive oil bars and even restaurants and shops.
11. Volunteer
Whether you want to help out at a local food bank or shoot hoops with teens at the community center, there's never a shortage of volunteer opportunities in each town. VolunteerMatch connects anyone who wants to lend their time with organizations and opportunities that support areas in which they're interested. One of the most meaningful winter date night ideas? We'd say so.
12. Go rock climbing
Indoor climbing spaces are a great winter date for experienced climbing couples or those who are new to the sport. Not only is climbing a great way to get your heart rate up, communication, trust and working together are key.
13. Visit a museum
Take a break from the kids' museums — or at least from wrangling little kids in museums — and go to a museum just the two of you. Walk around together or separate and reconvene if you want to take in different things. Just enjoy the culture, the beauty, and of course, the quiet.
14. Hit up an escape room
Think you have what it takes to crack the code and get out before time's up? Escape rooms started cropping up a few years ago and since have become wildly popular options for birthday, office and holiday parties — and with good reason; they're fun! Also, similar to rock climbing, breaking out of an escape room is a true experience in working together.
15. Take an exercise class together
Take your partner to a fitness class that's near and dear to your heart (we all have our favorites!), have them share theirs with you or try something totally new together. Aerial yoga anyone?
16. Try your hand at art
Pottery, ceramics, painting — there are approximately one million different art classes available to adults. Figure out what sparks your fancy (or which one is closest to your favorite restaurant) and spend the night getting creative.
17. Get a couples massage
Few things are more indulgent — or relaxing — than a couples massage. And even better if there's a relaxing space where you can hang out together before and after in comfy, cozy robes.
18. Sing karaoke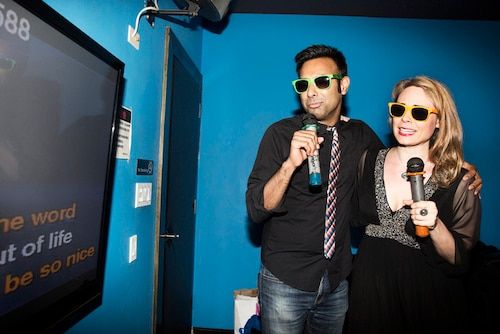 A couple's duet? Individual power ballads? Whatever you decide on singing together, or separate, a couple's karaoke night is a no-fail good time.
19. Browse the book store
There's a magical level of relaxation book stores provide (especially old or quirky ones), so heading to one as a couple is a definite slam-dunk that's, dare we say, pretty dang romantic.
20. Try axe throwing
If you didn't know it, axe throwing is a thing. And a fun thing at that. Also, since few people are experts at it — or have ever done it — it's a great skill to learn together.
21. Hit the open road
No plan? No problem! If you have the whole day, get in the car and just start driving. Whether you have a rough plan of where you want to go or zero idea of where you're heading, the fun will lie in the adventure. Definitely a winter date night for the books!
At-home ideas
22. Have a movie marathon
You can either go the trilogy route or line up a few movies that all fit into a certain genre (may we suggest rom-com to stay on-theme?). Gather up the cozy blankets, snacks and spend the whole night relaxing.
23. Have an indoor picnic
Not only are indoor picnics romantical, they're far less daunting when there aren't kids involved. Think about it: No cleaning mac 'n' cheese out of the rug or vacuuming crumbs off the couch!
24. Have a game night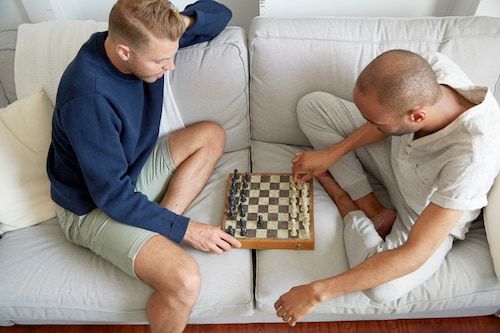 Scrabble, Trivial Pursuit, Ticket to Ride — whatever your fancy, it's hard to beat a super chill game night at home, where all you need is your comfiest sweats.
25. Attend a virtual magic show
All the illusions, none of the lines or fighting for parking spaces. There are a number of interactive, Zoom magic shows you can attend from the comfort of your couch, but The Magician Online consistently gets top notch reviews.
26. Bake something together
It may sound a little hum-ho at first, but think about how different baking alone is from… baking with kids. In the end, you get something delicious with both, but a totally different experience! (See: Relaxation vs. frustration.)
27. Have a bake off
Who said an at-home date night can't have a little friendly competition? Pick — and have your partner pick — a sweet of your choice, get after it and then judge (truthfully!) whose is best!
28. Make a relationship scrapbook
Ever-so-slightly cheesy? Perhaps. But making a relationship scrapbook won't only leave you — and the kids — a beautiful keepsake in the end, it'll be a lovely, touching walk down memory lane together.
29. Do a puzzle
The great thing about doing a puzzle together is that you're low-key working towards something together, but mainly, you're relaxing together and chatting it up.
30. Plan your next (couple or family) vacation
Break out the travel books — or, let's be honest, your laptops — and research your next big vacation. There's a good chance you'll find good deals when you make a night of researching, and also, you'll get super pumped about your next getaway.
31. Cook a restaurant-worthy meal
Move over, chicken nuggets, tonight is all about fine dining! Together, decide on a meal you're both dying to try, and then together, make it. No food too elaborate!
32. Take personality tests
You may think you know everything there is to know about one another, but… do you? Odds are, when you both take and share individual personality or relationship tests, you'll learn something new about each other, yourselves and your relationship!
33. Have a spa night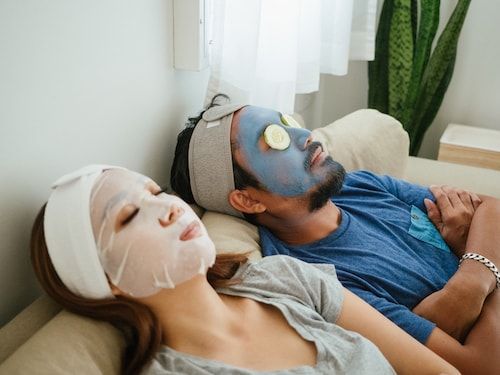 What can you do on a date night in the winter that doesn't involve leaving the house or spending much money? An at-home spa night! Gather up whatever pampering products you already own — lotions, oils, masks — and be each other's estheticians and masseuses.
34. Have a DIY night
Got the house to yourselves? Why not tackle an at-home project you've been putting off? Instead of having it feel like a chore, though, aim to make it fun with music, food and drinks.
35. Create a bucket list
When the kids are around, it's hard to think about the big picture since there's always someone who needs to be driven somewhere or a tantrum that needs taming. Take advantage of the quiet house by thinking about your lives individually, and collectively, and all the things you'd like to accomplish.