Let's face it — hiring a nanny can seem daunting, especially when you don't know where to begin. But if you break the process down step by step, you're more likely to do a thorough job and will have a great nanny hiring experience.
To help you keep track, you can use our handy checklist at the bottom of this page.
1. Decide what you need
Do you need a live-out nanny or a live-in nanny? Is a night nanny, a part-time nanny or after-school nanny the right choice for you? Before you get into the hiring process, decide what kind of caregiver will best suit your family.
Write a freewheeling list of all the qualities you want your caregiver to have: a sense of fun, early childhood education credits, a perfect driving record, first-aid training, etc. Make a list of deal breakers: smokers, speeding tickets, etc. This will help you craft a precise job description that will attract nannies with the qualities you want most.
2. Calculate your budget
What can you afford to pay your new nanny? Don't forget to factor in things like expenses for activities, annual raises and bonuses. And make sure you include taxes as well.
We recommend a three-step process:
First, familiarize yourself with all the factors that affect a nanny's rate.
Second, use our rates calculator to learn what the going rate is for nannies in your area.
Then use our nanny tax calculator to see how much to set aside for taxes.
3. Post a job
When you're ready with your super-detailed and upbeat job description, post it on a job site, like Care.com.
4. Interview candidates
When applicants begin to answer your ad, consider each one with an eye toward professionalism and experience. Do their qualifications match your needs? How well do they convey why they want this job? Start to screen your candidates and narrow your choices. For definite mismatches, send an immediate "no, thank you" note as a courtesy.
Pick the best five to ten candidates and arrange a phone interview or meeting at a neutral location, like a coffee shop. Ask them questions and see what kind of rapport you have with each candidate.
When you have cut the list down to your top three candidates, invite them to your home for an in-person interview. Discuss how your household runs and ask detailed questions about their background and child care philosophies. See how they interact with your kids. Try not to watch like a hawk (tough as that will be), so you get a real sense of how they will naturally interact.
5. Check references
Don't forget to check references. Did other families have good experiences with this nanny? Are there any red flags to watch out for? You want to make sure you're not talking to a candidate's relative or friend — who may be giving you the wrong impression. Take a look at these questions to ask references before making your calls.
6. Make the offer
You often just know when you have the right candidate. Trust your instincts if you really connect with one nanny over another. Just make sure you let the other applicants know the position has been filled. You can certainly propose a trial period of a week or two in case the situation just doesn't pan out. Just work that into your nanny contract (more on that in a minute).
7. Get a background check
Have you found a nanny you really like and you know she would be a perfect fit? Great! But don't forget to obtain a background check to make sure everything is OK.
To help maintain a safe community, Care.com provides an enhanced caregiver screening called a CareCheck, which is included with membership. CareCheck is a good place to start, but it does not replace the safety precautions that families should take on their own. Our membership eligibility standards for caregivers may differ from your hiring standards, and we don't share CareCheck reports for privacy reasons. We strongly recommend following our 5 steps to hiring safely, which includes running your own background check.
To learn more about background checks, visit the Care.com Safety page
8. Set up taxes
Now that you're a household employer, you're responsible for paying employer taxes. Familiarize yourself with the nanny tax and why it's important to hire your nanny as an employee not as an independent contractor. You can even use our nanny tax calculator to help you estimate how much you can expect to pay in employment taxes, as well as calculate any possible tax breaks you may be eligible for!
Determine if you want to organize the taxes on your own or use a comprehensive tax and payroll service, such as Care.com HomePay.
File notice with your state that you've hired an employee and have your nanny fill out a W-4 form for tax withholding.
And while you're at it, set up your own Federal Employer Identification Number if you don't already have one. See our nanny tax requirements by state to understand everything that is involved with being a household employer.
9. Check your insurance coverage
You should also understand what kind of insurance coverage is adequate for your new employee. Consult with your insurance broker to make sure you have enough umbrella insurance now that you have someone working for you in your home.
10. Write a contract
Everyone who hires a nanny should have a nanny contract. The contract protects your family and the nanny as well. This is the place to spell out everything: salary, employment benefits, job requirements, hours, expectations, etc. The more detailed your contract, the better. Discuss it with your nanny and let them weigh in.
Now that you've hired an amazing nanny, follow this checklist for their first day of work to make sure you have everything you need. Talk to your nanny about safety and any issues that may crop up. And prepare your kids for the nanny to help the process go smoothly.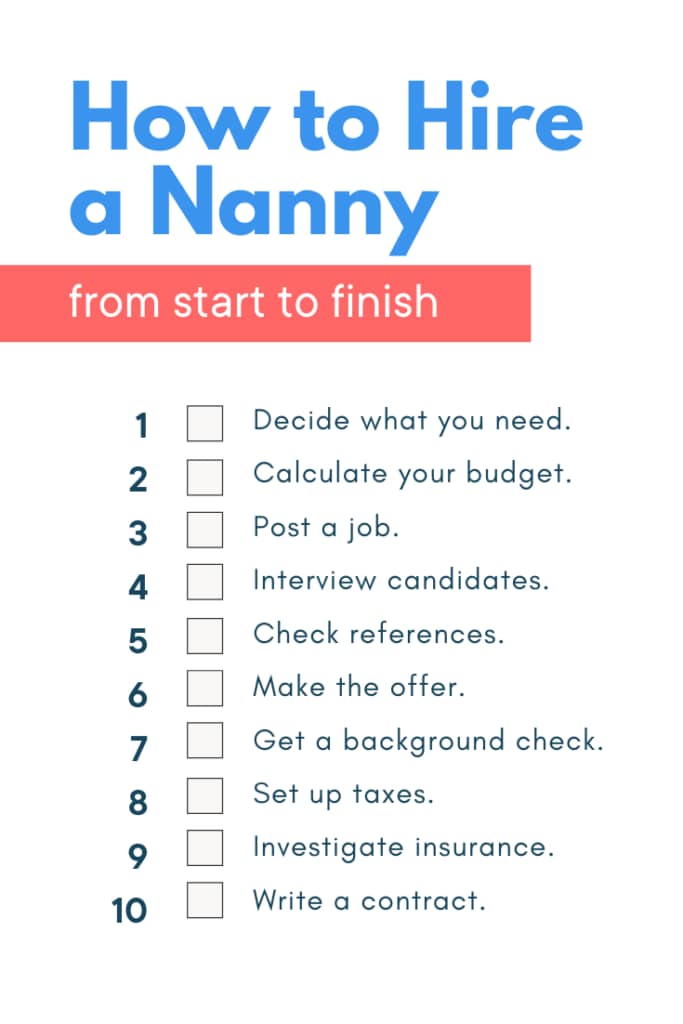 For more tips and information on hiring a nanny, visit the The Complete Guide to Nannies
* The tax information contained in this article should not be used for any actual nanny relationship without the advice and guidance of a professional tax advisor who is familiar with all the relevant facts. The information contained herein is general in nature and is not intended as legal, tax or investment advice. Furthermore, the information contained herein may not be applicable to or suitable for your specific circumstances and may require consideration of other matters.