Few things say summer more than the Fourth of July. And while the holiday is generally celebrated across the U.S., each family has their own unique tradition. Of course, when kids are involved, families may need to put a few twists on their regular go-tos in order to make the day fun — and engaging — for all. (Toddlers aren't really ones for sitting on the patio, talking, FYI.)
From silly patriotic games (that happen to make gorgeous backdrops) and red, white and blue sensory ideas to super-simple ways to give back, here are 15 fail-proof Fourth of July activities for kids. Time to get crackin'!
1. Make a batch of red, white and blue rice
One of the best Fourth of July activities for younger kids is a patriotic sensory bin — not only is it a fun show piece to any backyard barbecue, it's super easy (and affordable) to whip up. (Here's a quick how-to from Little Bins, Little Hands.)
2. Make (or buy) capes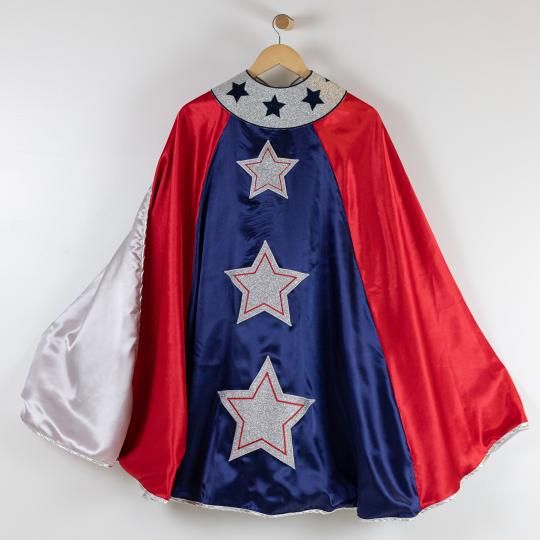 How adorable is this patriotic superhero cape from Everfan? Whether you've got little ones swooshing around the backyard in these numbers or are rocking one yourself as you grill, these are sure to make any barbecue a little more festive.
Where to buy: Patriotic Superhero Cape ($86, Everfan)
3. Play balloon darts
A fun way to spice up a Fourth of July backyard barbecue? A game of red, white and blue balloon darts. Not only will kids and adults alike love trying their hand at popping a patriotic balloon, but! If you take a page out of Hostess With the Mostess' book, you can also turn this age-old game into an aesthetically pleasing backdrop for your Instagram photos. Win-win.
4. Decorate bikes
Hands down, one of the most iconic Fourth of July activities for kids! Whether your family is partaking in a bike parade of sorts or you just want to take a leisurely ride around the neighborhood, patriotically decorated bicycles and tricycles (and strollers!) are always a good idea — and the decorating part is a fun Fourth of July activity for the whole family.
5. Write a letter to somebody who's serving
Writing a thank-you note — or even a letter, saying hi!— to someone in the military is a great way to celebrate the Fourth of July and honor the men and women who are serving our country. Megan from Coffee Cups and Crayons did this with her daughter's Girl Scout Troop and then packed up the letters and sent them to A Million Thanks, which then gets the cards to men and women who are serving overseas.
6. Try a patriotic hairstyle
Want to delight your kids (and have a ton of great photo ops)? Why not treat them to a gorgeous Fourth of July hairstyle, complete with stars and red, white and blue beads, like mom of two daughters Nicole showed off on Instagram. The only problem? You're probably going to want to copy your own kids' style once they step out with this 'do.
7. Have festive food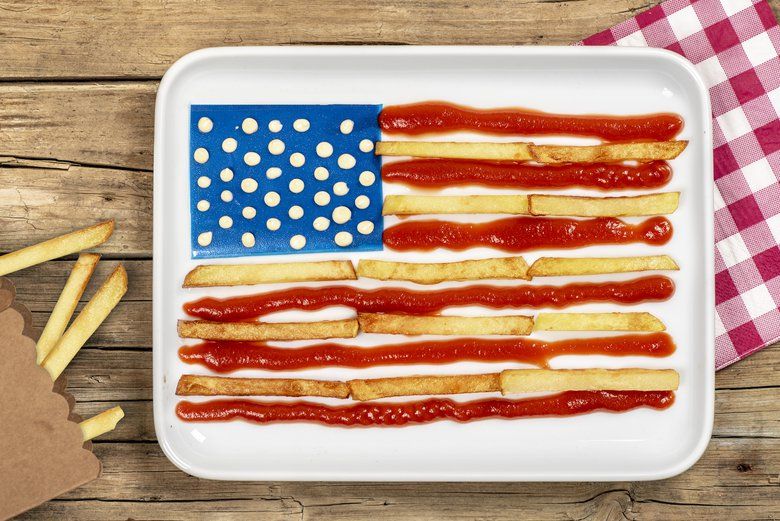 If there's one thing no Fourth of July celebration is complete without, it's a tray of creatively put-together red, white and blue foods. Depending on their age and attention span, kids can help with this activity. Not only will they get to tap into their creativity, but every kid loves being a part of the party setup.
8. Make (or buy) patriotic wands
Fact: Kids love wands, full stop. Whether they're pretending to be superheroes, fairies or something in between, children big and small will love either creating a wand of their own at this year's Fourth of July party or being handed one upon arrival, such as these sweet July Fourth wands from Smitten Moon.
Where to buy: Patriotic wand ($24, Smitten Moon/Etsy)
9. Make (or buy) a wreath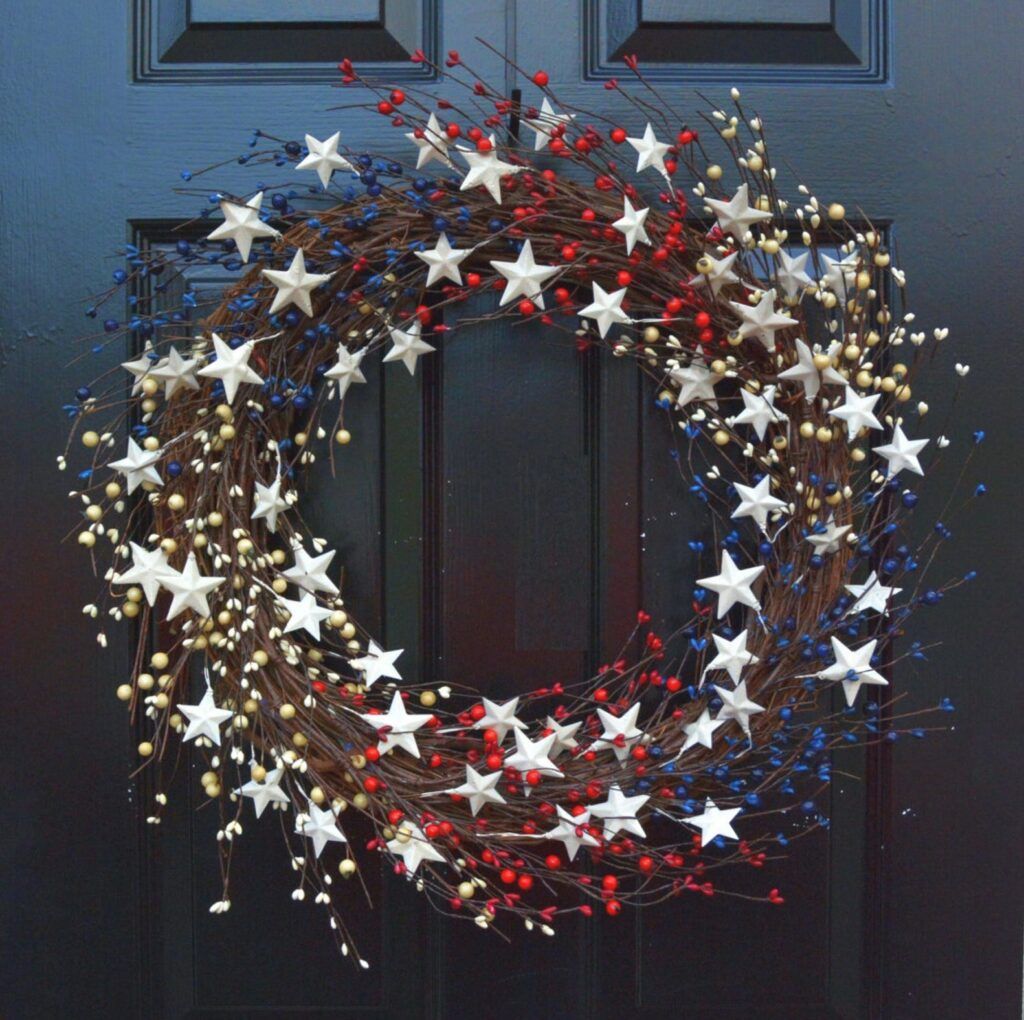 Looking to up your Fourth of July decor game? Hang a festive wreath on your door. Whether it's homemade or professionally done like this one from Creations by Jimmy's Daughter, the kids are guaranteed to smile every time they walk in and out of the house. (Seriously, who doesn't love sparkles?)
Where to buy: Patriotic Wreath ($89, Elegant Wreath/Etsy)
10. Check out local fireworks
Every area has their own rules about fireworks displays, but one thing people across the country can agree on is that trying to find parking — and then a place to sit — at a fireworks show is always the worst. Some towns, such as Phoenix, have spots in their area where fireworks can be seen without spending an hour parking, and even better, without ever having to get out of the car.
11. Paint your kiddo's face
The world's easiest — and perhaps most happy-inducing — Fourth of July activity (besides Rocket Pops)? Painting a flag or another patriotic design on your child's adorable face. Even if you just have an old tube of red lipstick to throw a few stars on their cheeks, they're guaranteed to smile every time they look in the mirror.
12. Play Fourth of July bingo
It's an unwritten rule that everything on the Fourth of July needs to be somewhat patriotic — and bingo is no exception. These cute printable bingo cards from BlessedLilBaby on Etsy are a fun way to ring in the summer holiday with kids. Bonus points if you can find something equally festive to act as chips.
Where to buy: Printable Bingo Cards ($6.50, Blessed Lil Baby/Etsy)
13. Make patriotic suncatchers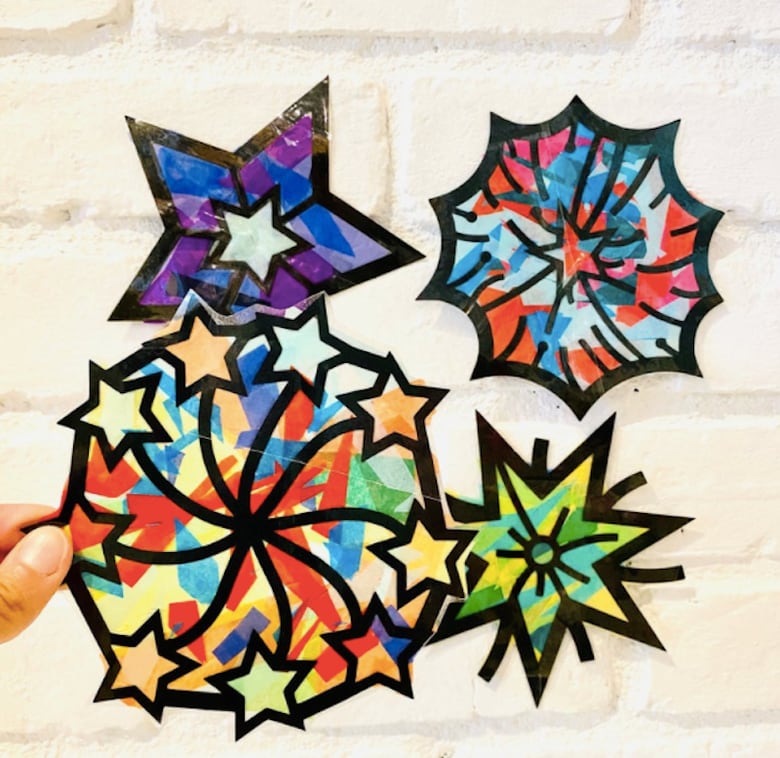 Want a little something to keep the kids entertained while you're prepping the potato salad? This super-cute fireworks suncatcher kit from Punch of Color should do the trick. And the best part? They make for a really pretty decoration to have up throughout the rest of the summer.
Where to buy: Fireworks Suncatcher Kit ($14+, Punch of Color/Etsy)
14. Craft toilet paper roll fireworks
Hey, even if you can't make it to a fireworks show this year, the kids can still enjoy some — albeit slightly less magnificent ones — at home with these cute toilet paper fireworks from Lessons and Lilies. A little messy? Yes. But they're guaranteed not to wake any sleeping babies.
15. Patriotic slime
Want to have every kiddo at the BBQ sitting calmly for a bit? Then, obviously, you need to whip up this batch of patriotic slime from Crafts by Amanda. Squishy red, white and blue goodness with sparkly stars? Guaranteed slam dunk.