Maintaining regular date nights is notoriously challenging for parents. Between work obligations, the busy schedules families often keep and the cost of babysitters, sometimes a date night out feels like more trouble than it's worth. And if you're a single parent — need we even say it? — getting out for a new or recurring date can be even trickier.
A potential solution: Date night in. While nights out on the town offer a nice change of scenery for busy parents, date nights at home can be just as romantic, just as nourishing to relationships and a heck of a lot cheaper.
It may take some creativity and pre-planning, but there are a ton of date night at home ideas that make watching a movie on the couch seem like a total rookie move. Ready to reframe what date night looks like? Dig into these 14 ideas for romantic date night at home.
1. Couple's massage
Need we even explain why this is one of the most brilliant date night at home ideas? Everyone gets a dose of much-needed stress relief, as well as the comfort of physical touch. And after the kids are asleep in their rooms, there's plenty of opportunity for those massages to lead into the… ahem, next portion of the evening.
2. Date night in a box
Here's an idea that requires no creativity or pre-planning effort on the part of busy parents. All you need to do is order a subscription to Date Night in a Box. Each one includes ideas, as well as activities, snacks, recipes and tools to set the mood for your romantic date night at home.
Where to buy: Date Night in a Box Kits (From $45, Date Night in a Box)
3. Virtual vacation
Sure, maybe you're not in the position to take a romantic vacation right now — but you can create an environment that nods to your favorite place in the world, or your dream destination, right at home. Make it a theme night with a meal, cocktail, music and movie, all inspired by a single wonderful place. Cacio e pepe, red wine and "Roman Holiday," anyone?
4. Love letters
Do you remember pencils and paper? (We'll wait while you Google that.) It's probably been a very long time since you wrote much of anything down on actual paper — let alone something meaningful. Use your time together to sit quietly side by side and write each other love letters: What are your happiest memories together? What do you still love most about your partner? This exercise is deep, ultra-romantic… and it costs absolutely nothing.
5. Virtual cooking class
Why not invite a third wheel into your at-home date… in the form of a chef? Options now abound for at-home cooking classes, both private and with groups. It's a way to try a hands-on, immersive experience without leaving the house — and a chance to learn long-lasting kitchen skills while bonding with your partner. What's not to love?
Where to book: Cooking classes (From $29 (not including ingredients), Cozy Meal)
6. Spa date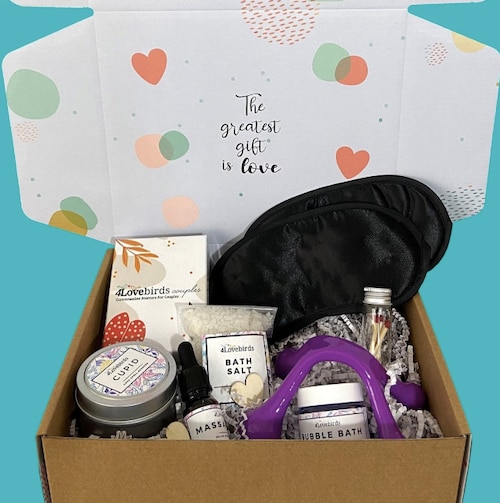 You could both use a little (OK, a lot) of pampering. But you don't need to spend money at a day spa — or even find a sitter — to do the next best thing. Set up an at-home spa date with face masks, fragrant foot soaks and indulgent bubble baths.
Where to buy: Date night spa box (starting at $34, 4 Lovebirds Shop/Etsy)
7. Wine tasting
If you're a couple of oenophiles (or hey, even if you just love getting tipsy together after a long day with the kiddos — zero judgement), make it a wine-focused date night. Buy an assortment of wines you might like — you can even buy wine online — and gather an array of snacks that complement them for a paired tasting. Have a notebook on hand so you can jot down your favorite varietals for future date nights!
Where to buy: Wine delivery (Prices vary, Wine.com)
8. Exercise date
If you get some time to yourselves, why would you use it to exercise? Well, there are plenty of good reasons for that: Exercising as a couple boosts your endorphins, which will energize and bond you. And it feels good to use grown-up time taking care of yourselves for a change: You know the expression about putting on your oxygen mask first! Plus, who knows where it will lead when you build up a sweat together. So use your at-home date for a couples yoga or cardio sesh — and you won't regret it.
9. Gourmet snacks and a movie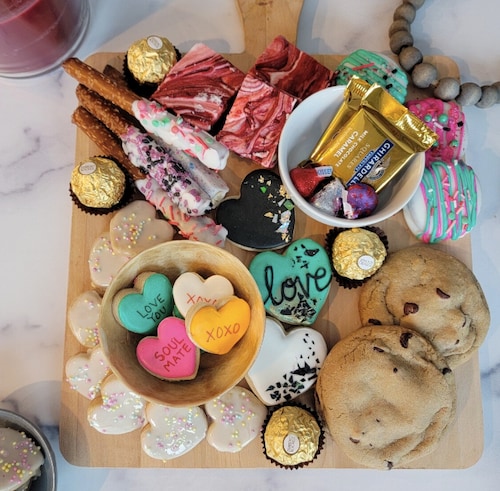 Sure, you can whip up a bag of microwave popcorn for your Netflix and chill date night at home. But you can also elevate the experience and make it all the more special with the nosh trend that's all the rage on Pinterest right now: the snackboard. It's like a traditional cheese and crackers assortment, but tricked out with any sweet and savory bites you love. You can even try it with desserts only. Customize your movie night snackboard with exactly your own favorites as a couple.
Where to buy: Dessert charcuterie board (starting at $35, Spilled Sugar Sweets/Etsy)
10. Sentimental journey
These days, our photos mainly live in our phones. For a nostalgic and romantic date night, bring them into the real world where they deserve to be. Print out a stack of your favorites, or just create a virtual slide show and stream it to the TV, for a night of reminiscing. If you have a wedding album you haven't cracked open in years, do that. Reliving your happiest moments together is sure to rekindle (or further stoke) all your fondest feelings for one another.
11. Game night
For many couples, the reality is that communication typically happens distractedly, behind glowing screens. Break that habit — at least for one shining night — with a fully analog, even retro, date. Break out board games like Scrabble or Monopoly. Thanks to "The Queen's Gambit," chess is tres chic again. No sitter? No problem: This G-rated idea is friendly to kids barging in.
Where to buy: Wood chess set  ($45, Target)
12. DIY date
If tackling a home improvement project together doesn't feel like a date at all, hear us out. Tension and frustration can build in a household where it seems like something's always broken. If you use your time together to tackle a small project — say, fix a wobbly table, repaint a crayon-marked wall, or plant some new flowers — you're adding a morsel of joy to your shared daily life in your home sanctuary. And you've done it together — so it's a bond booster you can enjoy on your date and well into the future.
13. Dance party
Remember those kid-free days when you used to go out dancing, get sweaty, stay up late and laugh a lot? You can still do that (and if you feel like you just can't, you might need an at-home dance party even more than you know). Pick any music that moves you — from your own collection, or music streaming services make for a great DJ — and cut a rug like no one's watching!
14. Planning session
No, we're not talking about planning your grocery list for the week or scheduling your kids' activities. (Definitely not that.) But planning for your future can make a great date and set you up as a couple for excitement. For instance, maybe now's not the time to take a grand vacation — but even as you craft an itinerary, you'll feel your joy rising. It will give you a goal to save for, something concrete to look forward to. If you can, you can even use your planning date to pull the trigger on booking flights for a far-out future trip!