If 2020 was the year of the at-home learning station, may 2021 simply be the year of the at-home homework station. And while families may no longer need to supply their school-aged kids with everything under the sun for a day of virtual learning (praise be), having a go-to kids homework station is still a good idea.
From stylish small space hacks to homework setups for multiple kids, here are 17 homework station ideas for every kind of family. Who knows? Maybe these can even get the kids a little more excited about homework? Maybe.
1. Triple homework station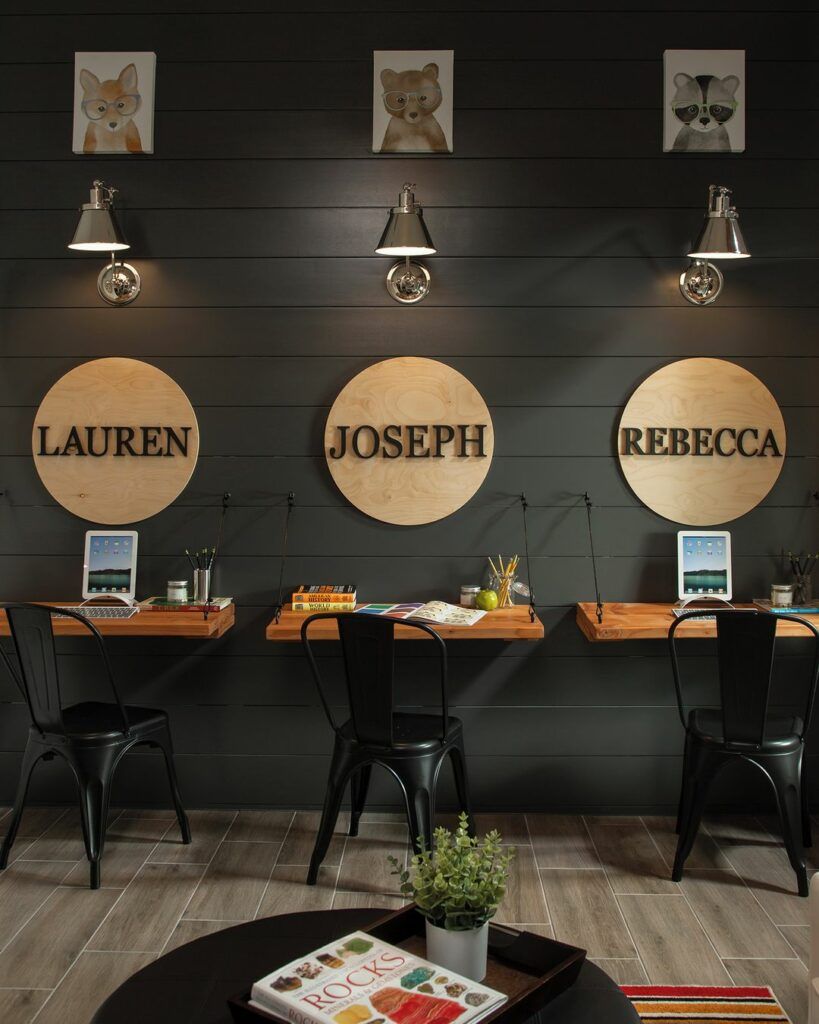 If you've got more than one kid, you need more than one homework station — and not everyone has the room for that. An option? This handsome triple homework station from Coventry Homes. And with everyone's area emblazoned with their name, parents don't have to worry about the kids fighting over whose station is whose.
2. Mudroom homework station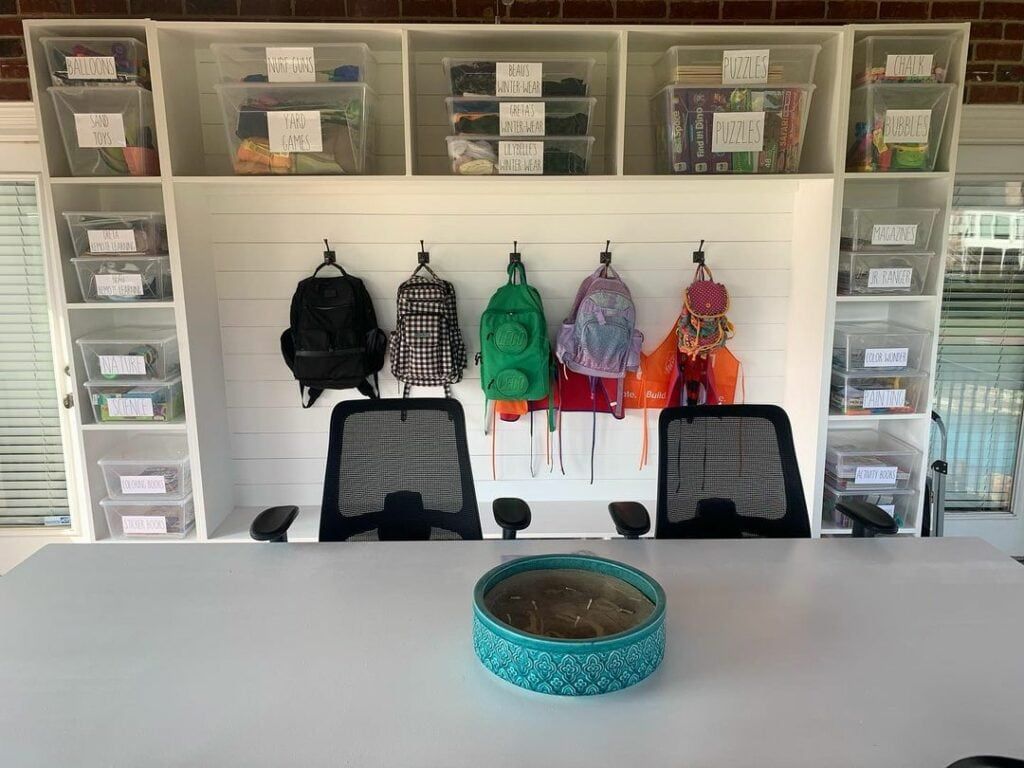 No extra room for the kids' homework station? No problem! This clever mudroom homework area from The Bailey Bunch Blog not only brings the outdoors in (much-needed when the kids are brushing up on their math skills), it makes creative use of an often-overlooked space. (Pro tip: If you don't have a mud room — or one that's big enough — consider using the garage.)
3. Minimalist homework station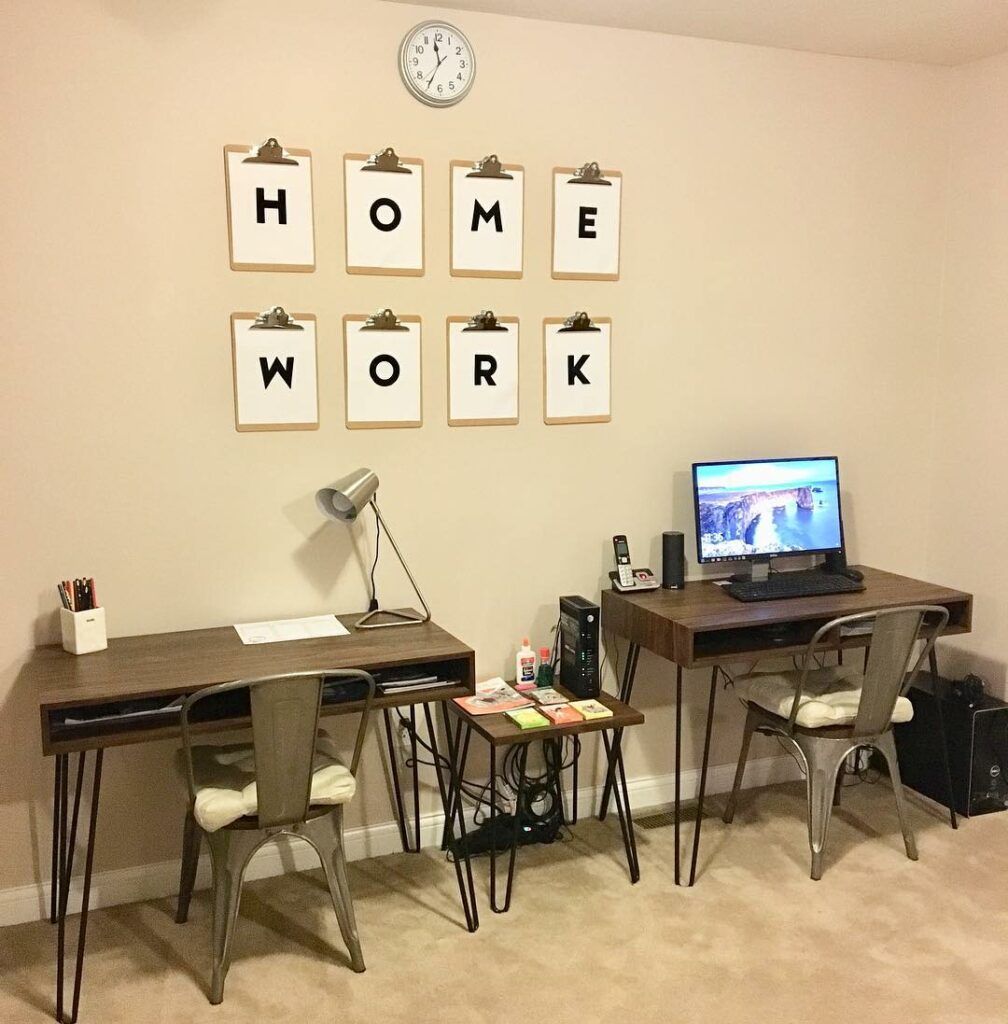 For some kids, colorful decor and fun storage containers can be distracting. A solution? This simple homework setup from Carmen's Making This House a Home. Love how the clipboard homework sign gets to the point but is creative at the same time.
4. The sloped "cloffice"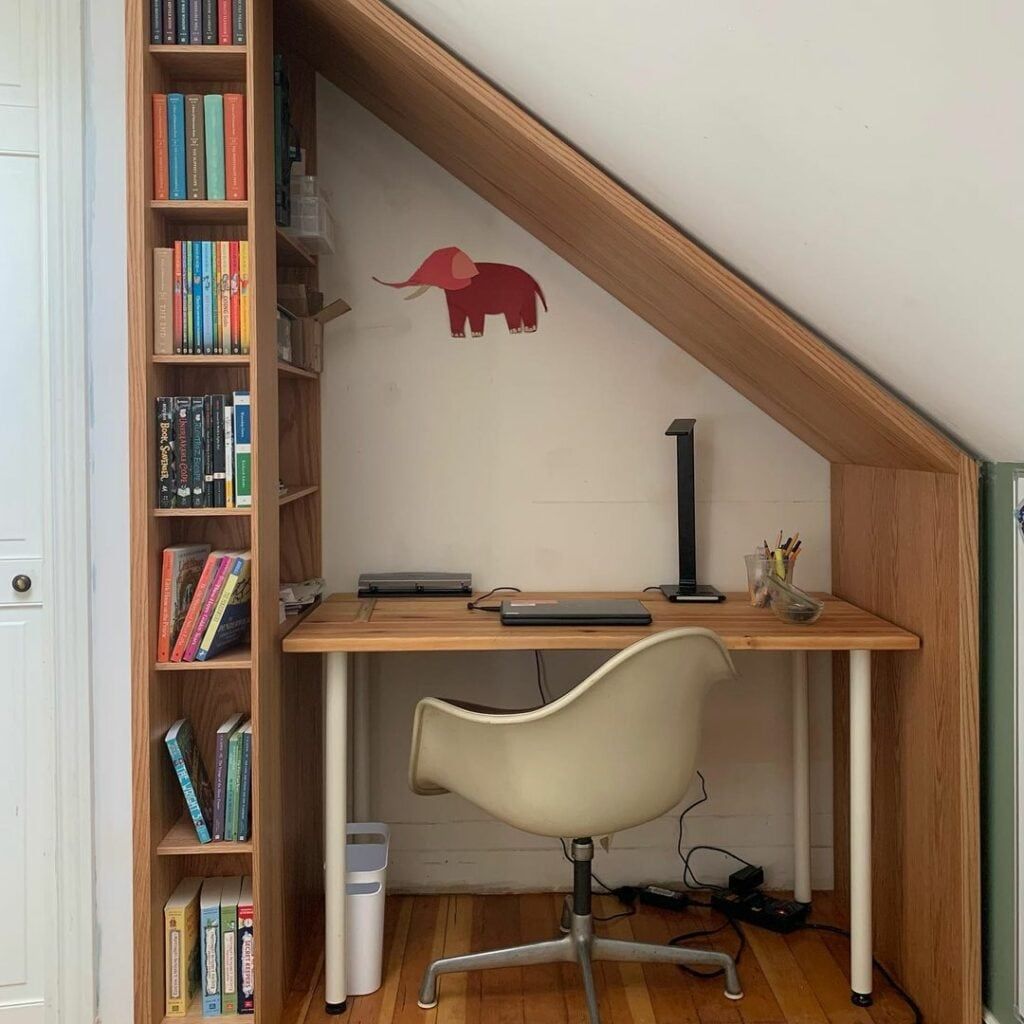 Call it a cloffice or a clomework station — either way, this closet homework area from David Malda is one of the best DIY homework station ideas around. Some woodworking skills are a must for this bespoke area, but it's a space you'll have for life.
5. "Look what I made"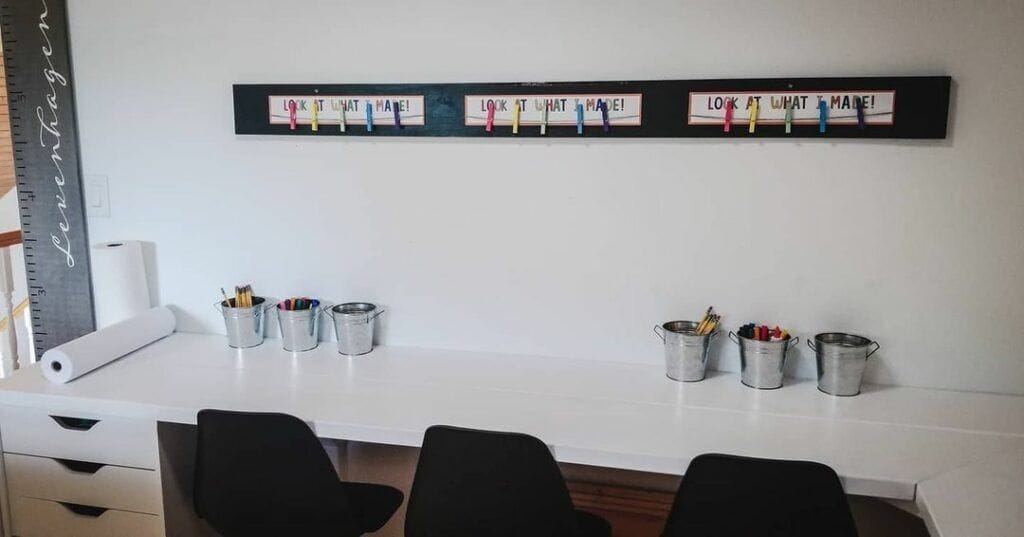 Kids' homework stations don't have to be all, well, homework. This cute double station from Jamie Levenhagen has sweet signs with clips over each area that say "Look what I made" — the perfect space for kids to jazz up their station with fun artwork.
6. Personalized drop-down desk
Talk about stylish and practical! This super cool personalized drop-down desk from Twelve Design marries design and function in a seamless way. Perfect for homework!
Where to buy: Foldii kids fold-out desk (starting at $292, Design by Twelve/Etsy)
7. Sliding desk
Let's be honest, this desk with a built-in slide from Weco Store is every little kid's — and adult's — dream. The three-in-one design allows for quick transformation from learning tower to desk to slide. Genius!
Where to buy: Kids three-in-one desk (starting at $168, Weco Store/Etsy)
8. Garden desk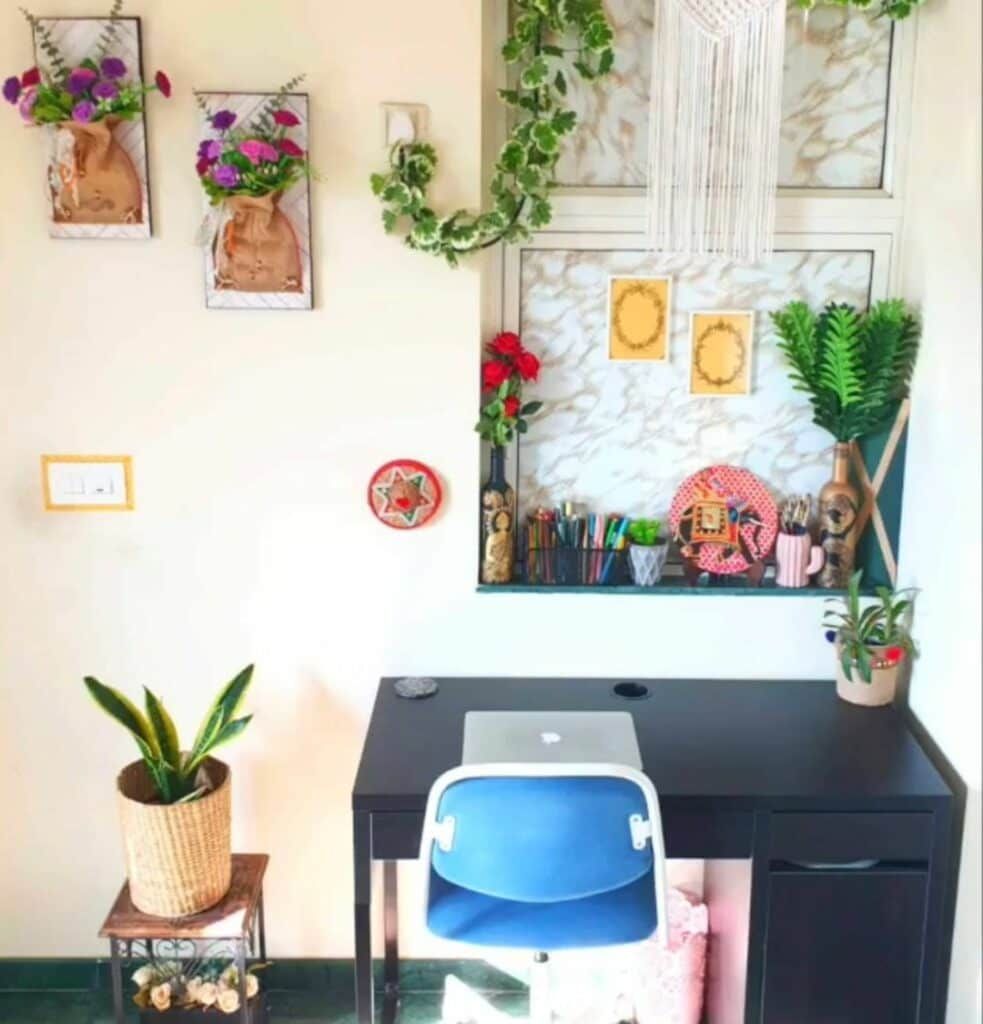 Something that may make homework a little more painless? Plants! Whether you're using faux or the real deal, adorning homework stations with pretty greenery a la Indira Tanwar is pretty much a guaranteed mood-booster.
9. Simple homework station with a pop of color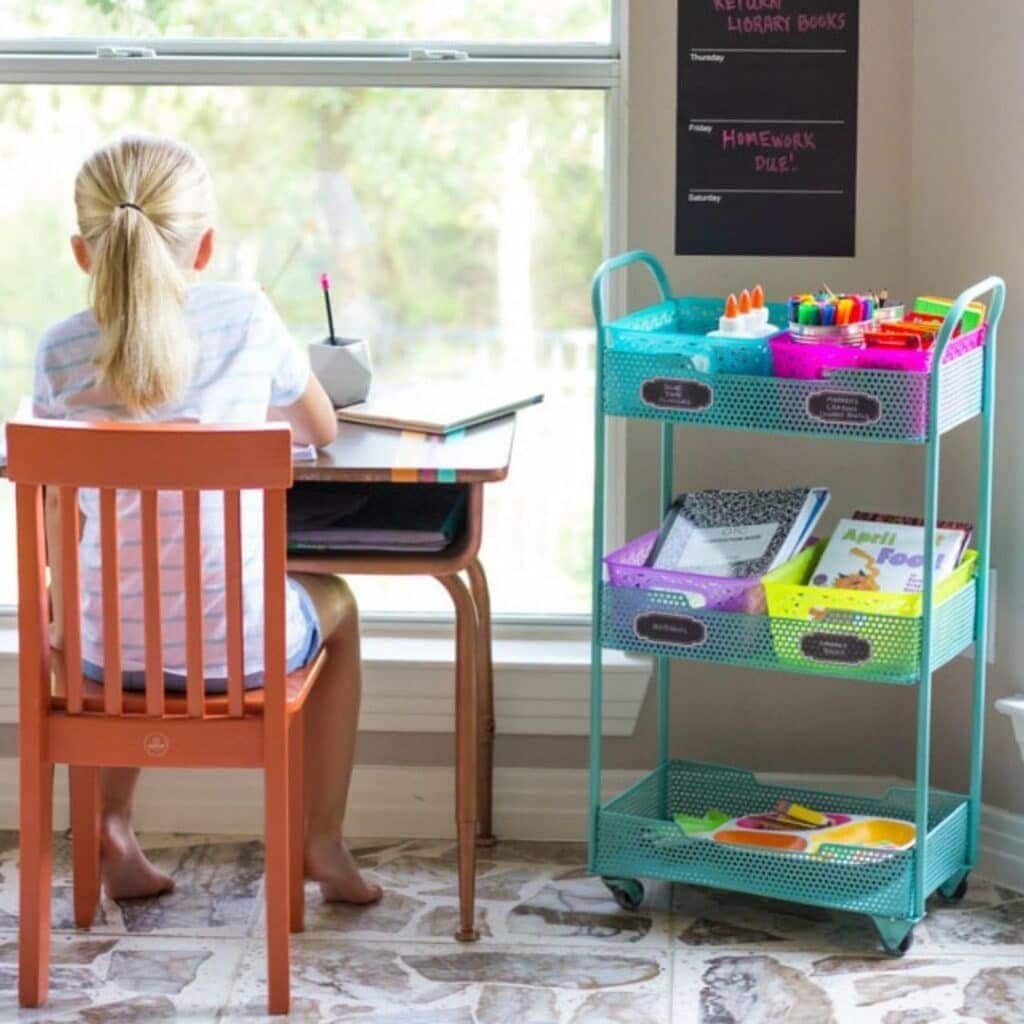 Sometimes the best kids' homework stations are the simplest — of course, it never hurts to add a pop of color. This streamlined homework station from Educational Therapist is exactly what little kids need for after-school work: A simple desk, a brightly colored chair and a cute, bright supply organizer.
10. Living room homework area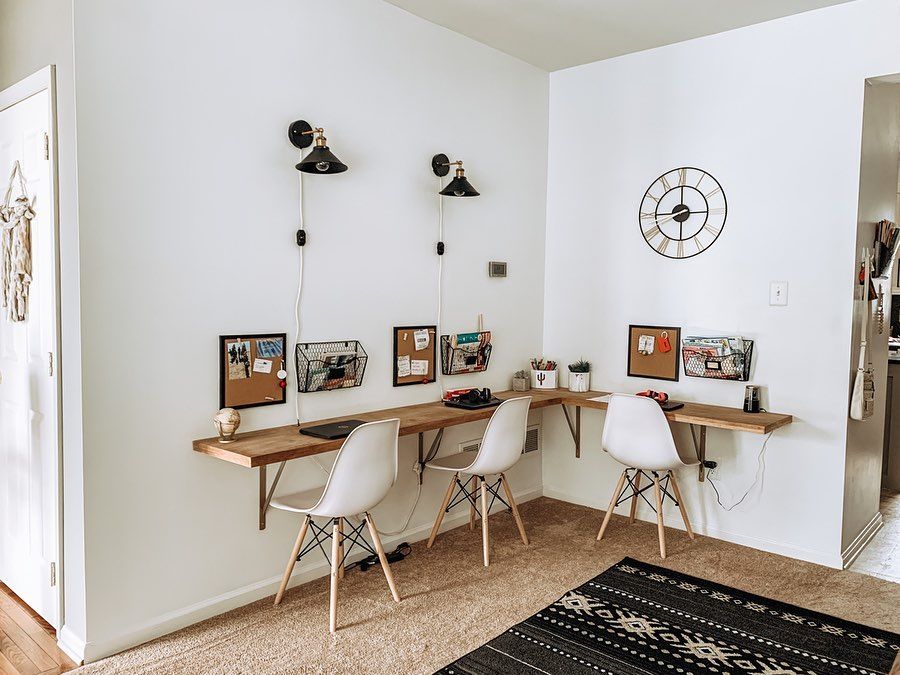 Again, not everyone has space in their home to have a designated homework room, so this modern, wall-mounted living room homework station from Brit Elizabeth is a great idea for families who are running out of kid-centric real estate. This space-saving idea could fit nicely into a dining area or kitchen nook, too.
11. Brightly-colored desk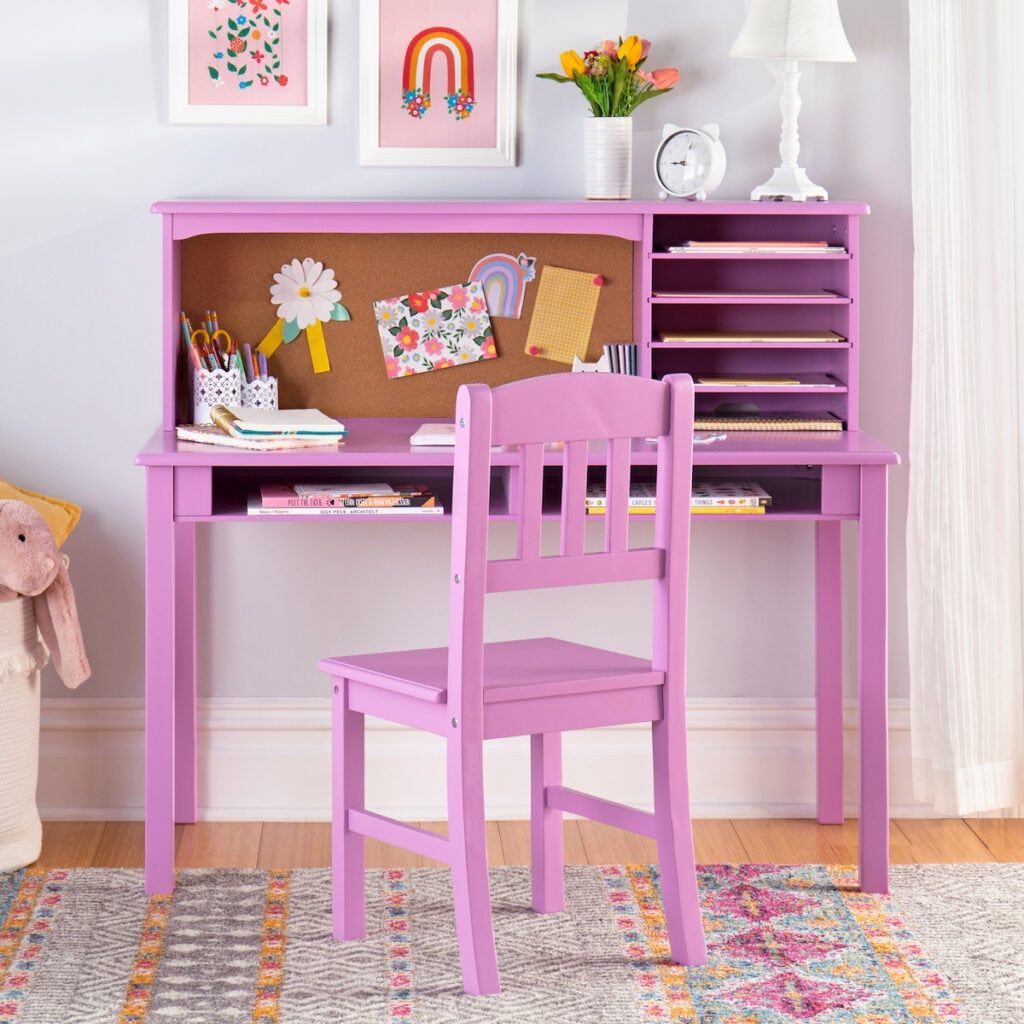 When all else fails, you can never go wrong with a super bright homework desk. Whether it's in the basement, living room or your child's bedroom, it's a fun way to make homework fun… ish.
Where to buy: Children's media desk and chair set ($240, Guidecraft)
12. Loft bed + desk combo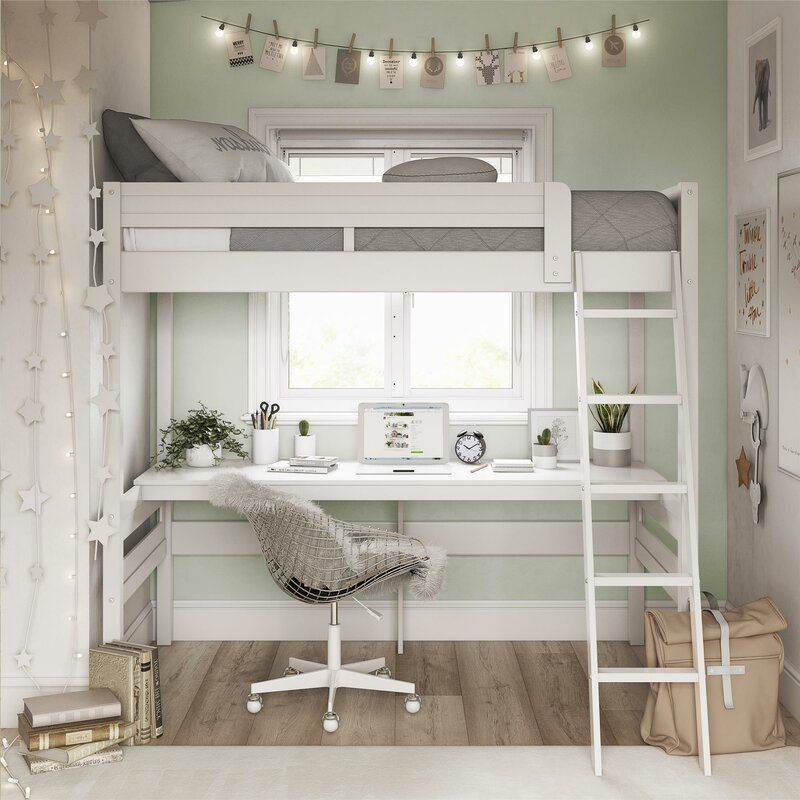 Talk about a seriously sweet homework setup! Not only do lofted beds with desk spaces underneath maximize space big time, what kid doesn't love sleeping way up high?
Where to buy: Viv + Rae Alfred twin bed and built-in desk ($530, Wayfair)
13. Desk with secret storage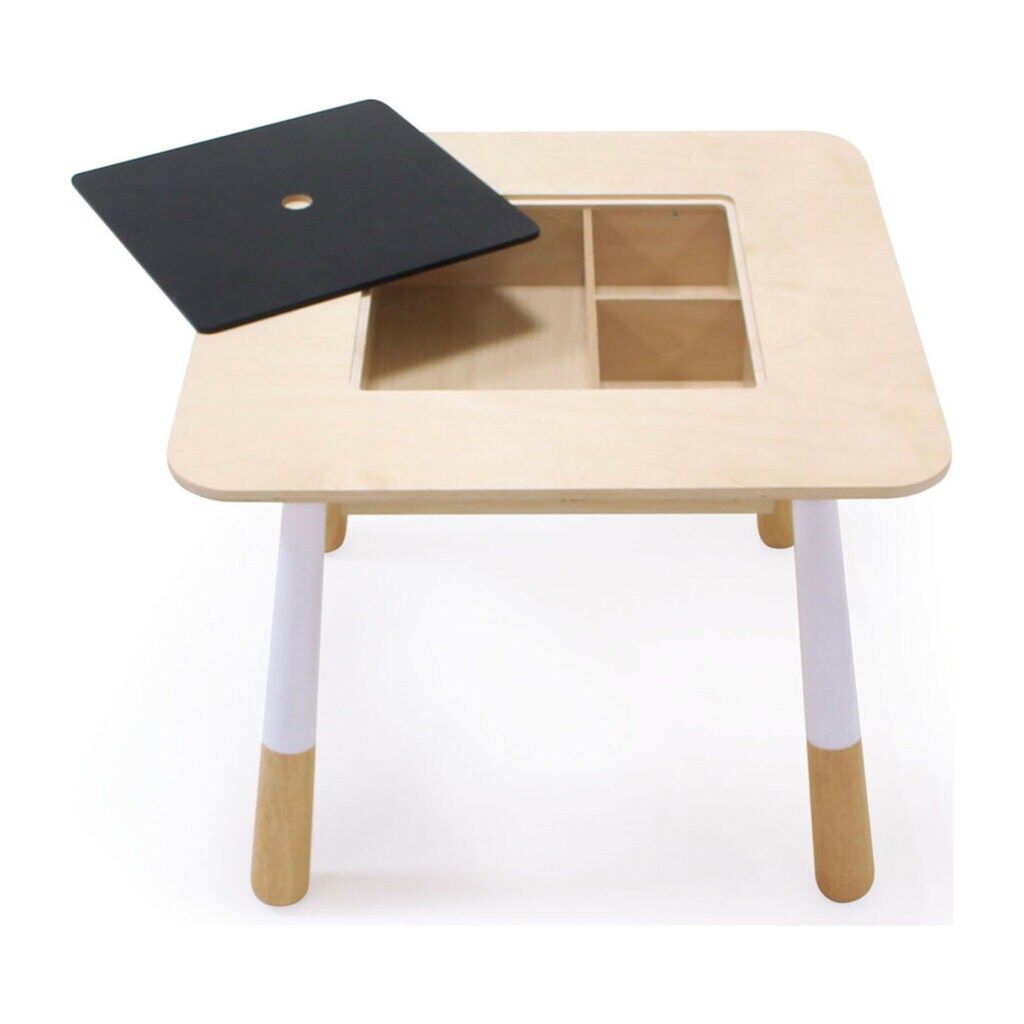 For little kids whose homework requires lots of crayons, scissors and glue sticks, this sweet Forest Table — a small table with a removable top that hides a useful storage space — definitely fits the bill.
Where to buy: Tender Leaf Toys forest table ($130, Maisonette)
14. Wallpaper station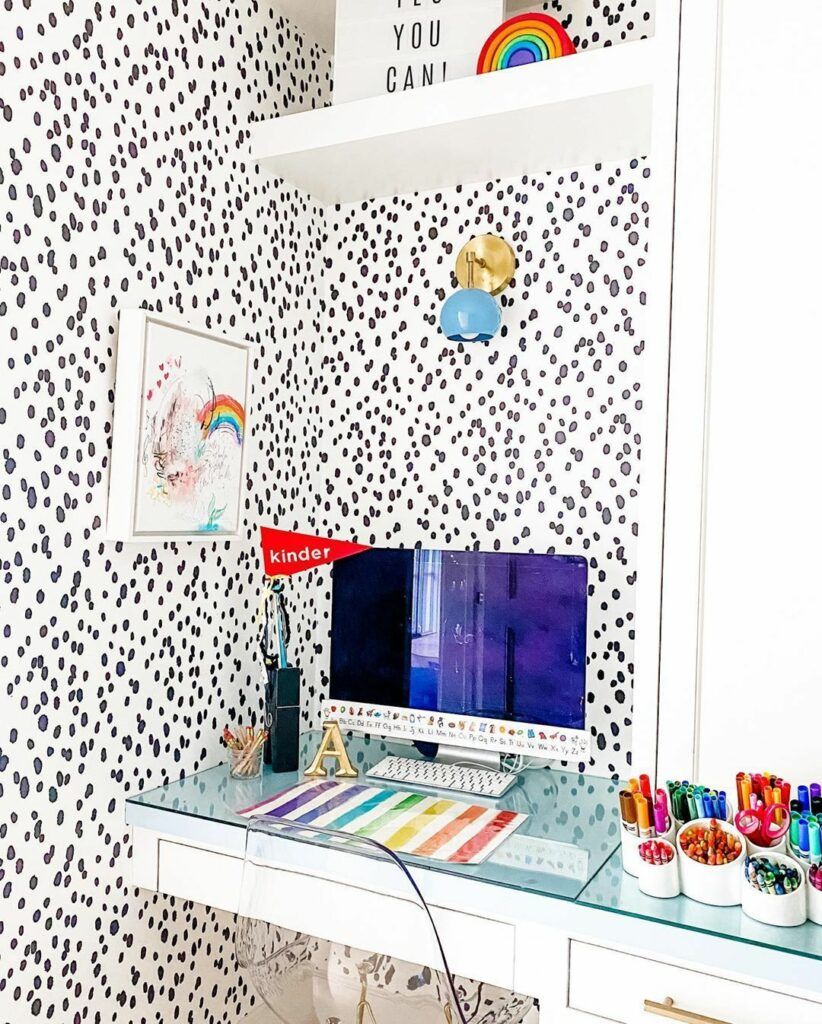 Now this is a fun homework station for cool kids, tweens or teens. For parents looking to make their child's at-home work area really pop, this wallpapered desk station from Sazerac Stitches is great inspiration.
15. Floating chalkboard desk
A desk that folds up into the wall and has a chalkboard area for writing, doodling and math?! This floating desk is definitely a solid homework station for anyone short on space.
Where to buy: Ebern Designs Notte floating desk ($135, Wayfair)
16. Closet/under-the-stairs homework station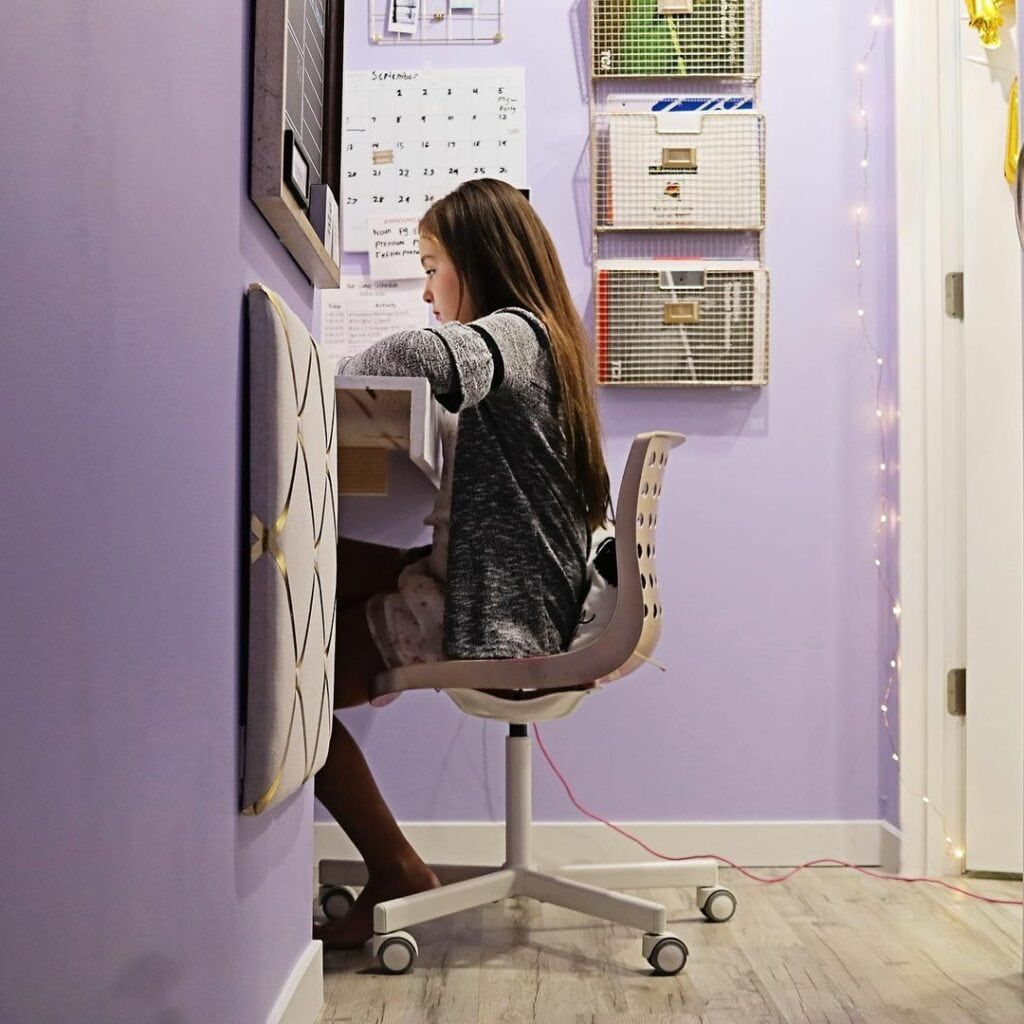 Jaime Byrdak created a super-cute DIY homework station in the closet under her basement stairs. And from the bright color and happy decor you'd never know this was, technically speaking, underground.
17. The kitchen table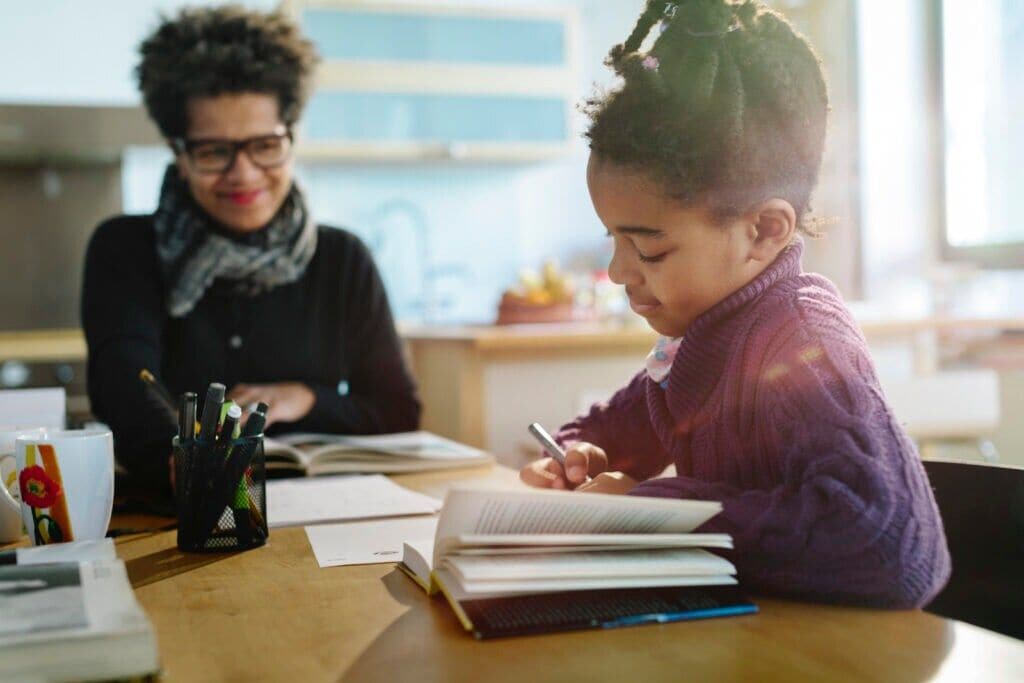 For a lot of families, a designated homework station isn't necessarily possible — and even for the ones that do have the space, let's face it, kids love being at the kitchen table. For the families whose kitchen table doubles as a homework area, be sure to have supplies, such as pencils, erasers and headphones, at the ready for quick setup and cleanup.