You have to respect an animal that can make a toy out of an empty cardboard box. Or a bag. Or a simple ball of yarn. Whether they know it or not, cat people constantly try to prove to their felines that they, too, can make something out of nothing. For those creative moments, we've gathered 20 DIY cat toys that will definitely entertain — not to mention save you a little money and perhaps reuse something you may have otherwise thrown away.
Give kitty one of these homemade cat toys, and we promise they'll be wondering what other extraordinary things two-legged creatures like you are capable of!
1. Toilet paper roll toys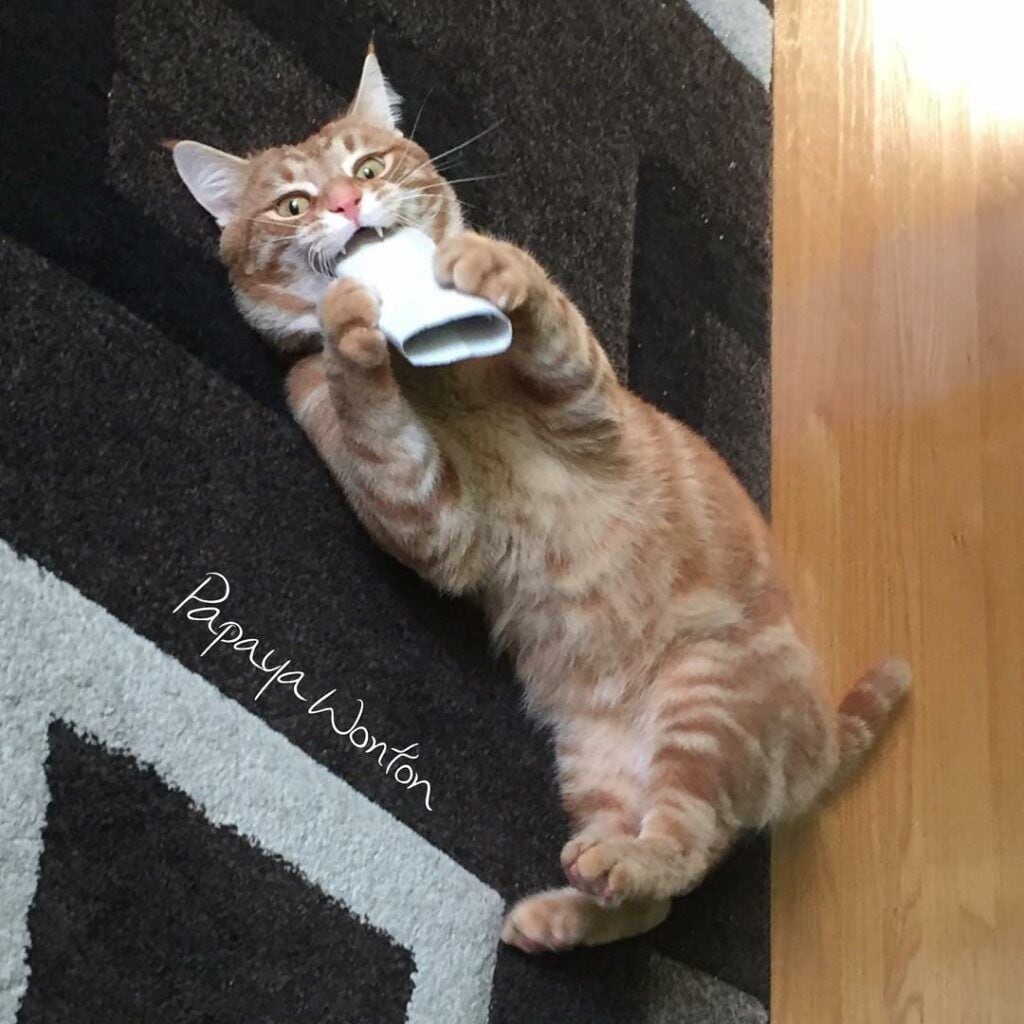 One of the easiest DIY cat toys out there, a plain old toilet paper roll can be hours of fun for a kitty, as demonstrated by Papaya Wonton. Or if you're feeling crafty, jazz up a toilet paper roll by stuffing some treats inside and folding the sides, as suggested by Staying Close to Home.
2. Feather fascinator
You'll need loose craft feathers, mesh braids, string and needle, elastic and a small plastic ring to make this feathery toy from Dream a Little Bigger, which, like its name implies, will fully fascinate your feline friend until he or she just isn't anymore (because: cats). First, sew the braids together into a bunch, then sew feathers to the ends of each of the braids. Bind all your mesh tubes together with some elastic, leaving a long piece for it to hang from. Tie a ring at the end.
3. Ultimate kitty puzzle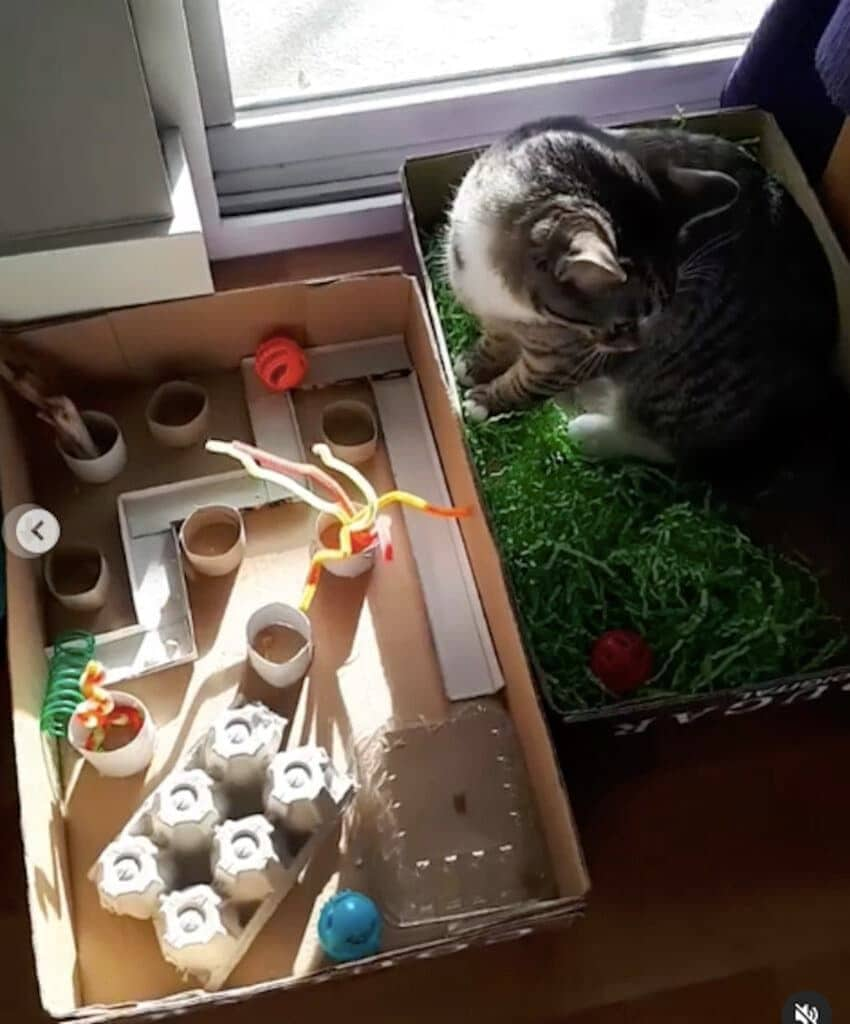 It's simple, really: Take two things cats love — toilet paper rolls and boxes — and fashion them into a toy. But this is not just any cat toy. Add pipe-cleaners, a cardboard egg carton, and a few balls and you have what looks like a kitty pinball machine. Arnica Jolene, whose parents came up with the idea, is quite the pinball wizard — with whiskers.
4. Cat scratch door hanger
OK, if the words "meter box and saw" mean absolutely nothing to you, skip immediately to #5. If you're all about a small amount of Chip Gaines handiwork, this cat scratch door hanger is the purr-fect project for you. Cut your wood as the Design Sponge directions suggest and glue them together with wood glue. Hot glue some sisal rope around it — note: few cats can resist sisal rope — and detail it with your favorite color string. Use a drill to make some holes where you'll tie a leather cord and hang.
5. Tree stump scratch pad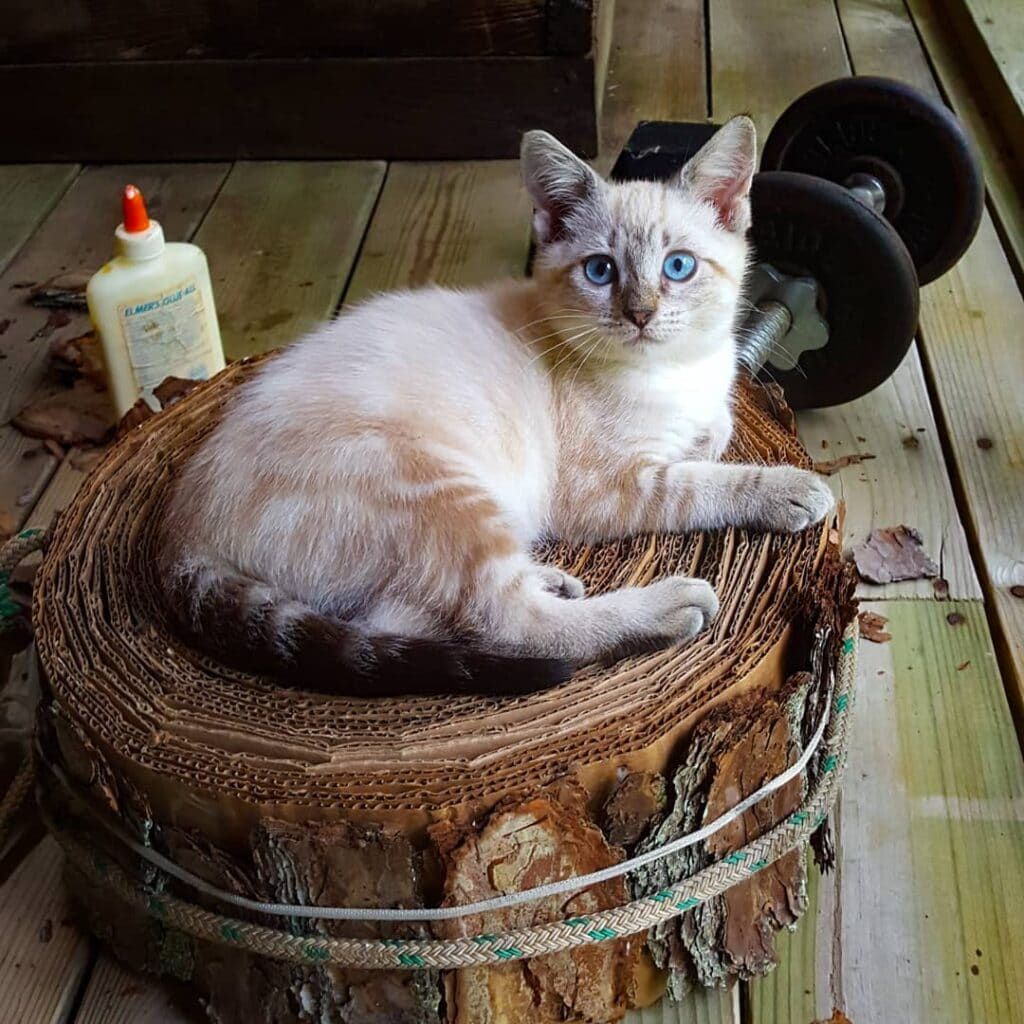 Bring the outdoors in with this scratching post that would make Paul Bunyan proud. As this YouTube video shows, use clear tape to secure your rolled cardboard (three and a half inches thick) into a circle-like stump. Glue cork on the outside to look like bark or, as Sussie and Kich did, use real bark, wood glue and tie around rope. The result is a rustic-looking stump that kitty will totally cop a squat on — especially if you add catnip.
6. Cardboard catscraper
Styled like a skyscraper made for kitties this "catscraper" from Shelterness is fashioned from stacked cardboard that your cat will definitely want to sharpen those claws on. The key to keeping it vertical is constructing a super sturdy base with an equally sturdy dowel positioned in the center. Stack the carefully cut cardboard pieces (one on top of the other) until get the skyscraper shape you desire. The modus operandi here: The taller the better!
7. Wiggle wand toy
Take it from Pudge, the Insta-famous cat in this how-to video, this is the toy your feline wants right meow. To make it you'll need leather and cord thread, a wire cutter, pliers, a dowel, superglue, a bell, and felt (for the faux feathers). Pudge may or may not have fallen asleep while making this toy, but that is in no way a reflection of how fun it is to play with.
8. Cat puzzle toy
Cut holes in the top of a disposable food container with a utility knife to make this cat puzzle toy. (The folks at The Glam Cat burnt the edges of the holes with a lighter to make it softer on kitty's paws). Fill the container with items your cat will totally flip over, such as catnip toys, balls, and treats. Close the container and let kitty's noggin do the rest.
9. DIY cat tent
Dig through your closet for a medium-sized T-shirt which is the key ingredient for this adorable little kitty abode, courtesy of Jenna How. A piece of cardboard, two wire hangers, and tape help you achieve a cool tent frame. Safety pins help you secure the shirt to the frame. Put a cozy blanket inside and your cat is ready for some shut-eye.
10. Cat dancer toy
One reason you won't be making this flying feather and pom pom cat toy from Joy the Baker while your kitty is around: catnip. When kitty is napping, cut colorful felt into fun shapes, stuff each with catnip and sew both sides of the shapes together. Attach pieces of string to a rod and tie the shapes you made to the end of each. For added fun, put pom-poms and feathers on each catnip shape with hot glue.
11. Cardboard hide-and-seek toy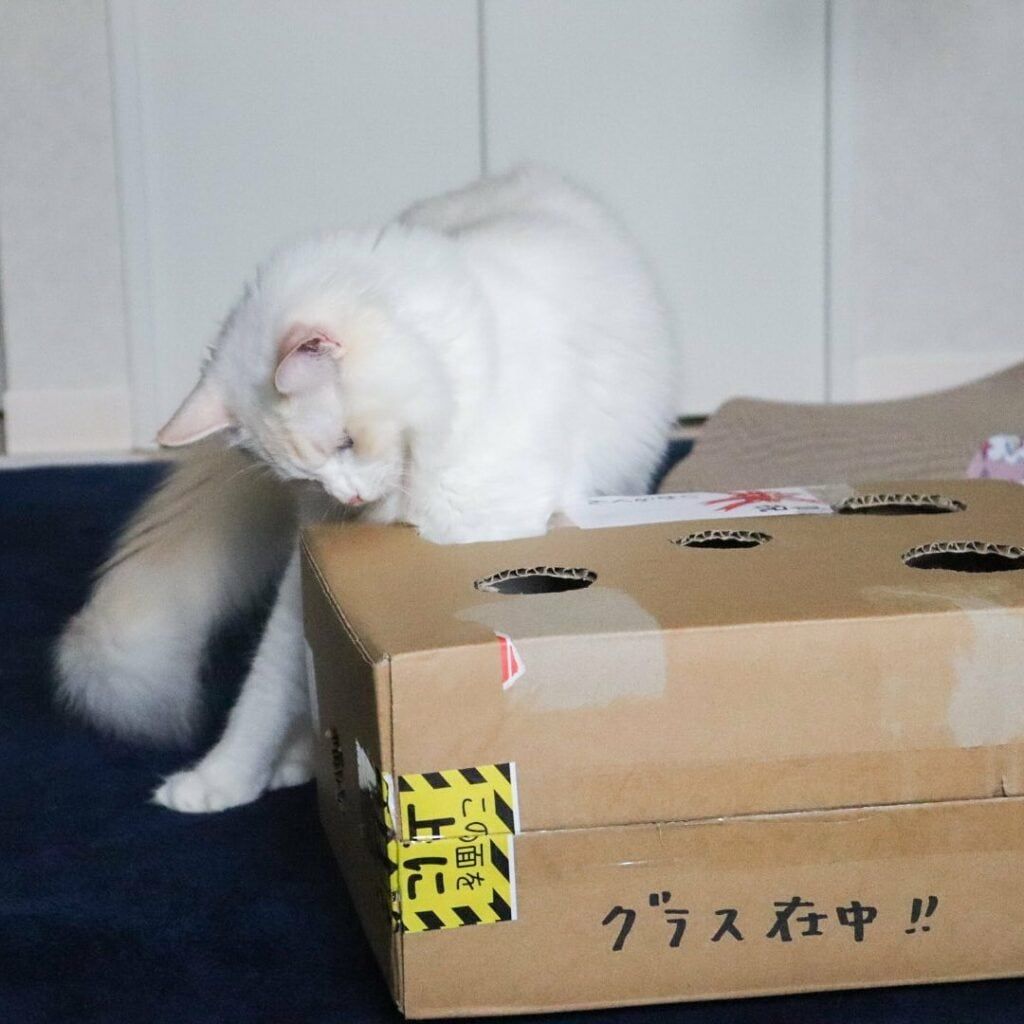 Got a cardboard box and a pair of scissors? Then you've got everything you need to make one of the cheapest, most engaging cat toys around. As Mochi the Cute Fluff shows on Instagram, this cardboard hide-and-seek toy will have your kitty entertained for a good chunk of time.
12. Junk food cat toys
Give your Garfield all the junk food he dreams about! Cut some colored felt into donut, burger and hot dog shapes, stuff with catnip and then sew with colored embroidery thread. All the details for making these felt junk food cat toys are over at A Beautiful Mess.
13. DIY fork pom poms
These DIY pom poms from Ventuno Art are perfect for knitters with kitties (who constantly interrupt their knitting). Wrap yarn around a fork (like spaghetti) approximately 60 times, then tie some yarn down the middle. Carefully slip it off and trim the edges on both sides. Voila, ready for a game of catch.
14. Cattail catnip toy
Sew4Home has a downloadable pattern for this one-seam catnip toy. You just need home decor weight fabric, matching all purpose thread, yarn, catnip, and a chopstick to achieve the right shape. Another very important tool that's needed: a funnel, to help you get the catnip inside!
15. Cat fishing pole
This toy is a must for any cat that's licked its lips while gazing at the fish bowl. Making the fish might be the most complicated part of this wand-like fishing pole toy by Lia Griffith, but the adorable result is well worth the effort glueing on gils. Cotton clothesline attaches the fish to the dowel which they recommend painting blue for an aquatic aesthetic.
16. Pirate ship scratching post
Why make your cat an ordinary scratching post when you can make them a pirate ship scratching post a la Jenny Rae Gibson?! Not only will your kitty be entertained for hours, you'll have a cute show piece for your home to boot!
17. T-shirt cat toys
If you can tie your shoes, you can make these easy DIY T-shirt cat toys! Cut up old tees, says Muslin and Merlot, into 3 inch by 10 inch rectangles (the more colorful the better). Simply tie them into knots — like we said: easy, peasy!
18. No-sew pom poms
If we had you at "no sew," we appreciate your desire to keep things easy. These pom pom toys from Sensibly Sara are made with scraps of fleece (at least 2 inches wide), inexpensive cotton string and a pair of scissors. Catnip optional.
19. Simple sisal rope cat scratcher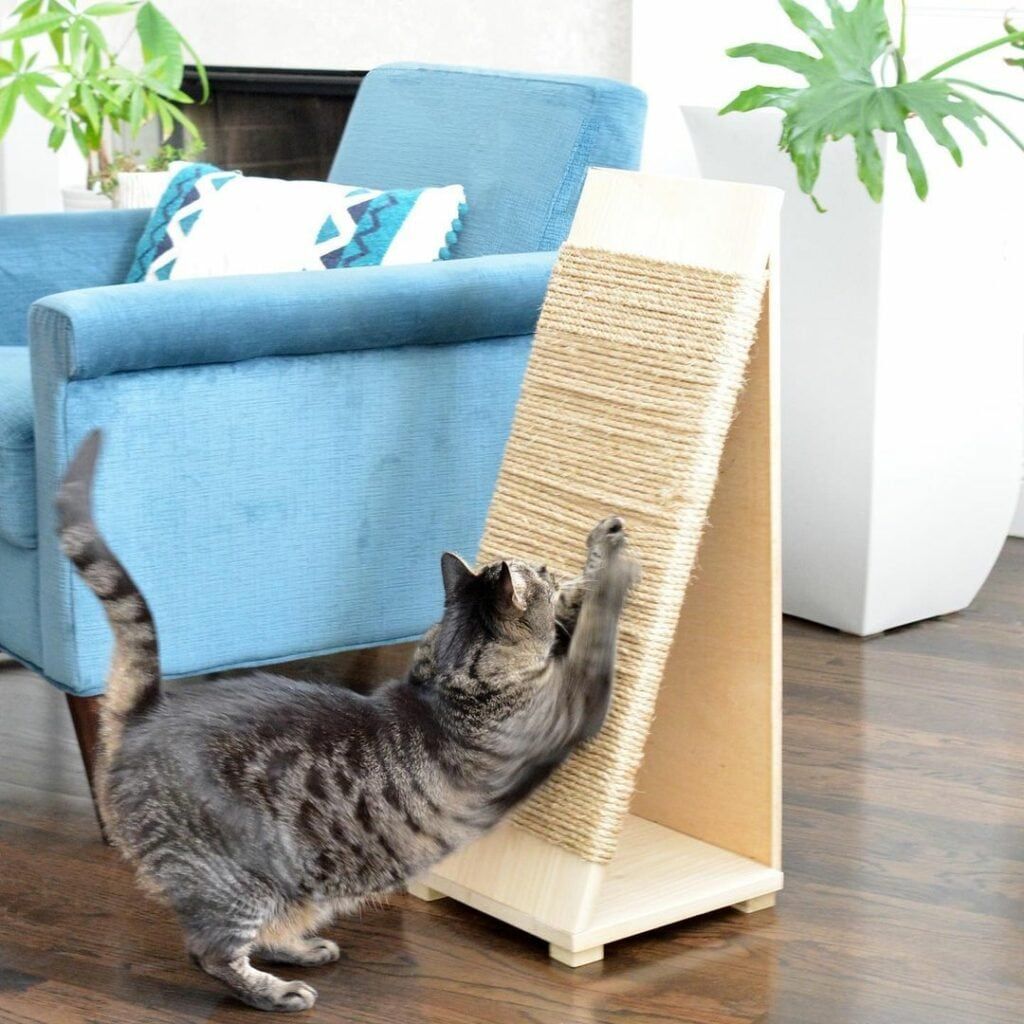 Want to keep your cat entertained and put an end to couch/general furniture-scratching. Kate Riley from Centsational Style has the solution — a simple sisal rope cat scratcher. It's easy to make, easy to look at and will keep your arm chairs intact.
20. Wine cork cat toy
Drinking and crafting aren't generally recommended, but using wine corks to make cat toys totally is! Per The Link Site instructions, make a hole in the cork with a nail and use a pair of pliers to pull it out again. Use a darning needle to pull yarn through the hole. Tie tassels at the bottom and make sure the yarn is at least 30 centimeters long so you have ample dangling distance (because: claws!)