As challenging as the early days of parenthood can be, they fly by so quickly that you'll wish you had a pause button. You're sleep-deprived and emotionally wrecked, but you know these precious days are ones you'll want to remember. That's where breast milk jewelry comes in. Traditional jewelry crafted with stones made out of breast milk, these pieces are an intimate way of taking this sweet time with you into the future.
"For me personally, breast milk jewelry has helped encapsulate the journey that I experienced with my own children, encompassing its challenges, joys and indescribable love," says Anna Thachuk, owner of KeepsakeMom Breastmilk Jewelry.
And breast milk jewelry just seems to be getting more popular by the year. Here's what you need to know if you're interested in getting in on the trend.
What is breast milk jewelry, and how is it made?
Breast milk jewelry preserves a mother's breast milk using various different methods, whether through freeze-drying or curing the milk into a powder and turning that powder into a stone using resin. The stones are then used in all types of jewelry, from necklaces to earrings to rings to pretty much anything you can imagine.
"Using our proprietary curing process, we reduce and neutralize each mother's breast milk, cast the resulting powder with clear acrylic resin, and use specialized molds to craft beautiful breastmilk stones by hand," says Thachuck. "And even though each stone is already one-of-a-kind, we offer countless ways to customize it even further, whether that's through special colors, metallic flakes, opalescence and pearlescence highlights, or special additions like names, footprints and locks of hair."
The concept of a bodily fluid made permanent might make you think twice, but experts say breast milk jewelry that's made properly will last a lifetime.
"I get asked all the time if [the breast milk] will mold or go rotten; if the company preserves the milk correctly this will not happen," Tiffany Villarreal, owner of The Milky Way Breastmilk Jewelry tells Care. "The milk needs to be a solid before it is put into jewelry."
Villarreal spent her lunch breaks as a kindergarten teacher researching methods of making breast milk jewelry and testing out her theories when she got home before she started her business.
Thachuck, meanwhile, had graduated from medical school and was working in ultrasound before she found breast milk jewelry.
"I have always loved sparkly things and had gone from playing with my mother's costume jewelry as a child to crafting my own pieces as an adult," she explains. "It wasn't until I was breastfeeding our second child, however, that I first discovered breast milk jewelry."
Thachuck was fascinated by both the technical challenges of making breast milk jewelry and the symbolism of the art and immediately started learning about and testing ways of transforming her own supply into stones. Through a "painstaking" process of trial and error, Thachuck at last perfected the process of curing breast milk.
"I love being able to combine my love of jewelry with my passion for motherhood in order to celebrate such a special and unbreakable bond," she says.
What do people love about breast milk jewelry?
The stones are a luminescent white, resembling opal, and there's a vast array of gorgeous designs available to suit every taste. Beyond that, it's deeply meaningful, representing the bond between mother and child in an especially intimate way.
"I know that for my clients, breast milk jewelry holds a significance that goes beyond just its surface beauty," says Thachuck. "It becomes a unique and tangible way to celebrate, to honor, to remember — and, in some heartbreaking cases, even to heal. Every piece is irreplaceable because it's a handcrafted keepsake that embodies each mother's journey."
Thachuck says that every now and then they get a request to add something extra unusual to one of their pieces, such as ultrasound images or tiny fragments of a baby's first blanket.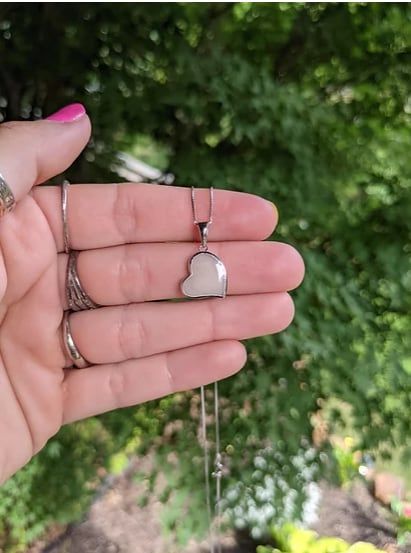 "With one piece, we added the baby's first tooth, and with another, we curled a lock of hair into the shape of a bar mustache to commemorate the baby's father," she shares. "Once, we incorporated dried flowers that a baby had picked, and yet another time, we included a spice mix that the baby's grandmother, who recently passed, had often used in a favorite family dish."
Villarreal says breast milk jewelry should serve as "validation" that moms are "doing the best they can."
"Breastfeeding for a week, breastfeeding for a year, being a milk-pumping machine…all tough! These keepsakes should be validation that you're a rockstar mom, no matter what."
Villarreal also mentions the closure and healing some people find in their breast milk jewelry. "This looks different to everyone; maybe it's healing from a devastating loss, maybe it's healing from a time of feeling insufficient, feeling less than enough. It could be healing from honestly a tough breastfeeding journey," she says.
Whatever your reason for wanting breast milk jewelry made, there's an artist and design for you.
How can you get your own breast milk jewelry made?
You might assume that you can just hit Etsy up and search "breast milk jewelry" and find a fair amount of options — and you'd be sort of right. Etsy prohibits sales involving bodily fluids, but they do sell breast milk jewelry kits, which come with the necessary solvents and powders to solidify your own breast milk as well as the jewelry setting of your choice.
Reviewers say the kits are surprisingly easy to use, but if you'd still rather not go the DIY route, there are plenty of breast milk artists selling their wares online who'd be happy to craft a one-of-a-kind piece for you. In that case, typically you'll send the artist a couple of tablespoons of breast milk in a Ziplock bag, and they'll do their magic with chemicals and resin and you won't have to learn how to do anything.
Remember, as everyone's breast milk is different, your jewelry will have its own special look.
"I also have to put out there that this is not a manufactured piece of jewelry, and it's handmade," says Villarreal. "That's the beauty of homemade items, while they're top quality they will never be the same every time."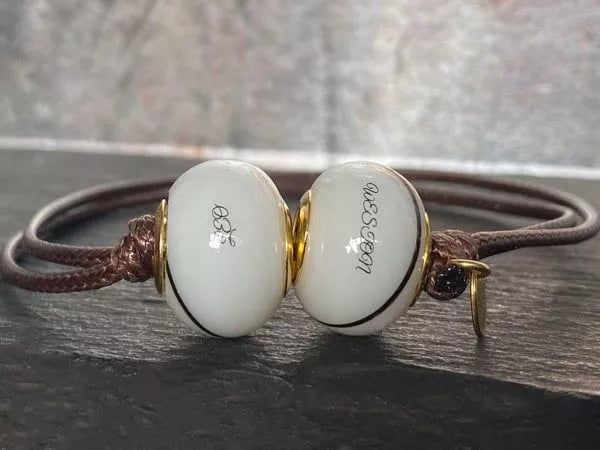 Where to purchase breast milk jewelry
These websites are a great place to start if you're looking to get your own breast milk jewelry made.
KeepsakeMom Breastmilk Jewelry
The Milky Way Breastmilk Jewelry
Tree of Life Breastmilk Jewelry
If you're looking for a kit, try these sellers on Etsy: