Your dog gives you unconditional love and affection on the regular, so why not show them some love back by giving them a great outdoor space to call their own? Whatever your budget or construction skill level, there are plenty of do-it-yourself dog house plans to suit every breed!
We searched around the Internet and rounded up our 20 favorites that will make your pooch the envy of their doggy day care or dog-walking crew.
1. Recycled wood pallet dog house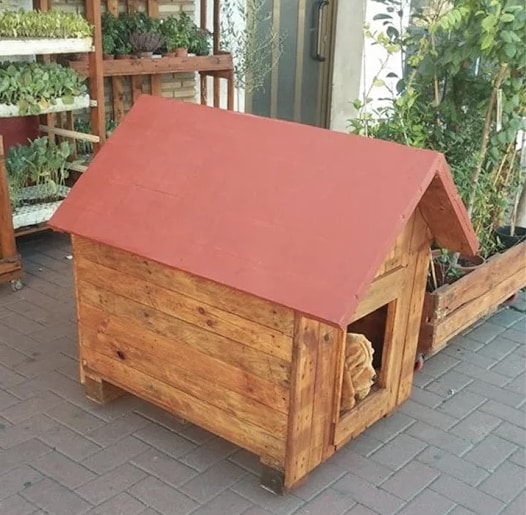 Do you have old pallets lying around? Put them to good use by following this DIY dog house plan from 99 Pallets! The rustic design provides a charming space for your dog to rest their bones. If you don't have any spare pallets, check with your local retailers or recycling plant. Businesses often give away pallets or sell them at a very low cost. You will both appreciate the straightforward directions for this budget-friendly weekend DIY project.
Pro tip: Add a stain coat or two to protect the wood from the outdoor elements.
2. A-frame dog house
If you have a small-to-medium sized dog and limited yard space, then this A-frame dog house from My Outdoor Plans could be the DIY project for you. Not many dog house plans provide you with the blueprints to added insulation, ensuring that your dog will keep cool when the temperatures begin to rise. Another option is to add a vinyl door to keep the cold air out during the winter months. Build your dog an A-frame house they can enjoy year-round!
Pro tip: Save money by using scrap wood.
3. Open air dog house
Ahh… feel the breeze against your back, er, tail. If you're looking for a DIY dog house that truly lets your pup enjoy the outdoors, this open-air dog house design from Shanty 2 Chic is it. The instructions are accompanied by photos and are easy enough for any skill set to follow. The project should cost somewhere in the ballpark of $70 to build.
Pro tip: Add a cushion for extra comfort!
4. Dog house renovation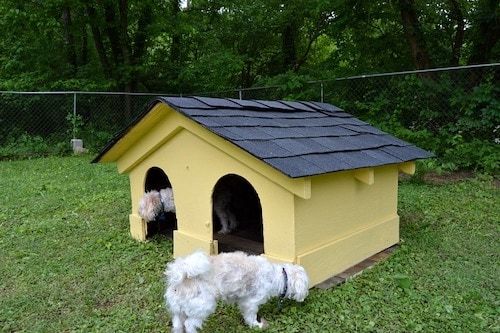 Maybe you have an existing dog house that needs a little sprucing up. And since home renovation shows are all the rage these days, why not give your dog the outdoor home of their dreams with this simple rehabilitation plan? From replacing worn shingles to a fresh coat of paint, this step-by-step dog house renovation from Mom in Music City offers a deep dive on how to renovate your dog's home.
Pro tip: For a little extra renovation fun, turn the dog house on its side and nail on a plywood bottom to complete the look!
5. Traditional dog house
A tried-and-true classic, the traditional dog house is the perfect outdoor space for any pup. Not many dog house plans offer timeless style and seamless architecture, but this classic DIY dog home from Remove and Replace will always be right on trend. The straight-forward instructions include a design that can be easily customized to dogs of all shapes and sizes.
Pro tip: Add a pop of color by painting the outside of the dog house.
6. Dog house with deck, toy box and food bowl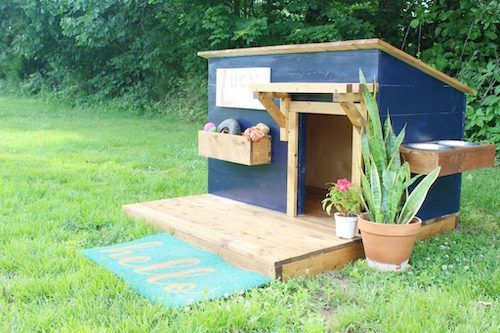 For the dog who has it all, check out these mega-dog house plans from Jen Woodhouse that has everything a pup could want! From a toy box to built-in food and water bowls, your dog will have all of the amenities of home right in the backyard. This project is best for an intermediate skill set.
Pro tip: Add a doormat and plants to dress up your dog's new digs.
7. Dogzebo
Nothing says relaxation like a peaceful siesta under the shade of a gazebo — or, in your canine's case, a dogzebo. Why not let your pup enjoy a slice of the good life, too? Jen Woodhouse has shared plans for a simple, stylish dog house — a dog gazebo — that is perfect for a first-time carpenter. The project won't take but an afternoon to build.
Pro tip: Add a chalkboard sign with your dog's name to personalize the look.
8. Dog house with metal roof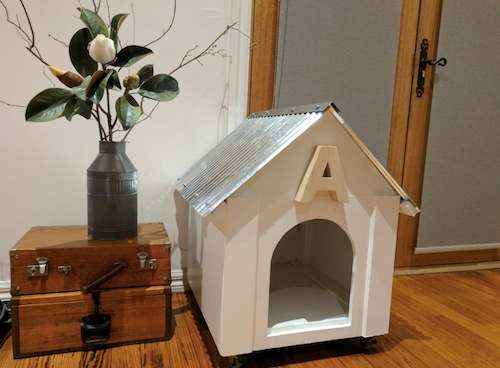 Is your pooch full of personality? Complement their quirks with this beautiful metal roof dog house design from Not a Deck of Cards. This home offers a modern twist on a traditional design and brings the promise of longevity with its durable metal roof. The measurements are customizable, making this design is suited for dogs of any size.
Pro tip: Add a few photos to the inside of the dog house to give it a homey vibe.
9. Modern dog house
Talk about stylish! Not only will your pup love this super cool modern dog house from Homesteadonomics, any owner would be proud to display it in their home.
Pro tip: Add an embellishment, such as the wrench hook, to the outside.
10. Dog house with removable roof
Perhaps you've seen stadiums built for professional sports teams that offer retractable roofs. Well, here's the next best thing for dog houses: this dog house with removable cedar roof from Andrea's Workshop. This set of dog house plans includes instructions to craft your very own cottage-style home. The raised platform works to prevent water damage, uses cedar to withstand decay and insects, and a removable roof to make regular cleaning easier.
Pro tip: Add a sign with your dog's name to give the house a personal touch.
11. Dog house with porch
It may not have a porch swing or wraparound deck, but this charming floor plan offers all the comforts of a peaceful country home. Not many dog house plans feature a chic wooden roof and a porch for your pooch, but this one from The Inspired Workshop does and comes with easy-to-follow instructions. The perfect project for first-time homebuilders.
Pro tip: Use pressure treated wood to prevent water damage and wood rot.
12. Double door dog house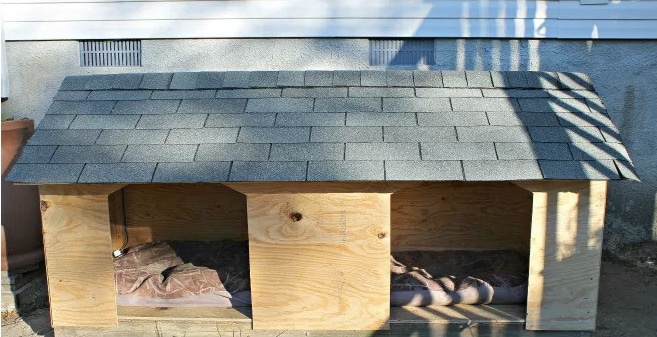 This double door dog house from Intelligent Domestications is perfect for two-dog households. With two wide openings, this is one of the roomiest dog house plans out there and is an uncomplicated project for any skill set.
Pro tip: Add removable heat lamps for extra warmth in the winter months.
13. Cheap dog house for large pups
Looking for DIY dog house plans for your larger-than-average dog, but don't want to break the bank? This dog house design from The Woodworking Husky costs less than $100 and is built to last. The video features all of the necessary tools, as well as the steps, and there's also a PDF of written instructions available for a small fee.
14. Dog house with loft
Does your dog enjoy the finer things in life? Well, then look no further than this loft-style dog house from Lowe's Canada. These DIY dog house plans were written for someone with an intermediate skill set, but with the right amount of detail any pet owner can build this deluxe dog house.
Pro tip: Add a waterproof dog bed to the top deck to maximize your dog's lounging experience.
15. Contemporary dog house
Perhaps your dog is a bit of an architecture buff or maybe you're looking for a dog house plan that's easy on the eyes. This is it: the contemporary dog house from Modern Builds. The contemporary outdoor space offers clean lines, a trendy wood exterior, and even has windows! The 8-minute instructional video is easy to understand and provides you with all of the details needed to construct this stylish space. You might even find yourself sleeping in the dog house.
Pro tip: Leave the windows open to allow a cool breeze to circulate through the dog house.
16. Dog house under the stairs
Maybe your dog just isn't the outdoorsy type, so if you've got the extra room under your staircase, why not build your four-legged pal a space of their own? This DIY under the stairs dog house from The Rodimels is best for a skilled craftsperson, but any beginner could assist along the way — and maybe pick up a few new skills for a future project!
Pro tip: Measure the space carefully and consult a professional before cutting any studs in your home.
17. Dog house with slide
This tricked out dog house from Lowe's Home Improvement comes with all the bells and whistles — including multiple openings and a turf-covered slide. Your pup will definitely be the envy of the other neighborhood dogs.
Pro tip: Add a "half" address for extra cuteness.
18. Geometric dog house
This geometric dog house from HomeMade Modern may look expensive ,but the price is easier on your wallet than you think. At about $30, this design is surprisingly one of the more affordable dog house plans out there. This design is best suited for dogs under 20 pounds and is a simple project for most skill sets. You'll need a circular saw and a drill to get the job done.
Pro tip: Carve out an entire day for this one. The whole project should take about 7 hours.
19. Open air concrete dog house
If you and your dog live in a warm climate, consider building this open-air concrete dog house from HomeMade Modern for your four-legged pal. This minimalist design is easy on the eyes and will provide good airflow and coverage from the sun. The finished product is built to last, weighing in at about 100 pounds.
Pro tip: Paint the concrete to add a pop of color.
20. Cottage dog house
This classy cottage style dog house from Jay's Custom Creations offers a spacious floor plan, small porch and wooden accents that are sure to add an extra level of vintage charm to your backyard. Unlike a lot of dog house plans, Jay's Custom Creations offers a video tutorial in addition to written instructions. With the right amount of time, this dog house DIY is doable for any skill level.
Pro tip: Add potted pink or purple flowers to the front porch to complete the storybook look.