The graveyard of deceased dog toys is vast. If your dog is one of the talented that can rip up a stuffed toy in 20 seconds flat, it may feel like toy funerals are happening far too frequently and money is being thrown out the window.
Toys are a necessity for keeping dogs happy, active and out of trouble, but spending money on them doesn't have to be part of the equation. In fact, dozens of potential DIY dog toys are just waiting to be made from unused things that have been lying around for ages, such as old T-shirts or jeans, towels or bed sheets.
Check out these genius ideas for DIY dog toys. Choose one and get your craft on!
1. Interactive dog feeder toy
A PVC pipe is the main ingredient in this sturdy feeding toy created by Dog Tipper, which aims to keep your pooch busy by making him work for the treats inside. You'll need to be somewhat handy to drill holes into the pipe, which you can do best when the pipe is secured in a vise. Sand the rough edges of your holes with sandpaper and when all of them are smooth, put the pipe into the dishwasher for cleaning. Put PVC caps on each end of the pipe.
2. Plastic bottle tug toy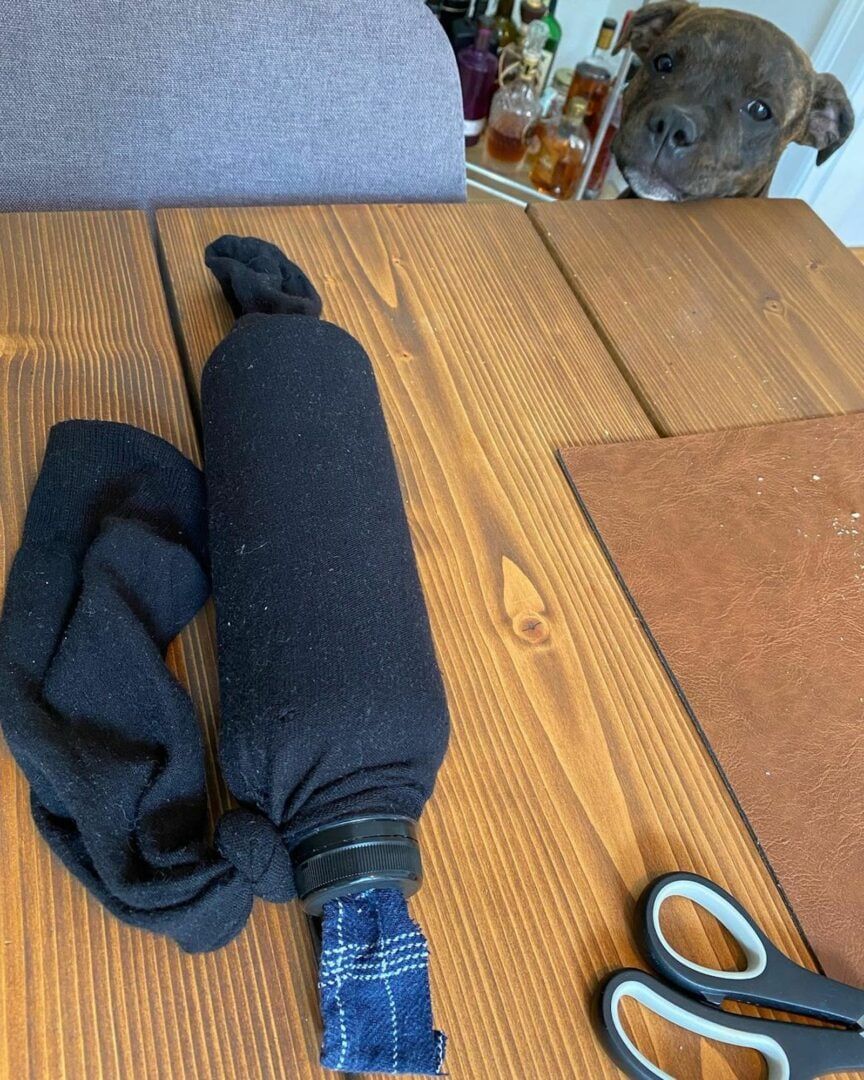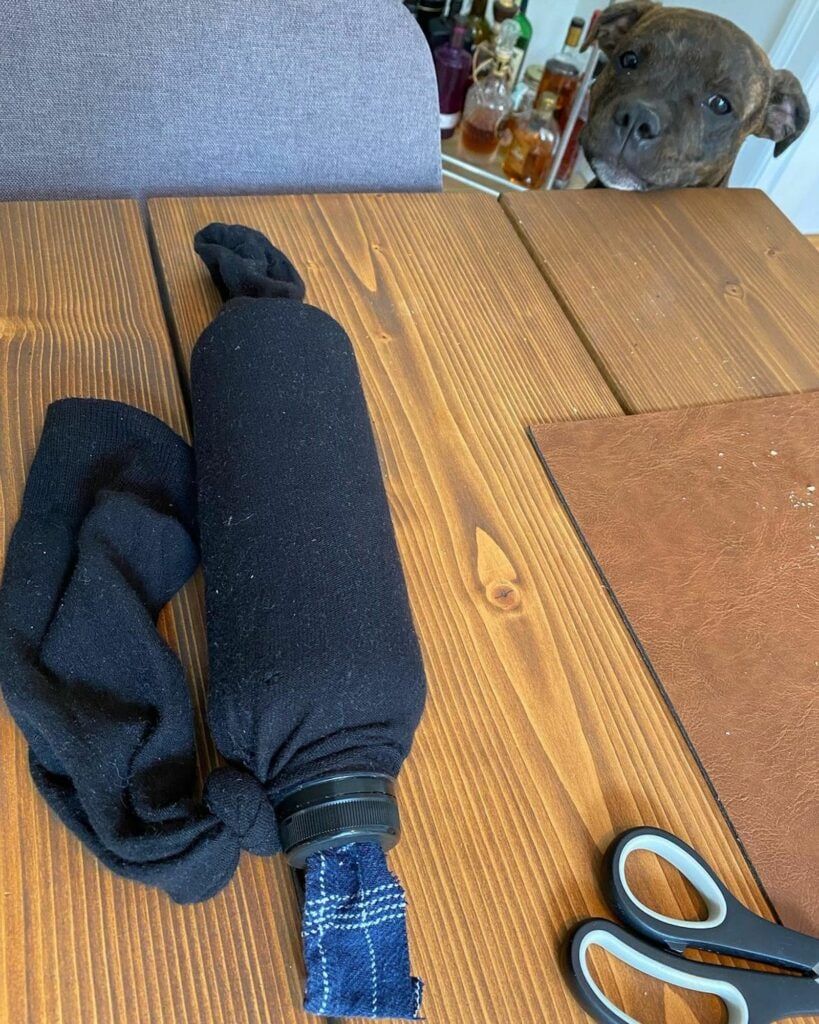 Plastic bottles are so last decade, but if you still bring one home occasionally, why not fashion it into a tug toy before tossing it in the recycle bin? How perfect is this simple plastic bottle toy from Eigil the Staffy?
3. Ball tug toy
You'll need an old T-shirt, a tennis ball and a pair of scissors to whip up this totally tuggable ball tug dog toy. Simply lay your shirt flat and cut across in three strategic places, according to She Knows, then wrap the ball inside two of the pieces. Use the smallest piece of shirt to cinch the toy together. Cut the remaining pieces of cloth into strips and braid.
4. Rope ball toy
You're going to need patience (and some pliers!) to tackle the tying involved in this rope toy recipe, courtesy of Instructables. Things you'll need: rope (3/4-inch diameter), a lacrosse ball and some electrical tape. First, unwind between 10 to 15 feet of the rope and tape the ends. If you're fluent in "knot," the next steps will be a synch for you, if not, there are how-to's provided for each knot. Pliers can be useful pulling through strands of rope.
5. T-shirt rope toy
That stack of T-shirts in the closet that nobody is wearing, they can be turned into a T-shirt rope toy for your dog. Permacrafters has a super-simple tutorial on Instagram for this stylish DIY dog toy. Your dog — and your closet — will thank you!
6. DIY agility jump
Give your dog extra exercise with this easy-to-make agility jump that can be set up in the backyard, or if you're feeling brave, the living room. Gone to the Snow Dogs built their agility jump using furniture grade PVC pipe (both white and blue) and different kinds of furniture grade PVC fitting. The important thing here is having a PVC pipe cutter — and knowing how to use one! — and carefully cutting each piece as instructed (the long white pipes, which will be the ground bar, need to measure 47 inches long). Follow the directions provided and you'll have leftovers for future projects.
7. No-sew denim dog toy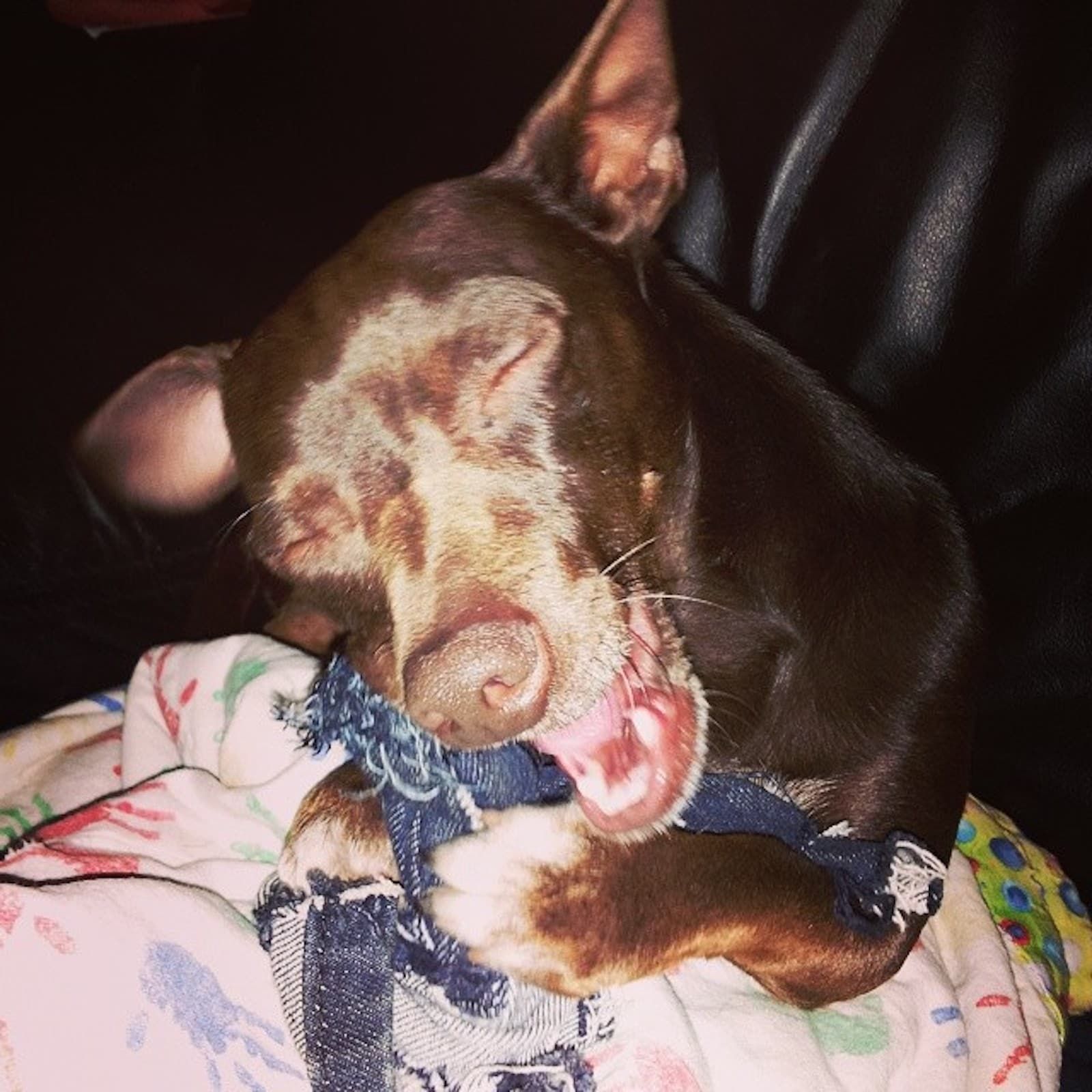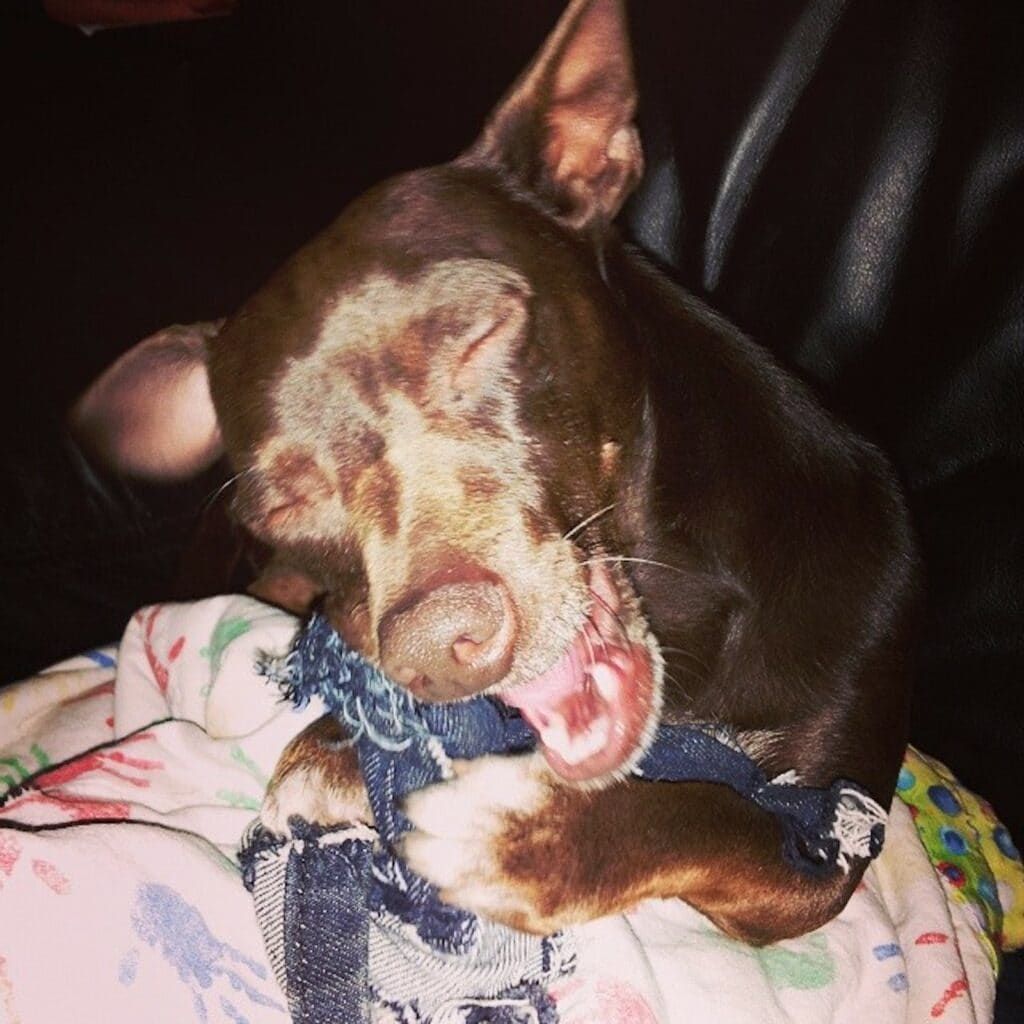 No sewing machine? No problem! All you need to make this denim dog toy from Siva Sobieski Mcmullin is some scissors and an old pair of jeans. The finished product is simple, sturdy, and so much fun to chew!
8. Towel tug toy
Tattered towels are given new life when they're fashioned into (washable!) toys for your pup — and the operative word here is: easy! Per Good Housekeeping, just cut three strips of towel, about 4 inches wide and at least 12 inches long. Tie them off at one end with a small towel strip (1 inch wide and 6 inches long). Braid and use another strip to tie off the end.
Read more: 12 best toys for dogs, recommended by experts
9. Apple pie pupsicles
It's part toy, part treat, with a full serving of cuteness. These three-ingredient frozen yogurt dog treats from Dalmatian DIY require a cute silicone mold, but in all honesty, any shape will do because eating them will be the only thing on your dog's mind. Mix a half cup of yogurt and a half cup of unsweetened applesauce or pureed apple in a bowl. A sprinkle of Ceylon cinnamon is optional. Freeze thoroughly and serve with a smile!
10. Sweet potato rope toy
Here's a good way to add some fiber (and fun!) to your pup's daily routine. Clean one large sweet potato and cut into 1 inch round pieces. Use a cookie cutter or apple corer to cut a hole in the middle of each piece, as demonstrated in this video from Elmo's Kitchen. Dehydrate by baking for 5 hours in the oven. Tie a knot at the end of your rope (about a foot long) and string the potato rings onto it.  
11. Simple sock toy
The mystical force that takes one sock from every load of laundry would want you to do something good with the one remaining, and this dog toy is it! Simply cut a hole in the toe-side of a full length sock and stuff a water bottle inside of it. Tie each end with twine. The Barkington Post recommends hemming each side to make it last longer.
12. Homemade squeaky toy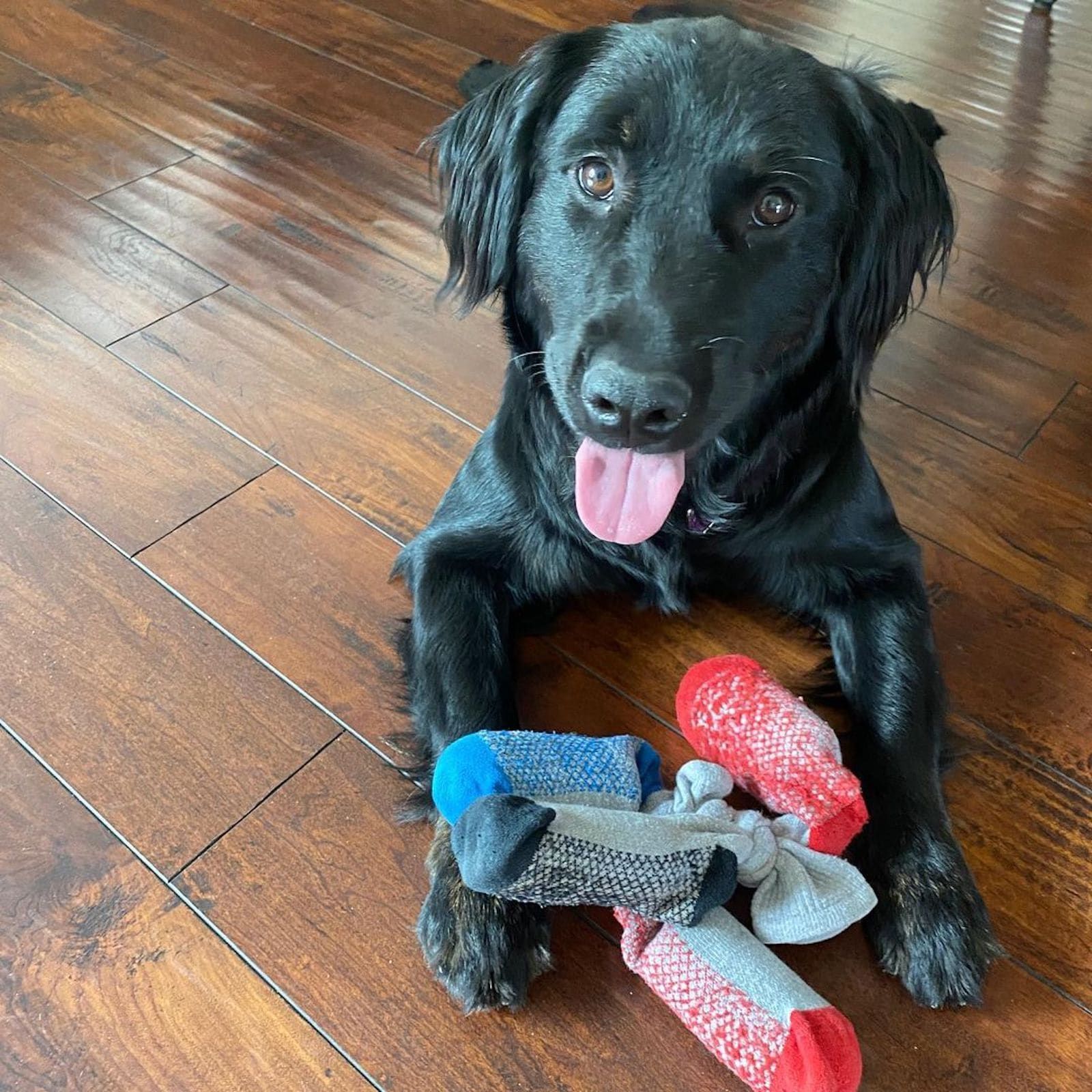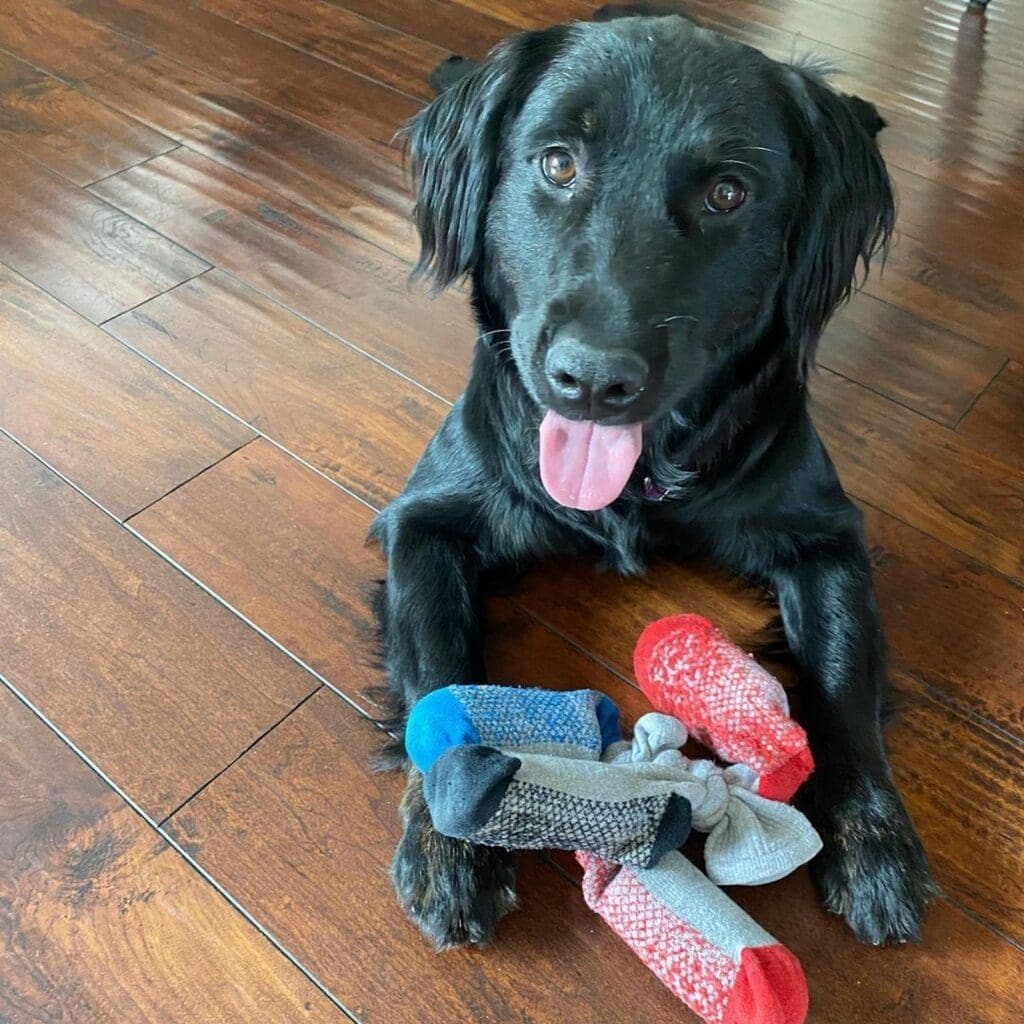 Got a pup with a penchant for squeakers? Try throwing together a simple DIY squeaky toy. All you need is a few socks, the squeakers from old toys and voila! Entertainment for hours. 
13. Soda bottle treat dispenser
This interactive toy — creatively made out of a chicken nesting box by Daily Dog Tag — is a brain teaser for your pooch. A Chicken Ware nesting box, PVC pipe and two 2-liter soda bottles are some of the important supplies you'll need to make it. Drill holes in the box and hang the treat-filled bottles from the pipe. Spray paint it to match your home decor.
14. Pull-apart dog toy
Here's a pull-apart dog toy for the pup who enjoys sending stuffed toys to the graveyard by pulling them apart, piece by piece. Stuff precut pieces of fleece fabric, along with yummy treats, into a 5-inch Hol-ee Roller Dog Toy. Toss and watch the destruction begin. Leopold's Crate these for dogs who eat fabric.  
15. Fleece stuffed toy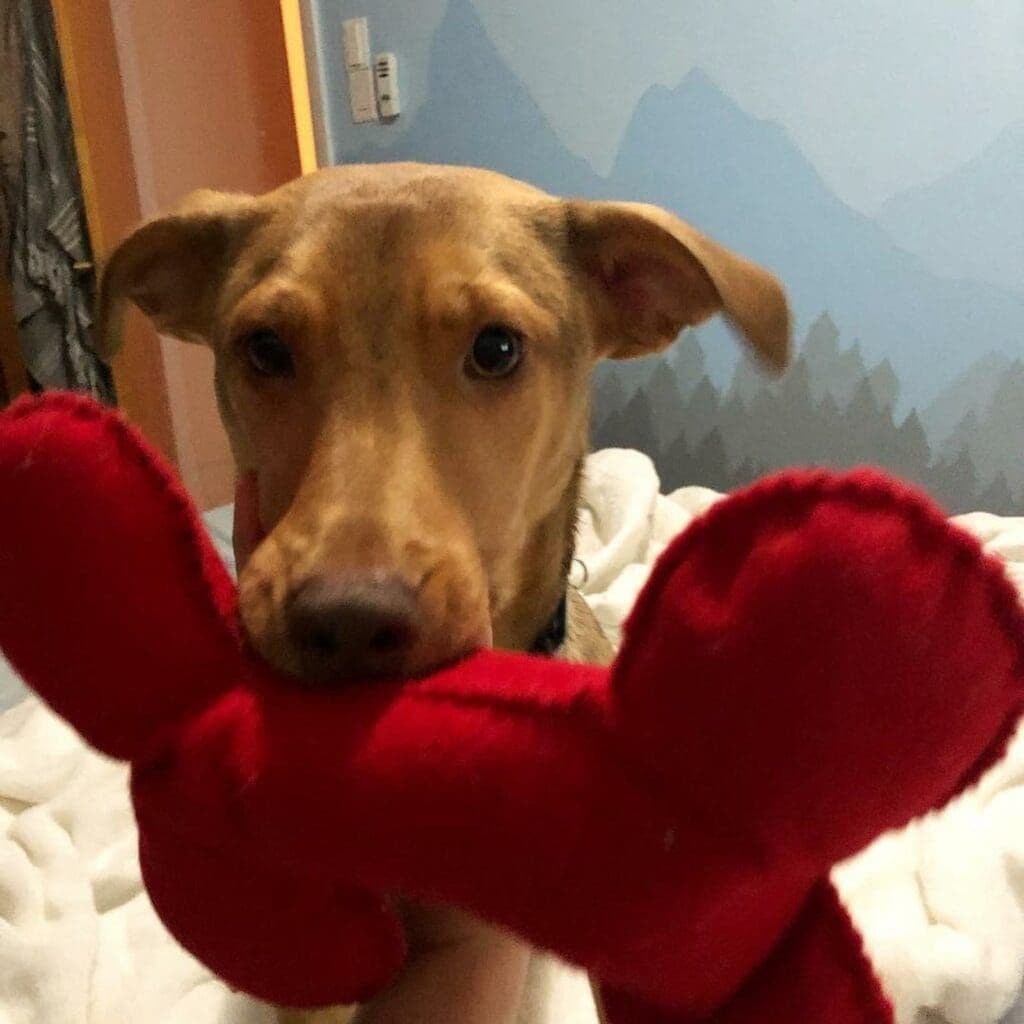 Want to whip something soft up for your pooch, but don't want the squeaky sound? Try a no-sew fleece toy like this bone-shaped one from Christy Hikes With Jake the Dog! Some knowledge of sewing is a must, but look at the look of happiness on this good boy's face!
16. Super-simple frozen sock toy
There is nothing easier than this chew toy idea from Instructables.com. Tie a long sock into a knot, soak it in water, and freeze. Boom! Your dog has a cool new chew toy.
17. Flirt stick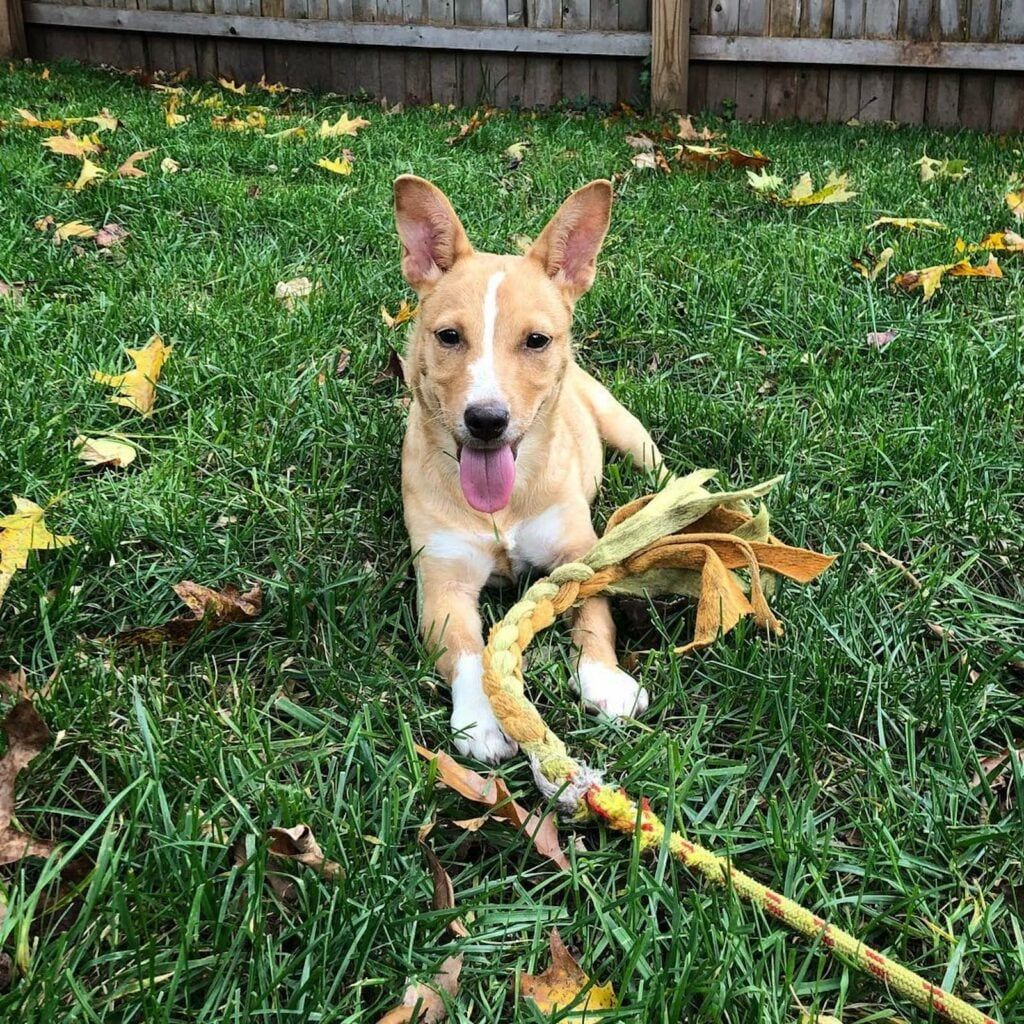 This tantalizing flirt stick by The Amazing Obi is a guaranteed fun time for any active dog. You can make them as simple or colorful as you — or your pup — likes!