Dogs provide us with companionship, all kinds of cuteness and infinite amounts of love — so, the least we can do as pet owners is extoll their brilliance on their birthday on Instagram (of course!) and beyond.
No matter the occasion — a dog birthday party, gotcha day, bark-mitzvah, or simply Love Your Pet Day — or your budget, there are so many creative ways to fete the furry wonders who've changed our lives for the better. If you plan to go big with the festivities (think: paper invites and a lengthy guest list) or small and more intimate (your dog, a party hat and your camera phone) only one key ingredient is needed: fun!
"It's all about celebrating the connection we have with our pets," says Arden Moore, author of "Dog Parties: How to Party With Your Pup."
From a DIY ball pit destined for video greatness to insanely adorable Instagram backdrops for the all-important birthday post, we found 10 dog birthday party ideas for those craving a barking good time.
1. Make it an un-fur-gettable morning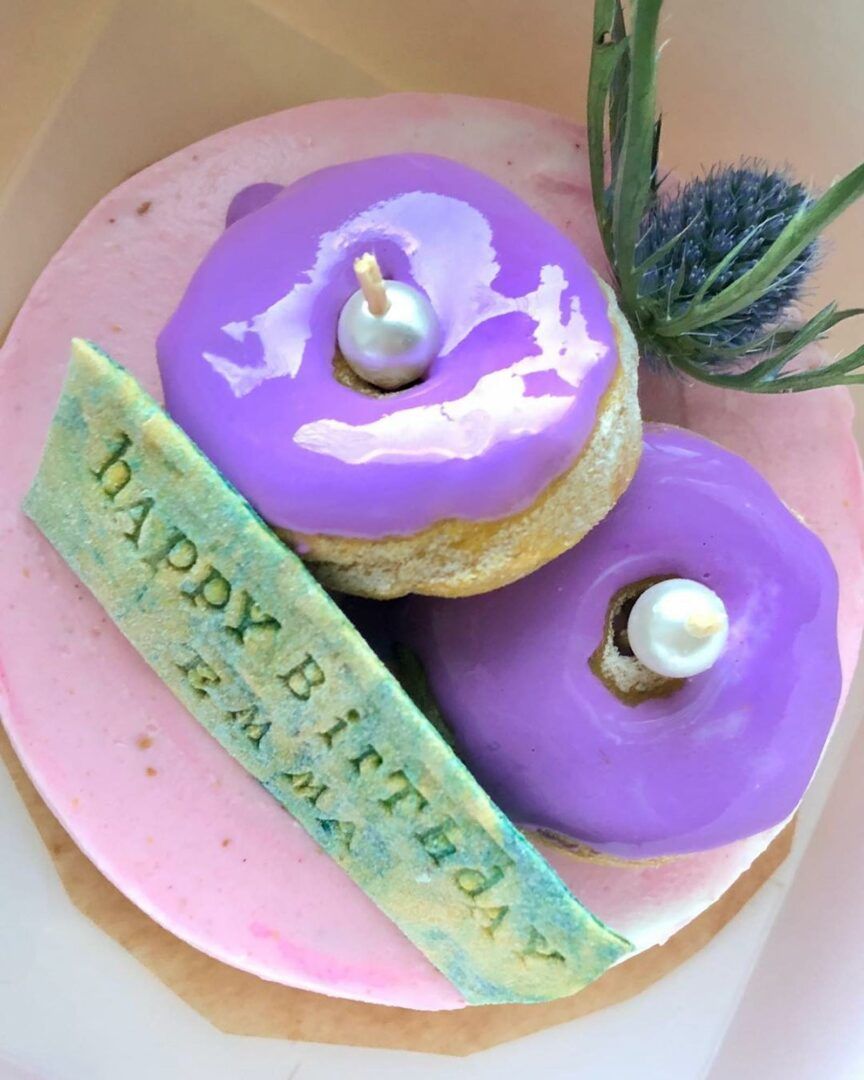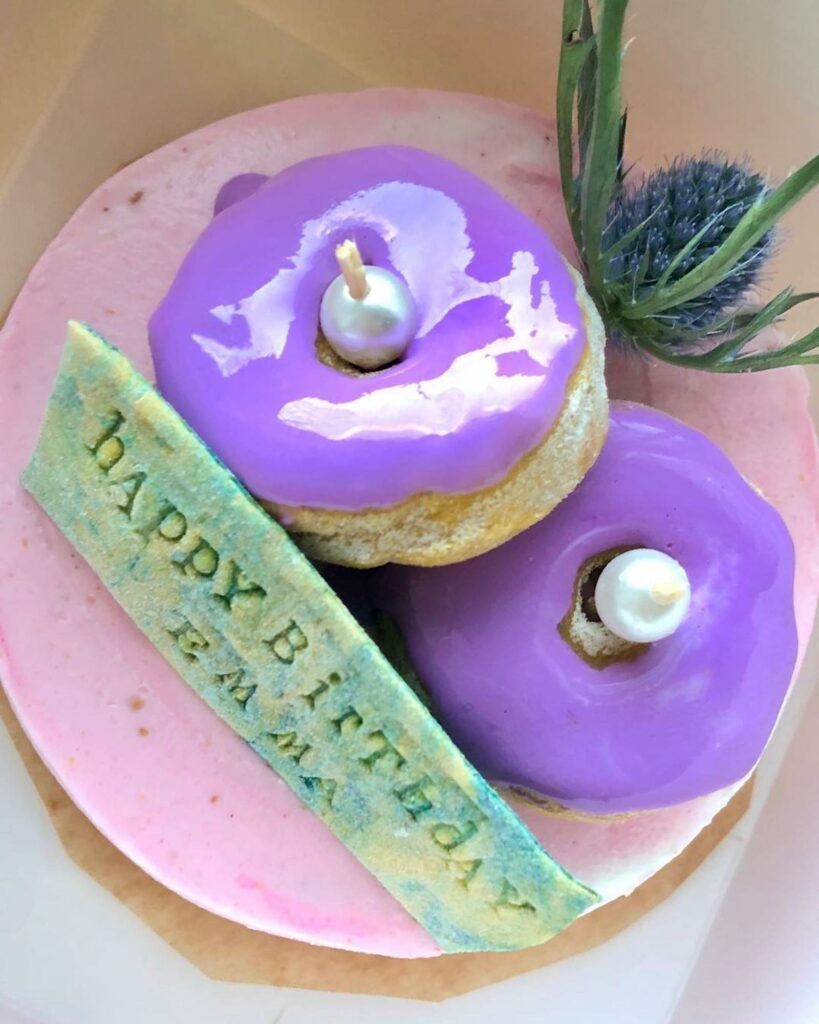 Every dog has his day — and what better way to start it than with doughnuts? Dog Eat Cake pet bakery in Boston ships these delightfully pet-friendly "doghnuts," as they're called, all over the U.S. (prices start at $2.75). Whether it's a party for two (just you and your dog) or something more elaborate, they can work to accommodate you by thoughtfully planning your entire birthday bash right down to the "invites and bone display" — just BYOD (bring your own dog!).
If you're all about some doughnut DIY, peanut butter bacon doughnuts do exist, and you can make them in your own kitchen with some guidance from Sunny Day Family. Either route you choose, we fully expect some taste-testing (by you!) for curiosity sake.
2. Order Instagram-ready dog decor
Let's be honest, it's really all about the picture you share on social media — and, of course, the love you have for your cutie! While your dog may not fully understand the fact that his gorgeous face has been turned into a banner for his celebration, you — and your followers — definitely will.
Where to buy: Personalized dog photo banner ($27, Lily Bean Gift Shop/Etsy)
3. Choose a "paw-ty" theme and run with it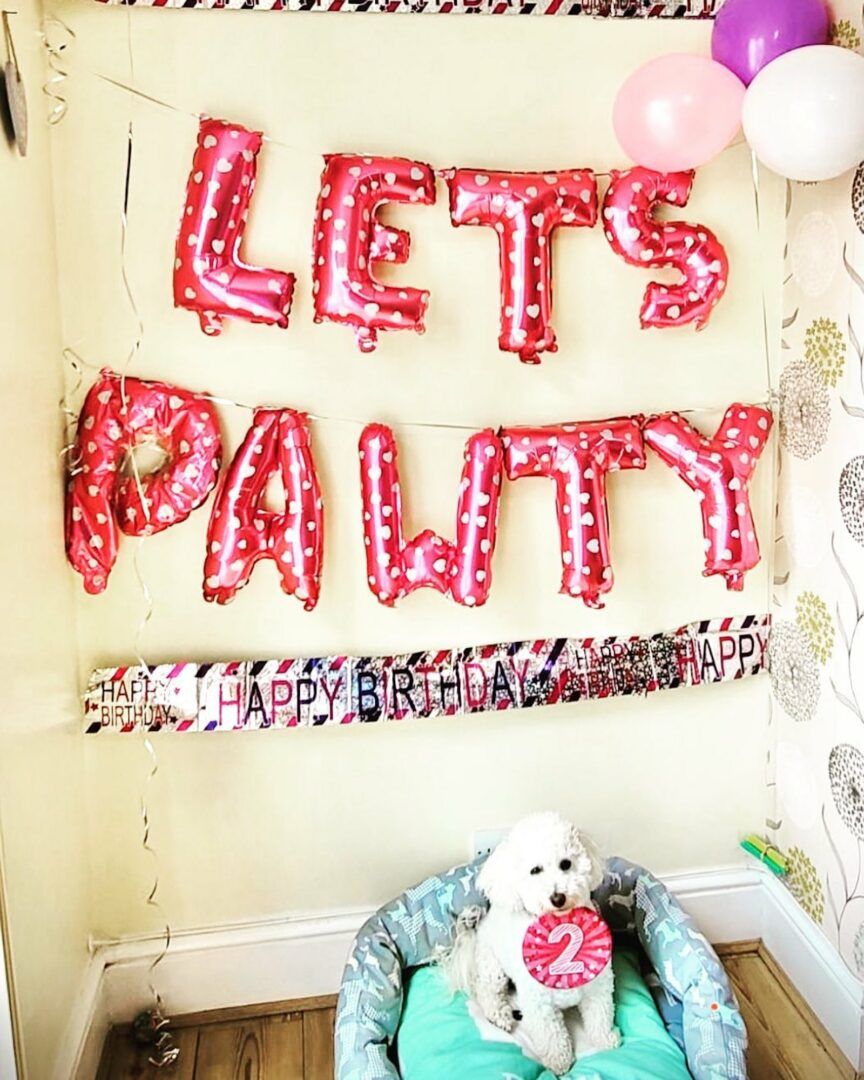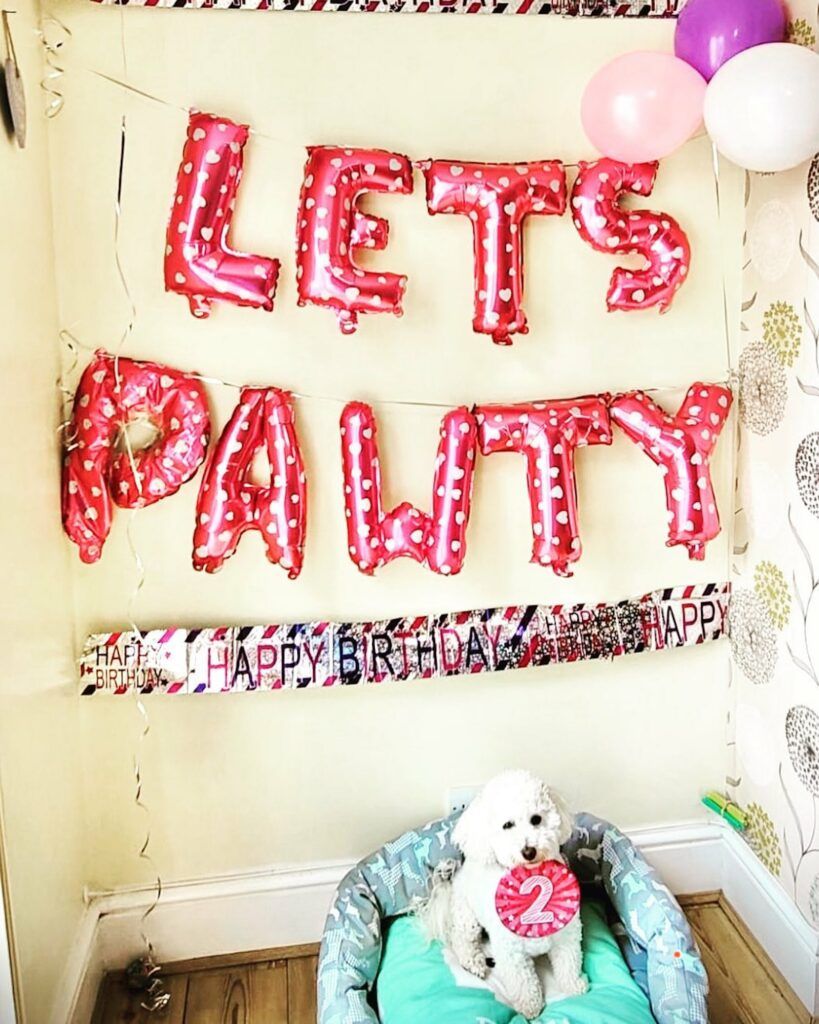 Take it from the pros who do this for a living: Personalization is best, especially when choosing a dog birthday party theme.
"Many people love to include cute, sweet touches related to their specific pet when planning a dog birthday party or will schedule games to play [that] they know their dog loves, like bury the bone, Frisbee or pet swimming pool," says Adina Slotsky, the founder and CEO of Hollywood Pet Parties, which provides dog event catering in the Los Angeles area.
When choosing your dog's theme, you can go big or keep it simple with a few matching balloons and — of course — a ribbon for the guest of honor. This sweet birthday scene from Pearl the Maltipoochon is thematically paw-fect!
4. Treat your pup like royalty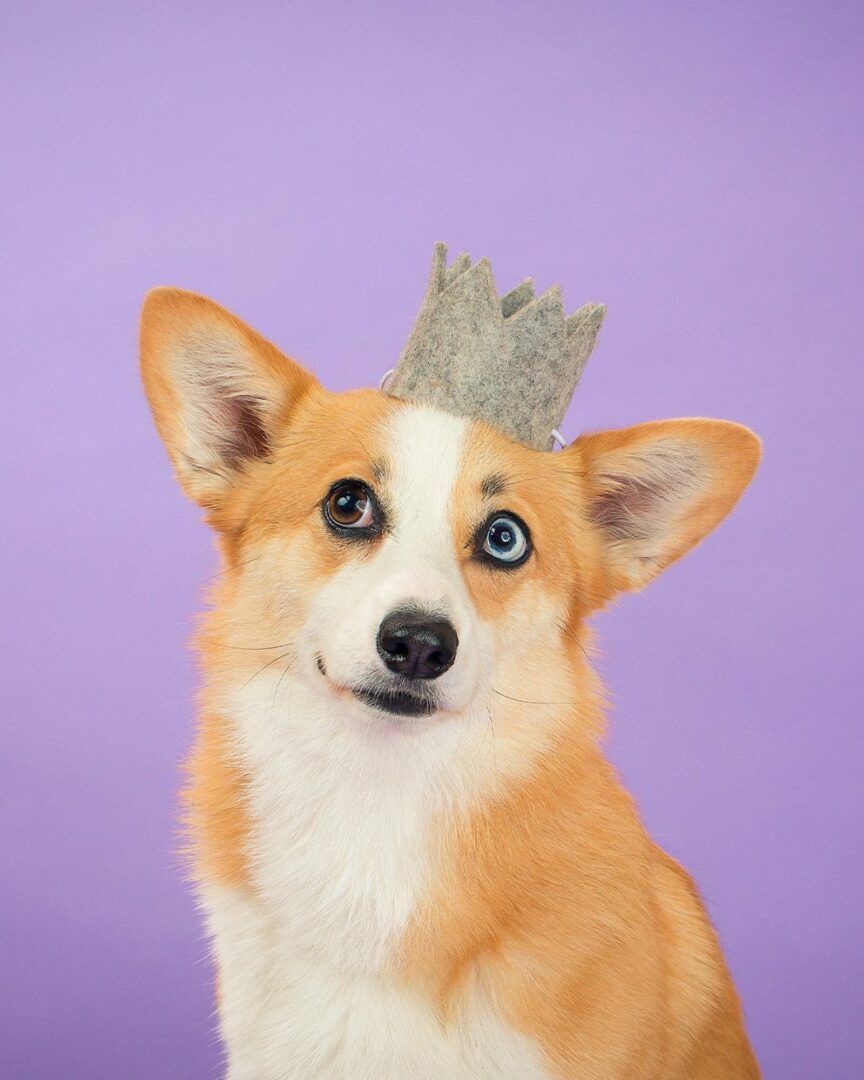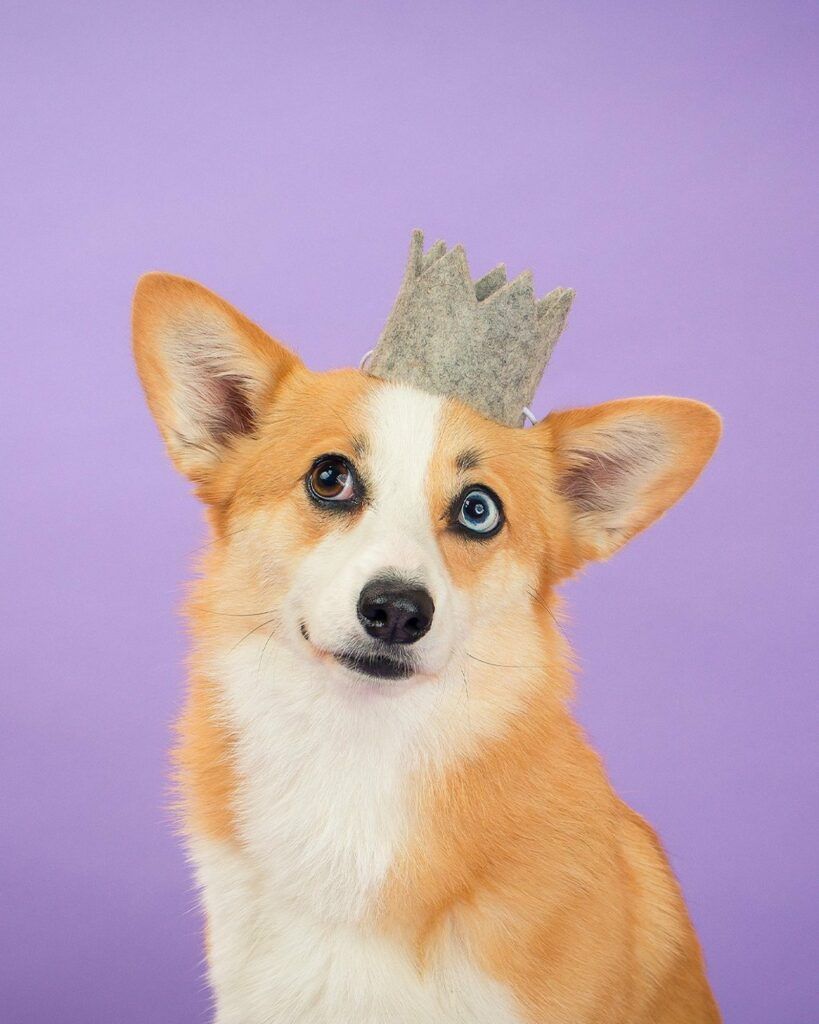 For the pup that's all pomp and circumstance, a canine crown is definitely in order. This 100% wool felt crown from Modern Beast — in a variety of fun colors! — will signal who reigns supreme on their birthday, and every day for that matter. It's also a fun birthday style you can easily replicate on your own.
PrettyFluffy.com provides a free birthday crown template and suggests using felt, scrapbooking paper, skinny elastic, a hot glue gun and a fancy disappearing ink pen. Because in the age of Insta: details are everything!
Where to buy: Party Beast Crown ($14, Modern Beast)
5. Celebrate with custom chalkboard art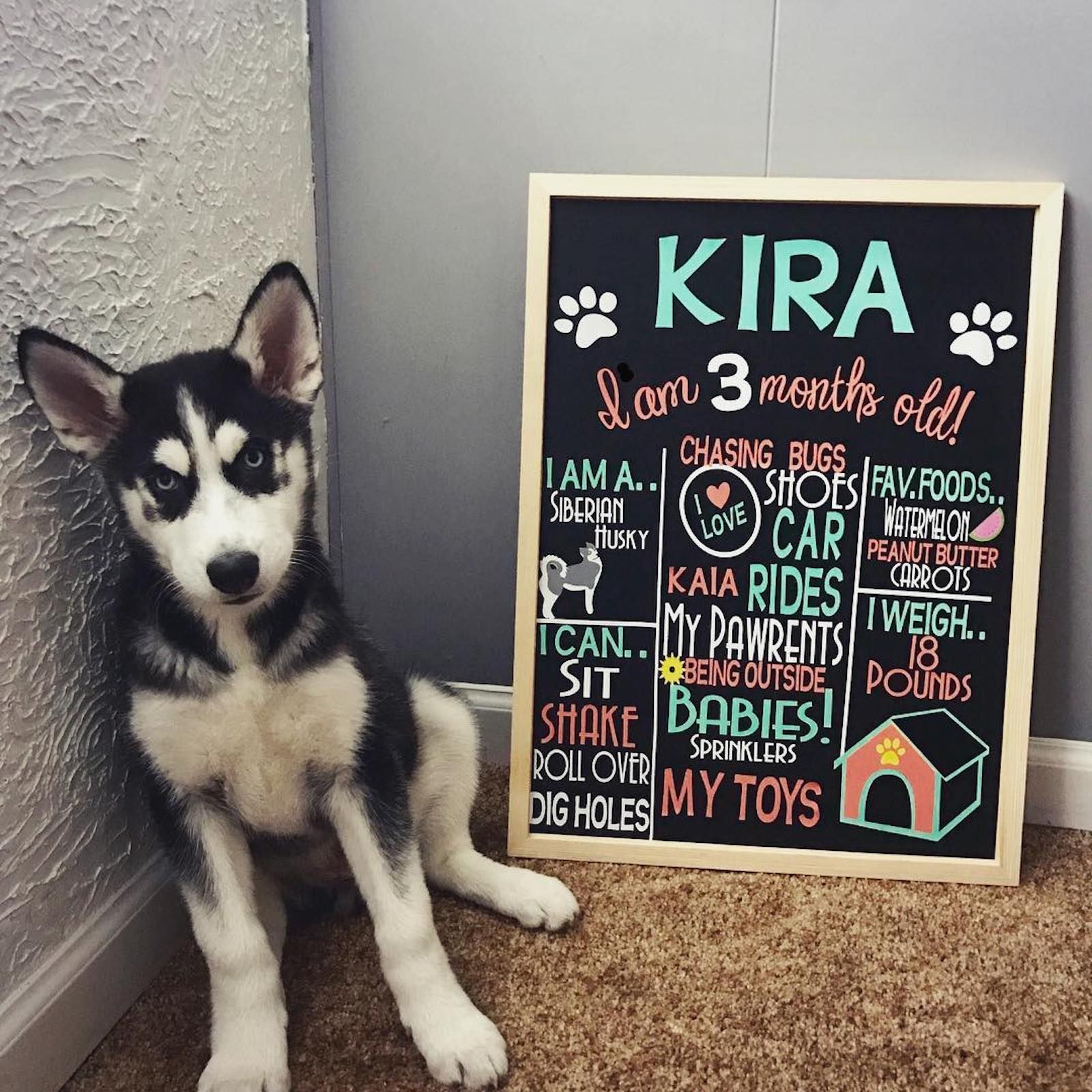 This first-day-of-school trend has made its way to the furry set, and we couldn't be happier about it. Not only is it a simple way to remember important milestones, it makes for seriously cute photo ops. How stinkin' cute does Kira the dog look in this great snap by Kodi Guccione?
6. Bake your own pupcakes
The internet is overflowing with pupcake (a.k.a. dog cupcake) recipes to suit every dog's taste. Peanut butter, blueberry, pumpkin and more — if your dog celebrates most enthusiastically with their mouth, this may be the birthday option for you. Make a sheet of cupcakes for all your dog's friends at the dog park (always ask owners if their dogs can partake!) or just make a DIY dog treat for the only mouth that matters. Gifts that come from your very own kitchen are filled with the most heart and are sure to get mucho Insta-hearts.
7. Order a "paw-ty" in a box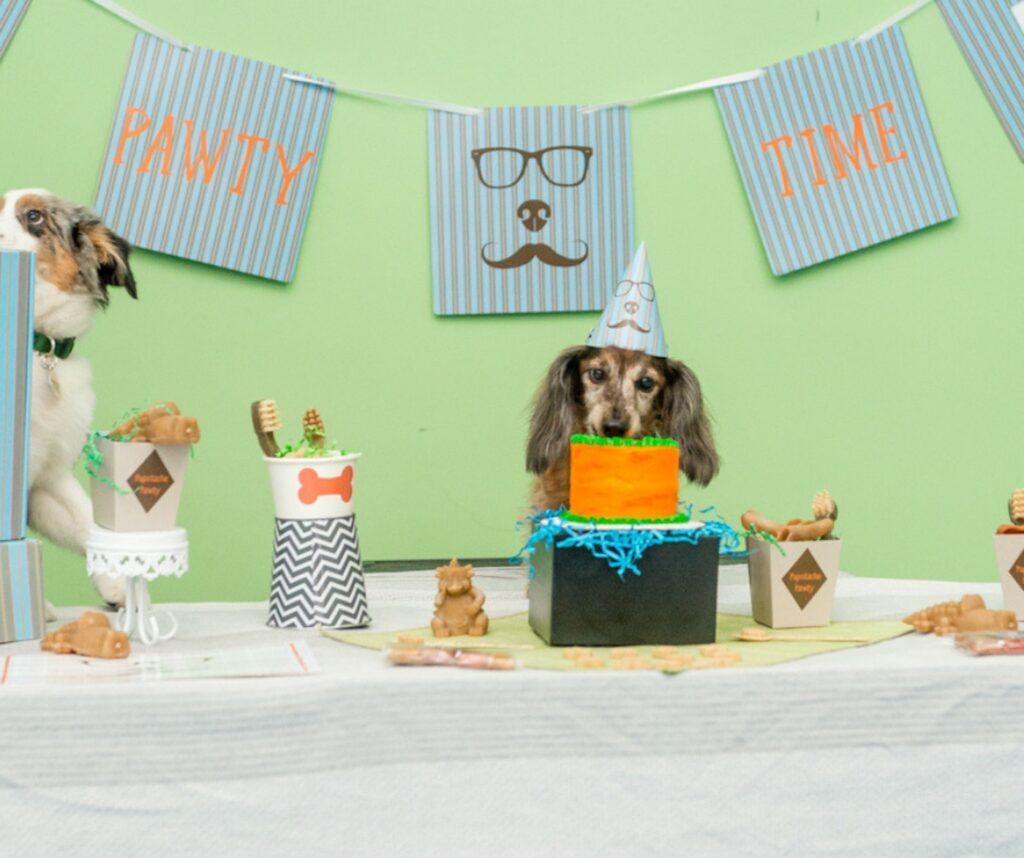 Pawty In a Box has several dog party packages to choose from — Shabby Chic Pawty, Unicorn Pawty, Pupstache Pawty, Black Tie Pawty and Disco Pawty. Take all the Pinterest-ing out of the party-planning equation and order the fun shipped right to you. Inside are just enough supplies for a gathering of your dog's eight best buddies: invitations, party hats, bowtie and flower accessories, mini bowls and stickers, pupcake wrappers, pupcorn boxes, treat bags and stickers, placemats and a party banner. Whip up some pet-friendly pupcakes, fill up those pupcorn boxes with treats and you have yourself a birthday bash.
Where to buy: Pupstache dog birthday mini party box ($40, Pawty in a Box)
8. Create a personalized dog birthday shirt or bandana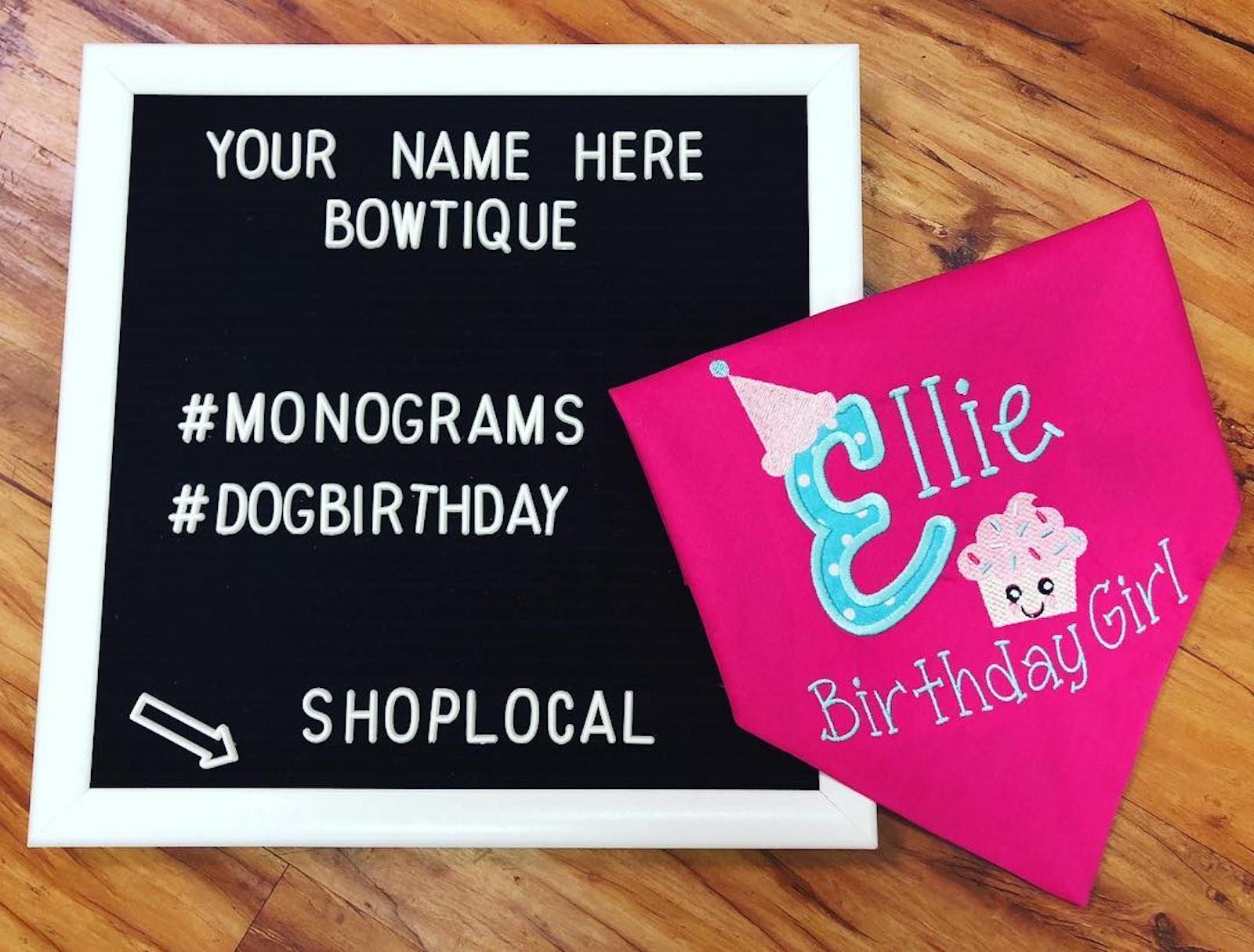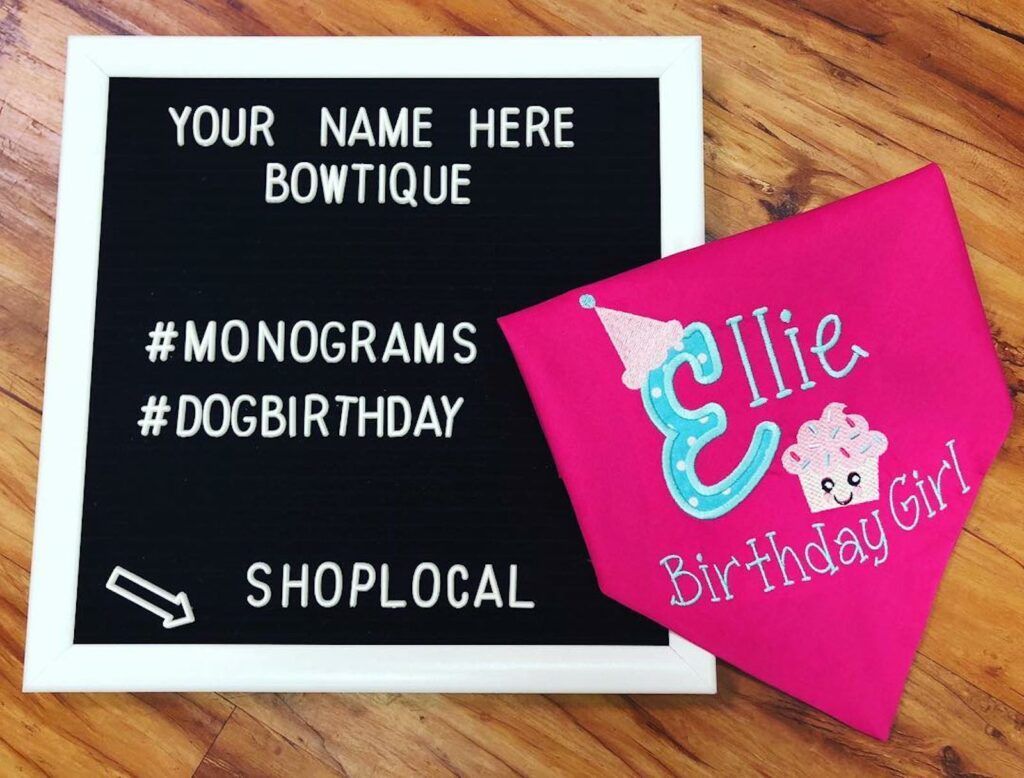 The best part about birthdays? Telling everybody about it! Your Name Here Bowtique has a super-cute selection of personalized clothing, including name bandanas for dogs. Paired with a cute letterboard sign, these make for an unstoppable photoshoot!
9. Bake a cake or order something custom
There are cakes, and then there are CAKES. You know, the kind of cakes you can't eat because they're so pretty. For her dogs' recent birthday, owner of the pet boutique Big & Little Dogs threw an epic party for her pups, complete with a cake to remember.
If you're not sure how to make a dog cake this pretty on your own, The Spotted Dog Bakery produces insanely Instagrammable pet-friendly eats, like their 3D custom portrait cake (which they deliver nationwide, DM for details) featuring your pet's intricate likeness. If narcissism isn't your dog's thing and you prefer something fresh from your own oven, pet-friendly cake recipes abound on Pinterest. Just choose your dog's favorite flavor and top your creation off with dog treats.
10. Give the gift of a doggy ball pit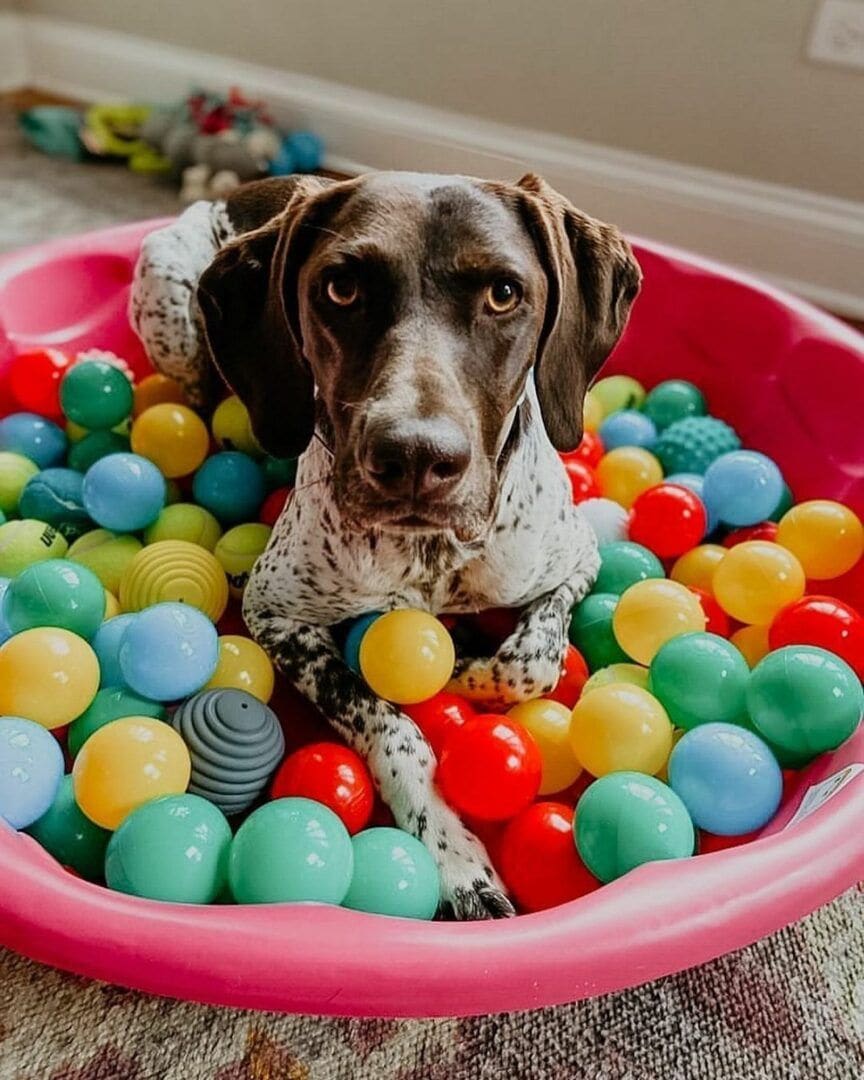 It's what Amazon Prime was invented for: late-night orders of random supplies for your dog's big birthday! Your pup will have a ball — or 40! — when you fashion an impromptu ball pit out of a plastic baby pool and colorful balls a la Petunia Pickles GSP. Throw your pup's favorite treats in the mix for an added challenge and significantly more action in your videos.