The Home Care Guide: Home Care Aide Cost
Pay rates for home care aides
Care.com editorial staff
|

0 Comments
,
Once you have clarified your in-home care needs, you'll then be able to identify providers and learn what the costs would be for each provider. Of course, having family, friends or volunteers provide the service is less expensive than hiring an agency or individual care provider. Often, a combination of family members and hired caregivers is used which allows all caregivers to take the breaks they need to provide high quality ongoing care.
The cost of hiring a home care aide varies widely by:
Geographical location.  New York Senior Home Care may have a different cost than Orlando Senior Home Care.  If you live in California, we suggest researching the cost of home care in Los Angeles, San Francisco, and San Diego to compare prices.

Job requirements, type of care provided
Level of skill and experience
Independant agent or agency staffed aide worker
According to MetLife, in 2007:
The average hourly cost of a home care aide worker was $19 per hour
In some states, the surveyed rate was as high as $30 per hour and as low as $9 per hour
The most recent cost data can be found in the Genworth 2011 Cost of Care Survey
Under certain strictly defined conditions your health insurance company will cover the cost of home care. You will have to check with your health insurance company or with the home care agency to assess the particulars of your case.
More Senior Care Resources
Let Care.com Senior Care Planning Staff help you find the right care, at the right price, for your family! Call 877-922-7314 during our Business Hours of Monday-Friday from 9:00 a.m. to 5:00 p.m. to speak with our team.
Ronnie Friedland is an editor at Care.com. She has co-edited three books on parenting and interfaith family life.
Like this? Get more.
Sign up for the latest articles, news and tips of your choice. All delivered weekly to your inbox.
Find the senior care your loved one deserves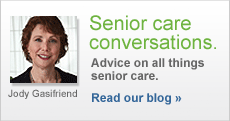 Visit Sheila's Blog
Get advice for your family from our founder (and chief mom officer), Sheila Lirio Marcelo.
Sponsored Listings


Philips Lifeline
Finally! A Help Button that can automatically call for help. In an emergency, every second counts.

Caregiver Tax Service
Care.com HomePay
SM
handles your household payroll and taxes without work, worry or risk.