Continuing Care Retirement Communities Guide: Cost of CCRCs

0 Comments
|
There's usually a considerable entry fee as well as monthly fees. Fees range widely depending on the amenities offered. CCRC entry costs may range from $40,000-$400,000, with additional monthly fees that range from $600 to $4,000, depending on care.
>>Review the Senior Care Index for all senior care options.
Like this? Get more.
Sign up for the latest articles, news and tips of your choice. All delivered weekly to your inbox.
Find the senior care your loved one deserves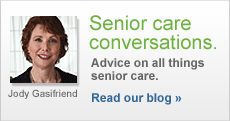 Visit Sheila's Blog
Get advice for your family from our founder (and chief mom officer), Sheila Lirio Marcelo.
Sponsored Listings

Caregiver Tax Service
Care.com HomePay
SM
handles your household payroll and taxes without work, worry or risk.


Philips Lifeline
Finally! A Help Button that can automatically call for help. In an emergency, every second counts.