Assisted Living: Choosing a Community

0 Comments
|
Care.com senior care advisors can work with you to find assisted living options based on your family's needs.  All of the facilities in our network have passed a thorough credentialing process to ensure the highest standard of care.
Ask friends or neighbors in the area for advice on facilities that they would recommend.
The local Area Agency on Aging should be able to provide you with listings of facilities in the area where your parent lives or wishes to re-locate. Make sure you do your homework and spend time gathering as much information as you possibly can on each prospective facility.
Call to make an appointment to visit those that are at the top of your list.
Consider going the day (or hours) before the appointment to see what "everyday life" is like.
Does the staff welcome you and answer your questions?
Are the buildings clean and well lit? Are the grounds appealing? Would your parent like the gardens and sitting areas? Would he or she prefer a golf course nearby?
Would your parent feel welcome and safe here?
Does the staff actually talk to the residents coming in and out?
Do the residents seem to know one another?
Find a gathering of residents and see if they are willing to strike up a conversation. You could even buy them a piece of pie and ask them what they think of the place.
Are people doing things? Chatting, playing cards, attending an exercise class?
Are there activities on the board? Do you see people coming and going?
Are there comfortable gathering places? A library? Chapel? Activity rooms?
Eat a meal here-is there a healthy menu? Would your loved one like the choices? Does the staff serve you in a timely and friendly manner?
Is there a nurse on staff? What hospitals are they affiliated with?
What would happen if your mother or father got sick and had to be hospitalized? What's the procedure? How long until he or she could come back to the fold? Could you hire a health aide, CAN, or visiting nurse to assist your parents?
Find out whether the facility can accommodate seniors in wheelchairs or scooters. Some do not allow such appliances in dining halls, believing it detracts from an atmosphere of "active" senior living.
Determine what types of problems would indicate that the assisted living facility could no longer care for your parent, such as aggressive behavior, wandering, cognitive impairment, or incontinence.
Once the collective decision has been made for your loved one to move, take the time to consider the emotional impact this move will likely have on them.  Advance planning is always a good idea so you can help make the transition as smooth as possible.
More Senior Care Services
>>Review the Senior Care Index for all senior care options.
Like this? Get more.
Sign up for the latest articles, news and tips of your choice. All delivered weekly to your inbox.
Find the senior care your loved one deserves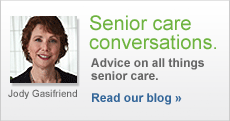 Visit Sheila's Blog
Get advice for your family from our founder (and chief mom officer), Sheila Lirio Marcelo.
Sponsored Listings
Caregiver Tax Service
Care.com HomePay
SM
handles your household payroll and taxes without work, worry or risk.

Philips Lifeline
Finally! A Help Button that can automatically call for help. In an emergency, every second counts.