Do you need insurance for your nanny?
4 types of insurance to consider when you hire a nanny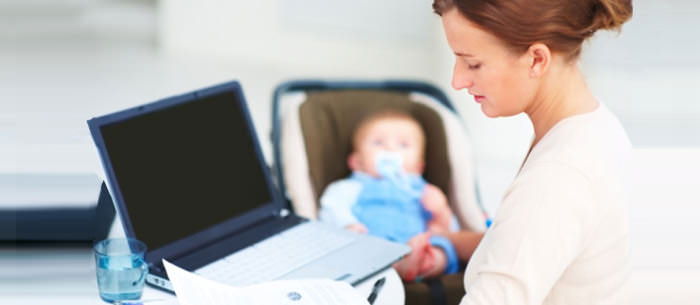 Updated
Once you hire a nanny, or other type of in-home caregiver, you become that person's employer. And as a household employer, there are several human resources-related items to manage, such as taxes, payroll and even insurance. Depending on where you live and your caregiver's needs, we'll explain why it may be a good idea to invest in the following four types of insurance:

You aren't required to provide health insurance for your nanny, but many families contribute funds to their nanny's plan, in line with what most businesses and employers do. You can enroll your nanny in a plan via an Individual Coverage Health Reimbursement Arrangement (ICHRA), a Qualified Small Employer Health Reimbursement Arrangement (QSEHRA) or the Small Business Health Options Program. No matter which option you choose, you should ideally have the bill sent to you or agree with your nanny to have a portion of their payroll dedicated toward a policy of their choice.
In the case of the latter, it's a good idea to ask your nanny for a statement proving they're using the money for health insurance. "You don't need to ask about doctors or disclosures, just ask for the monthly bill," says Lisa Weinberger, a California attorney specializing in employment law and founder of the Law Office of Lisa Weinberger.
Learn more about how health insurance works for your nanny.
Families in the majority of states are required by law to carry a workers' compensation insurance policy. Use this list to check if it's mandated in your area. Required or not, you should obtain a policy because if your nanny is injured and you don't have coverage, you may be financially liable for their medical bills and lost wages. What injuries can your nanny get on the job? They could fall going down the stairs or be injured while playing at the park with your child.
Workers' compensation protects you in these instances because you won't have to worry about paying out-of-pocket for your nanny's expenses, be sued for an on-the-job injury or potentially face fines for not having coverage. And as for your nanny, they will have quick access to needed benefits and will be paid through your insurance provider while they recover. That means you can use the money you'd normal pay to your caregiver to hire temporary back-up care until your nanny is healthy enough to come back to work.
Your state can provide you with a workers' compensation policy, but so can many private insurers. Care.com HomePay even has a solution called HomeStaff Protect, which offers free quotes and coverage in nearly every state.
Depending on how much your nanny drives and what vehicle they operate will determine if you need additional auto insurance. If your nanny drives your kids in your vehicle on a regular basis, you may need to add them to your insurance policy and increase your liability coverage. In this instance, it's a good idea to contact your insurance provider and make sure your policy adheres to the minimum requirements in your state.
If the nanny drives your kids in her car, it's standard practice to reimburse for mileage at the current IRS rate of 57.5 cents per mile. This is meant to cover gas and general wear and tear on your nanny's vehicle. Your nanny should ask their insurance company if regular travel with your kids in her car will require additional coverage. If this is the case, many families opt to cover the additional fees associated with altering their nanny's auto insurance policy.
ELPI is a type of liability insurance that covers families in the event they are sued by their employee for alleged wrongful employment practices. These include discrimination, sexual harassment, wrongful termination, invasion of privacy, breach of contract, emotional distress or wage & hour law violations. It's common for ELPI to be added to a family's existing workers' compensation policy for about $200-$400 per year so contact your provider to get more information about this insurance.
The peace of mind you gain by having adequate insurance coverage is well worth the effort and money. No one ever wants to think about something bad happening to their nanny while they're caring for their children, but if it does, it's important to know you'll have the support system in place to handle it.
Your Next Steps:
Get started with HomePay!
Already enrolled with HomePay? Log in
First things first—have you hired a caregiver?
If you're seeking a caregiver or a care job, visit Care.com
What type of caregiver have you hired?
Have you already made any payments to your caregiver?
If you've made payments, we'll help you track them and we'll provide your employee with pay stubs.
We'll help calculate the taxes in your state.
What type of caregiver are you planning to hire?
When do you expect to hire someone?
How many hours do you estimate your caregiver will work?
We'll help calculate the taxes in your state.
Great! Now set up your log in to get things going.