Search for home care
Enter your ZIP code to find local agencies to help your loved one stay independent at home.
We're sorry, but your search didn't return any results.
Are you overpaying your Senior Caregiver?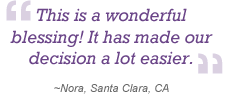 Sponsored Listings
Caregiver Tax Service
Care.com HomePay
SM
handles your household payroll and taxes without work, worry or risk.

ElderLawAnswers
Find an attorney in your community to assist you with long-term care & estate planning issues.

Philips Lifeline
Finally! A Help Button that can automatically call for help. In an emergency, every second counts.