Purim — which, in 2022, begins at sundown on March 16 — is a Jewish holiday that commands a celebration. The festival is often marked with costumes and carnivals, parades and plays, feasts and family fun. It also has a profound, more serious significance for Jews here and around the world as the Jewish community continues to struggle and survive in the face of antisemitism, which is at the root of the Purim story.
What is Purim?
The story of Purim is told in the Book of Esther, or Megillah, which Jews read (and often perform in plays called Purim spiels) to commemorate and celebrate their survival in ancient Persia. Queen Esther — yes, a woman! — is heralded as the hero of the story. She ultimately reveals her Jewish identity to her husband, the king, in order to save her people from a plot orchestrated by Haman (the king's advisor) to wipe out the Jewish population.
Naturally, the cast of characters is collectively and individually a bit more complex: Queen Esther rises to royalty — by winning a beauty contest — after Queen Vashti was apparently banished for refusing to dance for the king's men. Esther's cousin Mordechai (whose rightful refusal to bow down to Haman allegedly spurred Haman's plan) is the one who tells Esther to hide her Jewish identity and then asks her to reveal it (which she does at a festive banquet) in order to save their people from annihilation. And, yes, the king spares the Jews and orders Haman to die — but not before originally agreeing to Haman's evil decree. It's no wonder that an often rowdy reading of the Megillah is punctuated by cheers and jeers throughout.
The Purim story for kids
Obviously grown-ups don't need to give young children the whole megillah (pun obviously intended) to teach the story of Purim, as there are many gruesome aspects that are definitely not rated PG. Instead, PJ Library (a program that provides online resources for Jewish learning and sends free Jewish-themed books to families who sign up) recommends that grown-ups keep it simple with universal themes and ideas and focus on the values at the heart of the story.
For example, the story teaches that wanting to exclude others for their beliefs or for what makes them different is wrong — and that we celebrate and try to emulate those who are brave enough to stand up for what is right. Same message, fewer nightmares. (Of course, how much or how little grown-ups choose to reveal or how they choose to describe the characters is dependent upon children's age and maturity.)
How to celebrate Purim
Traditional festivities might once again look different this year due to necessary COVID-19 precautions. Some families may feel more comfortable sticking to smaller gatherings or virtual options until their young children are eligible for vaccination. Families can still partake in the four joyous mitzvot (or commandments) of the holiday: retelling the story, enjoying a festive meal, preparing gifts for friends and giving to those in need.
Make Purim (and its takeaways) part of your home with Purim activities for grown-ups and children:
1. Set up a Purim "shelfie"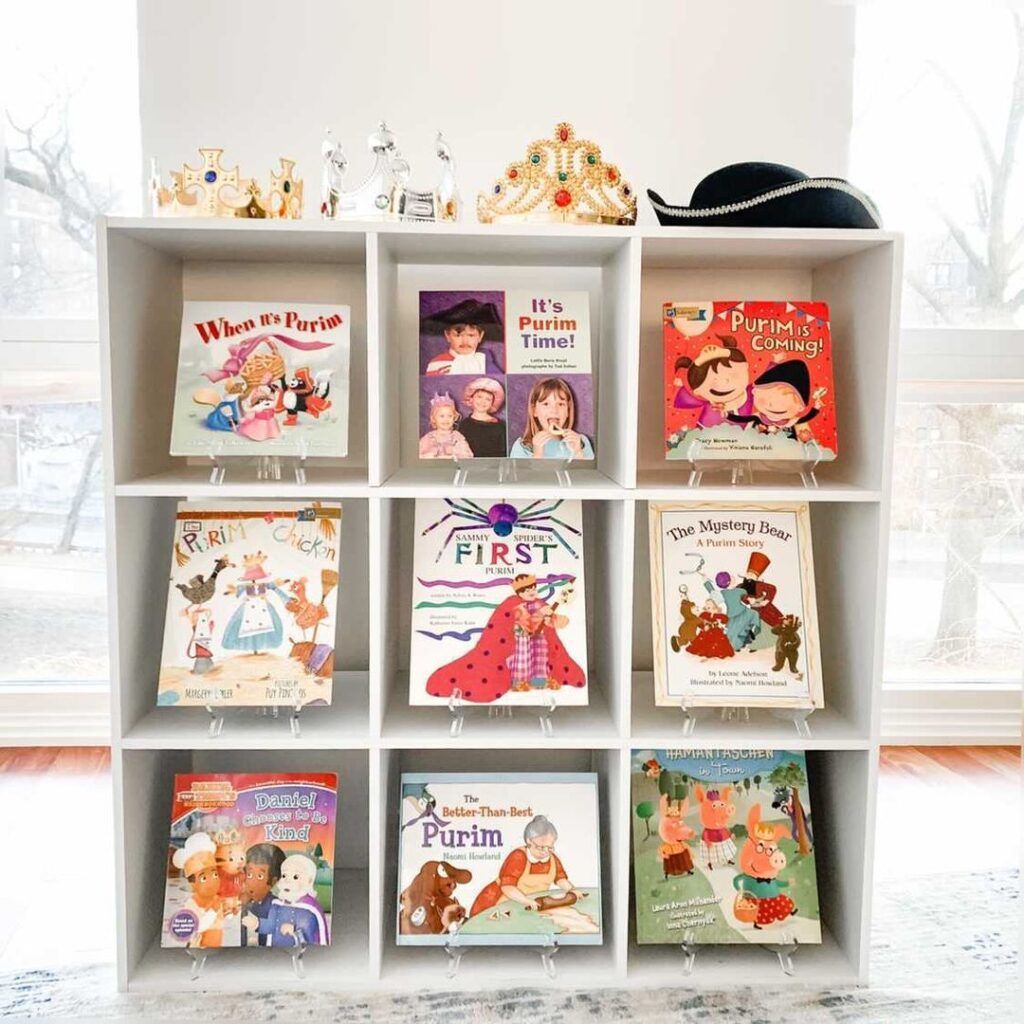 Think of this Instagram-worthy bookshelf as an invitation to learn — and play. It can include symbolic props and books with kid-friendly versions of the Purim story or ones that espouse the same values. (You can never go wrong by explaining kindness a la Daniel Tiger!)
"Our Purim shelfie serves as a center for Purim excitement and learning," explains Rabbi Yael Buechler of Midrash Manicures. "We read stories together to learn about the themes of Purim and why we eat hamantaschen [more on that below] on the holiday. My kids enjoy wearing the crowns and three-cornered hat to reenact the story of the Megillah."
2. Bake a batch of Hamantaschen
There are some discrepancies as to when and why these delectable pastries became a symbol of the holiday, but there is no denying that these traditional triangle-shaped hamantaschen cookies look like Haman's three-cornered hat. With this recipe from Once Upon a Chef's Jenn Segal (and, yes, there are plenty online to choose from), you can fill the buttery shortbread crust with whatever sweet — or savory! — flavor you and your kids prefer. Not sure? Make a variety to nosh on and conduct a family taste test. (A time-saving tip from my own Jewish mom: Use jarred baby food puree if you're attempting to bake ones with prune filling.)
3. Dress up with a royal crown
Need last-minute costume inspiration? These easy-to-craft crowns from pattern designer Jewish Together are fit for any little queen or king. Just download the image, print on cardstock, and then help your littles follow the simple instructions to make a crown all their own. (You can also print to regular paper and then glue the image to a thicker stock after.) While many children choose to dress up like the characters in the Purim story (hence this royal accessory), others use this opportunity to flex their creative muscles and pretend to be anyone or anything they want. It's all about having fun.
Where to find: JewishTogether Purim crown (free with newsletter subscription email sign-up)
4. Create sparkly but simple masks
To keep the Purim tradition of dressing up and masquerading, try crafting these colorful paper plate masks from Make It Jewish. (Some say masks are partly symbolic of Esther originally concealing her Jewish identity.)
Gather some sturdy paper plates, wide popsicle or craft sticks, paint, scissors, glue and any accouterments your kids want (think sequins, feathers, pompoms and Purim symbol shapes) — and set up a mask-making station for the entire family. These festive accessories can be fashioned for a Megillah reading or to adorn the place settings at your Purim table — or simply for some plain old make-believe child's play.
5. Make some noise with DIY groggers
Shake up the holiday with two creative ways to make your own grogger, or noisemaker, from Our Happy Tribe. Why so much ruckus? It is customary to drown out wicked Haman's name during the reading of the Megillah. (The case can be made for telling younger kids that they are drowning out Haman's selfish, vain and mean behavior if parents aren't ready for them to label people as good or bad or discuss the scary murder plot of the story.)
A grogger (which means "rattle" in Yiddish) is also used to joyfully welcome the Hebrew month in which Purim falls and the coming of spring. These cheerful paper plate groggers or plastic egg and spoon creations will do just that — as will these other festive Purim ideas. (Of course, depending on your children's age, grown-ups might want to seal the crafts first in order to keep the dried-bean insides out of little hands — and make sure to use glue or hide the staples from curious kids under colorful tape.)
6. Exchange gift baskets with friends and friends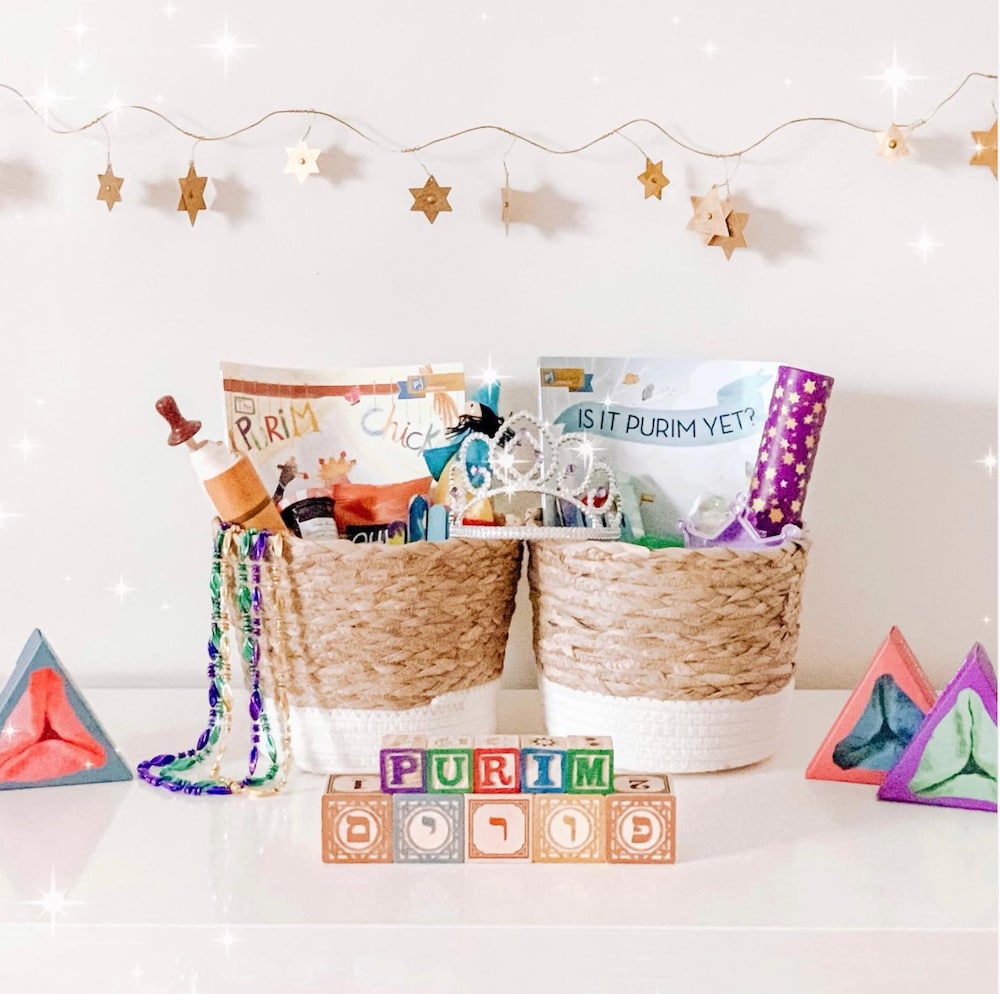 One of the most popular and heartfelt Purim customs is to give baskets, or mishloach manot, filled with food and other gifts to spread joy and, as some interpret, as a way to defy Haman and unite the Jewish community. These beautiful kid-friendly baskets created by Ariel Stein of Jewish Family Magic are filled with sweet goodies, along with books, groggers and costume jewelry meant for dressing up. Create your own — with your kids — by upcycling and decorating bins, boxes and other household items, and then fill to spread Purim cheer.
7. Turn recyclables into a cardboard castle
Help kids build a royal backdrop for the Purim story (or a centerpiece for your Purim table) with a creative cardboard castle made from, once again, upcycled boxes, cardboard paper towel tubes, cans and other otherwise discarded household items. Follow these step-by-step instructions from Creative Jewish Mom, or modify them so children can make an age-appropriate creation. If you want to fill the castle with a cast of characters, grab some toilet paper roll tubes, paper, felt and other crafting items — and bring the story of Purim to life.
8. Craft courage catchers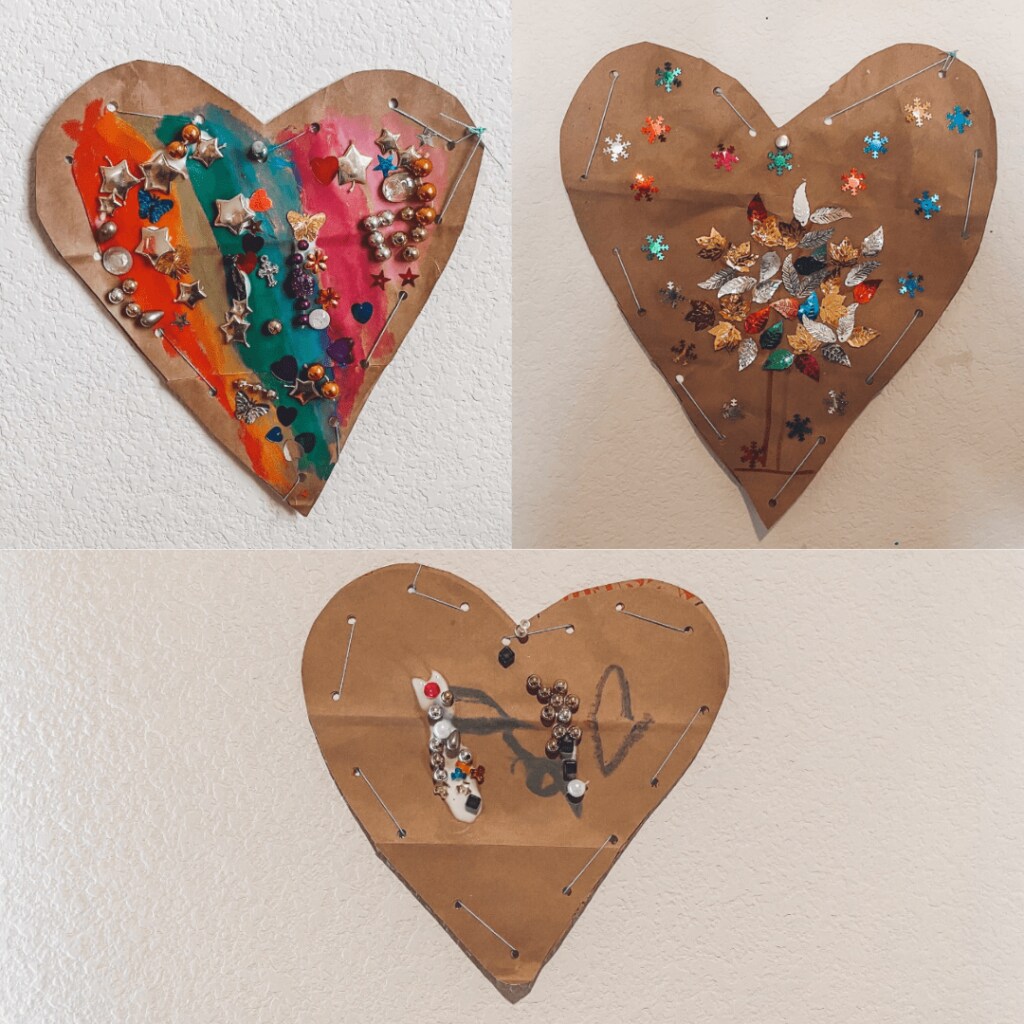 Image via With Love, Ima
For kids of all ages, the takeaway of the Purim story is that "courage and bravery and standing up for oneself and others" are heroic virtues — virtues that are embodied in the women of the story, Queen Esther and Queen Vashti. These paper courage catcher crafts from With Love, Ima are a great way to start a conversation about these values, as well as get children to think about what makes them brave and how they can be courageous.
As mentioned on the blog, Queen Vashti's story might also open up (age-appropriate) discussions on consent and bodily autonomy. (A conversation on courage might also include Mordechai, who would not compromise his beliefs and ultimately encouraged Esther to stand up for their people.) Of course, this creative craft takes more grown-up prep work for younger kids, but kids of all ages will delight in making their hearts sparkle (inside and out).
9. Celebrate joy by giving back
The concepts of tzedakah, tikkun olam (repairing the world) and social justice run through most aspects of Judaism, so it's no surprise that matanot l'evyonim (giving directly to those in need) is one of the four commandments of the holiday.
Have children help collect dried goods from the cabinets and put them in boxes for local food pantries. (Be sure to check for any additional COVID-related guidelines, especially if you and your older children are looking to volunteer at senior centers or shelters.) MAZON, a Jewish hunger organization with ideas on how to help feed the hungry, notes that we can celebrate Queen Esther's triumph by doing what she did — standing up to injustice and sacrificing a bit of ourselves to help bring greater communal healing and peace. A chag sameach, happy holiday, to all.