Once Halloween is over, the weeks up to Thanksgiving fly by in a blur. If you're looking for some festive Thanksgiving crafts to get the kids in the Turkey Day spirit — or to keep them happy and distracted while you cook the Thanksgiving meal — we've got you covered.
Some of these arts and crafts are perfect to use as decorations, and some can become great toys and activities for the kiddie table. With 40 Thanksgiving crafts to choose from, you'll find a fun activity for every age group.
1. Scrap paper thankful pumpkins
Another Thanksgiving kids craft that's super easy to make. These scrap paper thankful pumpkins from Inspiring Education are perfect for kids of any age, giving older ones the chance to reflect on what they're most thankful for this time of year.
2. Feather pens
Inspired by nature and easy to make, these feather pens via Design Sponge are great to make in spirit of the Thanksgiving holiday, so get creative with this beautiful craft.
3. Thanksgiving tree
The whole family can give special thanks when you create a thanks and giving tree via Skip to My Lou, which you can display at home and add onto all season.
4. Turkey luminary
Fun to make and pretty to look at! These turkey luminaries from Samantha Child's Day Home are an easy craft that yields seriously cozy results.
5. Thanksgiving turkey bowling
If you're looking for a craft that will keep the toddlers busy even after it's made, try out these turkey bowling pins from Make and Takes, and let the little ones loose for a great Thanksgiving game.
6. Paper pumpkins
Easy and inexpensive, this paper pumpkins craft from Alpha Mom is great for all ages and looks wonderful as fall decorations.
7. "Stained glass" pumpkins
These adorable "stained glass" pumpkins from Kindercraze don't just look pretty when hung up on a favorite window, they also are an excellent exercise in fine motor skills.
8. Thankful heart turkey
Teach kids to be gracious with a thankful heart turkey from Craft to Art — they can write who or what they are grateful for this year.
9. Turkey spoon
Great for young kids, this simple turkey spoon craft from Ramblings of a Crazy Woman takes an old wooden spoon and transforms it into a happy turkey that you can use as a puppet or even a centerpiece for Thanksgiving dinner.
10. Calico corn
With just a few simple supplies, kids can make his calico corn craft from Art Camp Studio. The colorful final product boasts an awesome seasonal display.
11. Gratitude rolls
Surprise everyone at the table by adding a little note of thanks inside their dinner roll with this gratitude rolls idea from Christy Robbins. Grab some pre-made croissants or rolls to make things easier.
12. Pom pom turkeys
For an adorable Thanksgiving craft kids will love to make and love to play with even more, try your hand at these easy-to-make pom pom turkeys from Mom on Timeout.
13. Dry leaf turkey craft
Handprint turkeys may get all the glory this time of year, but let's not overlook the beauty (and lack of mess!) of dry leaf turkeys. These cuties from Rupinder's Elysian Tribe couldn't be simpler to make.
14. 10 fat turkeys puppet
Little ones will enjoy helping you make this adorable turkey puppet from Reading Confetti, but they'll love to see the finished product of 10 fat turkeys in a row.
15. Turkey vase
Great for young or older kids, this mod podge vase from Arts and Crafts Family only requires an old soda bottle, tissue paper and glue — a masterpiece every little turkey can be proud of.
16. Handprint turkey keepsake
For a thoughtful Thanksgiving keepsake for parents or the nanny, help them make a handprint turkey this year that's great for little hands.
17. Mayflower handprint
Great for kids of all ages, this memorable Mayflower handprint from Almost Unschoolers can be framed or kept in a memory box for you to remember for years to come.
18. Pumpkin paintings
These easy-to-make pumpkin paintings from Prairie Mother are perfect for kids of all ages and require only a few supplies. They also make very little mess.
19. Pine cone woodland creatures
These cute little friends from Craft Box Girls are a great way to keep kids busy while you're getting everything ready for Thanksgiving. Have them personalize placeholders with names to mark everyone's spot at the table.
20. Advent turkey calendar
With some felt and a few googly eyes, you can make a festive Turkey Tom advent calendar from Project Naptime this season. And use a skinny dowel in the fabric to keep the calendar lying flat against the wall.
21. Fall leaf napkin tags
Older kids can help make these fall leaf napkin tags from Two Shades of Pink out of modeling clay and paint. They add a perfect touch to any beautiful Thanksgiving spread.
22. Turkey lollipop treats
These Thanksgiving-themed lollipops from Michelle at Crafty Morning are fun to make and an adorable addition to place settings of the young ones at the table.
23. Gratitude mobile
Thanksgiving is about showing gratitude for the ones you care about. So in light of this thankful time of year, help kids make this thoughtful Thanksgiving mobile from Twig and Toadstool.
24. Corn on the cob pencil holder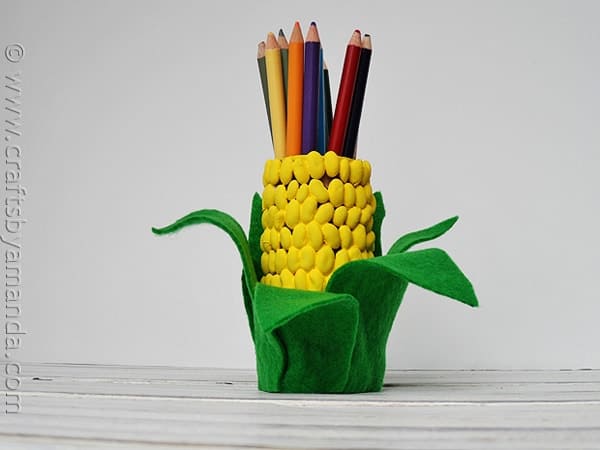 This pencil holder from Crafts by Amanda serves two purposes: One is to keep the kids creative with a fun craft, and the other is to keep the kids entertained during a long Thanksgiving dinner with colored pencils for their coloring books.
25. Gourd stamps
This gourd stamps craft from Kitchen Counter Chronicles is a fun one. Gather gourds of all shapes and sizes, and have a grown-up cut them in half. Dip them in as many colors as the kids would like! Each gourd will make its own, unique stamp.
26. Salt dough turkeys
Perfect for a day indoors and easy to make in the kitchen, kids will love to craft salt dough Thanksgiving turkeys, using this recipe from That Artist Woman.
27. Baby's 1st Thanksgiving card
This baby's first Thanksgiving card from Pretty Prudent makes a fun celebratory craft. Stamp their little hand and create a cute turkey that's perfect as a card to send to family or save as a keepsake in their baby book.
28. Painted rock cornucopia
Kids will love looking for the perfect rocks for this painted rock cornucopia from Make It Your Own. Find as many as you can and use markers, paint, stickers or anything you have on hand to decorate the ultimate Thanksgiving cornucopia.
29. Be thankful garland
Make this beautiful Thanksgiving garland from Just a Girl and hang it across a favorite window in celebration of the holiday.
30. Autumn fingerprint tree
Finger painting never fails to entertain the kids, so why not have them create an autumn fingerprint tree from The Fairy and the Frog, which you can display every year?
31. Mini pumpkin turkeys
Once Halloween is over, make these pumpkin turkeys from The Inspired Treehouse. This is an easy craft for young kids, with just a little guidance from a grown-up.
32. Native American corn
Show kids how the Native Americans taught the Pilgrims to grow corn with these handmade Native American corn cobs from Boy Mama Teacher Mama.
33. Stuffed glove turkeys
Give the kids a chance to stuff their own turkeys with this glove turkey craft via Joyfully Weary. Watch them make a new fluffy friend to add to their toy collection.
34. Pilgrim kids' craft
This pilgrim craft from In the Bag Crafts is great for the kids' table, before or after dinner. With just a few supplies, each kid can create their own unique pilgrim.
35. Play dough turkey
This easy-to-make feathered play dough turkey from Just Deanna is a great craft for little ones to make in celebration of Thanksgiving.
36. Play salad
Help kids find their inner chef and make a holiday play salad, via Inner Child Fun— it's made out of craft foam and sponges. Pair this with the paper turkey, and you'll have a Thanksgiving "dinner" that's great for the kid's table.
37. Turkey napkin ring
You probably already have everything to make this simple DIY napkin ring from Super Make It. Use empty toilet rolls and coffee filters to make festive turkeys for each place setting.
38. Geometrical turkey
For an easy craft for toddlers, gather some construction paper, glue and a few googly eyes and help little ones make this geometrical turkey via Fun Littles.
39. Pilgrim hat cookies
For a delicious treat to serve after dinner, try out these chocolaty pilgrim hat cookies, via the recipe from Like Mother Like Daughter.
40. Turkey windsock
Get some kid-safe plastic jars and colorful feathers for this turkey windsock via Fun 365. It's a fun, bright welcome for the Thanksgiving season.