Find a job as a housekeeper.
Search job listings by hourly rate, ZIP code and more.
Apply for jobs that match your experience and schedule.
I am in need of help! My husband and I both work more than full time and I am unable to keep up with everything! Our daughter is going to be 3 in June; we have one plump grey cat. I need someone who is able to not only manage the cleaning of our home, but also...
More>
I need a local sitter to come to my home at our apartments to watch my 2 & 3 year old sons while I go to an appointment. Will be approximately 3 hours worth, and if all goes well we will use you again. Will pay $10/hr no taxes.
Posted Date:
Feb 20, 2014
Job Dates:
Fri Feb 21, 2014 12:00PM to
Wed Apr 16, 2014 12:55PM
Transportation: Required
Non-Smoker: Yes
Comfortable with Pets: Doesn't matter
I am a busy mom and am seeking help for light housekeeping, laundry, simple meal preparation and clean-up. Also, for errands and keeping the house organized and in daily good order. We have an excellent weekly housekeeper who does a terrific job, cleaning the house...
More>
Browse Housekeeping Jobs by Top U.S. City
Browse Housekeeping Jobs by Top U.S. State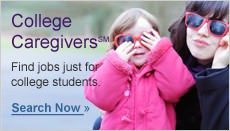 Sponsored Listings
Nanny Tax Service
Care.com HomePay
SM
handles your household payroll and taxes without work, worry or risk.