Find Senior Housing
Search by your zip code and find local
housing options that meet the needs of
your aging loved one.
We're sorry, but your search didn't return any results.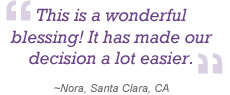 Sponsored Listings

ElderLawAnswers
Find an attorney in your community to assist you with long-term care & estate planning issues.

Caregiver Tax Service
Care.com HomePay
SM
handles your household payroll and taxes without work, worry or risk.