We've all been invited to the standard Halloween party, where the typical cobwebs, cheap clown costumes and uninspiring magicians are always the same. Why not mix things up a bit this year by throwing a Halloween party with a spooktacular (or not-so-spooktacular) theme?
Keep reading to discover 24 Halloween party themes to try, complete with ideas for decorations, invitations and activities.
1. Glow-in-the-dark party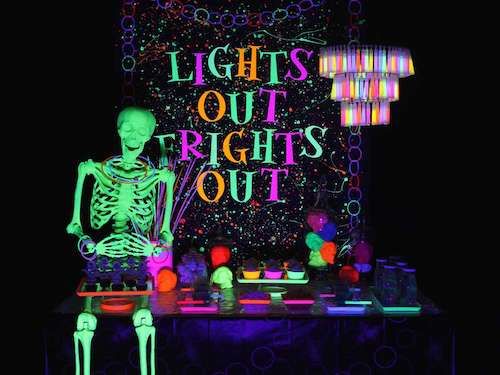 Halloween is always meant to be celebrated in the dark, so why not celebrate it while glowing in the dark? This glow-in-the-dark party from Catch My Party is the perfect Halloween theme party for the tween — or even teen — set. And, really, you don't need a ton to decorate. A black light and all things that glow in the dark, and boom, you're done. Let everyone know they have to wear at least one thing that glows in the dark, and of course, hand out glow necklaces. And if you're feeling crafty, try your hand at the super cool glow stick chandelier!
2. Monster mash
What's the first thing you think of when you hear "Halloween"? Frankenstein? Dracula? Mummies, ghosts, goblins? Halloween is the perfect opportunity to throw a Monster Mash. Find a recording of the famous "Monster Mash" song, originally sung by Bobby Pickett, and use some of the wording in your invitations. Adorn the house in monster-inspired decorations and play the whole Pickett album at your party.
3. Willy Wonka
Halloween is all about candy and who doesn't love Wonka candy? Your invitations can be just as sweet, in the shape of candy, with lots of glitter, and maybe even a SweeTart or two to lure them in! Set up different candy buffet stations throughout your house with your favorite Wonka candies like Laffy Taffy, Nerds, Fun Dip, Pixy Stix and SweeTarts. Don't forget that big purple top hat to decorate!
4. Haunted house
Maya Kalman, CEO and creative director of Swank Productions in New York City, says that Halloween is one of her company's favorite holidays and they've thrown lots of themed parties. They even planned a Halloween wedding, which had a haunted house theme complete with fog, dark goblets, UV lighting, skeleton hands holding place cards, and a costumed waitstaff of ghosts and zombies.
To throw your own haunted house party, stuff some old clothes with hay or cotton to make some dead guests, place some plastic or styrofoam tombstones, cobwebs and fake spiders around the house, serve creepy punch and ghost cake, and ask guests to show up in their best makeup and costumes from beyond the grave. You can even have a haunted gingerbread house decorating contest.
5. Ghost bash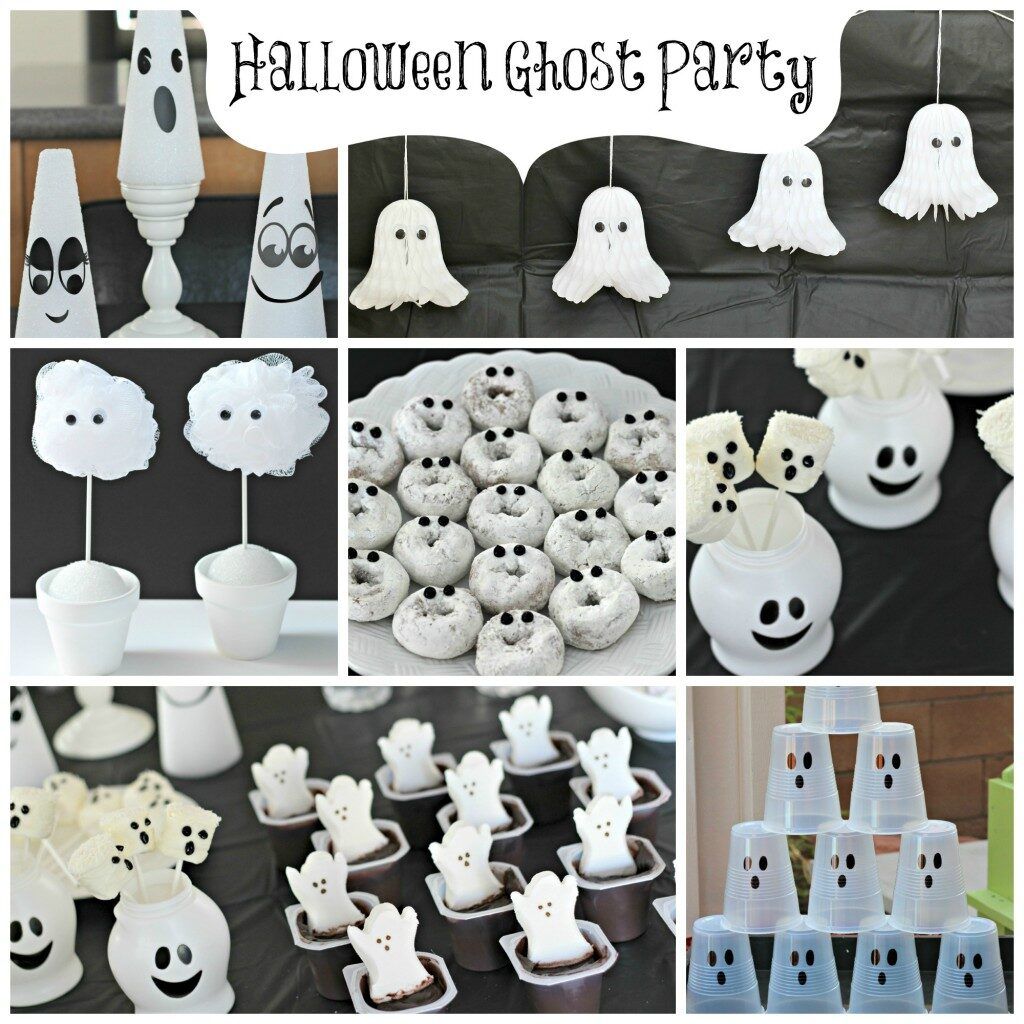 Looking for a super-simple Halloween theme? How about just ghosts. You can decorate with ghost bunting and put ghost cake on the menu and tell spooky stories. For more inspiration, Leanne from Organize & Decorate Everything has come up with cool ghost-themed party ideas for decorations, games and treats in this ghostly theme.
6. Carnival
Carnivals are fun no matter what time of year, but around Halloween, they can be filled with creepy-crawlies and unknown monsters lurking behind the games, ready to scare you when you least expect it! This is a party your kids can have fun with, and it's all about getting them outdoors and active. For snacks, fill some black or orange paper cones with popcorn or cotton candy, and find some candies that are Halloween-colored, like M&Ms, lollipops or cupcakes. Games can include guessing how many candy corns are in the jar, tossing beanbags into the zombie's body, decorating faces with creepy designs and tarot card readings.
7. Murder mystery
A murder mystery is the perfect party to entertain both kids and adults alike. It takes a bit of imagination and creativity, but once you develop a story with a murderer to pin down, your interactive party will be a hit with all your guests. You'll have to think ahead and gear each party invitation to individual guests, making specific costume requests. Once the guests have arrived, let them know the general plot and offer clues throughout the night to help them solve the mystery.
8. Mad scientist
Kids and adults alike will love setting up for and participating in a mad scientist party. If you love to bake and enjoy mixing drinks, this just might be the perfect opportunity to try out new recipes. Mad scientists are all about experimenting, so send out invitations shaped like bubbling potions and be sure to warn them of the hazards of walking into a scientist's lab. Have lab coats and goggles available for each guest and direct them to a buffet of your concoctions: orange and green fizzy drinks served in beakers, severed-finger cookies, monster brain cupcakes and Jell-O with gummy worms and eyeballs. Activities can include a potion-making station (think volcano-making), slime station and molecule-building (with toothpicks and marshmallows).
9. Maleficent party
As far as spooky movies go, Maleficent provides a ton of fodder for a Halloween theme party, as Entertaining Diva demonstrates. Mood lighting. Tons of purples and greens. And an overgrown forest (a.k.a. living room) full of menacing trees and creepily crawling vines. Ask guests to come as the evil queen herself, or if they're feeling more demure, Aurora.
10. Jack-o'-lantern carving
What better way to celebrate this spooky season than with a pumpkin-carving party? Turn it into a contest where the spookiest and goofiest Jack-o'-lanterns win a prize! This can be a great family-themed party, with adults helping little ones to carve their pumpkins. Afterward, you can use the leftover pumpkin seeds to either do a craft or roast them for a tasty treat. Once it gets dark enough outside, display your pumpkins proudly outside and place a light inside each one to get the real effect!
11. Superhero
Superheroes are some of the most popular costumes worn by trick-or-treaters at Halloween, so it's only natural that a superhero theme should be on your list. There are so many different options available for this theme: serve cupcakes with superhero logos on them, have guests arrive wearing their favorite superhero cape or mask, play "pin-the-star-on-Captain-America's-shield" and attempt superhero charades.
12. Graveyard
Marla Mase, a mom and owner of the New York City-based party planning business Party Swank, says she has thrown many Halloween parties over the years. One of the most memorable was a graveyard party, where she decorated the area with hay, overhanging branches, leaves, lighting, tombstones, coffins, skeletons, body parties, sound effects, dirt and large plastic garbage cans, pumpkins, black lighting, etc.
Kalman has also thrown a lavish graveyard party, complete with orange drinks, cobwebbed furniture and skeleton decorations throughout the room.
While you don't have to go all out like these designers did, it can be easy to throw your own graveyard party. Start with tombstone-shaped invitations, decorate with foam tombstones and skeletons and use low lighting to create an eerie atmosphere.
13. "Alice in Wonderland"
There are so many different kooky characters in Lewis Carroll's famed "Alice in Wonderland" that it makes for a great opportunity for a costume party. Invite guests to a special Halloween-night tea party and suggest a different costume for each guest, including the Mad Hatter, Alice, the Cheshire Cat, the White Rabbit and the Queen of Hearts. Set out teas and finger foods themed to the different adventures Alice finds herself in (key-shaped cookies, raspberry-filled heart-shaped tarts and the cat's smile cake). And it wouldn't be an "Alice in Wonderland" party if you didn't set up a game of croquet or cards!
14. Hollywood
Hollywood is all about celebrities, glitz and glam. So your invitations should most definitely reflect that! Send out golden invitations with fancy type that lets your guests know to expect a high-class swanky party and that they should dress to impress. They can dress up as their favorite movie characters or actors from today or beyond. Have Hollywood stars decorating the walkway and walls, and make sure gold is the dominant color. Your menu and place cards can be in the shape of the director's clapboard, and you can even set up imitation Oscars-awards complete with the little gold statue as prizes for best-in-show.
15. Edgar Allan Poe
"The Black Cat," "Annabel Lee," "The Tell-Tale Heart" and "The Raven." Edgar Allan Poe wrote tales and poems of horror and suspense almost two hundred years ago and they still stop our hearts today. Start your party off by sending out invitations written on old burned paper and typed on a typewriter. Encourage guests to dress up as the author himself or as one of his characters. For the party, decorate with some fake stuffed ravens and other creepy animals and motifs (spiders, skulls, cobwebs). Set the mood by lighting your party with candles, just as Poe would have used. Your meal should include some dark menu items like black linguine, red grapes and chocolate cake. This will certainly be one party your friends haven't experienced yet and one they'll be talking about for days afterward!
16. Harry Potter
Mase made use of the Harry Potter theme by hiring a double-decker bus and decorating the inside with cobwebs and leaves. She even had surprise "haunted guests" on the bus that kept kids on their toes the whole night.
This can be one of the most involved and exciting parties that you can throw, but it doesn't need to be on a bus. Decorate your home or backyard with Harry-themed objects, like the Sorting Hat, broomsticks, golden snitches, magic wands and a cauldron. Your invitations can be in the shape of the Marauder's Map, with directions to your home and an invitation written in "invisible" ink. Have a few round Harry Potter glasses and lightning bolt tattoos for little guests to wear, and don't forget to serve some Bertie Bott's Every-Flavor Beans.
17. Rocky Horror
Audiences love acting out and singing along with the on-screen characters in this classic film. Why not recreate the same thing in your own home? There are so many characters, so each guest can dress up as a different person from the movie and act as creepy as they can. Watch the movie in your living room or get a projector and watch it in your backyard. Act along with the movie and teach the "Time Warp" dance before you begin. Decorate your party space with old posters from the movie and make your desserts themed to the show (like cookies in the shape of lips or cupcakes with images of those stocking-ed legs).
18. Politics
Politics can be pretty scary sometimes. Have your guests show up dressed as their favorite (or least favorite) politician (dead or alive) and host an election-night party, complete with a ballot for best costumes and best desserts.
19. Pirates
Argghhh, matey! If a hidden treasure is what your guests are searching for, they'll have a blast searching for it in your own backyard. Send out invitations with "X marks the spot" treasure maps. Serve overflowing chests with golden chocolate coins, mixed in with faux jewels and jewelry. Eye patches, tattoos, and bandannas can be kept at the front door available for anyone to pick up if they forgot their own. Pirate booty (the edible kind) can include sea-themed treats like fish sticks, salmagundi (pirate stew), biscuits and punch. Games can include walking the plank, treasure hunt and capture the flag.
20. UFO
Halloween is the perfect time to host a Roswell-themed party. Send out invitations in the shape of a UFO and set up your house with unidentified (flying or grounded) objects as well. Stop by your local party store to pick up some mini glow-in-the-dark aliens and serve equally unknown substances for dessert (brain matter cupcakes, flying saucer cookies, alien autopsy Jell-O).
21. Zombies
Zombies are definitely a popular theme in recent years, with horror zombie movies like "World War Z" or "Warm Bodies." Turn your party space into an end-of-the-world zone with bloody handprints on the wall (using washable paint, of course!) and a few plastic body parts and ripped/old clothing strewn across the floors. Your kids will have a blast decorating for this party, and you're sure to get a few kicks as well, especially when you start baking for the party with gelatin brain molds, toxic drinks and "finger" foods. Your party will surely be an undead smash!
22. The mummy's curse
Ever since Howard Carter discovered the tomb of Tutankhamen one hundred years ago, talks of a mummy's curse have swirled and movies have capitalized on the spooky possibility. So create a one-of-a-kind mummy party. Send invitations out written in hieroglyphs and have guests dress as their favorite Egyptian character. You can even have a craft party where kids make pharaoh headdresses or get their faces painted Egyptian-style. For dinner, serve mummy dogs (mini hot dogs) or sausage mummies, and for treats, create white chocolate-dipped Oreo mummies, cupcakes with white icing strips or mummified rice krispy treats.
23. Gothic
This theme can be more of your traditional Halloween party, but perhaps a little classier. Guests can come dressed in witch and wizard costumes and your decorations should be black or dark. Glittery skulls, cobwebs, spiders, dripping candles, ravens, gourds and skeletons would all be great items for your space. Fill black cauldrons with your menu items and prepare dark fruity drinks. As an added bonus, play some black-and-white horror films to close out the night.
24. Autumn harvest
Your Halloween party doesn't have to be all about monsters and ghouls. If you're looking for a classier way to invited friends over, decorate your space with typically fall-themed ornaments. Find the decorations you need at your local farm — a few bales of hay for seating, some pumpkins and gourds and crunchy leaves and branches will make your party look its best. Serve drinks and desserts that remind you of the season, like apple cider and pumpkin pie bites, and let kids have fun doing fall crafts.
No matter what theme you choose, just remember to have fun and be safe.