Your 9-month-old's attention span is growing, and it may be a struggle to keep them entertained. At this age, babies are beginning to demonstrate more advanced skills, like clapping their hands, pulling themselves up to stand and crawling. As they become more proficient in using their body and their brain begins to develop more rapidly, babies will respond better to toys that are more appropriate for their age.
Kayla O'Neill, a developmental therapist who specializes in baby and toddler development, says it's important that your baby's toys are versatile and encourage movement at this age because your baby is doing so many new things.
"Having toys that your baby can play with in different positions is important," O'Neill says. "Your baby is most likely sitting, crawling and may even be starting to pull to stand. So the toys that you would pick for a 9-month-old baby, in most cases, will need to be a bit different and more exciting than the toys that you chose for them when they were younger and doing less."
We asked O'Neill for her favorite toys for 9-month-old babies. Here's her list of toys that will entertain your baby and help them develop important skills while they play.
1. Ball pit
Favorite overall toy
O'Neill chose this ball pit toy as her favorite overall pick because it encourages the development of many skills at once while also simply being a ton of fun.
"Babies can hold, throw and mouth the balls, which helps refine their motor development," she says. "It encourages a baby to kick their legs and watch the balls move, which teaches them cause and effect. And babies will just have a blast playing with it, which is one of the most important parts of picking out toys for little ones."
Where to buy: Turtle Ball Pit ($98, Melissa & Doug)
2. Musical toys
Good for: experimenting with sounds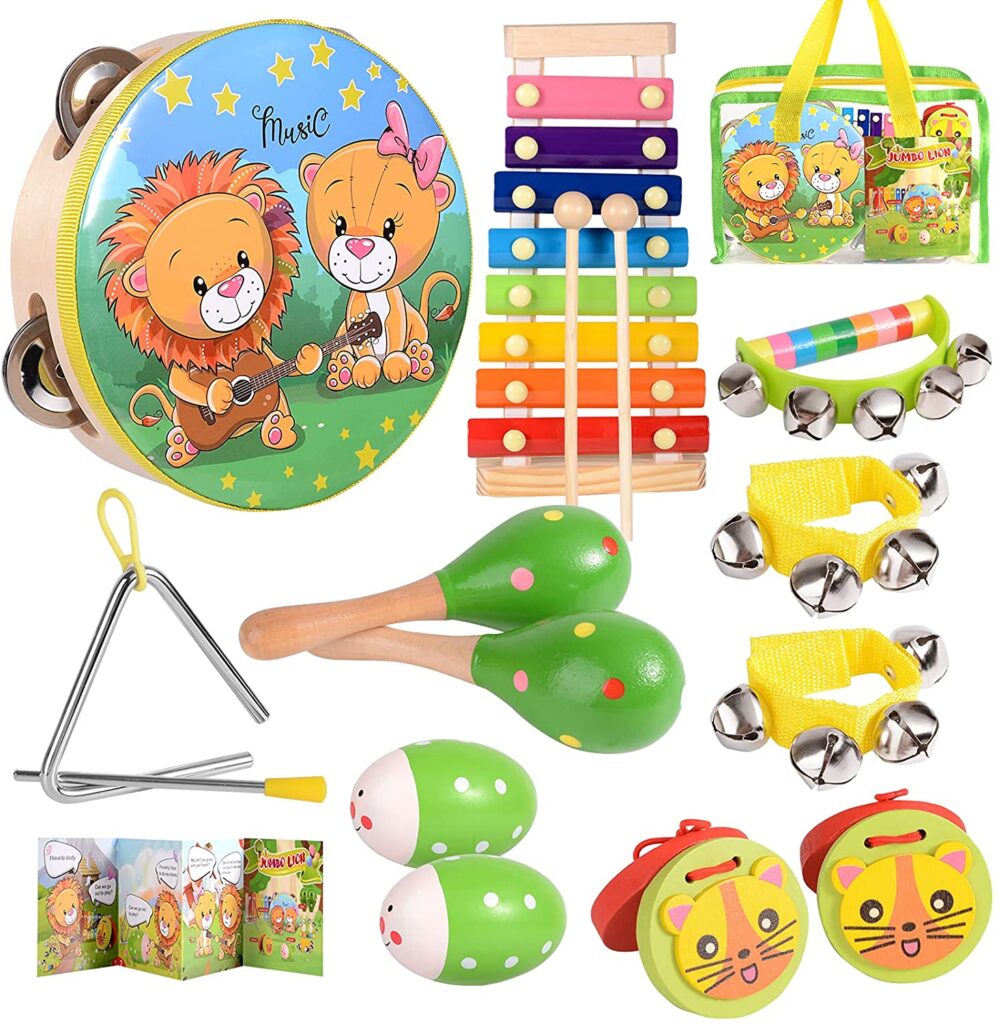 Babies love music and toys that encourage them to create their own tunes will help them experiment with different sounds while also developing many other skills, such as gross motor skills and cause and effect.
"Musical toys where the child has to make the music themselves are my favorite," O'Neill says. "Playing with a simple set of shakers and rattles is the perfect way for your little one to start experimenting with sounds."
Where to buy: oathx Baby Musical Toys ($21, Amazon)
3. Activity toys
Good for: developing fine motor skills
Babies can practice developing their fine motor skills when they play with toys that use the smaller muscles in their hands and wrists. With finger tip spinners, buttons to press and switches to toggle, O'Neill says the Fidget Cube is the perfect toy for honing those fine motor skills during playtime.
Where to buy: Fisher-Price My First Fidget Cube ($20, Walmart)
4. Big, soft blocks
Good for: developing gross motor skills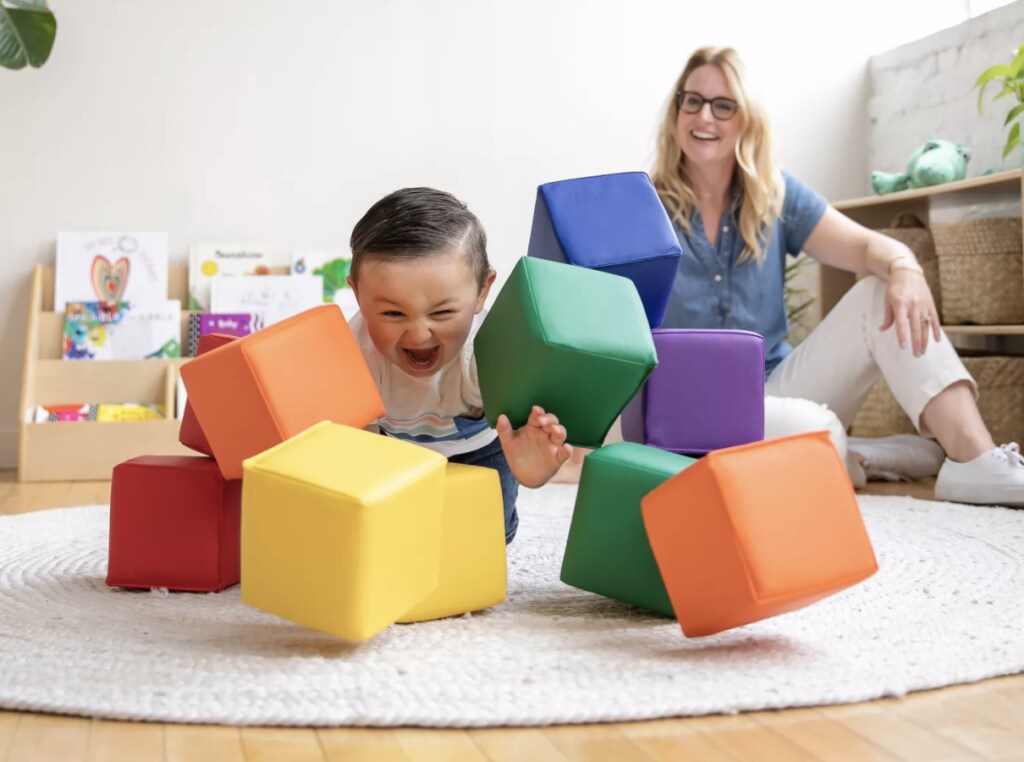 Toys that get babies moving around and using their larger muscles, such as those in their legs and arms, are ideal for developing gross motor skills.
"Large soft blocks are a perfect way to create an environment that is both safe and challenging for your baby," O'Neill says. "It allows them to practice their crawling and standing skills."
Where to buy: ECR4Kids SoftZone Foam Building Blocks, 12pk ($70, Target)
5. Pop-up toys
Good for: developing object permanence
At around 5 months old, babies begin to develop object permanence, which is the understanding that all objects and people still exist even if they are out of your baby's line of sight. O'Neill recommends the Battat Pop-Up Pals for helping older babies continue to develop this understanding of object permanence and points out that the peek-a-boo toy also helps with hand-eye coordination.
Where to buy: Battat Pop-Up Pals ($12, Amazon)
6. Cause and effect toys
Good for: developing cause and effect
Cause and effect is another skill that babies begin to develop at 5 months old. Toys that demonstrate to your baby that doing one thing results in another happening are perfect for developing this skill. O'Neill is a fan of the Sassy Pop n' Push Car because it helps your baby work on many important developmental skills at once. The beads that begin popping as your baby pushes it help develop cause and effect, while chasing to retrieve the car after it's released will help them develop crawling skills.
Where to buy: Sassy Pop n' Push Car ($8, Amazon)
7. Toy phones
Good for: encouraging speech and language development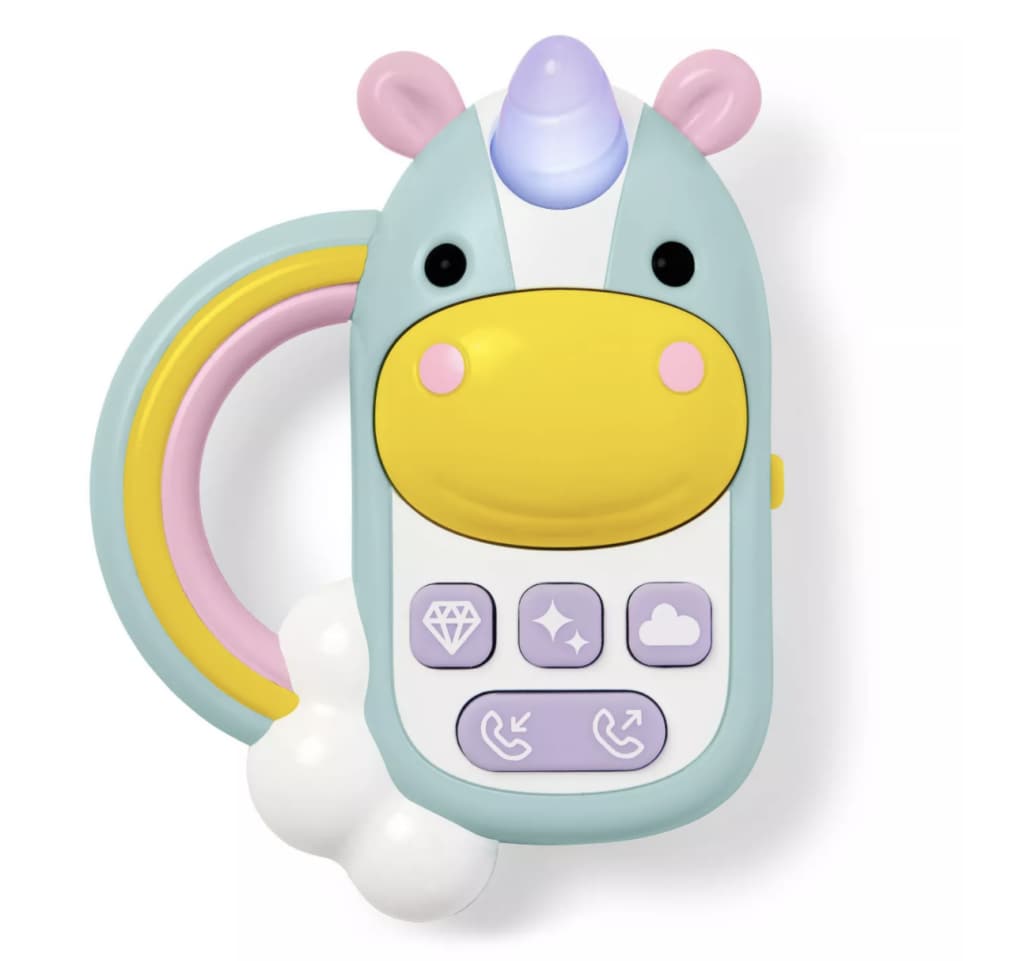 Toy phones are still extremely popular for a reason — they're tons of fun for babies and toddlers. Babies will begin to form their first sounds and words at their own pace, but a toy phone encourages them to chat away just like mom and dad.
O'Neill says that the telephone helps babies develop their speech through role play and suggests that you play along with your baby to show him how it's done.
"It's the perfect opportunity for you to model new words and practice language skills through imaginary play," she says.
Where to buy: Skip Hop Zoo Unicorn Baby Cell Phone Toy ($10, Target)
8. Shape sorters
Good for: developing cognitive skills
By 9 months old, babies are ready to further develop problem-solving skills by playing with more advanced toys. The fact that you can easily tote this shape sorter around on trips is an added bonus.
O'Neill likes this toy because it is versatile and will keep your baby busy learning and mastering their skills for months to come.
"A shape sorter works on cognitive skills in many different ways," she says. "This puzzle-like toy introduces problem solving, shapes and colors."
Older babies and toddlers will enjoy identifying the objects and zipping and unzipping the bag themselves.
Where to buy: Take-Along Shape Sorter ($25, Melissa & Doug)
9. Touch and feel books
Good for: developing sensory skills
Sensory skills are anything that involves your baby's senses, such as touch, smell and taste.
"Touch and feel books are perfect for sensory exploration as well as building early literacy skills," O'Neill says.
Baby will learn about different textures as they touch the objects on each page. Read the book along with your baby and identify each object on the page to help them also develop language and social skills.
Where to buy: "Love Can Come in Many Ways" Board Book ($13, Chronicle Books)
10. Ball-drop toys
Good for: developing social skills
Babies begin developing their social skills at birth and toys that involve social interaction are ideal for expanding on these skills.
"Any toy that encourages turn-taking is great for building social skills," O'Neill says. "This ball-drop toy provides a simple game for your baby to play with an adult or peer that allows for lots of interactions."
This is another toy that boasts solid staying power as toddlers will enjoy playing with it to build their own towers and experiment with tower setups that make the ball go faster down the slides.
Where to buy: WEofferwhatYOUwant Educational Ball-Drop Toy ($25, Amazon)