Camping with kids poses many challenges, but keeping them entertained during downtime shouldn't be one of them. There are plenty of things to do while camping — in between putting up the tents and roasting marshmallows — all it takes is a little creativity.
Whether you're roughing it with just your family on your camping adventure, or you're bringing along a nanny or summer sitter, make this year's trip extra fun with these 17 camping activities for kids.
1. Nature scavenger hunt
Nurture kids' urge to explore by planning or downloading a nature scavenger hunt. This is a classic camping game that kids of all ages can play. Tweak the instructions to make them age-appropriate. Keep play in the campground area so as not to disturb the wilderness.
Where to buy: Nature scavenger hunt ($2.50 to download, SBdigitalDesigns/Etsy)
2. Glowing ring toss
Kids love glow sticks! Using one large glow stick and some smaller bracelet-sized sticks creates a glowing ring toss game for nighttime fun, as described by Feels Like Home. Want to make the game more challenging? Use three large sticks at different distances and heights and assign a range of point values for ringing the sticks.
3. Camping charades
A printable camping charades game is available at The Joys of Boys. Charades is always great fun any time of day.
4. Camping Olympics
If you have lots of kids, set up Camping Olympics. Your Olympics can include numerous outdoor games, such as a tug-of-war or a potato sack race. The beauty of making your own events is that you can tailor the plan to fit the ages of your campers and level of competition you desire (or don't desire). Plan ahead so you have all the supplies needed and some camp-inspired prizes, such as a s'mores kit.
5. Balloon ping pong
Played over a picnic table with simple supplies, balloon ping pong is sure to be a hit. Bring along extra balloons to replace as needed.
6. Backpack pass
Kids love acting silly, and they love opening packages! This game from About Parenting combines both activities, along with music and making s'mores for evening fun. Each player has to perform to earn their chocolate pieces for making the s'mores.
7. Camping bingo
How cute is this camping bingo idea from Michelle Facca?! Using printed bingo cards and scavenger hunt skills, each player marks off their camping bingo square when they find an item. Also, be sure to teach kids "Leave No Trace" principles by only marking off the items and not removing them from nature. Younger kids can play, too, with adult help.
8. Park ranger
More than a simple game of tag, teach the kids to play Park Ranger. Instructions can be found at Ultimate Camp Resource. The game is a bit like freeze tag. Featuring animals, trees and boundaries, it reinforces kids' listening skills.
9. Fire tender
Need a camping game for kids to play while being quiet? Each player must sneak sticks away from the fire tender without getting caught. To add a twist for large groups, have kids who are pointed at sit out the rest of that round.
10. S'mores the Card Game
Rainy day camping? Bring along S'mores the Card Game, a fast-paced game kids love. You can also use the deck to play memory, matching the pictures on the cards.
Where to buy: S'mores the Card Game ($14, Buffalo Gap Outfitters)
11. Capture the flag
This classic outdoor game can get a little rough, so it's a great one for teens and tweens. Starlux Games offers some variations for younger kids.
12. Elves, Giants and Wizard
This game, posted by Wilderness Aware Rafting, is similar to Rock, Paper, Scissors but adds a game of tag. Players are assigned to be elves, giants or wizards. They try to tag others to join their team while avoiding being tagged themselves.
13. Flashlight tag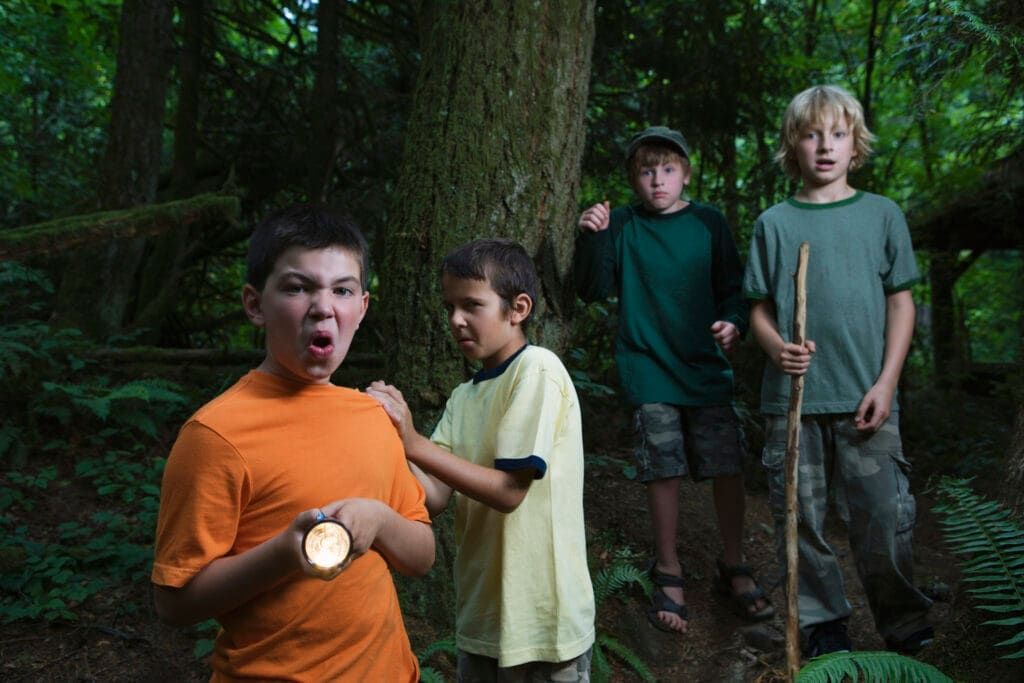 A nighttime version of hide-and-seek and tag combined, flashlight tag is fun for the whole family. See About Parenting for instructions. Tip: Use rechargeable batteries, and keep extras on hand.
14. I Spy
For a relaxing time around the campsite, keep kids busy with the classic I Spy game. Each player gives clues on the item they choose within eyesight, saying, for example, "I spy with my little eyes, something brown." The one who guesses what it is wins.
15. 20 Questions
20 Questions is another classic guessing game. Keep the objects camping-themed, as suggested by Inspired Camping.
16. Camping trip
"I'm going on a camping trip and I'm going to bring… " This game, found at Games Kids Play, challenges kids' word skills. It involves each player stating what they'll bring on their trip, but the object must begin with the last letter of the previous person's item, although not everyone is clued in on this fact, which is what makes the game challenging.
17. The tarp game
Make this camping game for kids to bring along on your next trip. The tarp game posted at the Red Headed Hostess requires a tarp with holes worth different point values, some rope and a ball. This game is easy to make, set up and play for campsite fun.
With these games, you're now equipped for your camping adventure with kids! Check out our 10 tips to surviving summer travel to make the camping journey even more fun, or hire a summer babysitter to help you make the most of the season.