You can fight it all you want, but eventually kids' stuff winds up taking over the whole house. Try as you might to keep their toys confined to their bedroom or the playroom, fact is, kids want to build Legos, do art and play with stuffies where the action is — and the action's often in the living room (or close to it).
But that doesn't mean your house has to look like FAO Schwarz, as there are a number of organized ways for toys and living rooms to coexist. Whether you're looking for hidden toy storage ideas or just want creative living room toy storage ideas, check out our list of products and ideas that will keep your living room neat and organized while full of toys.
1. Coffee table with basket storage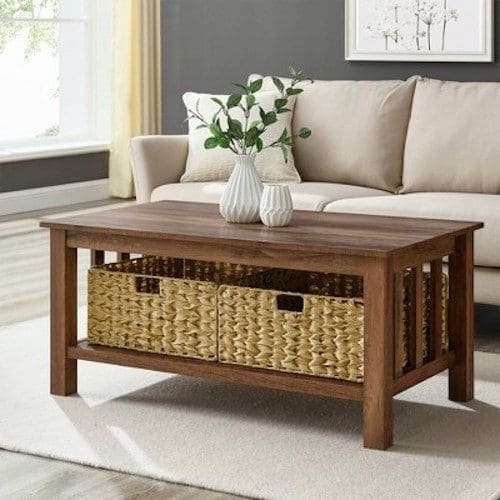 Since so much play unfolds on the coffee table, why not get one that has built-in — and hidden! — toy storage. Kids can pull out their art supplies, blocks or whatever they're into at the moment from underneath and then sweep everything back into the basket once they're done playing.
Where to buy: Mission Coffee Table With Woven Baskets ($210, Target)
2. Secret hidden book storage box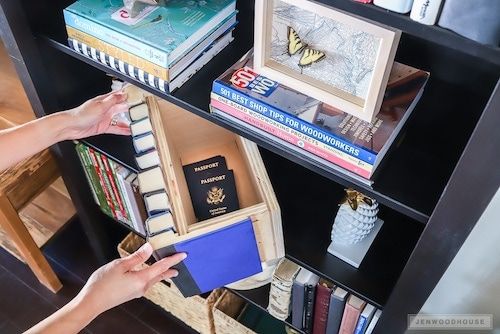 Full disclosure: You need to be puh-retty crafty to make this secret hidden book storage box from Jen Woodhouse. But! If you can pull it off, how cool — and perfect — would this be for Lego storage or even crayons?! Hidden in plain sight. Genius!
3. Baskets in open shelves
Not only is open shelving very on trend, it's a great way for kids to access their toys quickly. That said, most parents would prefer said toys be hidden. A great way to get the best of both worlds is to place large baskets at the bottom of open shelves a la House by Hoff. Stylish and functional — win-win.
4. (Shoe) storage ottoman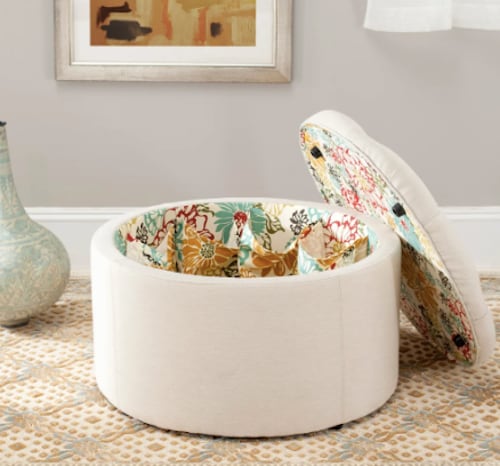 OK, so technically speaking, this ottoman with storage is for shoes, but think of all the little things (and kids do love little things) that can be stored in each compartment (in addition to the middle). Small blocks, LOL Dolls, action figures. The options are endless.
Where to buy: Safavieh Shoe Storage Ottoman ($183, Overstock)
5. Bench ottoman with storage
If you want a bigger ottoman, go for one that can double as a bench or footrest — and that has storage, of course! A stylish addition to any home, this makes for great living room toy storage.
Where to buy: Ornavo Home Tufted Storage Ottoman ($73, Walmart)
6. Hanging storage baskets
Whether you hang them outside a closet door or from the wall, these hanging storage baskets make for smart living room toy storage. And they can kind of work as decor to boot.
Where to buy: Basstop Hanging Baskets ($17, Amazon)
7. Craft drawers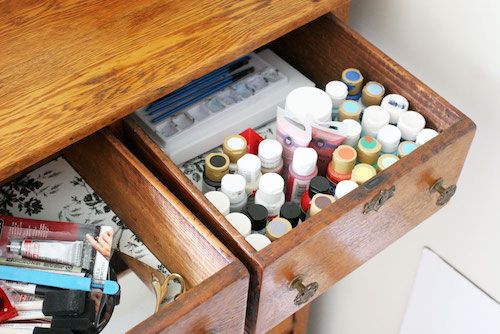 Got a dresser or media console in your living room? Why not use the drawers to store — and organize — craft supplies? Each drawer can house something different — paints, glues, paper, etc. — making for a more organized craft time. Check out Creativity Designs's detailed post on craft storage in a dresser.
8. Small (cute) boxes with lids
Talk about a cute little storage box. These natural-looking boxes with lids from — where else? — IKEA are a great living room toy storage solution. Think storage for Pokemon cards, small games or trucks and cars.
Where to buy: Smarra Box With Lid ($19, IKEA)
9. Small space living room toy storage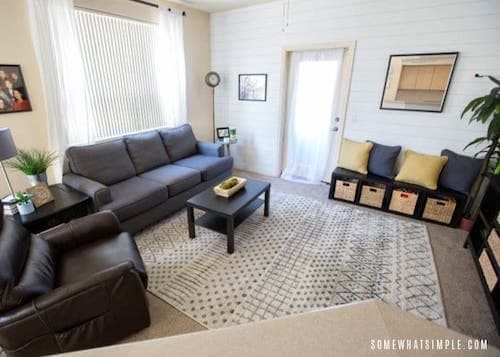 This small space toy storage setup from Somewhat Simple really nails it. Not only does the bench go with the style of the rest of the room, it does double duty, serving as a space to sit and significant toy storage.
10. Storage with doors
Is the Besta design one of IKEA's most functional? Quite possibly! Whether you get this exact product or a similar cabinet for your living room, it's great for putting kids' toys on the shelves — and then shutting the door. One of the easiest hidden toy storage ideas!
Where to buy: IKEA Besta Storage Combination ($390, IKEA)
11. Convert the coat closet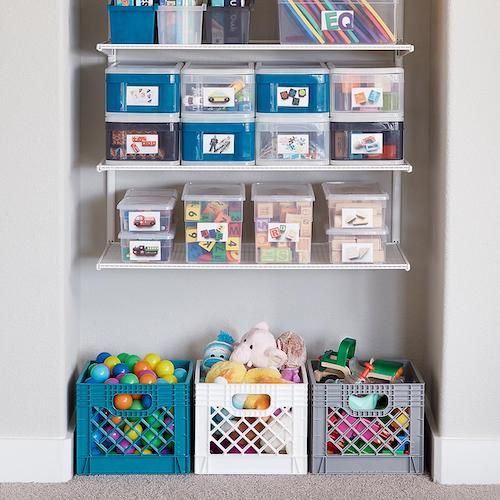 If you have a coat closet in or near your living room, consider converting it to a toy closet. With some shelves, bins and lidded containers, your kids could have the ultimate toy stash in arm's reach.
Where to buy: Large Shoebox Containers ($5 each, The Container Store)
12. Wicker toy trunk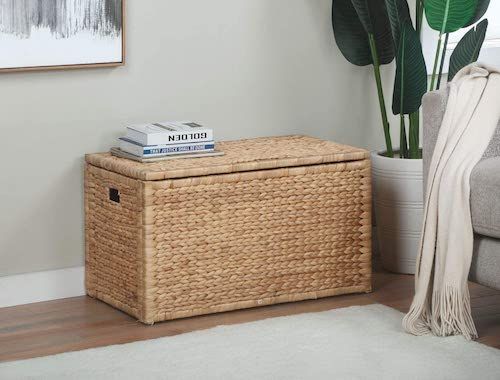 Whether you're storing throw blankets or toys in them, wicker trunks are always a good idea. Perfect for stuffed animals, dolls and other items that can be "thrown" inside, this chest is great for chic living room toy storage.
Where to buy: eHemco Wicker Storage Trunk ($160, Amazon)
13. Hidden toy box
A living room toy storage idea you may want to steal? This hidden toy box idea from Honey We're Home. Simply buy a toy box in a similar color to your media center or other furniture and tuck it away!
14. Pop-up coffee table
What a cool coffee table — for adults or kids! While adults could use this to bring their laptops closer to them while they work, for kids, it's the perfect art storage and drawing station. And — need we say it? — it's super stylish.
Where to buy: Norre Pop-Up Coffee Table ($400, West Elm)