Looking for ways to entertain a 3-year-old? Kids this age don't require much to be captivated, but it's still good to channel that seemingly endless energy into activities that will help them learn and develop.
Our experts offer suggestions for keeping toddlers interested — and on their toes!
Let them be creative
"Three-year-olds are little scientists, discoverers, inventors and creators," says Dr. Rebecca Schrag Hershberg, author of "The Tantrum Survival Guide." "They're constantly exploring, taking in the world around them and figuring out their role within it. Because of this, some of the best games for this age group capitalize on their imaginations in an open-ended way. Think blocks, costumes and paints."
Hershberg notes that, while some of these activities may be a little mind-numbing — and let's face it, messy — they're some of the most rewarding and enriching ways your child can spend his time.
"Three-year-olds truly delight in sharing their creativity with those they love most," she says.
Use games to develop important skills
There's a plethora of toys and games out there geared toward preschoolers, and with good reason: They can be both fun and help kids develop vital skills. That said, it's all about choosing the right products.
"When purchasing games for 3-year-olds, look for ones that challenge kids' dexterity and memory skills, and help them learn basics like language and counting," says Marissa DiBartolo, editor-in-chief of the Toy Insider. "It's all about fine motor skill development, patience, turn-taking and memory. Games are great educational tools at any age, but they are especially important for preschoolers. This is where kids are learning to count, using comprehension skills to remember rules, and understanding the importance of good sportsmanship and healthy competition."
Keep things simple
Just as you want to keep activities for 2-year-olds simple, same goes for 3-year-olds. Sure, they're a little older and wiser, but they're still content with a few materials — and most of all, they just want to spend time with you.
Ready to find your child's new favorite activity? Here are 14 games and activities sure to be a hit with 3-year-olds.
Imaginative toys and activities
1. Doll doctor
Paging all future med students! Not only is playing doctor with your child — on their dolls, dinosaurs or even each other — a great role-playing activity, it may also help assuage any pediatrician fears your child may have. Really, you don't need much for this game — a doctor playset, if you have one. But your child's creativity is infinite, so a pair of earmuffs will likely easily suffice as a stethoscope for them.
Where to buy: B. Toys Doctor Playset ($13, Target)
2. Magna-tiles
If you're not already on the Magna-Tiles train, you're doing yourself — and your little one — a disservice. These award-winning plastic tiles that connect via — you guessed it — magnets will provide years of imaginative and problem-solving play for kids, starting at about age 3. And as time goes on and your little one's skill set advances, you can add to your collection with new shapes, colors and sizes.
"I love Magna-Tiles," says Hershberg. "They help teach fine motor coordination in a playful, humorous way."
Where to buy: Magna-Tiles 32-Piece Solid Colors Set ($50, Amazon)
3. Nature hunts
Even if your "nature hunt," like this one from Heart of Blooms is just around the block, it's sure to be a slam dunk with your 3-year-old. Not only will it provide your fidgety preschooler with some much-needed exercise and fresh air, it will give him a chance to connect with nature — and you. And no matter which approach you take — lazy walk through the woods, flower hunt, foraging mission — it's completely, totally free.
4. Kids' kitchen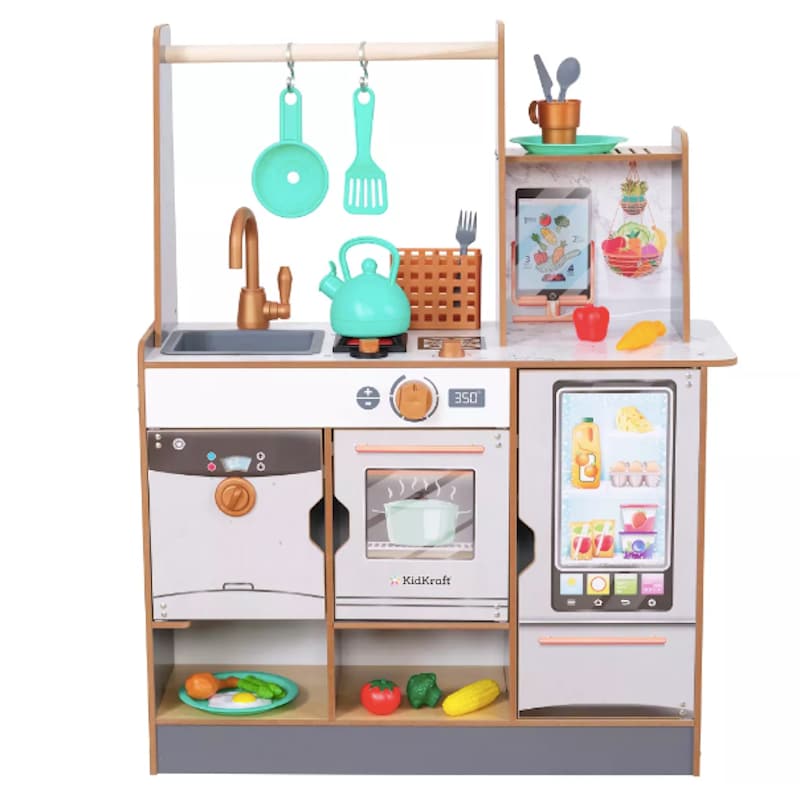 There's a reason play kitchens have been around since the dawn of time: They provide hours upon hours of entertainment for children. Whether your child wants to serve you up the daily special or engage in independent play by mimicking what you do in the kitchen, there's no going wrong with this classic toy.
Where to buy: KidKraft Boho Bungalow Play Kitchen ($140, Target)
Art and sensory activities
5. Kinetic Sand
Another favorite of Hershberg's is Kinetic Sand, which, unlike sand from the beach, easily sticks and molds together. Perfect for creative and sensory play, this is a great toy for the back yard or the kitchen table, as it cleans up — and stores — easily.
Where to buy: Kinetic Sand Folding Sand Box ($20, MacroBaby)
6. Rainbow rice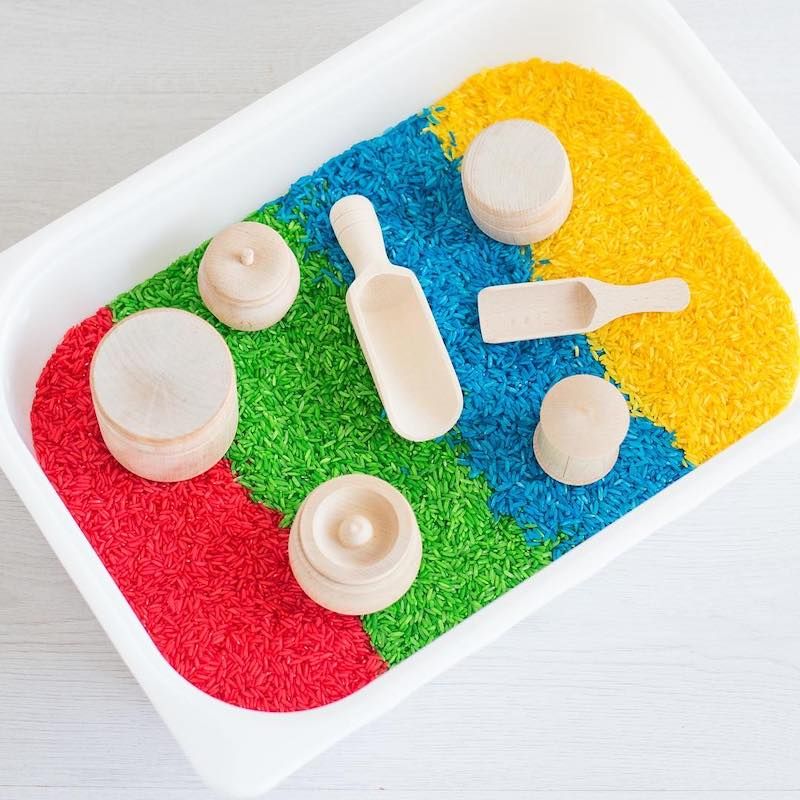 Will your child's rainbow rice wind up staying in neatly divided sections like this gem from Little Lifelong Learners? Definitely not. But they'll love scooping, digging, raking and pouring the brightly-colored rice into different containers and bins. To make rainbow rice, simply combine rice, vinegar and food coloring in a bag or plastic container; shake it up; and let it dry on a baking sheet.
7. Cereal rainbows
If you have construction paper, a glue stick, cotton balls and some Froot Loops or other ROYGBIV-hued cereal, you can have this cute Froot Loop rainbow craft from Amy Which Way Blog. And once you have the rainbow under your belts, you can try your hands at other Froot Loop crafts, such as birdfeeders and flowers.
8. Painting
Yes, it's messy, but there are serious benefits to painting for your child. An open-ended activity that will help your child exercise his imagination, painting — be it a piece of paper, a ceramic figurine or a box — will develop your 3-year-old's social, emotional, cognitive and even physical development. Worth the cleanup? Definitely.
9. Worm rescuing
Three-year-olds love to hunt and explore, so this cute "worm rescuing" activity from Taylor Finnerty is a fun way to spend an hour. Place some wet spaghetti (worms) in chocolate pudding (mud) and have your little one hunt for them with a magnifying glass (if you have one), and then rescue them with kid-friendly tongs. It's great for honing fine motor skills.
10. Water Beads and shaving cream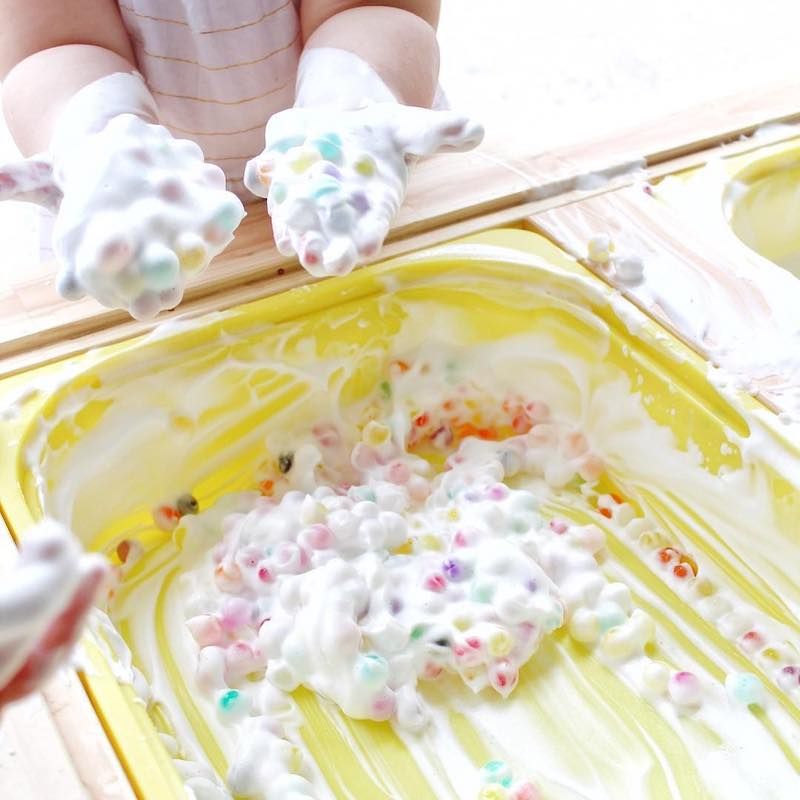 Why let your child play with just Water Beads when they can play with Water Beads and shaving cream? Double the mess? Yes. But definitely double the fun. Hide Water Beads under a bed of shaving cream, a la Little Learning Club, and have your child find them. Simply wash the beads — and your child — off when you're finished.
Board games for 3-year-olds
11. Pick Me Up, Piggy!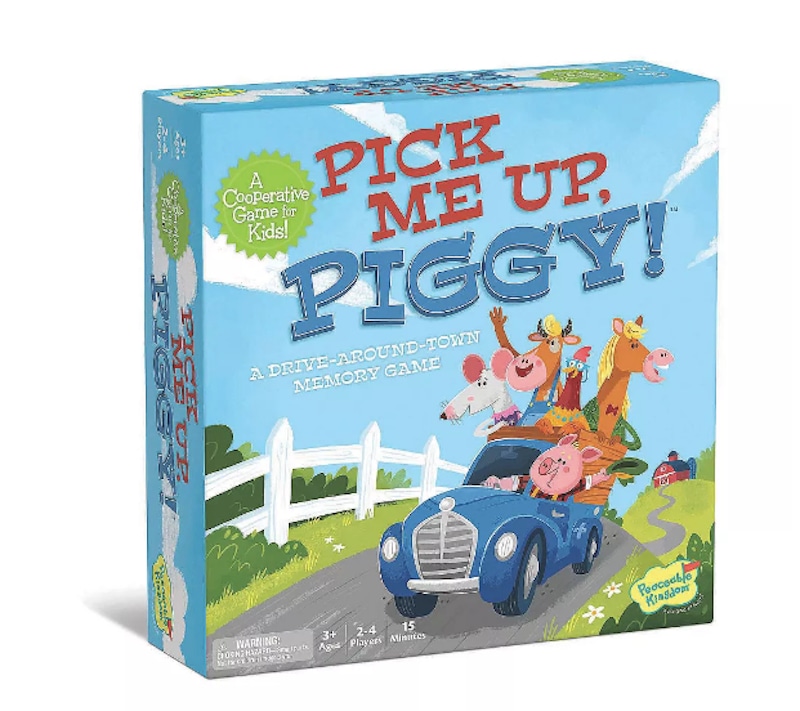 "Pick Me Up, Piggy!" is a great game for preschools because it combines so many important educational elements into one adorable game," says DiBartolo. "Kids must tell stories, find their hidden farm friends and best of all, work cooperatively as a team." Win-win.
Where to buy: Pick Me Up, Piggy! Memory Game ($28, Target)
12. The Sneaky, Snacky Squirrel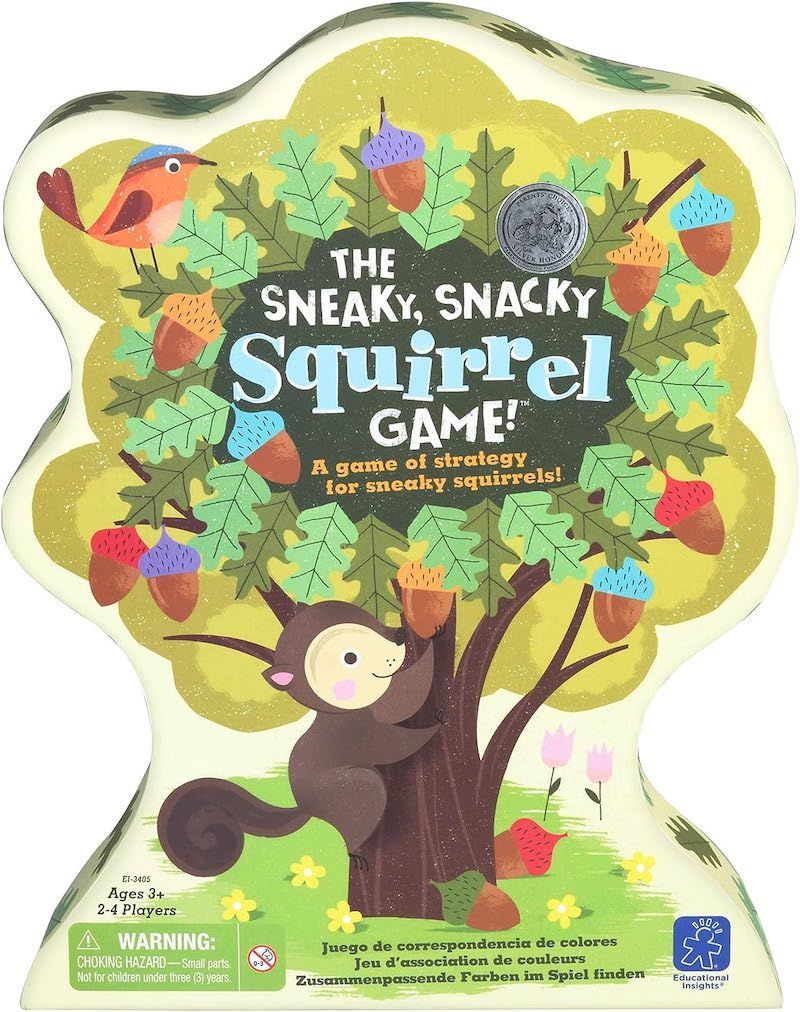 The Sneaky, Snacky Squirrel is one of Hershberg's favorite games for 3-year-olds, and with good reason: It's simple; it will get kids laughing; and it will help them learn their colors, as well as develop their sorting, matching and strategic thinking skills. And nope, no reading required!
Where to buy: Sneaky, Snacky Squirrel Game ($23, Amazon)
13. The Very Hungry Caterpillar Bingo & Matching Tin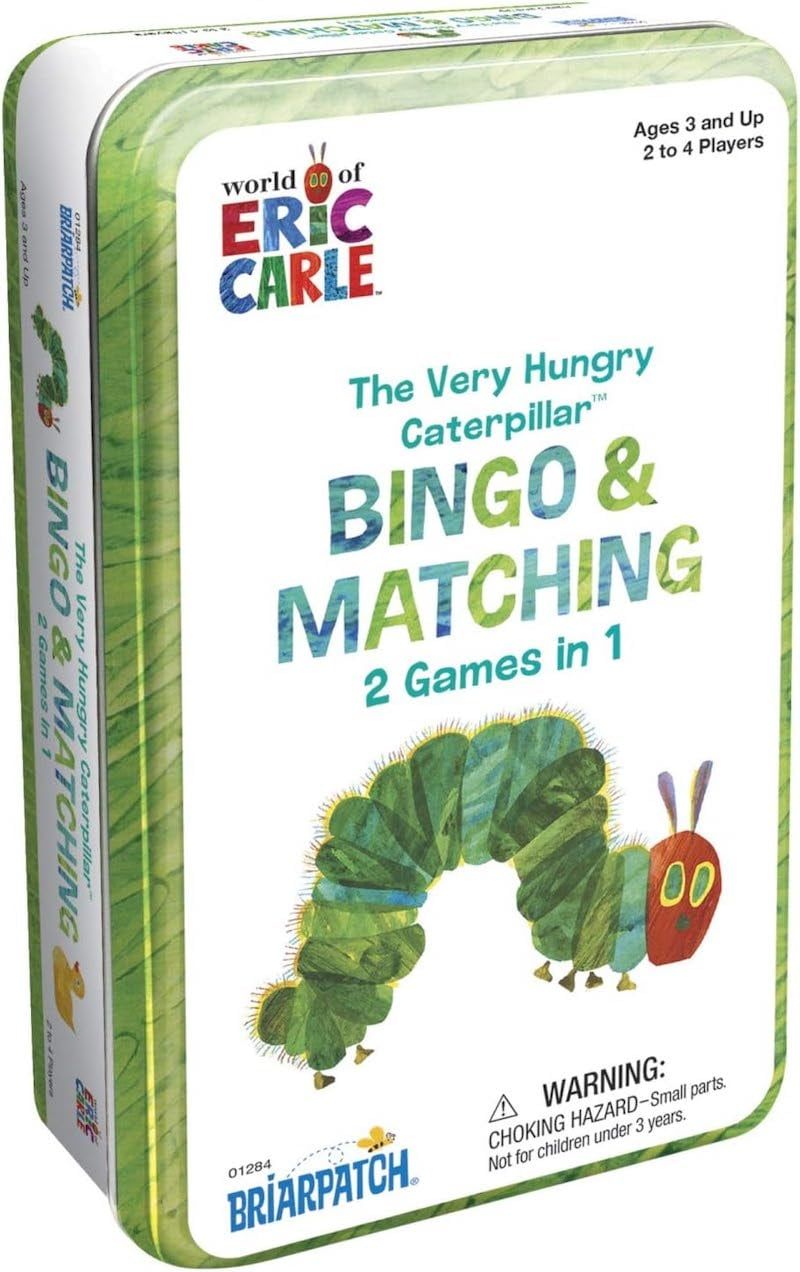 The Very Hungry Caterpillar Bingo & Matching Tin is two age-appropriate games in one.
"This one of my favorites because it features one of kids' most beloved characters, plus it lets kids play two ways: Bingo or matching," says DiBartolo. "And I love that everything is stored in a tin for easy travel."
Where to buy: The Very Hungry Caterpillar Matching & Bingo 2-1 Educational Card Game Tin ($11, Michael's)
14. Pinkfong Baby Shark Let's Go Hunt! Fishing Game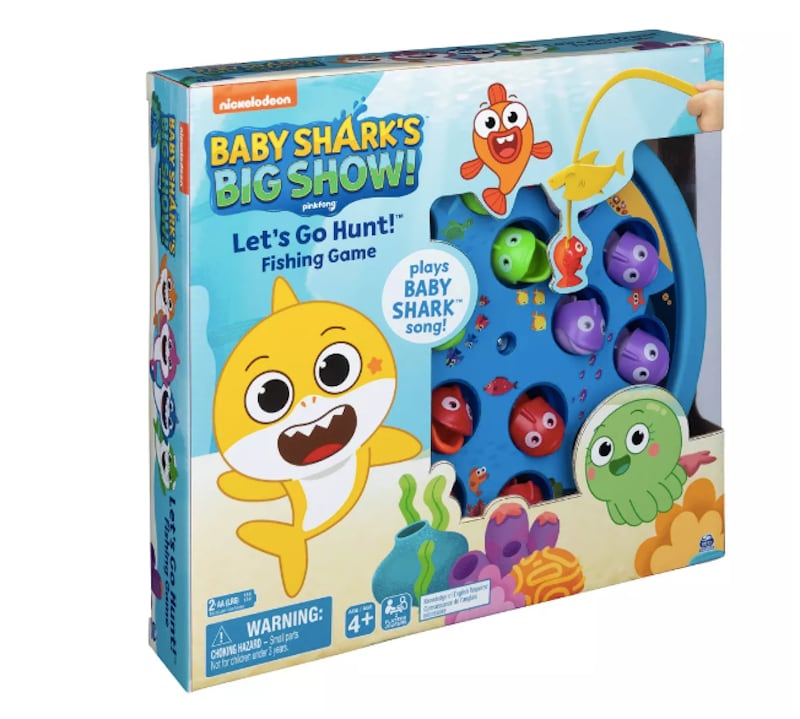 If you thought the tune of Baby Shark was gone from your head forever, think again.
"The Baby Shark Let's Go Hunt! game is an awesome option that's brand new," says DiBartolo. Let's Go Fishin' is a classic game that helps kids enhance hand-eye coordination, and now the game incorporates one of the most viral dance songs of all time: Baby Shark!
Where to buy: Pinkfong Baby Shark Let's Go Hunt! Fishing Game ($13, Target)