Whether your little one has just transitioned from a crib to a bed or they're just growing up, it's only natural for parents to wonder when to give a toddler a pillow. After all, giving a child a pillow before they're ready can pose serious hazards.
"The use of pillows is never recommended for infants due to the risk of suffocation," says Dr. Maria Melendres, a pediatrician at Johns Hopkins, who specializes in pediatric sleep apnea. "The risk is still there for young toddlers, but to a lesser degree. For toddlers who are developing normally, a pillow can usually be introduced around the age of 2."
That being said, there are things to know when it comes to introducing a pillow to your toddler.
When can a toddler have a pillow? And is it even necessary?
In short, no. While toddler pillows are generally considered safe for kids 2 and up, they're certainly not necessary. In fact, if a child is sleeping fine without a pillow, you may want to hold off. 
"It's important to keep in mind that pillows are used to add comfort for a toddler," says Carolina Romanyuk, a certified child and family sleep consultant, specializing in pediatric sleep hygiene. "But some toddlers are super-comfortable without a pillow."
If you're not sure whether or not your child would benefit from a toddler pillow, Romanyuk recommends taking note of how your 2-year-old sleeps with a stuffed animal or blanket. "If your toddler is resting their head on a blanket or stuffed toy, they're probably ready for a pillow," she says.
Potential toddler pillow hazards
If you do plan on transitioning your toddler to a pillow, here are six potential hazards to keep in mind, along with recommendations and expert advice.
Hazard #1: Using a pillow that's too big
Just as you wouldn't give your child a pair of your shoes when they're first learning to walk, you shouldn't give them an adult-sized pillow early on either.
"Because of the size of a toddler, parents should get a smaller kids' pillow that fits their head and neck properly," says Dr. Jen Trachtenberg, a pediatrician in New York City. "A toddler pillow that isn't overly thick and fluffy will also decrease the risk of suffocation, as will a pillowcase that fits snugly."
The safer bet: A Little Pillow Company Toddler Pillow
Kids will love that this pillow is the perfect size, making it great for bedtime, preschool or even travel. Parents will love that it's machine washable because #stomachbug.
Where to buy: A Little Pillow Company Toddler Pillow ($30, A Little Pillow Company)
Hazard #2: Using a pillow that contributes to allergies
Think all pillows are stuffed equally? Think again.
"It's important to know your child's allergies before transitioning them to a pillow," says Romanyuk. "When choosing a toddler pillow, know what the filling is made from, as well as the materials in the pillow covering. For instance, natural feathers are rarely recommended by allergists since they can trigger a reaction in many kids."
The safer bet: KeaBabies Hypoallergenic Toddler Pillow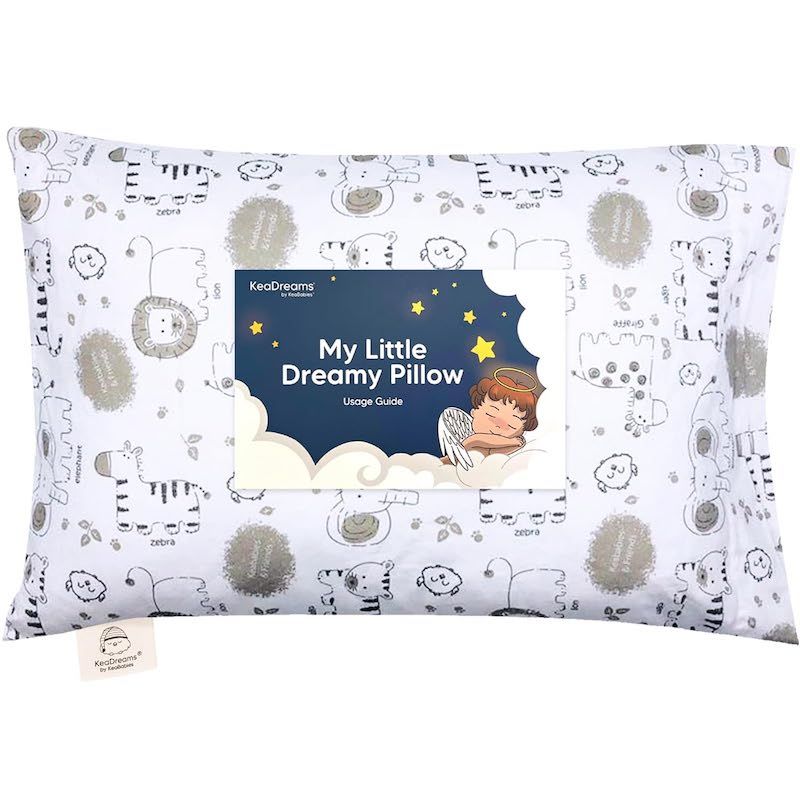 "Since young kids can be sensitive to allergens, I usually advise parents to invest in a hypoallergenic pillow," says Trachtenberg.
Where to buy: KeaBabies My Little Dreamy Pillow ($25, Amazon)
Hazard #3: Using a pillow that's too soft
As you've gotten older, you've likely fine-tuned your pillow preference. But a "starter pillow" for your little one should be flat and firm.
"When your child is ready for a pillow, go for one that's soft but firm to provide optimal support," Romanyuk says.
She recommends the following trick: "When you place a hand on the pillow, you don't want it to indent your hand print. The pillow should be firm enough that once you release your hand, it goes back to its shape relatively fast."
The safer bet: Little Sleepy Head Original Toddler Pillow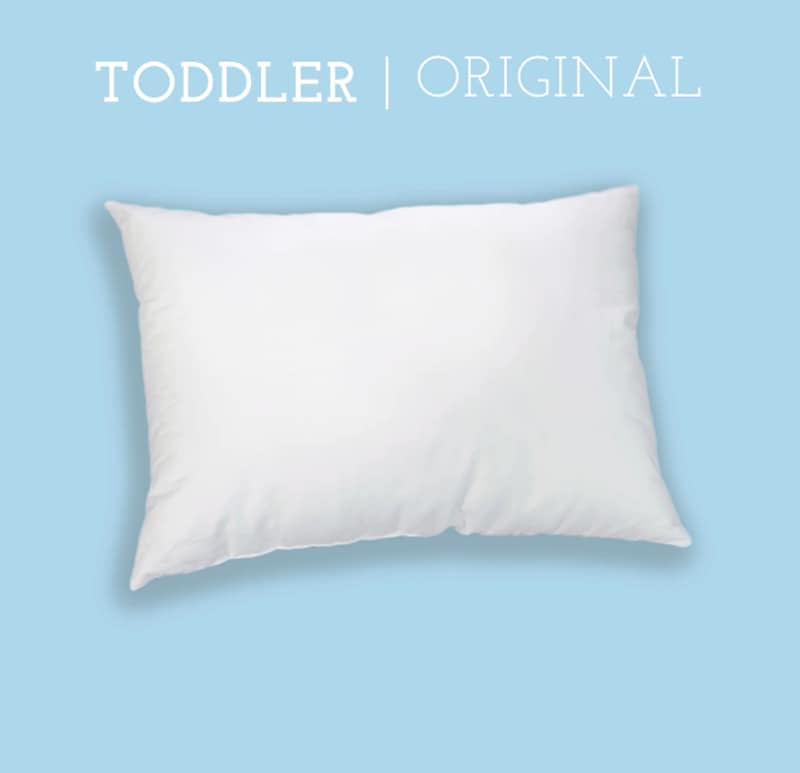 One of the best parts of this toddler pillow? They have a "love your pillow's fluff or we will change it" guarantee.
Where to buy: Original Toddler Pillow ($20, Little Sleepy Head)
Hazard #4: Putting a pillow in your child's crib
If your child is 2, or even 3, and still sleeping in a crib, don't feel the need to give them a kids' pillow. While they may be beyond the age where suffocation poses a real risk, objects inside the crib, such as blankets and pillows, can disrupt sleep — particularly as kids become more aware.
"The issues I often find with pillows and blankets in cribs with toddlers are behavioral," says Linda Szmulewitz, licensed clinical social worker and certified gentle sleep coach. "Toddlers will sometimes resort to throwing them out of their crib and insisting that their parents come back to return everything or re-cover them, resulting in fragmented sleep for everyone."
That said, unless your toddler is asking for a pillow, forgo one as long as they haven't moved into a bed — and even then, it's not immediately necessary.
The safer bet: No pillow for now.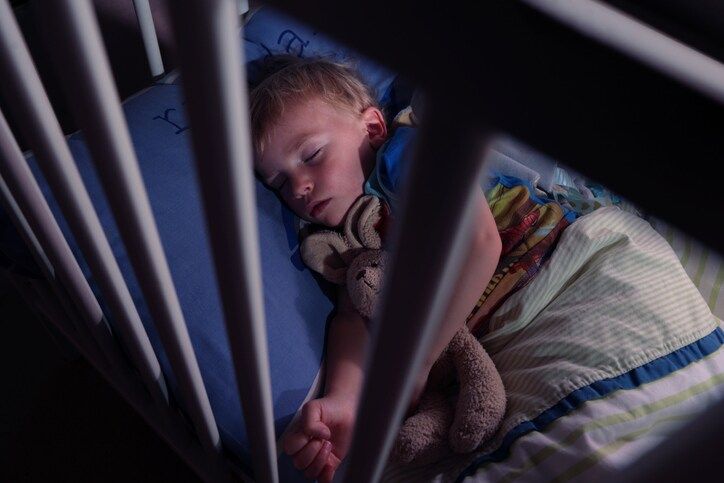 Hazard #5: Giving your toddler a pillow too early — even if they're in a bed
On the flip side, a bed doesn't automatically equate a pillow since babies and toddlers move out of cribs at varying ages.
"If your child is transitioning to a bed younger than age 2, do not introduce a pillow," says Jennifer Gilman, a certified sleep consultant in New Jersey. "Infants and toddlers are used to sleeping on a bare, flat and firm surface, which is the safest sleep environment for them."
This means you can absolutely transition your toddler to a bed without a pillow.
"Our idea of comfort as adults is very different from what our children are used to," says Gilman. "There is no need to worry that they are uncomfortable, because sleeping without a pillow is all they've known."
Also, there's a good chance they won't stay on the pillow in the beginning anyway.
"Children don't enter that stage of paralysis in their sleep that we do as adults until the age of 3 or 4, so they shift around a ton and don't necessarily stay on a pillow or under blankets," says Szmulewitz.
The safer bet: No pillow for now.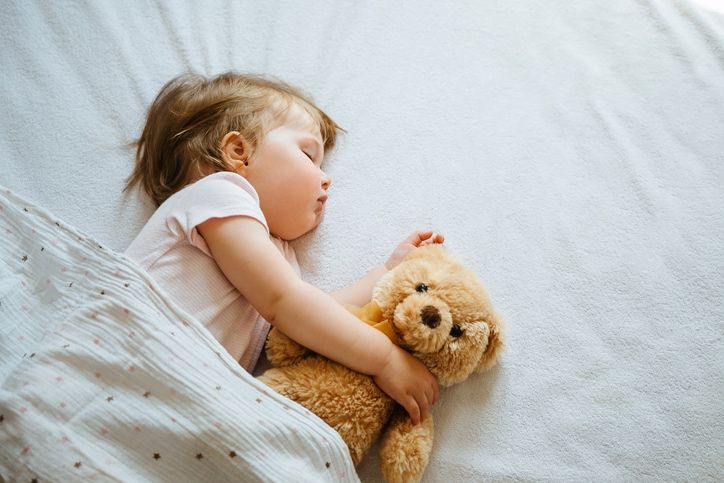 Hazard #6: Using a pillow with dangerous filling
When looking for the best toddler pillow, definitely opt for one that isn't filled with small, hard grains or seeds, such as buckwheat or millet.
"Don't give your toddler a pillow with pellets or small particles that could be a potential choking hazard," says Trachtenberg. "Instead, give them a fiber-filled pillow."
Typically, grain-filled pillows are geared toward eco-minded adults, which is all the more reason to stick to toddler-sized pillows.
The safer bet: Pottery Barn Kids Eco Down-Free Toddler Pillow
Filled with 70% recycled polyester and 30% Tencel fiber, the Eco Down-Free Toddler Pillow from Pottery Barn Kids is free from small pieces, making it safe for toddlers. And parents will love that its cover is made of 100% organic cotton.
Where to buy: Eco Down-Free Toddler Pillow ($39, Pottery Barn Kids)
The bottom line
No matter how old they are, keep in mind that many kids don't take to using a pillow right away.
"Don't be surprised if your child doesn't actually use the pillow at first, or if it is thrown out of his bed," says Romanyuk. "Your child will start to sleep with a pillow when they are ready."