While your child's 1st birthday may have involved little more than party hats and a smash cake, the ante must be upped when they turn 2. Not only is your little one more active and more social this year, they've also developed their own unique set of likes — three things that make for a perfect guest of honor!
Before you send out the invitations for your toddler's big day, consider these helpful 2-year-old birthday party tips.
Cater — literally — to 2-year-olds
If there's one thing toddlers unanimously love, it's snacks, so be sure to have plenty of safe and nutritious foods available for munching.
"When it comes to toddler birthday parties, parents should keep the food simple, healthy and accessible to children," says Dayna Tolley, owner of Party On! Events in Texas. "Cut-up fruit, yogurt cups and finger foods like chicken nuggets or tiny PB&J sandwiches always work well."
Be sure to find out if any kids attending have food allergies, so you have options available for them, as well.
Time it right
Remember, most 2-year-olds still nap, so be mindful of the time you're scheduling the party.
"For an optimal experience for all, the party should be scheduled midday, sometime after their nap," says Jordan Stringfellow, owner of Jordi & CO Events in Southern California.
Stringfellow notes that when a party is too close to naptime, party guests — as well as the birthday boy or girl — may get sleepy and cranky.
Another timing issue to keep in mind? Attention spans!
"Two-year-old birthday parties should be short, as toddler attention spans are short: Two-and-a-half to three hours tops is plenty, which should include free play, some activities and cake," Stringfellow says.
Keep it interactive
While 2-year-olds will be delighted to see classmates and other people they love, don't expect them to entertain themselves — or be too still.
"At 2, the attention span for crafts isn't quite there yet, so interactive entertainment is usually the best bet," says Tolley. "Anything that adds a fun and unique touch for guests, such as balloon artists, bounce houses or costume characters, is sure to be a hit."
Have stations
"Stations that allow toddlers to play together are great, but make sure there is one of each item per child, so territorial crises don't ensue," says Stringfellow. "Also, each game or center should be run by at least two adults: one running the game and the other tending to the children so that they take turns."
Keep it contained
Parents of toddlers know to keep an eye on kids at all times. Nonetheless, it's important to keep the party area safe and well-secured since this age group is always on the go.
"Whether you're having a home-based birthday party or renting space at an indoor venue or outdoor park, keep your space well-defined, and make sure at least one parent is staying to tend to their children," says Stringfellow. "Toddlers are constantly on the move, and the pressure for the hosting parents to keep all the kids safe is huge."
Pick what your child loves and stick to it
Be it a favorite book, show or activity, all 2-year-olds have their thing — use it.
"Choose a theme based on whatever captures your child's imagination most," says Stringfellow. "Then, carry that theme throughout the party from the invitations to the favors to, of course, the cake."
Now for the fun stuff. Here are 15 brilliant 2-year-old birthday party ideas.
1. Petting zoo
"A petting zoo is always a huge crowd favorite with this age group," says Tolley.
And if you're worried about ponies traipsing over your azaleas, don't. There are plenty of small-scale petting zoos (think bunnies and chicks) available for kids' parties.
2. Bounce house
When it comes to 2-year-old birthday ideas, it doesn't get much better than a bounce house. Jumping up and down in a soft, colorful structure for an hour straight? That's any toddler's dream.
3. Bubble party
Bubble parties are super cute and super easy — and there's more to them than just soap and water. In addition to blowing and chasing bubbles, kids (and adults!) can pop bubble wrap. Talk about a sensory sensation.
4. Sandcastle party
If you can't make it to the beach for your 2-year-old's birthday party, don't worry. They — and all of their friends — will have just as much fun making sandcastles in a sandbox or sand table in the back yard. Just be sure to have enough shovels and pails for everyone!
5. Art party
Whether they're coloring, finger painting or drawing on the patio with chalk, an art-themed party is a great way for any 2-year-old to spend a few hours. (And it's super-cheap, to boot!)
6. Circus party
If you're feeling ambitious, a circus-themed party, like this one from Annachiara Canelli, will provide the opportunity for tons of toddler-friendly activities. Think popcorn, clowns (if your child isn't scared of them) and lots of red-and-white-striped decor.
7. Character party
Hiring your child's favorite character to come play games and sing songs with the kids won't just entertain the little ones, it will give you a break, too. Check out Captain America and Spider-man, Miles Morales-style, at a party from Just4Fun Mascots!
"You want to be able to spend time with your kids and enjoy the party, not run around like a crazy person, managing all of the logistics the entire time," says Tolley.
8. Face painting party
Bunnies, tigers and butterflies — oh my! For the 2-year-old age group, "face painters are always the number one go-to," says Tolley.
9. Rainbow party
There are about a zillion different things you could do for a rainbow-themed birthday party. And don't just think about decor — think cakes, cupcakes, goodie bags and even multi-colored sensory bins!
10. Favorite book party
Does your child have a book they ask you to read over and over? Why not turn it into the theme for their party? Think of all the snacks you could offer at a "Very Hungry Caterpillar"-themed party, like this one from Yaneisy Fernandez!
11. 'Sesame Street' party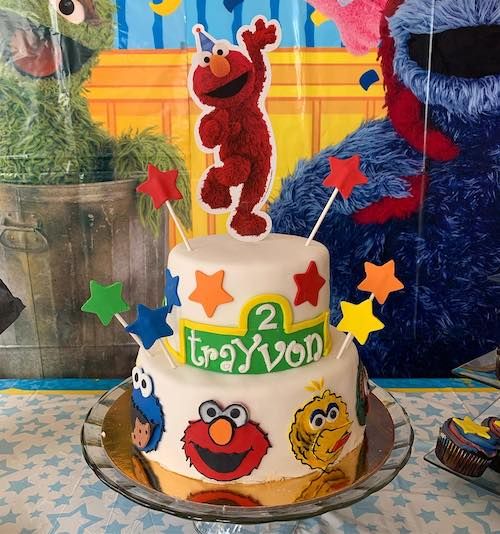 From the decorations to a possible character visit, the options for a "Sesame Street"-themed party are endless. And of course you need a super cute cake, like this one from Anna's Sweet Treats.
12. Water play party
If you're looking for summertime 2nd birthday party ideas that will keep everyone cool, what about a water play party? Kids will love splashing around in baby pools and sprinklers and playing with toys at a water table.
13. Balloon artist
Few things will widen a 2-year-old's eyes like a long balloon that's feverishly turned into a poodle. Hiring a balloon animal artist is a great way to keep kids entertained, and they make for super-cute party favors.
14. Construction-themed party
Traffic cones for decoration, mini hard hats as favors, toy trucks filled with snacks — there are so many ways to bring construction-themed parties to life. Check out the adorable digger cookies from Kayla Block — a must!
15. Ball party
A ball-themed party? Yes, really.
"Old-fashioned activities work best with this age group: blocks, sandboxes, simple relay races, and basic playthings, such as inflatable balls that are easy to kick and toss," says Stringfellow.
And in keeping with the theme, a baby pool filled with colorful plastic balls will make for guaranteed fun with toddlers — as well as seriously good photo ops.