Not long after your baby impresses you by pulling themselves up to stand on their own, they'll be using arm chairs, coffee tables, ottomans — you name it — to get from point A to point B (even if A to B is only in a circle). Instead of limiting your child's movement to a few pieces of furniture, broaden their horizons — and their mobility —  with a baby walking toy. Not only will you get a kick out of seeing them toddle around the house, babies can reap a number of physical and mental benefits from walking toys.
"Baby walking toys promote a sense of independence for children and allow them to explore and learn," says Vanessa Fox, an occupational therapist and owner of Movement With Meaning. "When introduced at the appropriate time, they can also promote muscle and bone development, as well as visual-motor and sensory development that establishes the foundation of early skills needed for reading, writing and socializing."
In addition to the physical benefits walking toys provide, they can also help strengthen your baby's mental muscles.
"While all walkers help toddlers learn to walk, some offer additional play value and can help build other skills — all while keeping kids engaged and entertained for long periods of time," says Marissa DiBartolo, editor in chief of the Toy Insider.
Before you test your little one's physical prowess with a walking toy, take their skill set into consideration, not just their age range.
"Every child develops differently, so it's crucial to observe your little one's skill level as opposed to her age when considering a walker," Fox says. "When your child can sit upright on her own while holding her head up, as well as being able to pull-to-stand, baby walker toys can be used. Also, please remember that babies should always be supervised when using a walker."
Ready to increase your family's foot traffic? Here are 10 of the best toys to help baby walk.
1. For physical and mental stimulation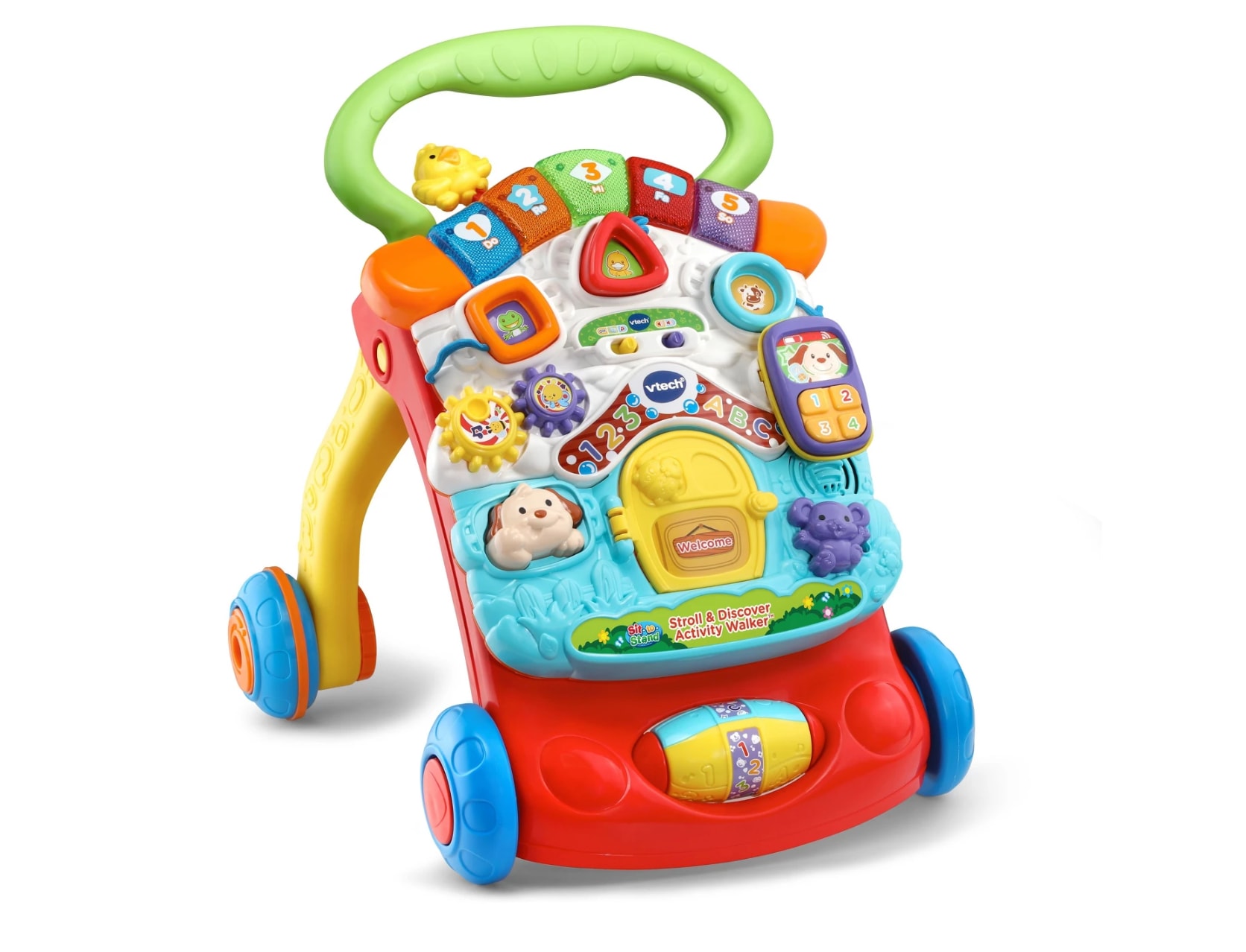 "One of my absolute favorite walking toys is VTech's Stroll and Discover Activity Walker," DiBartolo says. "This walker features a fully removable activity panel, so kids can hold onto the handle and push it along as they learn to walk, or they can sit in front of it while engaging with the many animals, piano keys and more, all while learning basic music notes, letters, and numbers."
Where to buy: VTech's Stroll and Discover Activity Walker ($36, Target)
2. More bang for your buck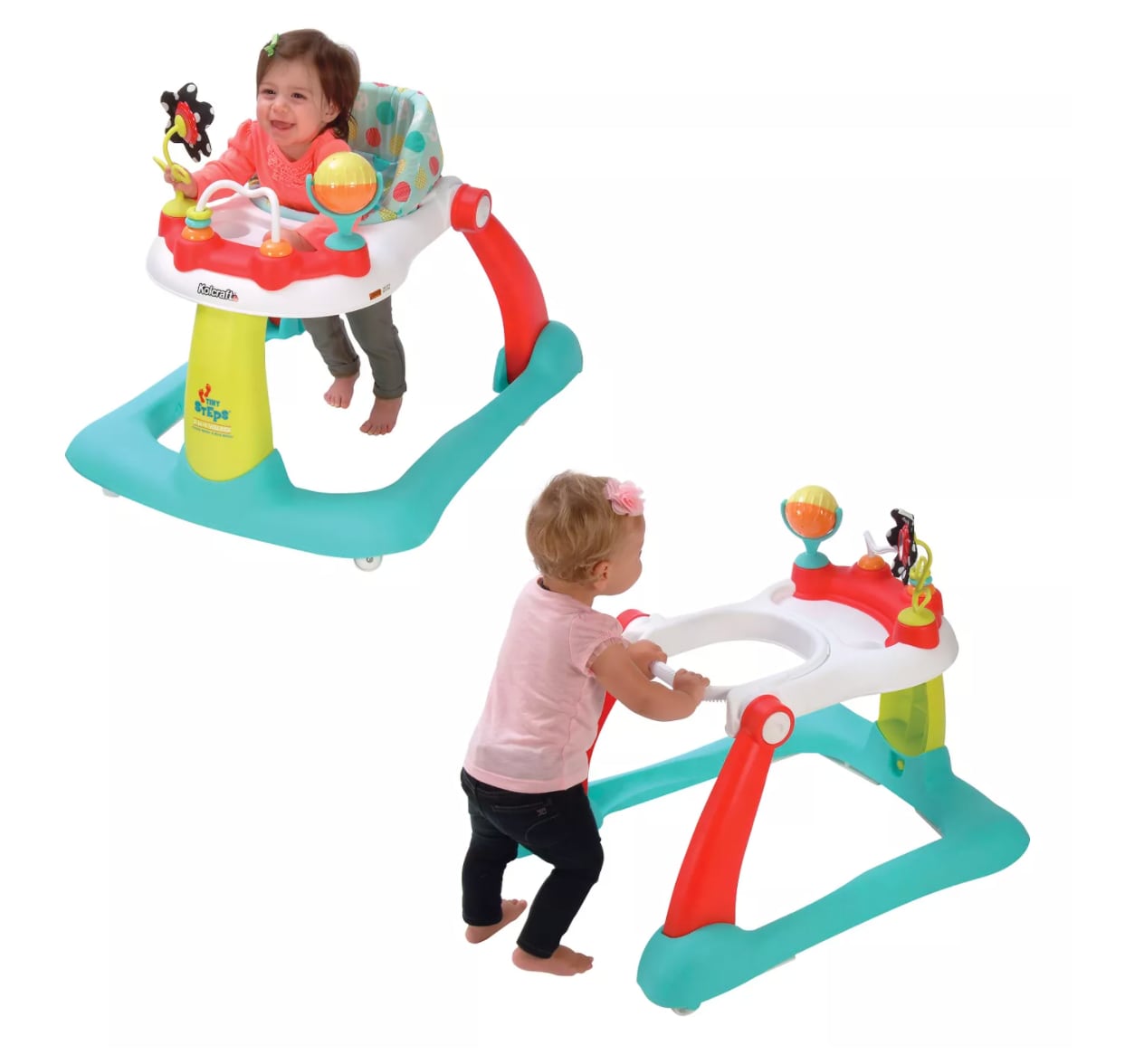 The Kolcraft Tiny Steps 2-in-1 Activity Walker can typically be used at an earlier age than most baby walking toys, because it starts out as a seated walker and converts into a standing walking toy for when your child is stronger and more mobile. Gear that works through multiple phases of babyhood? That's music to any parent's ear.
Where to buy: Kolcraft Tiny Steps 2-in-1 Activity Walker ($54, Amazon)
3. Unique and good-looking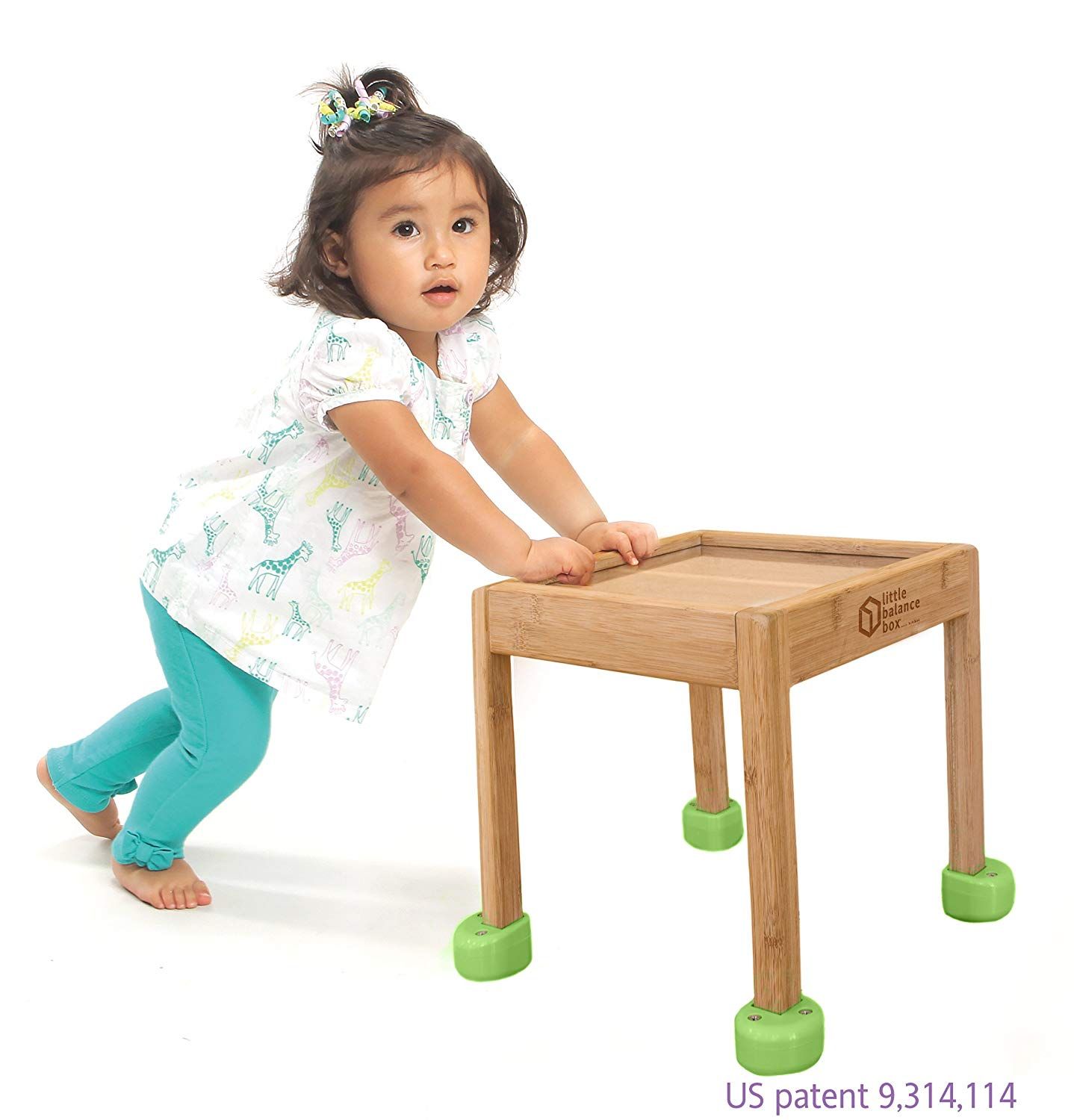 It's an activity table! It's a walker! No wonder the award-winning Little Balance Box 2-in-1: No Wheels Spring Feet Toddler Activity Table has so many five-star reviews on Amazon. Parents love both the eco-friendly design and that the spring-loaded feet keep baby moving slower than traditional wheel walkers.
Where to buy: Little Balance Box 2-in-1: No Wheels Spring Feet Toddler Activity Table ($72, Amazon)
4. Activities galore
"My son LOVED the Fisher-Price Learn With Me Zebra Walker," says Lisa Roche, of Park Ridge, New Jersey. "He got it when he was 6 months and played with it sitting down at first. Within a month he started standing up and then he took off! I had to hide it before bed to avoid tears. Recently, I took it out for my 6-month-old daughter to play with, and wouldn't you know, my son still loves pushing it around three and a half years later! This is a must-have."
Where to buy: Fisher-Price Learn With Me Zebra Walker ($25, Target)
5. Adorable and imaginative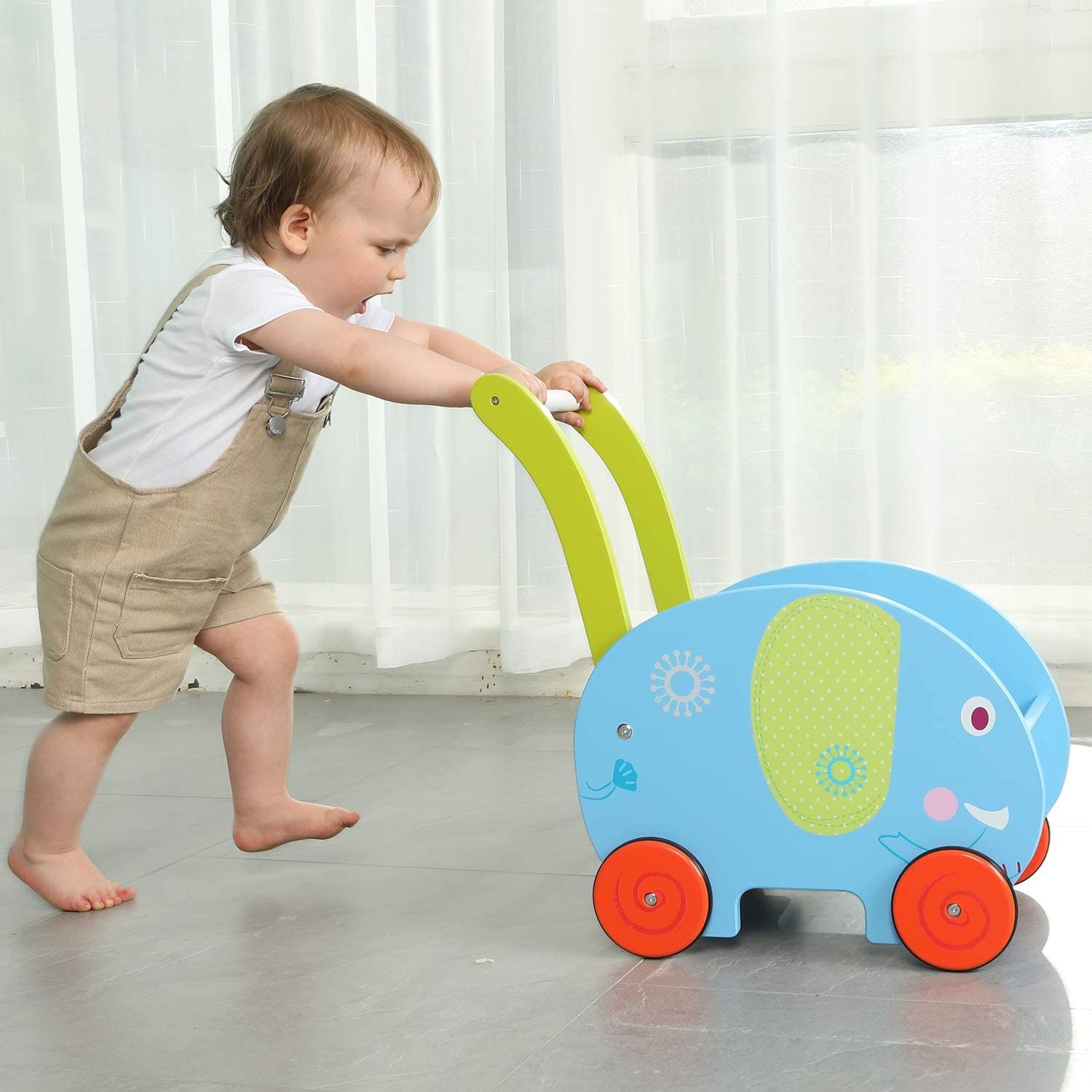 Not only is the Labebe Learning Walker Toy flat-out adorable, it's guaranteed to be a hit with kids for years to come. When babies are first learning to walk, they can pull themselves up by the sturdy handle and cruise around. When they're older and walking confidently on their own, this walker can be used as a prop for all sorts of imaginative play, including a baby carriage and a grocery cart.
Where to buy: Labebe Learning Walker Toy ($54, Amazon)
6. The noisy choice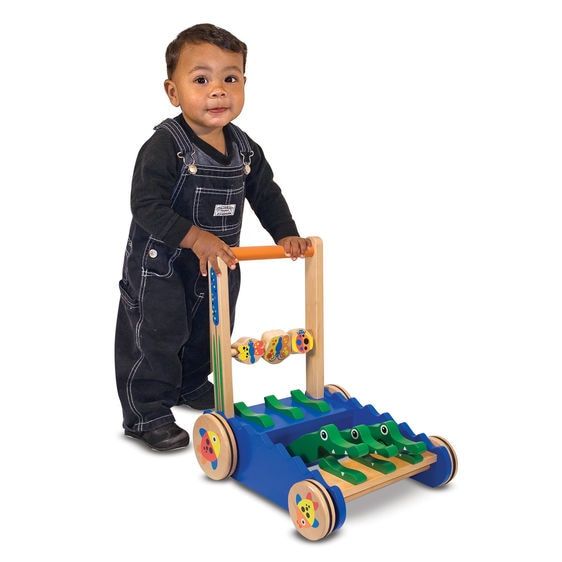 Clackity-clack, here comes baby! With the Chomp & Clack Alligator Push Toy, everyone in the house will know where to find the littlest family member.
"My son was a huge fan of this toy — and so was I!" says Jaclyn Santos, of Hazlet, New Jersey. "I loved that it was made of natural materials, and my son couldn't get enough of the noisy, chomping alligators. He started using it around 7 months and was walking confidently on his own well before a year."
Where to buy: Chomp & Clack Alligator Push Toy ($68, Melissa & Doug)
7. The deluxe walker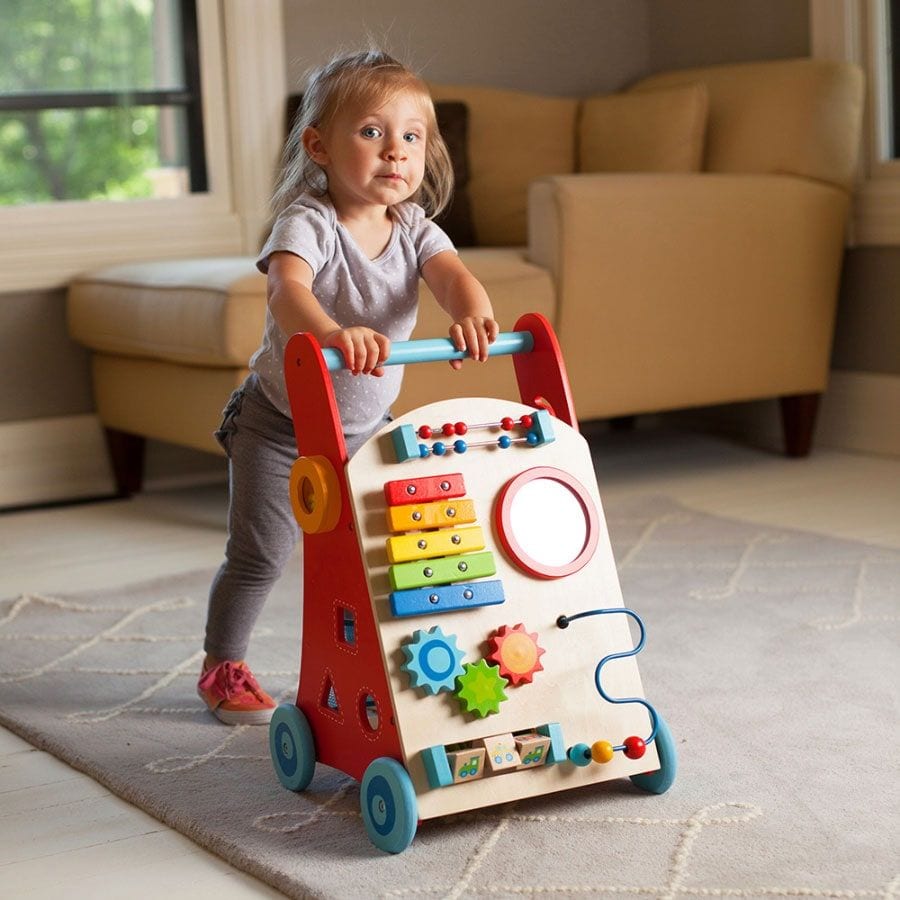 The Busy Baby Deluxe Walker is pretty much the Cadillac of baby walking toys. In addition to being seriously sturdy with rubber-lined wheels that offer a smooth ride with the perfect amount of resistance, it's chock full of multi-sensory toys. A bead counter, xylophone, spinning gears — you name it and the Busy Baby Walker has it. An added bonus? It has a net-covered storage space in the back for when your toddler has toys that need hauling.
Where to buy: Busy Baby Deluxe Walker ($80, Fat Brain Toys)
8. Incredibly affordable
Babies and toddlers will love all the sounds and activities that come with the Fisher-Price Laugh & Learn Smart Stages Puppy Walker — and parents will love the under-$20 price tag. It's hard to go wrong with this adorable and easy-to-store walking toy.
Where to buy: Fisher-Price Laugh & Learn Smart Stages Puppy Walker ($25, Target)
9. The classic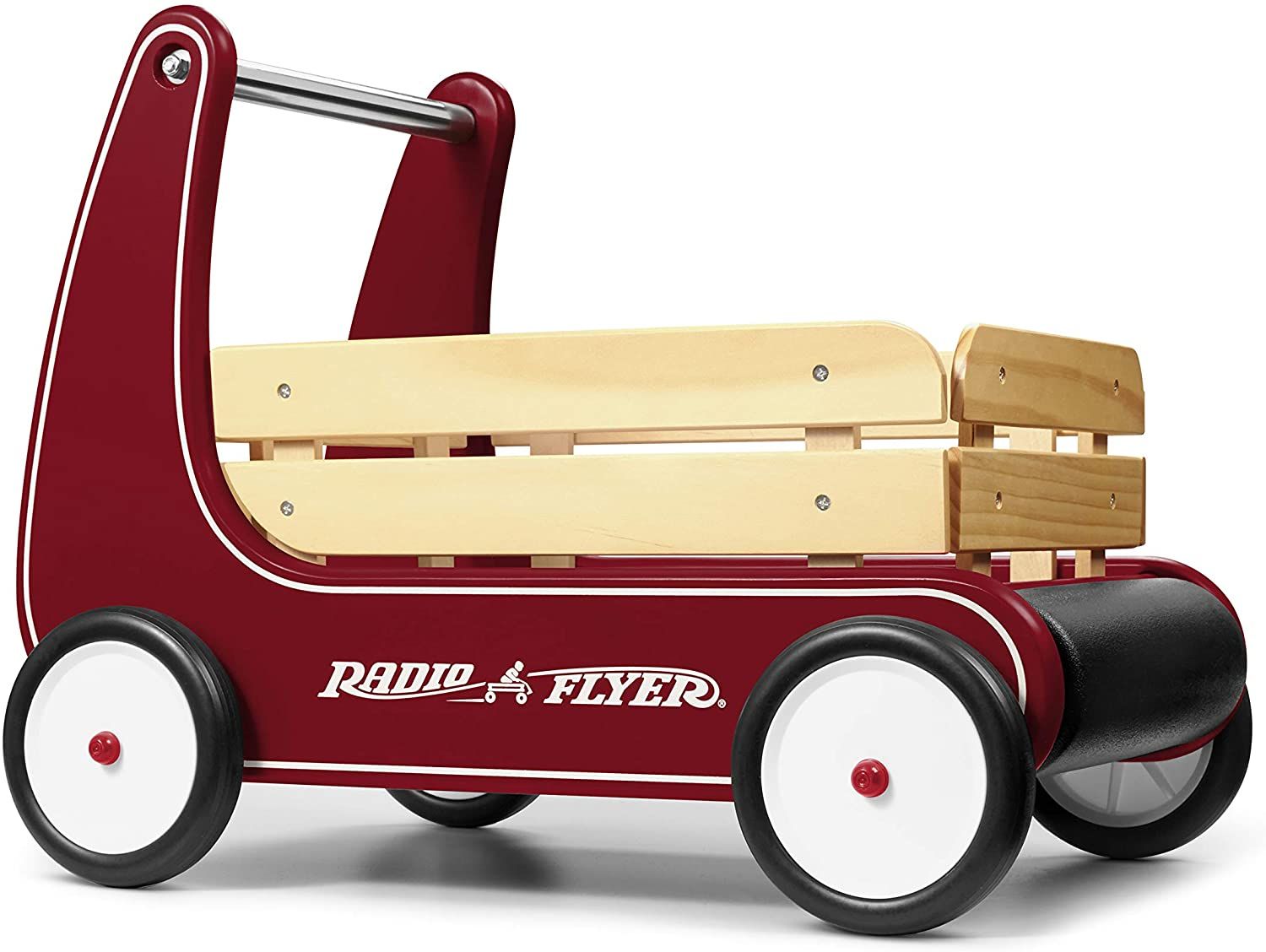 Few things go together like little kids and bright red wagons, which is only half the reason the Radio Flyer Classic Walker Wagon is an ideal baby walking toy. In addition to the resist push feature which allows babies and toddlers to walk slowly and steadily, this walker comes with a big storage space for important stuffed animals — and a bumper in the front to protect important furniture.
Where to buy: Radio Flyer Classic Walker Wagon ($79, Amazon)
10. The pretty choice
Leave it to Hape to make a baby walking toy look super chic. The wooden toy company's Block and Roll Walker combines sleek design and functionality with its walking toy/building block center. Before babies are ready to pull themselves up to walk, they'll get a kick out of playing with the colorful stacking blocks. And once they can go from sitting to standing, they'll love cruising around in style. Win-win.
Where to buy: Block and Roll Walker ($65, Hape)