Oceanside Retirement Communities
1 retirment communities in Oceanside, CA. Compare rates and read reviews to find the perfect place for your loved ones!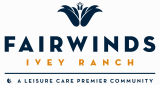 Fairwinds - Ivey Ranch Retirement Community is located in the desirable neighborhood of Rancho Del Oro, on the corner of Old Grove Road and Mesa Drive, near Ivey Ranch Elementary School, El Corazon Se...
Est. 2002
Established 2002

(1)

(1)