Give your children the world through full time (45 hrs/week), live-in Au Pair Child Care! Enjoy flexible schedules, child care help, and more from an international young adult who is eager to join your family for up to 2 years. All for one low cost of approx. $7.98 /hr for 1, 2, or more children!
Year Founded: Founded in 1984 & focused on delivering full time, live-in child care. Thousands of families have been delighted with Go Au Pair's personal support.
Awards/Accreditations: U.S. Department of State, 2 Winners & 2 Finalists of IAPA's (International Au Pair Association, www.iapa.org) Au Pair of the Year Award.
Special Offers: Visit www.GoAuPair.com and receive 45hrs/wk of live-in Au Pair child care and cultural experience @ ~$1,556/month.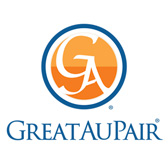 Choose GreatAuPair for the largest number of professionally screened and trained au pairs. Our au pairs are ready to interview with your family and they can arrive in just 3 weeks. Our dedicated staff is happy to assist you. Call us at 800.604.2507 or visit us at www.GreatAuPairUSA.com
Year Founded: Since 2001, GreatAuPair has been the global leader in au pair matching. We've simplified the matching process so you can easily find and host your ideal au pair in just 3 weeks.
Awards/Accreditations: US Department of State, A+ BBB Business Rating, BBBOnline, Alliance for International Educational and Cultural Exchange member.
Special Offers: Apply FREE - Save $300 and get instant access to au pairs. Plus, get $500 off Program Fees and pay no in-country airfare when hosting a new au pair for 12 months. Call us at 800.604.2507 for details.