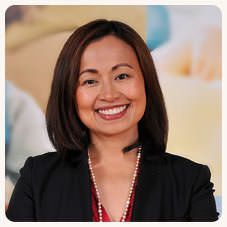 Sheila Lirio Marcelo
Founder, Chairman & CEO
"
Being part of the families we serve is both an honor and a responsibility. Making sure that we deliver for them is what drives and inspires me every day.
"
About Sheila Lirio Marcelo
Sheila's inspiration to found Care.com was the natural by-product of her personal and professional experiences. A young mother with two small children who also became part of the "sandwich generation" at an early age, Sheila was challenged to find quality care solutions. She knew this problem was not unique to her family and that there had to be a better solution than word-of-mouth or the phone book. Having simultaneously embarked on her career in technology, she knew that was the answer. Sheila founded Care.com in 2006 and today, the company is the largest online care destination in the world, with more than 9.7 million members across 16 countries.

Sheila's passion for technology developed during her time as a management consultant and a teaching fellow at Harvard Business School. Her growing appreciation for the power of technology to help solve real problems for people led her to Upromise, where she was VP of Product Management and Marketing for the service that helped families save for college, and then to executive search engine TheLadders.com, where she was VP and General Manager of TheLadders.com. Following TheLadders, she was an Entrepreneur in Residence at Matrix Partners.
As Care.com has grown and innovated, Sheila has been honored with numerous accolades, including one of the "Top 10 Women Entrepreneurs" (Fortune's Most Powerful Women Summit, 2009); "Entrepreneur of the Year Award for New England" (Ernst & Young, 2010); one of the "100 Most Intriguing Entrepreneurs" (Goldman Sachs' Builders and Innovators Summit, 2012); "10 Most Powerful Women in Boston Tech" (The Boston Globe's Innovation Economy, 2012); "Tech Luminary Innovation All-Star" (Boston Business Journal, 2012); and "Leader in Diversity" (Boston Business Journal, 2012).
She is also a Henry Crown Fellow with the Aspen Institute (Class of 2012); was awarded a Marshall Memorial Fellowship (2011); and was named a Young Global Leader by the World Economic Forum (2011).
Sheila is a Board Trustee of the Philippine Development Foundation, a non-profit organization that regularly works with the Philippine government on education, innovation and entrepreneurship initiatives. In addition, she is a finalist judge for Harvard Business School's annual Business Plan Competition.

A frequent speaker on female entrepreneurship, women in technology and female leadership, Sheila founded WomenUp.org to increase women's roles in the global economy by providing leadership training, mentorship and support to girls and women through every stage of their lives and careers.
Sheila graduated magna cum laude from Mount Holyoke College with a degree in Economics and received her M.B.A. and J.D. degrees with Honors and the Dean's Award from Harvard University. She resides in the Boston, MA area with her husband, two sons and dog.
Sheila's Awards
Pinnacle Award, Boston Chamber of Commerce, 2014
Top 50 in Digital Health, Rock Health, 2014
Digital Trailblazer, National Association of Female Executives, 2013
Leading Women Award, Girl Scouts of Eastern MA, 2013
Strengthening Families Award, Room to Grow, 2013
100 Most Intriguing Entrepreneurs, Goldman Sachs 2013 Builders & Innovators Summit, 2013
Outstanding 50 Asian Americans in Business, Asian American Development Center, 2013
Academy of Women Achievers, YWCA, 2013
Women of Excellence, National Council on Aging, 2013
100 Innovators, Boston Globe, 2013
100 Most Intriguing Entrepreneurs, Goldman Sachs 2012 Builders & Innovators Summit, 2012
10 Most Powerful Women in Tech, Boston Globe, 2012
Leader in Diversity, Boston Business Journal, 2012
Innovation All-Stars: Tech Luminary, Boston Business Journal, 2012
Ernst & Young Entrepreneur of the Year, New England, 2010
Top 10 Women Entrepreneurs, Fortune's Most Powerful Women, 2009
40 Under 40, Boston Business Journal, 2009