About Us
Hi. Welcome to Care.com!
Let us introduce ourselves. We're mothers, fathers, pet owners, sons, daughters, grandchildren, friends, and members of this online community along with you. We understand the difficulties and struggles you face when trying to find the right care and services for your families, yourself, and your home.
So why did we create and join Care.com? Here are a few of our stories. Check back soon to meet more of the team!
Me, Sheila
Founder & CEO

My husband, Ron, and I have two sons (Ryan and Adam) and two dogs (Blake and Sydney). Throughout the years, we've had to deal with many care issues, and in the spring of 2006 we had a crisis when trying to find reliable care for our family. It was a very painful experience. Luckily, through sheer chance and persistence, we found a wonderful nanny, Amanda, who joined our family and brought joy and peace to our lives.

But finding Amanda wasn't easy. Given my professional background and experience, I started thinking about a consumer Internet business that could help families avoid the suffering and frustration we went through. My three co-founders—Zenobia, Dave, and Donna, —shared the same passion and concerns I had around finding trustworthy, reliable care in a simple and easy way...And so Care.com was born!

By the way, after Amanda went back to school, we found another terrific nanny, Natalie, on Care.com!
Rakesh
Technology

I am very excited to be part of the Care.com team and its mission. My wife and I both work full time, so we understand the need to ensure that our son has quality care.

Our life revolves around our son who is absolutely fun to be with. When I am not busy building new solutions for the Care.com service, I enjoy pitching a ball to my son, who loves to hit it hard.
Jenessa
Marketing

As a working mom with two young, vivacious children and two equally dynamic dogs, I know firsthand the importance of finding quality care. Whether it is locating a last-minute sitter for the weekend or someone to take my dogs to an impromptu vet appointment, I am in constant need of the services Care.com provides.

Recently, watching my parents go through complex issues with providing long distance care solutions for their elderly parents has also opened my eyes to the fact that everyone at some point in their life deals with some sort of a care crisis. Knowing that there is such a reliable and safe resource as Care.com, truly puts my mind at ease, so I jumped at the opportunity to become part of the team. Waking up every day knowing I am contributing to the solution for such taxing and complex issues is tremendously rewarding.
Chuck
Product

After college, I spent two years living with my grandparents. I helped my grandmother care for my grandfather, who had very limited mobility due to a stroke. I saw firsthand the need for quality help and care—and saw how difficult it can be to find that care reliably. Had Care.com existed at that time, I know for a fact it would have made our lives easier.

When not working on ideas to improve Care.com for our users, my wife and I enjoy spending time with our families in Vermont and exploring the beauty of New England—skiing, snowshoeing, kayaking, and sailing. We also enjoy entertaining friends, cooking, and catching live music.
Praveen
Technology

Spending time together is important to my parent's happiness. My parents have been wonderful role models for me and their support guided me through my education in the green city of Bangalore, Karnataka in India. My family enjoys travelling and learning about different cultures and customs in India and elsewhere. During the holidays, I enjoy playing cricket, water sports and watching movies.

It's great pleasure to be a part of a team that insists on the highest quality standards for our products and services. I take pride in the responsibility I have to uphold these standards for Care.com.
Zenobia
Marketing

When Sheila shared her idea with me about Care.com it was still just a glimmer in her eye-but I knew then without a doubt that I wanted to be a part of the team that built this remarkable service.

My husband, Chris, and I have three adorable, frequently crabby, and very hairy cats (Josephine is the one in the photo). I love to travel, however, so finding trustworthy and reliable pet care is always a big priority. I grew up in Bombay as the youngest in a family of 3 sisters, who gave us a bag of lint rollers as a wedding gift. Most vacations find me deep under the ocean, scuba diving or snorkeling with a few strange-looking creatures (Chris included!) Back at home in Boston, I love curling up with Josephine and a good book or watching BattleStar Galactica.
Almas
Technology

Being part of the Care.com community since it's inception, I have had the pleasure of witnessing the idea behind the service evolve into a platform that helps people find safe care solutions for their loved ones every day. I am part of the technology team that is busy in making Care.com a secure, efficient, and trouble-free experience for its members.

When I am not heads down on the next cool project at Care.com, I enjoy music, singing, connecting with my friends on Facebook, sports, and most of all running after my daughter Naira—it's hard to keep up with her!
Stephanie
Member Care

I devote my time to managing our Mom Force team, who carefully reviews each and every profile and job post before it appears on the site. I also work to maintain the quality of our members and the high level of safety within our Care.com community—all while upholding my reputation as the most approachable person in the office.

I'm grateful to have a sizeable immediate family with whom I spend the majority of my time when I'm not at the office. I also enjoy participating in walks/runs for charity and honing my dog training skills on my hyperactive Miniature Pinscher, Loyal.
Allison
PR

It seems like yesterday I traded in the California sun for the concrete jungle that is New York City. I feel lucky to have experienced a merciless metropolis of interesting people and the best of what you can eat, drink, see and hear at your fingertips. Creativity is what gets me going and when I'm not working on a new project, you may find me shoe shopping (my guilty pleasure!), gallivanting or planning my next adventure.

What is most important to me? Family, hands down. It is not only where the heart is, but also where the fun starts. Being able to work for a company that channels this value, keeps me inspired everyday.
Charlie
Technology

I feel lucky to have found my spot here at Care.com, working with talented people who have their hearts in the right place. I joined the team early in 2007 after moving to Boston from Seattle. I grew up in Massachusetts and I'm happy to be back near my family. When I'm not at Care.com, you might find me biking along The Charles or hiking in northern New England.
George
Technology

The challenges of a growing enterprise provide new avenues for creative thought processes. Fostering these innovative ideas requires an uninhibited work environment. I found this at Care.com.

With a bachelor's degree in engineering from the evergreen state of Kerala in India, I set out chasing my dreams through various cities. Boston's rich history, lively presence and promising future locked me into it.

As a web-developer here, I enjoy my time designing and developing new enhancements and functionalities to help our users get the most out of our web-site. When I am not chipping away at work on my laptop, I spend time exploring new places, hanging out with my friends and watching movies.
Dave
Product and Technology

My wife and I are the parents of 2 young children. Shortly after having our first child, we began searching for a full-time nanny. Our search wasn't easy - we relied on the recommendations of friends, relatives, and friends of friends. After trying 2 or 3 nannies, we finally found one that was right for our family. Many of our friends were also searching for child care around the same time. Most of them had a much more difficult time than we did - some changed caregivers almost monthly, others relied on the help of family and friends to fill gaps between caregivers.

Having gone through the experience, I know the importance of finding quality care. I also know how challenging it can be. This is the reason I'm excited about the mission of Care.com. At Care.com we're working every day to help solve a fundamental concern for parents everywhere - finding quality care for their families.
Scott
Marketing

My wife, Ann, and I are the fortunate parents of 4 young boys. As a result, our home is always full of action and our kids' schedules for school, lessons, sports activities, etc., are increasingly crazy. We have at one time or another relied upon the full range of child care options for our children, from our parents to in-home and center-based daycare to a full-time nanny to several part-time sitters. From experience, I know how critical these child care decisions are and how important it is to help parents find the best care possible for their kids.

The child care mission drew me to Care.com, but with aging parents and our likely succumbing in the future to the boys' pleas for a dog, my family is like many others that will benefit from the multitude of ways that Care.com helps people select the right care for their loved ones.
Jeffrey
Finance

Finding appropriate care has long been a theme for my family and me. My younger brother Michael had cerebral palsy and a host of other medical issues which required constant care beyond the scope of traditional babysitting. As he got older and faced more serious health issues, my parents encountered difficult challenges in finding him long term care facilities that could meet his needs. This required a great deal of research and consultation from others, but we can rest assured that he had the best treatment possible through his passing last year.

Today, I am still involved in the challenges and nuances of the care industry, both at Care.com and in my personal life. My fiancée Debbie is a Licensed Clinical Social Worker specializing in geriatric social work. Hearing about the challenges she faces at work and the predicaments many elderly people find themselves in highlight the need for accessible care options in our world today.
Sabrina
Marketing

Looking back, Care.com would have been the perfect site to use in college to find babysitting jobs. It was hard to find a part-time job to fit my class hours -- a flexible babysitting schedule would have been the perfect solution.

Today, I am very excited to be part of Care.com. It's rewarding to know we're helping people find work and allowing parents to have a much deserved "date night." One day, I'm sure I'll find myself scrambling for a sitter, and it's reassuring to know that I'll have Care.com to help out. Before that happens, my boyfriend and I agree that the Housekeeping service would sure be a great help!
Steve
Finance

My wife Margo and I feel the very real burdens of the "sandwich" generation, even though overall we couldn't be more blessed with our families and our two boys. My father, who still lives at home with my mom, suffered a serious stroke a few years ago. My mother is courageously caring for him, but finding someone reliable to help her so she doesn't burn out is a major challenge.

Combine those pressures with our passion for living every possible moment we can with our kids, when you'll find us skiing, playing tennis or "jamming" in the music room -- and occasionally finding a few quiet minutes for ourselves - and you can see why we believe in a service like Care.com!
Nathan
Creative

During my junior year of college my grandmother underwent total knee replacement surgery. Because she is on a fixed income, it was difficult to find someone qualified to care for her at home, and she didn't want to recover at a nursing home. So, I spent my spring break with her, helping her to her physical therapy appointments and preparing her meals. It was a rewarding experience, but it made me realize just how difficult it is to find quality care.

When I'm not busy designing new web pages or helping to build a stronger brand for Care.com, I enjoy spending time with my family and friends, keeping up on politics and tech trends, watching independent films, getting lost exploring the area, and spending quality time with our yellow Labrador, Hannah.
Stephen
Operations

When I was growing up, both my parents worked so they arranged after school pick-ups and sitting duties with our extended family. We are grateful that our family was able to provide reliable and trustworthy care and that they lived nearby. I'm not sure what we would have done without our extended family. Luckily, Care.com exists today to help families that aren't so fortunate to have other family members close by to help.

When I'm not working at Care.com supporting the technology infrastructure, my wife and I enjoy spending time with family and friends, cooking, working on our home and traveling.
Senthil
Technology

Life has been pretty exciting for the past year since I started to work with Care.com. Working halfway around the world from India and interacting with colleagues in Massachusetts and elsewhere across the globe has been fun. It has been a terrific learning experience from a variety of perspectives.

I grew up and completed my education in Pondicherry in Southern India and my family includes my wonderful parents and a lovely sister who just got married. When I have free time I like to surf the net, watch movies and spend some time with my friends.
Donna
Operations

Like most moms, my child is the center of my universe. The power of my son's imagination is a constant source of wonder and fun. Recently, he went from being Super Grover, a character on Sesame Street, to Super Grover as a Jedi Knight who saved the universe. Amazing what can happen in an afternoon!

When it comes to my son's care, I want to ensure that he is in a nurturing, safe, happy environment. I love working at Care.com and creating a service that moms, just like me, can depend on. This is one Super Grover family who knows that dependable, nurturing care creates opportunities for kids to play and grow to their hearts' content.
Prem
Technology

Spending time together is important to my family's happiness. On weekends, we like to spend time at my parent's farm, helping with chores and the operation of the farm. We also enjoy traveling and learning about different cultures and customs. Recently, I started to learn how to swim so I can teach my son to enjoy water sports.
Nelson
Creative

My husband and I have nine wonderful nieces and nephews under the age of 5, and I am one of five children myself. So child care is a topic that hits home for me. The biggest issue for my family has always been finding someone who's reliable and available. A resource like Care.com is so great because it's a place to turn to for help. Things can get hectic with one newborn, not to mention two (there's a set of identical twins in that group of nieces and nephews)!

When my husband and I are not traveling to the Carolinas to see the many members of our family, I am helping to build Care.com pixel by pixel.
Praveen
Technology

After spending a few years back in India working as Lead QA, I recently moved to the US with my wife, Asha. Moving to the US was a great learning experience and showed me how much of a challenge finding care really is. I had taken it for granted, at home in India, where extended families often live near each other—there is always help available. While am not working, I enjoy visiting and exploring new places.

Being a pet owner myself, I know that finding care is critical. Working with Care.com gives me an opportunity to help seekers with their care needs and to assist providers with a great web experience.
Mike
Member Care

When I learned about the Care.com mission, I thought about how helpful the service is to families and immediately wanted to be a part of the team. My wife, Faith, and I were both babysitters to our younger siblings and have been through health issues with our parents and grandparents. We're now proud parents ourselves and each day realize the importance of having access to care.

If I'm not in the office, I'm hanging out with Faith and our daughter, working around the house, or relaxing with friends and family.
Shashank
Technology

Living a carefree life far away from home, I haven't really had the need to look for care so far here in the U.S. But with my parents currently experiecing orthopedic problems back home, I do realize how important quality care is when it's needed. Care.com is doing a great job at making people's lives that much easier. I have worked with most of the people at Care.com previously and have found the experience amazing, both professionally and personally. Going forward, I am sure my journey with Care.com will be even more fruitful and eventful

I enjoy all kinds of outdoor sports, especially tennis. In our spare time my wife Ashwini and I like to go hiking and camping.
Michael
Finance

I feel fortunate to have joined a very talented and dedicated group of people at Care.com. When I'm not at work, my wife and I are usually having fun with our two young daughters who keep us pretty busy. On weekends we like to ride bikes, hit the beach, or get away on family hiking trips. We also enjoy tackling home and yard improvement projects even though the list doesn't seem to be getting any shorter.
Rekha
Marketing

I joined Care.com because I was inspired by the people and the mission of helping others find care. But it's one thing to admire something abstractly and another to see Care.com in action. When my condo building needed a new housekeeper, it was great to be able to post a job on the site and immediately connect with local people offering those services. Or when my friend needed help with her goats (yes, I did say, "goats") she was able to search and find sitters who had worked with farm animals before.

When I'm not at Care.com, I love to spend my time with my family, boyfriend, and friends. My mom and I love to garden. My brother is my go-to person for advice or if I need the latest scoop on anything related to tech or sports. My boyfriend and I are happiest when recreating our favorite recipes or tackling our latest carpentry project. My friends are who I go to when I need perspective or I just want to chill. If I'm not doing any of the above, you'll most likely find me with my head buried in a book.
Kelly
Business Development

My husband, Jim, and I are lucky enough to have two happy, healthy kids who like to sleep (Caitlyn & Timmy). We know how vital quality child care is for our peace-of-mind because it took some trial and error to get to our care solution in place. Now, pre-school, parents, and in-home sitters are all essential elements of our family's equilibrium.

In the past, we've also been involved in the care for our grandparents and witnessed our own parents in their caregiving roles. Four of our grandparents suffered from dementia, Alzheimer's and Parkinson's. Even as we approach our "Sandwich Years" of raising our family and thinking about taking care of our parents, caregiving is very much top of mind.

When I joined Care.com, it was like the planets had aligned in life: I could spend my time working on something meaningful to my family and so many others as well. What is more, Care.com will be a big help when Jim finally gets his wish of adding a dog to the family (we'll need to add a pet sitter and a housekeeper to the mix).
Kristen
Member Care

Every day is an interesting day at Care.com. Being part of Member Care, I speak with our members on a daily basis and have learned a lot about the challenges of both finding a job and finding the right care for a family. It is a struggle for many people, but hopefully I am able to make a few things easier for them whether it is helping someone post a job or perfect their profile.

When I am not helping our members, I spend my time with my family and our new puppy as well as friends. I also like to beef up on trivia to impress my co-workers, which has earned me the nickname "Jeeves".
Morgan
Member Care

At Care.com, I support our members over the phone and through email to make finding care a positive experience. As the youngest of four girls, I was fortunate enough to have a close-knit family and lived on the same street as my cousins, grandparents and all of our pets combined. Whether my parents needed an extra set of hands to balance the hectic schedules of four young athletes or we needed to find last-minute care for our four dogs and two cats while we were on vacation, I saw firsthand the challenges that families face when it comes to finding dependable, quality care.

When I'm not at Care.com, I am either working as a freelance sports reporter, babysitting one of the two great families I work for, or playing in a local sports league. I also love spending time with my family, running, and working to maintain my reputation as the best Corn Hole player at Care.com.
Phil
Marketing

Growing up with two parents who worked full time, my nanny was an important part of my childhood. My parents hired a number of unsuccessful nannies before finally discovering a wonderful woman who would take care of me for the better part of a decade. Today, when I listen to them recount their horror stories of unsuccessful hires and an even more difficult task of the screening process, I can only imagine how much easier their lives would have been had Care.com existed.

When I'm not helping out at Care.com, I enjoy taking full advantage of the New England outdoors, from rowing my single on the Charles River to skiing or hiking throughout the White Mountains. I also enjoy spending time with my family and taking my Black Labrador, Lucky, to the beach.
Tracy
Creative

I love animals and had a variety of pets all through my life. They were like family. When I first moved to Boston, I worked as a dog walker/pet sitter through a small agency. I loved working with animals every day, and it was amazing to see the relationships you can form with them only after a few hours a week. I now feel fortunate to work with a very talented group of people at Care.com to help other families find care for their families, including their pets.

When I'm not pushing pixels around at Care.com or going to New York to visit my massive Newfoundland, Daisy, I'm also a pop-culture trivia guru with a minor addiction to reality T.V. and a frequent concert and movie attendee. I also love the color green and long walks on the beach.
Jacob
Marketing

The Care.com team is a fun group and I am happy to be a part of it. It's wonderful to see how people with such varied strengths and talents come together to solve the simple yet critical care needs of the average family. I am actually quite fascinated by the amazing diversity of intellect and personalities within our small firm.

To take a break from crunching marketing data, I often head to the nearest beach to unwind—to watch the waves and to feel the wind on my face is a heavenly experience, especially if I can catch the sunrise on a cool, Sunday morning. Apart from this, I love to watch at least one movie a week, keep up with my martial arts training, and collect books in the hope of someday catching up with my reading. I rarely talk much but do enjoy the occasional long discussion with my close friends.
Tom
Product

There really aren't enough hours in the day. Between work, spending time with our kids, trying to keep our house in relatively decent condition and shielding visitors from our domineering cat, Snickers, it's a wonder we have time for anything else. Knowing that we have Care.com in our back pocket is comforting, even if we can't admit to ourselves that we need help.

When I'm not helping to improve the user experience on Care.com, I enjoy playing softball, barbequing, watching Boston sports and sitting by our fire pit listening to music.
Melissa
Marketing

When the opportunity came up to work for Care.com, I thought, how can I say no to a company with a mission like theirs? For my entire life and career, helping kids and families has always been a priority, whether it was working with the Jim Henson Company and WGBH to produce fantastic children's television shows like Bear in the Big Blue House and Between the Lions, or developing my own projects for children's hospitals like Small Tales. Working at Care.com gives me the chance to be more involved in helping thousands of families find the help they need, when they need it.

When I'm not at work or traveling across the country to see my family in California, you can usually find me attempting to resurrect my college athletic career on the basketball court or lacrosse field, trying out a new recipe in the kitchen, or tuning in to a Red Sox game with my husband Matt and our dog, Memphis.
Jody
Marketing

My husband, David, and I are the proud parents of three children, Eric, 22, who recently graduated from college and is working at a tech start-up, Daniel, who is a sophomore in college, and Rebecca, 17, who is a senior in high school. Everyone in our family plays at least one instrument and sings. We often subject our guests to vocal performances and impromptu family concerts, so be prepared if you ever come for a visit.

Over the years, we were fortunate to have had many excellent child caregivers, but it was always a challenge to find the right fit. I could have benefitted from a site like Care.com.

I am excited to be part of the strategic initiative to create a quality eldercare offering at Care.com. My passion for eldercare stems from my many years of working with caregivers and seniors in a variety of different settings. My inspiration comes from my mother and father. My mother, because she is a loving and patient caregiver, and my father—who has dementia and lives in a nursing home—because of his wit, humor, compassion, and perspective on life.
Joshna
Technology

I've already been at Care.com for 11 months! Yes, the time flew by very fast with all the work and fun. Before I came here, I hadn't seen a team where everyone was so passionate and hard working. Kudos to the team!

Other than work, I enjoy music, dance, reading, movies, traveling, and much more depending on my mood. I've recently moved to the U.S., and what I miss most about home is spending time with my family. Me, my younger sister, my mom, my dad make up our family, along with a bunch of cute little cousins. We love to eat out and spend time with relatives.

My mom was a homemaker, and she took great care of us, but it isn't the same in many families where both parents have to work. My mom used to take care of her sister's children until they were three, since my aunt worked and it was very tough to find reliable care. Having seen my own family's issues with finding care, I feel Care.com eases the problems many families have through its trustworthy services. I take pride in being part of that!
Gaurav
Technology

I feel lucky to be part of the Care.com community since I am learning a lot every day while working here. Being a father now, I realize the importance of finding the right match for child care -- Care.com tries to provide families with the best options.

My wife is planning to search for work sometime in the near future. So we will use Care.com to find child care for our son. When I am not at Care.com, I like to spend time with my family, listen to music, work out at the gym, or watch a cricket game.
Hemangi
Technology

Talk about having a small, happy, loving family, a great working place and an excellent group of people to work with everyday—yes, that's my life! The joy that you get at the end of the day thinking you have helped millions of families find good, reliable care for their loved ones is incredible.

My husband, Sameer, and my 8-year-old son, Sohil, and I enjoy vacationing, exploring places and music. Most of our evenings revolve around chauffeuring Sohil to his activities. On weekends we love to play pillow fight and tickling game as a family before starting our day. While at home, I enjoy cooking, entertaining guests, painting pictures and reading. At work, I love to put my best efforts in to make sure we are providing the best performing site for our users.
We welcome your feedback on how we can deliver a service that meets all of your care and service needs. We're here to help, so let us know how we're doing!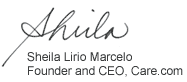 Care.com provides a trusted place for families and care providers to easily connect, share caregiving experiences, and get advice. The company addresses the unique lifecycle of care needs that each family may go through — including child care, special needs care, tutoring, senior care, pet care, housekeeping and more. The service enables families to find and select the best care possible based on detailed profiles, background checks, and references for hundreds of thousands of mom-reviewed providers who are seeking to share their services.