Chevy Chase Camps
Search now to find the best camp for your child!
A summer camp can be a great option for your child if you:
Need summer child care, but also want to provide structure and enrichment
Want your child to meet new friends and try new activities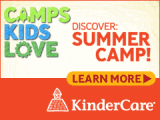 1227 North Ivy St
Arlington, VA 22201
Get set for a thrill-filled summer! Our age-specific, kid-approved camps add up to a season of discovery and fun for preschool to school-age children. This year, our 12 weeks of camps fall into six gr...
More >

9601 Medical Center Drive
Rockville, MD 20850
Established in 2012
THE BLISSETT SCHOOL - OVAL TURTLE CAMPS 2013 The Blissett School now offers Winter Weekend Camp and a full-day Summer Camp through school's Oval Turtle Center! The innovative, one-of-a-kind camps...
More >


At The Woods Academy - Day Program
Bethesda, MD 20817
Established in 1984
The Woods Academy is an independent school offering boys and girls from pre-school to eighth grade a challenging and supportive educational experience. Founded in 1975, Woods is the only independent, ...
More >