How to enter:
Go to Care.com's Facebook page.

Become a fan.

Enter on our Wall by writing about what makes your Care Hero so special and attaching a photo or video.

Winners:
Finalists:
Care.com will select 3 Finalists each week in November. Each Finalist will receive
A $100 dining gift certificate!
Each Finalist's nominator will receive a free 3-month membership to Care.com.
Grand Prize Winner: At the end of the month, Care.com will select 1 Grand Prize Winner from among the 12 Finalists. The Grand Prize Winner will receive
$500 in dining, entertainment, and hotel gift certificates
As well as a bag of goodies from Care.com!
The Grand Prize Winner's nominator will receive a $100 dining gift certificate and a bag of goodies.
Check out the 2008 winners: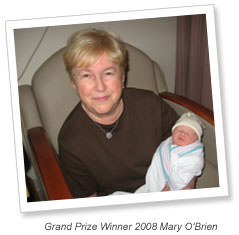 Mary O'Brien
of Norton, MA was selected for the selflessness she has displayed to so many people in her life. From caring for her 10 children and 16 grandchildren, to providing daily support for her aunt and uncle who she invited to live in her home in their old age, Mary exemplifies a Care Hero. Described as 'the most incredible mother, grandmother, wife and friend,' Mary has spent her life helping others and is truly a model caregiver.
Brenda Banez of Raynham, MA was also chosen for her courageous parenting since the tragic loss of her husband in a car accident. As described by her sister, 'Brenda amazes me every day. Her four children are her life and every decision made is in their best interest. She drives to and from school and takes care of nap time, potty training, breakfast-lunch-dinner, bath time, bible stories, prayer and memories of Dad all before bed.' Brenda's courage and constant commitment to her family in the face of adversity makes her a true Care Hero.
In addition to the two grand prize winners, Care.com announced 10 runners-up. The runners-up included:
Barbi Bartholomew of Bradenton, FL
Jared Bogacz of Littleton, CO
Patricia Costa of Somerset, MA
Kathy Doherty of Stoneham, MA
Claire Lesser of Framingham, MA
Mark Mazzucco of Mesa, AZ
Geri Noyes of Littleton, CO
Daniele Ubanks of Hope Mills, NC
Pat Weeks of Goleta, CA
Audrey Yzaguirre of Mount Airy, MD