Do You Need a Nanny Contract?
The benefits of having an official employment agreement with your nanny.
Contributor
| Thursday, Jul 10, 2008 |
42 Comments
,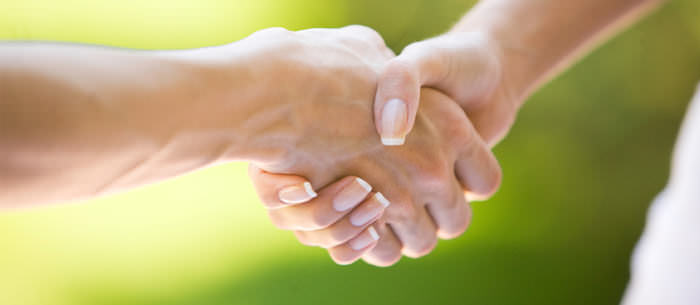 When Megan Anderson* of Newton, Ma., hired a nanny, she was so happy to find someone who would come to the 'burbs that she didn't want to scare the nanny away with a contract (and didn't know about Care.com's nanny-finding service). But when her nanny didn't show up to work on Veterans Day, it left Anderson scrambling for kid coverage. "I should have listed all my vacation days on paper ahead of time, so we could have agreed on them from the start," she explains. Anderson also decided her next nanny would have cell phone usage rules listed in her contract to make sure she never hired another chatty-Cathy. 
We all hate paperwork. And a nanny contract might sound like yet one more thing to write and file. Plus, if you've got a good nanny-family relationship going, you're understandably reluctant to rock the boat. Like Anderson, many families are afraid a formal contract will tarnish the relationship they are trying to build with their nanny.  Utter the words nanny contract and it can make some as squeamish as a pre-nuptial agreement.
But a handshake and a smile won't protect you when a disagreement inevitably arises. And taking the time to draft and sign a contract can protect both parties, whether you're the family hiring household help or the nanny. "The contract is essential for clarifying [salary] matters and detailing all the conditions necessary to ensure a healthy and productive work relationship," says Priscilla Gonzalez, director of Domestic Workers United (DWU), an organization of Caribbean, Latina and African nannies, housekeepers, and elderly caregivers in New York. When everyone is clear on a nanny's responsibilities and privileges, it reduces confusion and makes disputes easier to solve amicably when they do crop up. Gonzalez also notes that a too-informal work arrangement is more likely to hurt you both in the long-term than one where everything is ironed out and made official from the get-go. "Contracts promote lasting, mutually respectful employment relationships," she says. "They also promote quality of care because nannies who feel recognized and respected will do their jobs better."
But are they legal? "Absolutely," notes Bob King, founder of Legally Nanny, a law firm in Irvine, CA, that specializes in assisting household employers with contracts and taxes. "A written contract is enforceable in any court." So if your nanny quits without giving the agreed-upon four weeks' notice, or the family won't honor your request to take your accrued vacation days, the legally binding contract will enable you to take them to court -- and likely win.
What Should My Nanny Contract Cover?
Your best bet is to hire a lawyer specializing in such matters to write your contract for you (fees will vary). Just be sure to consider the following:
Duties and Responsibilities
o      Work hours and schedule: Will your nanny live-in or out? Will she work full or part time hours, on weekends or weekdays? When can she take breaks during the workday?
o      Responsibilities: What is the scope of your nanny's childcare responsibilities? In addition to childcare, will your nanny handle any cooking, cleaning, laundry or transportation? Make sure this list notes all daily duties as well as any recurring but less frequent obligations and emergency plans (like what to do on snow days or when a child is ill).
o      Nanny Privileges: When can she use her cell phone, the house phone, and any house computers/Internet? Are guests allowed?
o      Meals: Should your nanny bring her lunch from home or will you provide her meals? If she lives in, what is the grocery arrangement? (Who buys, who pays, where can she store her supplies?)
Compensation and Benefits
o      Hourly rate of pay (and overtime pay for full-time nannies)
o      Frequency of pay (weekly, bi-weekly)
o      Benefits (vacation, sick days, personal days, paid holidays, plus any restrictions on when your nanny can take her time off.)
o      Family vacation requirements (Must your nanny travel with you?)
o      Health benefits
o      Schedule for annual employment review and reassessment of compensation
Transportation
o      No cell phone use while driving a car with kids in tow
o      Seatbelt/ child car seat requirements
o      Nanny's car
Must have valid driver's license
Require regular maintenance of reliable car
Require appropriate type and amount of insurance
Plans for employer reimbursement for gas mileage and wear and tear on the car when it's used for work-related purposes.
o      Family's car
Must have valid driver's license
Add nanny to household insurance policy
Outline acceptable use of family car for work
Outline acceptable use of family care for nanny's personal use
Agree to regular maintenance of car
Employer will pay all car-related expenses or will pay for one tank of gas per week and anything additional must be covered by the nanny
o      Rules for the use of public transportation, if relevant in your area.
Discretion and Confidentiality
o      Personal, medical, career, and financial information of family will not be discussed outside of the family
o      Nanny will not disparage family in any media
What about Notice and Severance? 
There is some debate about whether your contract needs to address notice and severance. Here are a couple of options to consider: 
An "at will" contract
means that either party can end the work arrangement at any time. "In a worst-case scenario where your nanny injures your child, this ensures you can sack her right away," says King. It also enables nannies to escape an abusive or exploitive work environment without feeling obligated to give notice.
Notice: Domestic Workers United encourages employers to require both parties to give three weeks' notice upon termination, as this helps prevent you getting left in the lurch and gives your nanny time to find another job. (You can also provide three weeks' pay in lieu of notice, which enables you to get a nanny out quickly in a worst-case scenario situation like theft or abuse.) But King notes that there's no hard and fast rule here. "Whatever you do, avoid ambiguous phrases like 'I agree to provide two weeks notice, unless the arrangement is terminated for cause,'" he explains. "Your definition of 'cause' may not be the same as your nanny's, so you're more likely to end up with a dispute."
Severance: Again, King notes that severance is not required, and situations may arise where you'll wish you didn't promise this. But DWU encourages employers to provide one week's salary as severance pay for every year the nanny has been in your employment.
What Do I Need to Know About Labor Laws?
You should familiarize yourself with the Fair Labor Standards Act, so you know which federal standards you'll be obliged to comply with to ensure fair employment. While your nanny contract does not need to include passages from the FLSA, you should be aware of a few key rules and regulations as you determine her work hours, wages and other details of employment. Check minimum wages. "The key federal law to know is that the national minimum wage is $7.25 per hour, so you'll have to pay at least that or your state's minimum wage -- whichever is higher," explains King.
Read employment laws. Some states do have specific employment laws for domestic workers -- New York, for example, passed a Domestic Workers Bill of Rights in 2010, which requires household employers to pay overtime after 40 hours (44 hours for live-in nannies) and guarantee a minimum of three paid personal days per year. Contact your state labor office for more details. You may also want to find an employment lawyer licensed in your state to walk you through your state-specific employment laws and make sure they're upheld in your contract.
*Name was changed
Like this? Get more.
Sign up for the latest articles, news and tips of your choice. All delivered weekly to your inbox.
Put Safety first
Read our Safety Guide for tools and tips to keep you and your family safe.
Visit Sheila's Blog
Get advice for your family from our founder (and chief mom officer), Sheila Lirio Marcelo.