Nanny Taxes Aren't Just for Nannies
If you've hired a housekeeper, pet sitter, senior care aide, etc., you may have to pay nanny taxes.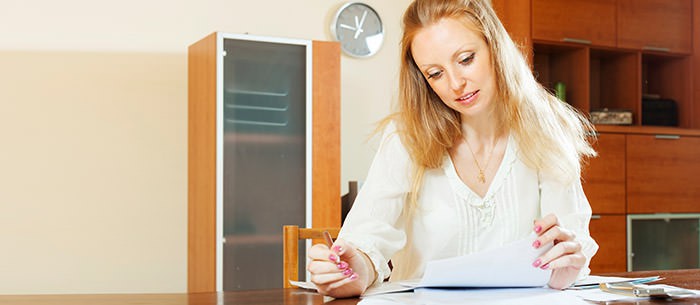 Updated
You may have heard the phrase "nanny taxes," but thought it didn't apply to you because you don't have a nanny. That's not actually the case.
If you also pay anyone to do work around your home -- a gardener or a housekeeper for example -- you still have to pay their taxes as well. While it may be called the nanny tax, paying the taxes of household employees covers quite a few different jobs.
"The term 'nanny taxes' is really a catch-all for the tax and payroll requirements families have when they hire an employee to work in or around their home," says Stephanie Breedlove, vice president of Care.com HomePay.
Technically, if you pay a household employee $2,000 or more in a calendar year and they meet specific job descriptions and duties, that person is your employee and you need to pay taxes for employing them. But the definitions are not always clearly defined, shares Lisa Weinberger, a lawyer and founder of Mom, Esq.
Definitions of Employees and Independent Contractors
According to the IRS' definition of a household employee, it doesn't matter what tasks the employee does, if they are part-time or full-time or how you found them. If they meet the $2,000 threshold and if you control what work they do and instruct them on when it gets done, you are their employer.
"There are lots of people who come in to your home but don't classify as employees," says Weinberger. For instance, your landscaper who brings all his equipment, sets his own hours (for example, he could bump your project one day to complete a smaller project) and owns his own business isn't your employee. He's an independent contractor.
If, however, you have a gardener who reports to your house at specific times, uses your tools and completes a job by your exact directions and specifications, then your gardener is likely classified as a household employee.
Learn more about the difference between employees and independent contractors »
When in doubt, Weinberger recommends asking your lawyer, so you can make sure you're following the law. The monetary threshold is one of many factors to consider, she shares.
Examples of Employees and Independent Contractors
Still not sure what type of person you hired? Check these examples.
Employees:
Nanny: Sara comes to your house every day during times you set and cares for your children, following your specific directions about television, play dates, food, napping and outings.
Part-time Nanny: Liz starts work at 3 p.m. when she picks up your kids from school and takes them to all their activities. She makes dinner for them at your home and stays until 8 p.m. each night. She takes the summer off, but her pay is well above the $2,000 threshold.
Date-night babysitter: Your neighbor's college-age daughter watches your children once a month while you and your husband go for a much-needed night out. Just be careful -- if you go on date nights regularly, your sitter might cross the $2,000 mark and you'll have to pay taxes.
Dog walker: Your neighbor's son gets your dog from your home to walk at specific times and uses your leashes and treats.
Gardener: You hire an acquaintance is hired to weed and plant every other week from March through November. She uses your shovels and rakes and plants flowers you decided on and purchased.
Driver: Joe drives you to and from the airport several times per month. He uses his own car, but you reimburse him for gas, tolls, and/or mileage and pay him an hourly rate.
Private chef: You hire a new culinary school grad to prepare family meals in your kitchen with your kitchen equipment. She uses food you chose and purchased to make meals to your specifications.
Housekeeper: A family friend cleans your home at prearranged times using your cleaning equipment. She doesn't own a cleaning business, but does this for several families.
Tutor: You hired an independent tutor to work with your kids after school throughout the school year. She comes to your house at expected times and days and follows your directions for how you want your kids to prepare. (See example below if you hire a professional tutor.)
Senior care aide: Susan has a nursing background and cares for your elderly mom while you're at work. She comes to the house 30 hours a week and will continue to do so indefinitely.
Independent Contractors:
In-home day care provider: Mary provides care in her own home, and she decides things like snacks, games and nap times.
Doggie day care: You bring your dog to a dog care facility. They provide food, treats, playtime and exercise for your dog based on their schedules.
Professional landscaper: You hire Steve of Stone Walls R Us to build a stone wall. He subcontracts any necessary equipment and supplies on his own, and is self-employed or owns his own business.
Livery service: A livery company picks you up in a company-supplied car. Price includes ride, gas, mileage, tolls, etc.
Caterer: You hire a catering division of a small local restaurant to cater a party and the cost is $5,000. They supply everything right down to napkins. It's over the financial threshold, but they count as a business.
Maid service: You hire a local cleaning company, and they may send different people to clean your house. They bring their own equipment and clean according to their own established procedures and routines.
Occasional cleaner: You hire a local housekeeper to deep-clean your home once every winter and summer.
Tutor: Your hire a tutor at your child's teacher's recommendation. You go through a national tutoring company or the local tutor has a staff of three and designated office space for tutoring.
Home health aide: A local home health agency sends workers to your home to care for your mom while you're working. You may not have the same worker all the time.
Odd jobs: You pay Dave hourly every now and then to clear your yard, get a few groceries or walk the dog. He makes his own schedule and uses his own equiptment. He earns $900 from you annually.
If you just discovered that you hired an employee, congratulations. Read some of our articles on paying taxes to get started.
Julia Quinn-Szcesuil is an award-winning freelance writer and a mom to two girls. She lives in Massachusetts and has written for local and national publications.
Your Next Steps:
* The information contained in this article should not be used for any actual caregiver relationship without the advice and guidance of a professional advisor who is familiar with all the relevant facts. The information contained herein is general in nature and is not intended as legal, tax or investment advice. Furthermore, the information contained herein may not be applicable to or suitable for your specific circumstances and may require consideration of other matters.
For more tips and advice, check out these Nanny Tax Articles.
Get started with HomePay!
Already enrolled with HomePay? Log in
First things first—have you hired a caregiver?
If you're seeking a caregiver or a care job, visit Care.com
What type of caregiver have you hired?
Have you already made any payments to your caregiver?
If you've made payments, we'll help you track them and we'll provide your employee with pay stubs.
We'll help calculate the taxes in your state.
What type of caregiver are you planning to hire?
When do you expect to hire someone?
How many hours do you estimate your caregiver will work?
We'll help calculate the taxes in your state.
Great! Now set up your log in to get things going.